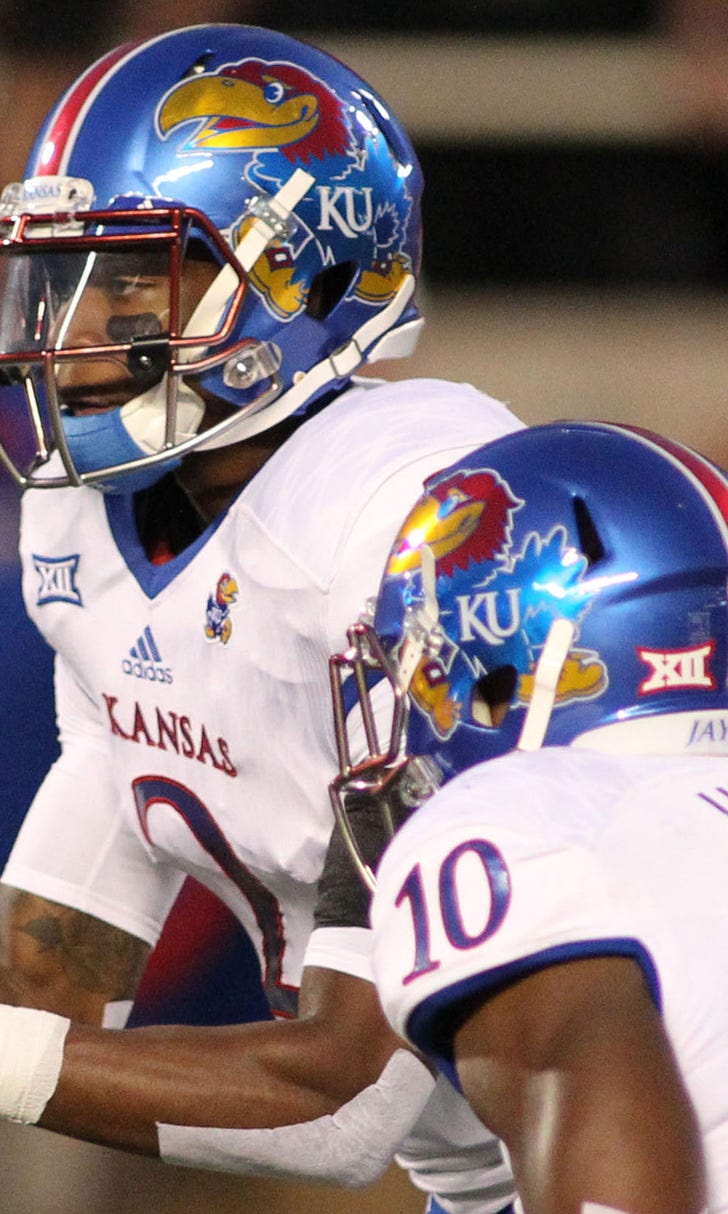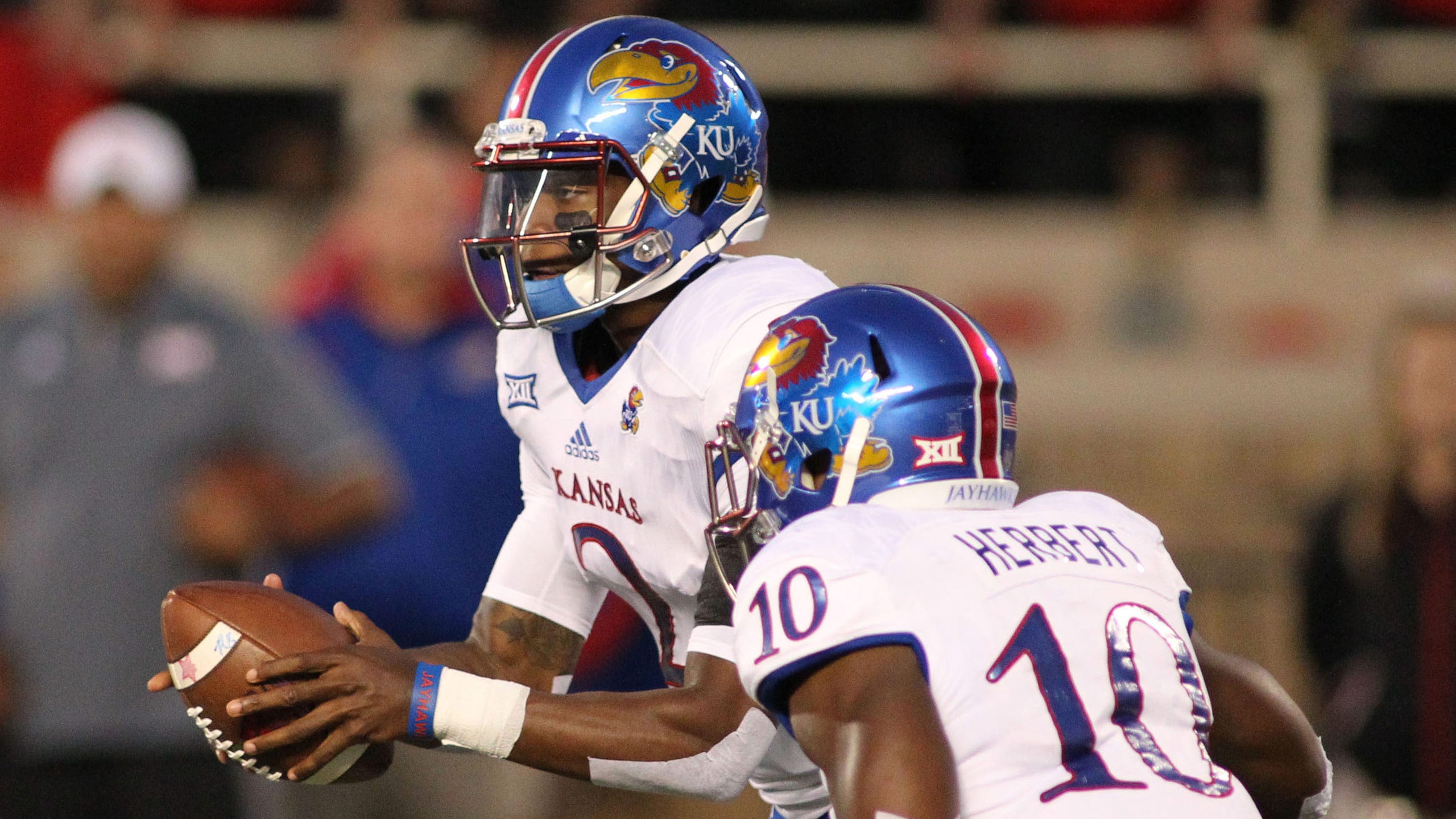 Jayhawks routed 55-19 by Red Raiders
BY foxsports • September 30, 2016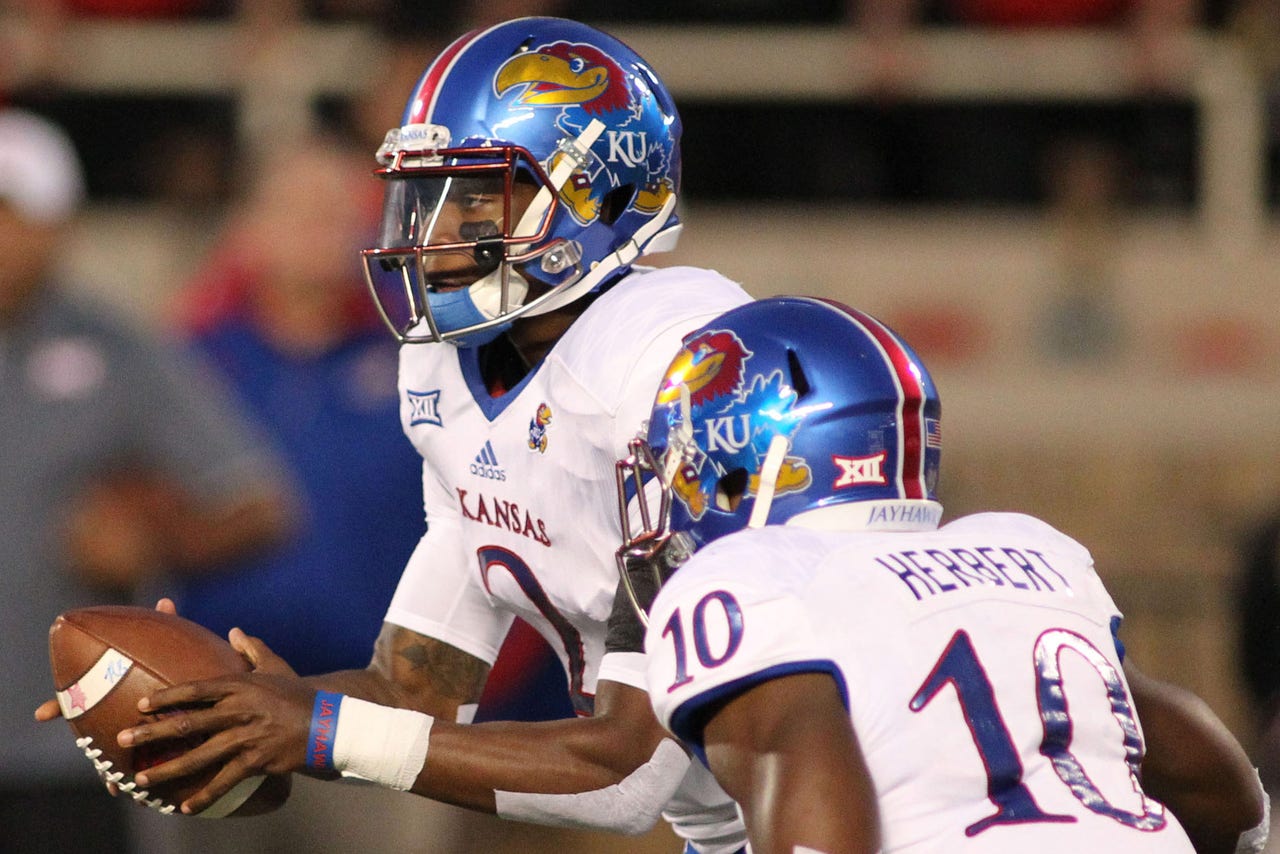 LUBBOCK, Texas -- Texas Tech coach Kliff Kingsbury will be "very comfortable" if his backup quarterback has to take over for the starter for a while.
Backup quarterback Nic Shimonek threw for four touchdowns and 271 yards to lead Texas Tech past Kansas 55-19 Thursday night in each team's Big 12 opener.
"He steps in and plays his tail off," the fourth-year coach said about Shimonek. "He threw some incredible passes."
Shimonek came in after starter Patrick Mahomes, who also threw for four TDs, got injured in the third quarter.
Mahomes, who threw for 277 yards and had one interception, left the game after a 32-yard run that ended with him going down hard on his right shoulder. After being checked briefly on the sideline, he tried to throw one pass before going into the locker room for further evaluation.
Mahomes "could be OK," Kingsbury said. Asked how he knew that, Kingsbury said jokingly, '"cause I didn't see the trainer jump off the side of the stadium."
"We got to get him looked at more extensively," he said.
The backup's teammates think highly of Shimonek's work ethic.
"He never complains," said defensive back Justis Nelson. "I never hear a bad word coming out of his mouth. He knows all the plays and we don't lose a beat whenever he comes in."
Shimonek threw TDs for 4, 37, 31 and 59 yards, while Mahomes' scoring strikes were for 14, 18, 17 and 6.
Jonathan Giles led Texas Tech (3-1) with 12 catches for 219 yards.
"There's a reason their offense is second in the country," Kansas coach David Beaty said. "Those dudes can score fast."
Giles continues to be Texas Tech's go-to guy.
"They tried to double him at times, but he found a way to get open and once he gets it, he can do stuff with it," Kingsbury said.
The defeat for Kansas (1-3) made it 40 straight losses in games away from Lawrence, Kansas.
"That score did not show how the game went," quarterback Ryan Willis said. "I mean, hats off to them, they played their butts off, but we need to bounce back again. Some nights you win, some nights you lose."
The Red Raiders have scored at least 50 points in nine straight home games.
Beaty switched between QBs Montell Cozart and Ryan Willis.
"I'm sure everybody has their idea of who should be playing quarterback for us," Beaty said. "But we're with them every day. I evaluate them every day. I see them every day. Our staff sees them every day. We make decisions based on what we see, not what we want."
THE TAKEAWAY
KANSAS: The Jayhawks took some time to get going against a defense that was giving up 531.3 yards per game coming into the contest. They punted on their first six possessions and didn't get a touchdown until late in the first half after QB Ryan Willis came in for starter Montell Cozart.
TEXAS TECH: The Red Raiders offensive line struggled and penalties erased big plays. An ineligible receiver call against Texas Tech negated a 31-yard reception by Derrick Willlies late in the first half. There were also two false start penalties, including one that nixed a 36-yard catch by Reginald Davis that would have given the Red Raiders the ball at the Jayhawks 1. "I don't think our O-line played very well, and it's something we've got to address," Kingsbury said.
UP NEXT
KANSAS: The Jayhawks play host to No. 21 TCU on Oct. 8.
TEXAS TECH: The Red Raiders travel to Kansas State on Oct. 8.
---