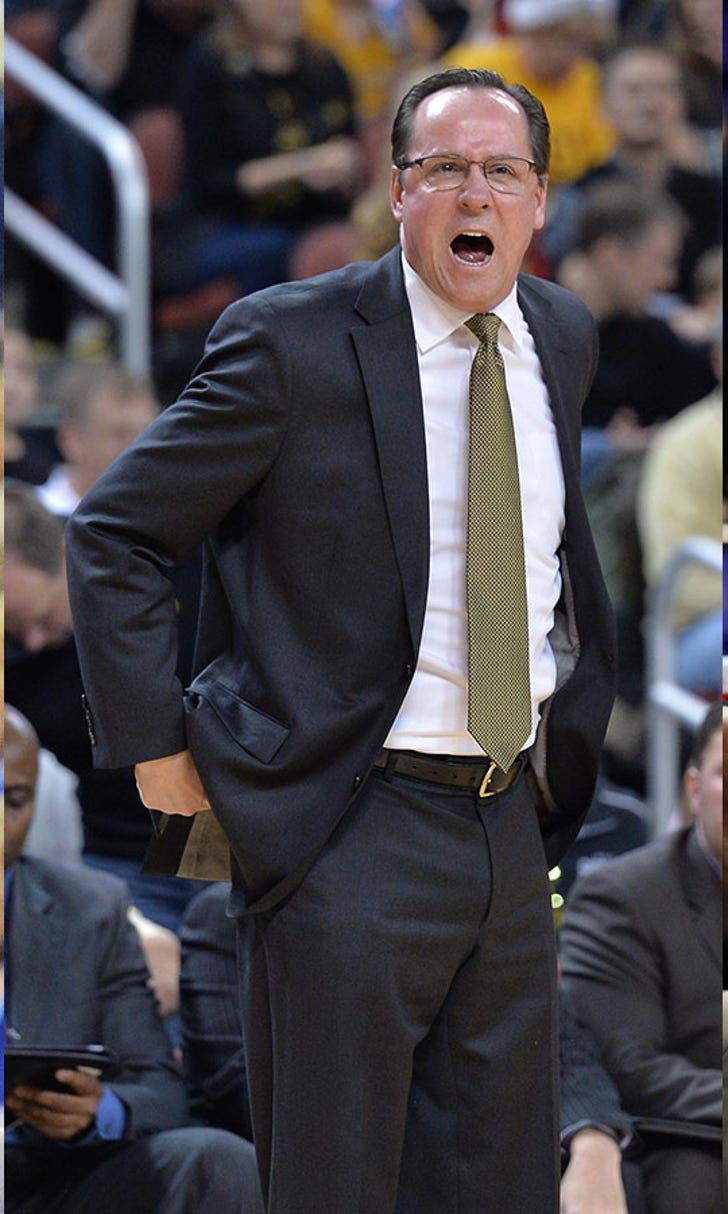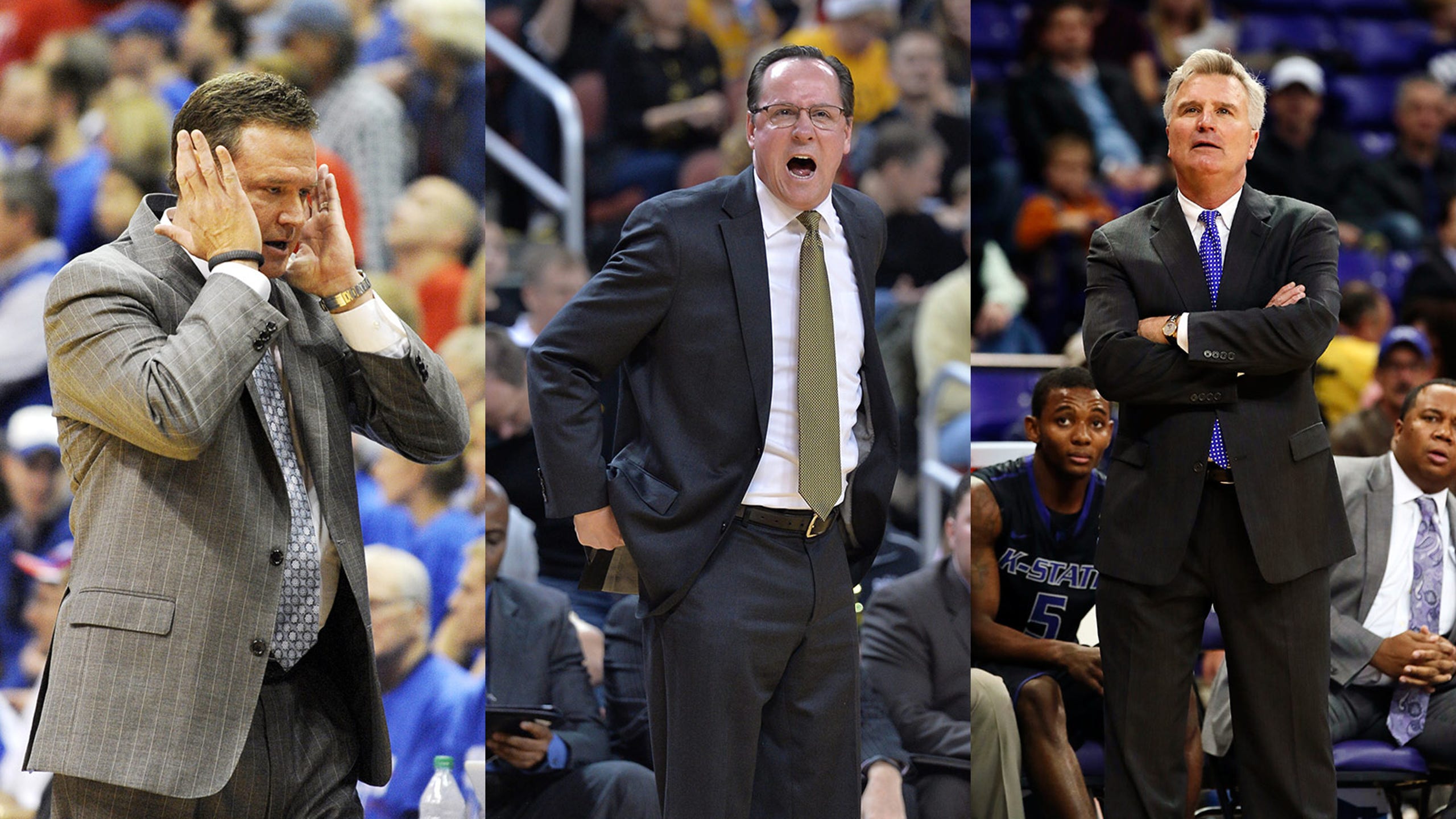 Jayhawks and Shockers and 'Cats, oh my! Could Kansas place TWO No. 1 seeds in Big Dance?
BY foxsports • January 22, 2014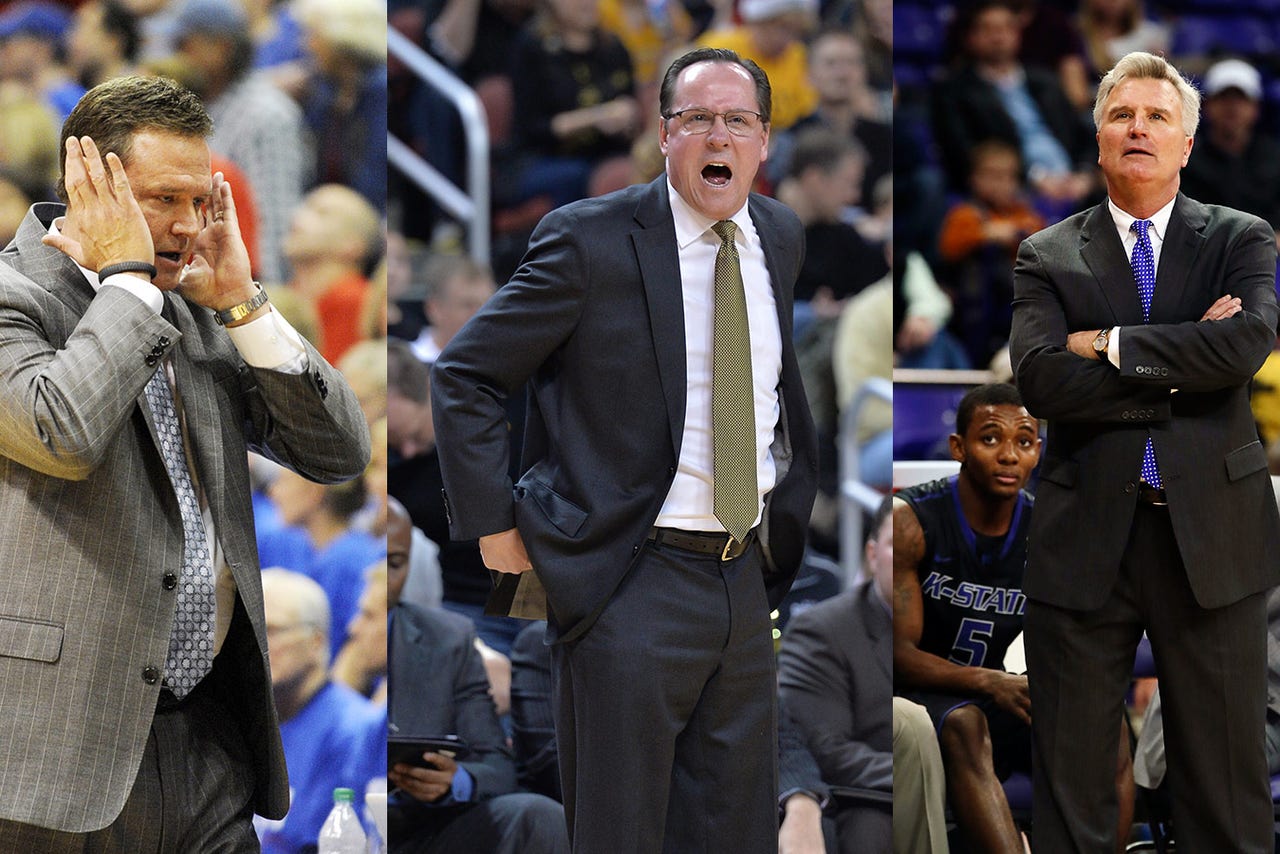 KANSAS CITY, Mo. -- With apologies to Jim Harbaugh, who's got it better than us? Kansas is Marcia, Kansas State is Jan and Wichita State is Cindy with crazy eyes and a carving knife. Three very lovely girls who would sooner cut off a finger than let Alice beat them in a pickup game.
"We certainly are in a golden age," says Bob Hanson, the former K-State assistant coach and president of the Greater Wichita Area Sports Commission, "and we ought to appreciate that."
The 19-0 Shockers take a perfect record and a No. 5 national ranking into Illinois State tonight. Kansas (14-4) rope-a-doped through a brutally tough pre-conference fight card and came out swinging in the Big 12 with a 5-0 start to league play, tops in the circuit. K-State, of whom not much was expected -- and even less after an awful four-game stretch to open the campaign -- is 14-5 overall, 4-2 in the Big 12 and firmly in the NCAA tournament conversation. Bill Self, Bruce Weber and Gregg Marshall may not see eye-to-eye on scheduling one another, but all three coaches at the state's Division I programs have reached at least one Final Four in their careers, and two (Self and Weber) have reached the national title game.
When you've raised the bar that high, what's left for an encore?
Well, why not two No. 1 seeds, from the same state, in the same bracket?
Why not us?
Don't laugh. The Bracket Matrix site (www.bracketmatrix.com) tracks 59 mock NCAA Tournament brackets daily across the Internet, from mainstream outlets and bloggers alike, and seeds teams on the average.  As of Tuesday night, here were the site's projected seed lines for KU, Wichita and K-State:
Jayhawks: 1.93 (top 2 seed)
Shockers: 2.00 (third 2 seed out of four)
Wildcats: 8.16 (top 9 seed)
The lowest cumulative seed total for the Sunflower State's Big 3 in a single NCAA tourney in the same year was set last March, with 14 (KU: 1, K-State: 4, Wichita: 9). In '12, it was 15 (KU: 2, K-State: 8, Wichita: 5). If those Matrix projections hold (2, 9, 2), that puts the combined seeding at 13, a new intra-state best.
So, yeah. It's early. But as they used to say on "Seinfield," it's real. And it's absolutely spectacular.
"That would be unbelievable," says Hanson, a former president of the National Association of Basketball Coaches. "That would be tremendous. And that could entirely be possible.
"There aren't going to be many teams that are going to test Wichita State, I don't think. And I just think Kansas is getting stronger every week."
Whether you're a Jayhawk, a Wildcat or a Shocker, everyone can point to something to crow about. Ted Hayes, former director of the Kansas Sports Hall of Fame, says the closest comparison he can make to today's run of Sunflower Power was the early 1960s, when Ted Owens was at Lawrence, Tex Winters was at Manhattan and Ralph Miller was at Wichita. The Jayhawks reached the NCAA's Midwest Regional finals in 1966 and '67. The Wildcats went to the Final Four in 1964 and the Shockers did the same, under Gary Thompson, in 1965. You could also make a case for the dawn of the 1980s, the tail end of the Owens Era at KU. The Jayhawks and Gene Smithson's Shockers met in the "Battle of New Orleans" in the 1981 NCAA Midwest Regional semis, a 66-65 Wichita win, while K-State reached the West Regional final that same year under Jack Hartman.
"It's fun for everybody," Hayes says.
"We ought to relish it," Hanson says.
But two No. 1 seeds, now, that's something else. Something rare. It's not just rare in Kansas -- it's rare everywhere. Since the tourney expanded to 64 teams in 1985, there have been only two occasions in which one state had multiple No. 1 seeds in the same bracket, and it was North Carolina in both cases. In 1998, UNC was No. 1 in the East; Duke, No. 1 in the South. The two old-money powers pulled the trick again in 2005 -- the Blue Devils were No. 1 in the Austin region; the Tar Heels were tops in the Syracuse side of the bracket.
As for No. 2 seeds in the same year from the same state, that's happened only twice since '79, too, also with a North Carolina flair: UNC (West) and Duke (East) in '88; and the Devils (East) and Heels (Southeast) again in '89. The closest Kansas has come to that was in 2010, when the Jayhawks were a 1 seed and K-State was a 2.
"I wouldn't hold my breath on that," chuckles Hayes, who retired last month after 22 years at the Hall. "I mean, so much has to happen.
"Kansas is playing really well right now, and they've played a murderous schedule, but that Big 12 is so close and so tight ... if they come out of the conference with two losses, that's going to give 'em six. I don't see them being a 1 seed with six losses. And I don't think Wichita State is going to continue (to be) undefeated, and they don't have the schedule (strength)."
Granted, for the whole two-No. 1-seeds scenario to play out, Kansas has to win the Big 12 outright (and maybe win it comfortably), and Wichita must remain unbeaten through the regular season -- and perhaps all the way through the Missouri Valley Conference tournament.
Watch 'The Bruce Weber Show' at 10:30 a.m. Saturdays on FOX Sports Kansas City. Check your local TV listings.
Considering that nobody has posted an unbeaten record in Valley play since Bradley in 1985-86, that last one may be a tall order. And assuming Marshall's crew manages that first hurdle, the Shockers' frustrations at Scottrade Center in recent years have been well documented; Wichita has yet to win an MVC tourney since it moved to St. Louis permanently in 1991.
Although the last non-BCS-level team to run through its regular-season slate unbeaten, the '03-04 Saint Joseph's Hawks, were kiboshed in the Atlantic 10 tourney quarterfinals and still snatched a No. 1 seed in the Big Dance. In Bracketville, unless it's for an automatic berth, conference tourneys are notoriously overrated.
"So many things would have to fall into place," Hayes warns. "And it's a long ways until the pairings get made and the seedings come out. And I just don't see them continuing.
"I'd love it if they do ... if we're six weeks from now and they're still basically where they're at, then sure, there's a great possibility for that."
And with the way the Shockers and Jayhawks are playing, in tandem, 162 miles apart, it's looking less impossible by the week.
You can follow Sean Keeler on Twitter @seankeeler or email him at seanmkeeler@gmail.com.
---