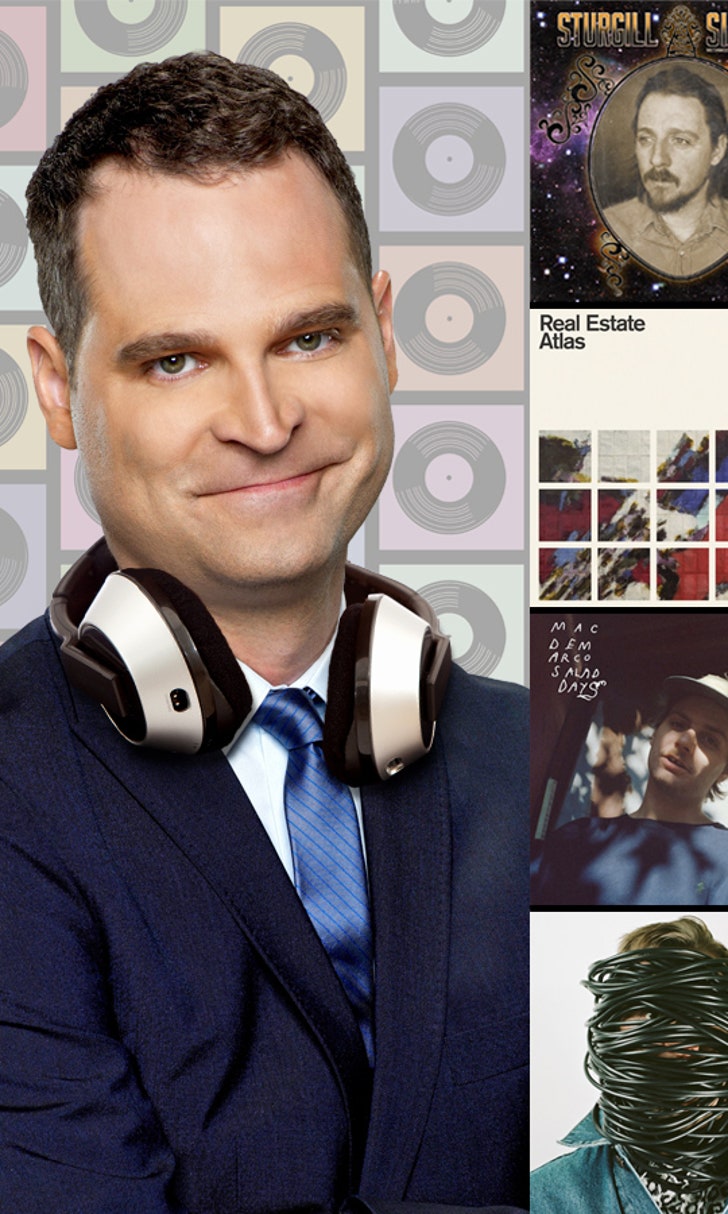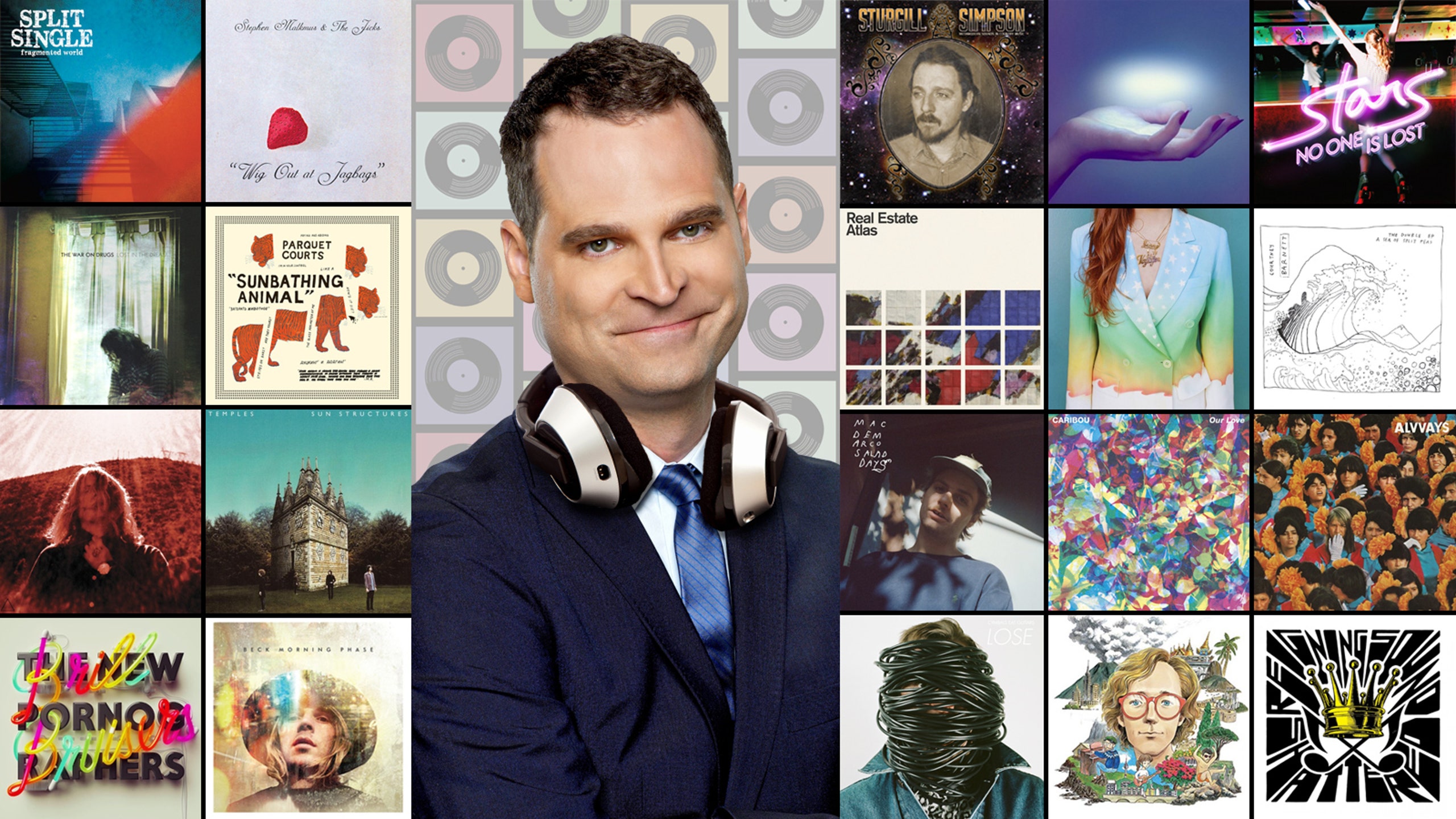 Jay Onrait and Dave Hodge's top albums of 2014 for your listening pleasure
BY foxsports • December 9, 2014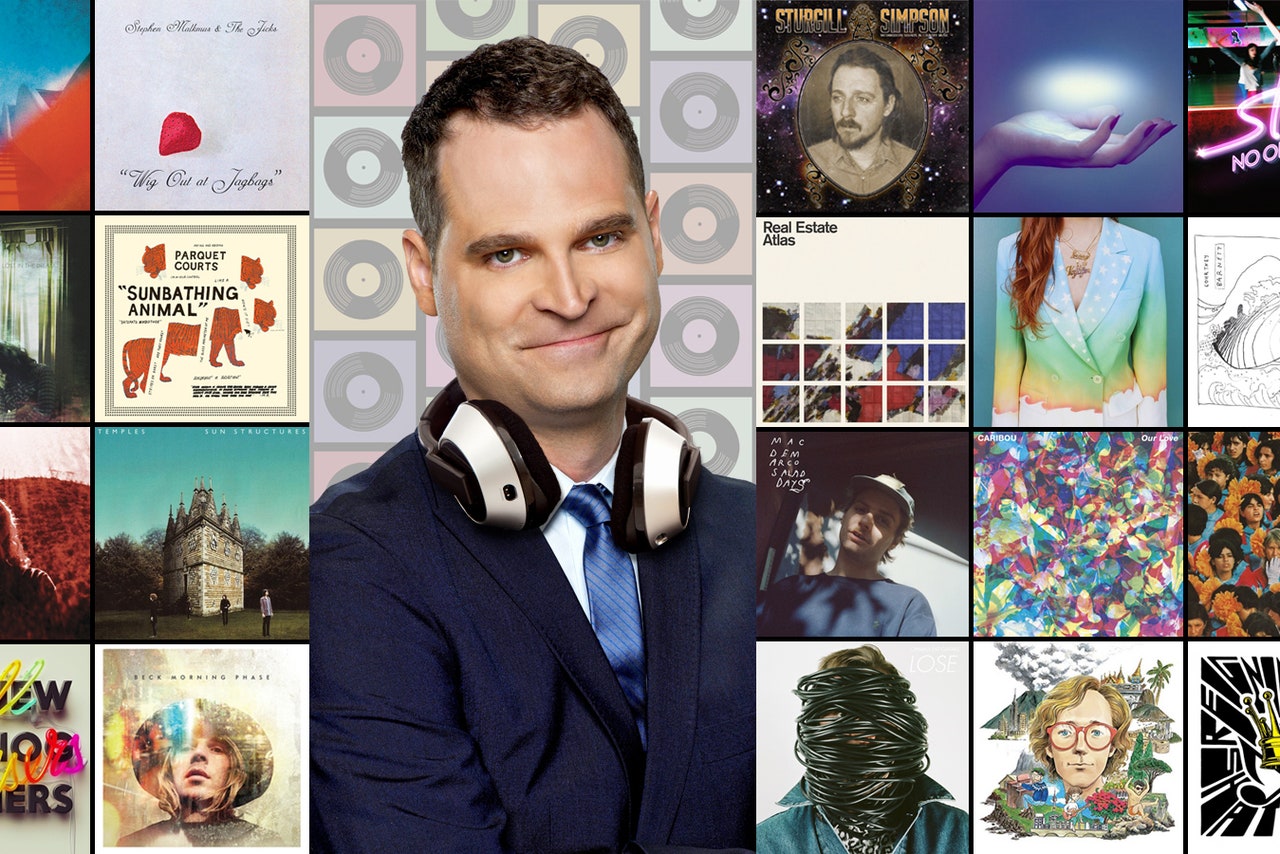 It's that time of year, again; the time when snow shovels come out of the garage and hooded sweatshirts come out of the bottom drawer. (That's a Bunnyhug to you readers in Saskatchewan. Yes people in Saskatchewan call a hooded sweatshirt a "Bunnyhug." It doesn't get more adorable than that!)
It's also the time we look back and take stock of all the music released in 2014 and I think we can all agree that it was a spectacular year for music. My former colleague Dave Hodge and I have put together our annually tolerated list of the albums we liked the most. I found assembling this year's list especially difficult and had to leave off albums I really enjoyed like Sloan's Commonwealth, Drive-By Truckers English Oceans and The Rural Alberta Advantage's Mended With Gold.
For those American readers not familiar with Dave, he is a legendary host and sports broadcaster in Canada whose first love happens to be music. The only person who listens to more recorded music than Dave is probably Dave Fricke from Rolling Stone and we all stopped listening to that guy's opinion years ago (Five Stars for the new U2 record? Why even rate albums when you're just going to hand out participation ribbons?)
So here we go again ...
20. JENNY LEWIS -- "THE VOYAGER" -- Everything she puts out is good but makes me wish her old band Rilo Kiley was back together. It would be like Stevie Nicks having left Fleetwood Mac right after Tusk and never recording with them again. Actually, she probably should have done that. Nevermind. You go Jenny.
19.TEMPLES -- "SUN STRUCTURES" -- Have you guys been watching Dave Grohl's Sonic Highways on HBO? God it's great. Yes I stop watching about 10 minutes before the episode ends so I don't have to watch Foo Fighters perform one of their new songs with lyrics inexplicably written across the screen (are we supposed to sing along?). Nonetheless the show itself is a wonderful document of the history of recorded music in eight different American cities, including Austin, where Dave chronicled the sad plight of 13th Floor Elevators lead singer Roky Erickson. How important was he to psychedelic rock? "He invented it" ZZ Top guitarist Billy Gibbons said. So Temples owes a serious debt to Roky. Their record is derivative but good. Come to think of it, that should be the title of their second album: "Derivative But Good"
18. CARIBOU -- "OUR LOVE" -- We have a lot of guests stay with us here in California and when everyone wakes up in the morning I usually put on something by Caribou: aka Canadian electronic music artist Dan Snaith, a man who happens to have a Ph.D in Mathematics (nerd!). Every time I play his music for someone who hasn't heard it they immediately go buy it or add it to their Spotify playlist. "I Can't Do Without You," the first track, is a slow burner that eventually sounds like you're listening to an underwater dance party.
17. BECK -- "MORNING PHASE" -- I took my wife to Santa Barbara in the spring and we were sitting around the pool at our hotel and suddenly it was like a hipster convention broke out. These were hipster families. Little hipster kids with hipster hair frolicking in the pool, Moms wearing Aviator Nation hoodies and pregnant hipster girlfriends disregarding the signs that warned them about using the hot tub.
"What are all these people doing here?" I wondered aloud as another man approached the group wearing an all-leather ensemble, a scarf, a fedora and sunglasses in sweltering hot Southern California. "I don't know but that guy must be European" my wife replied. It was Beck, who is from Los Angeles. This was his band and their families.
They were playing a show in Santa Barbara that night, so we bought a pair of tickets and checked it out. He was a much more animated performer than I would ever have given him credit for. It's like he channels his Midnight Vultures personality up there all night.
16/15. ALVVAYS -- "ALVVAYS/STARS -- ALL IS LOST" --  My Fox Sports Live colleague and former USC football captain Petros Papadakis listens to way more music than I do which is amazing considering he literally works seven days a week throughout the football season. He loves Alvvays's self-titled debut as much as I do and he has a major crush on Amy Millan of Stars.
Petros also thought Canada was so small that I just ran into people like Amy at the airport. I promptly chastised him for being so ignorant about my country and regarding it as some sort of small town. About a month or so later, I was walking through the airport in Toronto and lo and behold there was Amy on her way to New York City to accompany Kevin Drew on Letterman. You win this round Petros.
14.COURTNEY BARNETT -- "THE DOUBLE EP: A SEA OF SPLIT PEAS" -- If you love Mac DeMarco as much as I do but after listening to his album for the seventh time of the day you find yourself saying: "You know what would really be cool? If a female, Australian version of this guy existed" Well ...
13. STURGILL SIMPSON -- "METAMODERN SOUNDS IN COUNTRY MUSIC" -- There is not one single song I have listened to more in the past year than Sturgill Simpson's cover of When In Rome's 1988 hit The Promise. Country fan or not, I promise you will love it.
12.  CYMBALS EAT GUITARS -- "LOSE" -- Very 1990s, but good. Like if Mulaney had succeeded.
11/10. REIGNING SOUND/SPLIT SINGLE - Listen to "North Cackalacky Girl" by Reigning Sound after a particularly frustrating day at work and instantly forget about that guy who took credit for your ad idea where they start serving Nespresso at the Molly's Reach diner from The Beachcombers.
9. PARQUET COURTS -- "SUNBATHING ANIMAL" -- Whenever I am assigned Boston Celtics highlights on Fox Sports Live I am always excited because it allows me to use one of my signature catchphrases: "now on to the parquet courts of the TD Banknorth Garden you sunbathing animals!" No one gets it.
8. NEW PORNOGRAPHERS -- "BRILL BRUISERS" -- As usual the Dan Bejar tracks are standouts for me, especially "War on the East Coast."
7. STEPHEN MALKMUS AND THE JICKS -- "WIGOUT AT JAGBAGS" -- I really think it's the best thing he's done since his self-titled solo debut. I also loved his interview with Marc Maron on the WTF Podcast.
6. SPOON -- "THEY WANT MY SOUL" -- You know that band that you liked before everyone else, and then it became big and you resented everyone for getting into it after you did and so you stopped liking it? Please North America, I'm begging you to make that happen with this band. Spoon deserves to be filling stadiums and having people like me say: "Their new stuff isn't nearly as good as Girls Can Tell," though it probably is. To me, this is another great effort from the most consistent group to emerge in indie-rock over the course of this young century (the online ratings website Metacritic even said so)
5. ERLAND OYE -- "LEGAO" -- This guy makes Real Estate sound like Pantera. He is mellow. His band Kings of Convenience is like Simon and Garfunkel on quaaludes. His band The Whitest Boy Alive is like Daft Punk on quaaludes. This is his solo debut and I read an interview where he called it his reggae album and that makes perfect sense, because when you're this mellow then reggae may be your best option.
4. THE WAR ON DRUGS -- "LOST IN A DREAM" -- These guys really like the Philadelphia 76ers. The least you can do is listen to their album. They've got to spend the entire year watching that team.
3. TY SEGALL -- "MANIPULATOR" -- Man I am giving Marc Maron way too many plugs on this list but if you want to become an instant Ty Segall fan don't start with the almost staggering amount of music he has released all at the tender age of 27 years old. Begin instead with Segall's WTF interview from just a few months ago where he talks about his upbringing in Orange County and his musical influences including Black Sabbath's Vol. 4 (He even has a Vol. 4 tattoo) I liked Segall a lot before this album, but to me he took a major step forward here. If you're looking for the album to play the loudest on this list here it is. If you're somewhat bored with Jack White, give this guy a try.
2. REAL ESTATE -- "ATLAS" -- In the spring I found myself home in Toronto one weekend, the same weekend that Real Estate happened to be playing in town. The band's lead guitarist Matt Mondanile asked me if I would introduce the band on stage. I was honored and completely nervous about the whole thing. How exactly does one introduce a band like Real Estate, whose smooth flowing grooves and lyrics about where you're from and where you're headed to didn't exactly lend themselves to WWE style ring announcer pageantry. Fuck it, I thought, I will go with WWE style ring announcer pageantry anyway. I wanted to get the crowd pumped up, especially in Toronto where concert crowds are sometimes so infuriatingly quiet I want to start a fight just to make sure everyone is awake. The ring announcer bit worked, the crowd turned out to be great, and the band was as kind and grateful as you could imagine. "That sounded rehearsed!" said the band's keyboard player Matt Kallman about my introduction. Maybe I have a future as a hype man if this whole sports broadcasting thing doesn't work out.
1. MAC DeMARCO -- "SALAD DAYS" -- How could this gap-toothed, chain-smoking slacker have done it? How could he top a list of such incredible albums in one of the best years of music in recent memory? The songs man, it's the songs. The guy can be hilarious when he's helping people back up their cars and surprisingly poignant when he's penning lyrics. This is a record that will give the listener a different experience depending on where he or she plays it: Driving down the Pacific Coast Highway in your rented Ford Mustang Convertible? Crank it up and rip the knob off because those guitars are sweet bliss. Sitting down with a tumbler of Japanese Whiskey after a devastating loss at Pub Trivia Night? Let Mac's smooth melodies erase all memories of defeat. Ready to drift off on that business flight to Ithaca? You'll be humming the tune of "Blue Boy" by the time you land. Salad Days indeed.
DAVE HODGE'S TOP 30
2014: Another great year! I have 30 more tied at #31. The order is almost random, because how do you decide that "this" is better than "that", and thus, better than all the rest? Alphabetical order is a cop-out, however. And an asterisk denoting "Canadian" is not necessary. They are some of the best, just like all the rest. Listen again if you know these, and find them if you don't. Yours in music,
(these are) my best,
DH
1--The War On Drugs--"LOST IN THE DREAM"
2--Arkells--"HIGH NOON"
3--New Pornographers--"BRILL BRUISERS"
4--Lydia Loveless--"SOMEWHERE ELSE"
5--Alvvays--"ALVVAYS"
6--Doug Paisley--"STRONG FEELINGS"
7--Elliott Brood--"WORK AND LOVE"
8--Barr Brothers--"SLEEPING OPERATOR"
9--Tweedy--"SUKIERAE"
10--Ryan Adams--"RYAN ADAMS"
11--Allo Darlin'--"WE COME FROM THE SAME PLACE"
12--Rural Alberta Advantage--"MENDED WITH GOLD"
13--King Tuff--"BLACK MOON SPELL"
14--Avi Buffalo--"AT BEST CUCKOLD"
15--Spoon--"THEY WANT MY SOUL"
16--Hold Steady--"TEETH DREAMS"
17--Ex Hex--"RIPS"
18--Woods--"WITH LIGHT AND WITH LOVE"
19--Foo Fighters--"SONIC HIGHWAYS"
20--Fresh and Onlys--"HOUSE OF SPIRITS"
21--Sam Roberts Band--"LO-FANTASY"
22--Old 97s--"MOST MESSED UP"
23--Lucinda Williams--"DOWN WHERE THE SPIRIT MEETS THE BONE"
24--Drive-By Truckers--"ENGLISH OCEANS"
25--New Basement Tapes--"LOST ON THE RIVER"
26--Hiss Golden Messenger--"LATENESS OF DANCERS"
27--Justin Rutledge--"DAREDEVIL"                                
28--Sonic Avenues--"MISTAKES"
29--Gord Downie/Sadies--"AND THE CONQUERING SUN"
30--Withered Hand--"NEW GODS"
And there were these 30 memorable live performances by: Ryan Adams, Arkells, Avett Brothers, Beirut, Blue Rodeo, Basia Bulat, City and Colour, Gary Clark Jr., Devin Cuddy Band, Drive-By Truckers, Elliott Brood, Jeremy Fisher, Hold Steady, Jason Isbell, July Talk, Jenny Lewis, Lucius, The National, Willie Nile, Doug Paisley, Joel Plaskett Emergency, Rah Rah, Sam Roberts Band, Rocket From The Crypt, Justin Rutledge, Spoon, The Stanfields, The Strumbellas, Tweedy, Butch Walker.
---