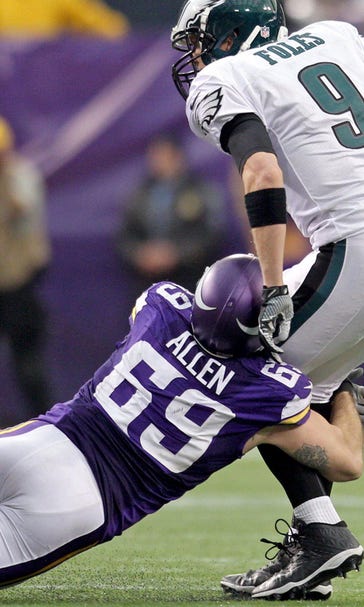 Jared Allen: Poised to pass Derrick Thomas in sacks is 'surreal'
BY foxsports • December 19, 2013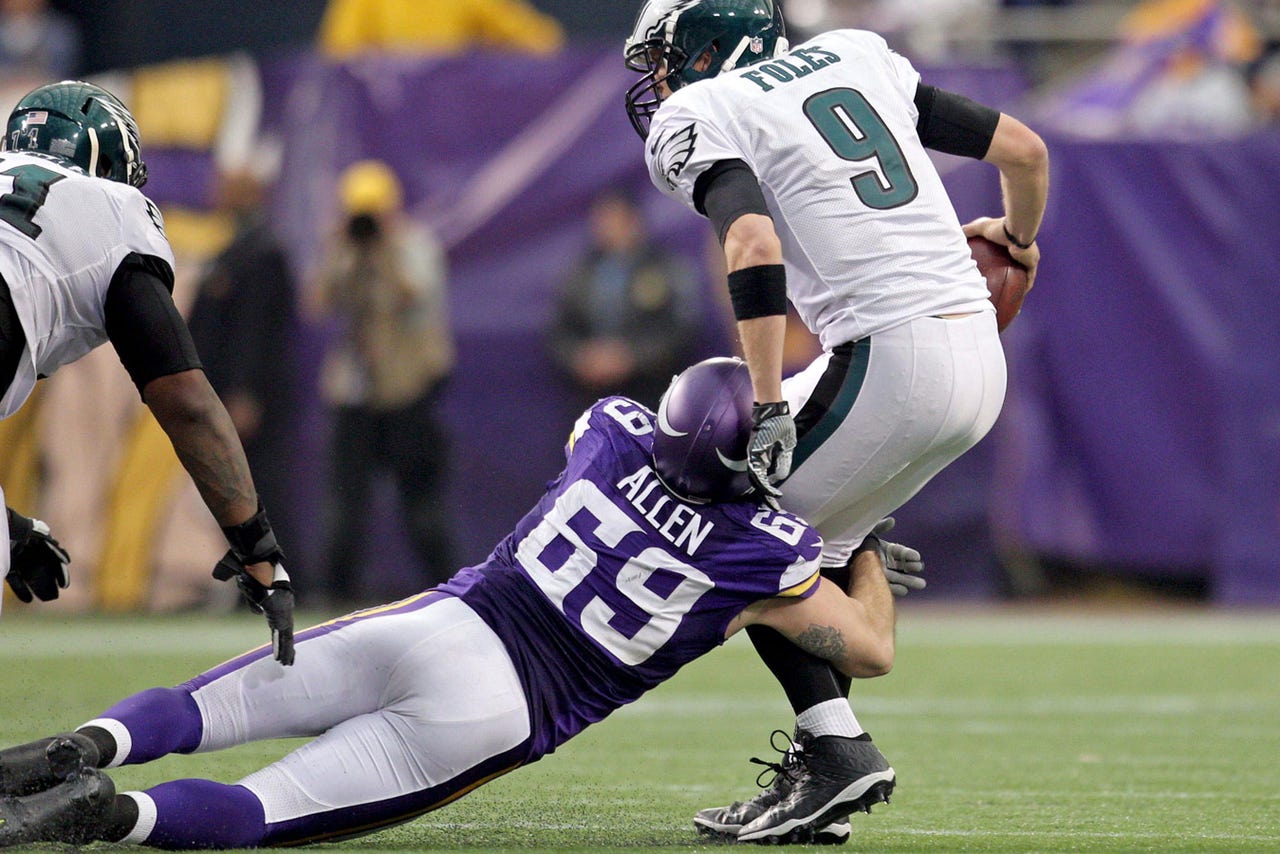 EDEN PRAIRIE, Minn. -- When Jared Allen arrived in Kansas City as a fourth-round draft choice in 2004, he quickly learned about the legacy of Derrick Thomas, one of the top pass rushers in NFL history.
Thomas was one of the most celebrated Chiefs players and ranked No. 9 on the league's all-time sacks list when his career ended after the 1999 season. Thomas died on Feb. 8, 2000 because of a blood clot after he was paralyzed in a car accident a few weeks earlier.
But Thomas' name and impact in Kansas City lived on. The Chiefs' annual player of the year award -- which Allen won in 2007 -- was eventually renamed in Thomas' honor.
Years of appreciating Thomas' work has led Allen to where he is now -- a half-sack shy of passing Thomas in career sacks. With two sacks last week, Allen has 126 career sacks. Now in 13th place on the all-time list, Thomas finished his career with 126.5 sacks.
"Passing Derrick Thomas means everything," Allen said of the significance of his next sack. "When I got to Kansas City, he was obviously the iconic player at that time. His reputation as a legend kind of spoke for itself, for what he did on the field. I watched a lot of his film when I first got there, and a lot of Neil Smith and Leslie O'Neal. I just always kind of measured myself each year. I was chasing his rookie sack record my rookie year. I just tried to always keep pace with him."
Allen has kept pace with Thomas, a nine-time Pro Bowl player who was elected to the Pro Football Hall of Fame in 2009. Allen could eventually pass Thomas' career total in one fewer season. Thomas, who owns the single-game record with seven sacks, played 11 seasons and 169 career games.
In his 10th season, the five-time Pro Bowl defensive end Allen will be playing in his 156th game of his career Sunday at Cincinnati, which will his 108th straight game, the longest current streak by a defensive lineman. Thomas had a 20-sack season to his credit and Allen finished with 22 in 2011.
"I knew if I wanted to be relevant in the talk of the best at what I do, I had to be at least up with his numbers," Allen said. "I always tried to keep pace with him and what he's tried to do. To have an opportunity to pass him, and to have an opportunity to do it one year sooner than he did it is awesome. It's kind of surreal at times, but again it's just one of those goals you try to reach for and then you have to set something else.
Gunther Cunningham worked with both Thomas and Allen as Kanas City's defensive coordinator. Cunningham would remind Allen of Thomas' prowess. Watching film of Thomas -- a 243-pound quick outside linebacker -- Allen tried to incorporate aspects into his game as a 265-pound defensive end.
"That guy had the get-off that was second-to-none, so I learned how he did that," Allen said. "His motor, the way he approached the game, very similar. I know he didn't like practice, Gun told me all the time I don't much like practice; I'm forced to work harder at practice. There's things that he does that can't be replicated. There are techniques that I was able to take from film, from studying him, that I've been able to implement in my game along the way.
"You can take bits and pieces from a lot of people, so I've tried to watch the greats over the year and learn from them and see how I can implement that into my career to see how I can benefit myself in the league, but to pay homage, so to speak, to those who played in the past and let everybody know that those techniques, you don't need things fancy. When you find something that works it'll stand the test of time."
Allen, 31, leads the league in sacks since his rookie year and the only season in which he played all 16 games and didn't reach double-digits was 2006. He is second amongst active players in sacks behind 34-year-old John Abraham (133). He's 6.5 sacks away from Lawrence Taylor and Leslie O'Neal for 10th all-time. Kevin Greene (160 sacks) and O'Neal are the only two players eligible for the Hall of Fame with more sacks than Allen yet to be inducted.
With two sacks last week, Allen is one shy of his sixth-straight season of double-digit sacks. He has four sacks in the past three games and is tied with Brian Robison for the team-lead with nine sacks this season. Allen and Robison are engaging in a friendly competition to be the team leader in what might be Allen's final season with the Vikings.
"Well, he keeps getting sacks so I've got to match him," Robison said. "He's getting better and better, and like I've said all along, he has great potential. He really does. He can be a 15-sack guy. He plays the front side so sometimes what could be a sack, they can actually see. So it's kind of the curse of playing that front side for most quarterbacks … just having that around, knowing that there's a guy on the other end that can beat you to the ball, you've got to step your game up."
Just like Allen has for years in trying to live up to Thomas.
Follow Brian Hall on Twitter


---