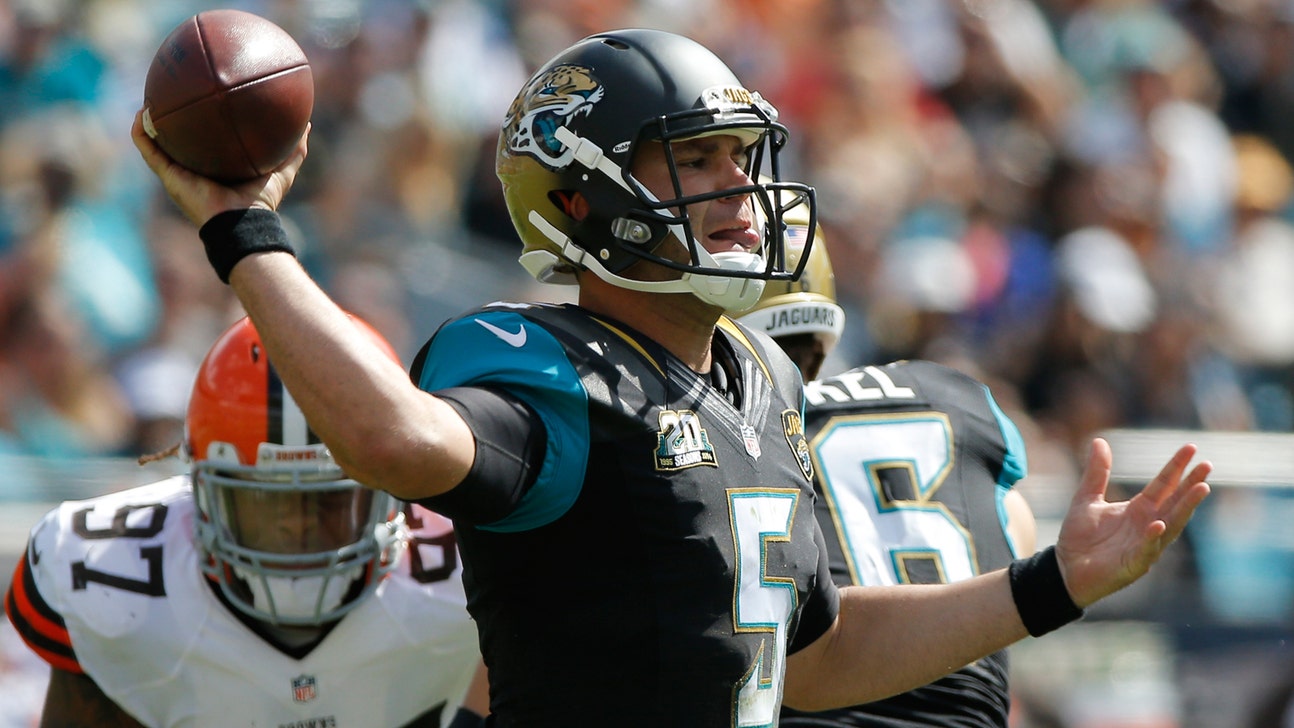 Jags midseason report: Optimism dashed by injuries, offensive woes
Published
Oct. 30, 2014 11:45 a.m. ET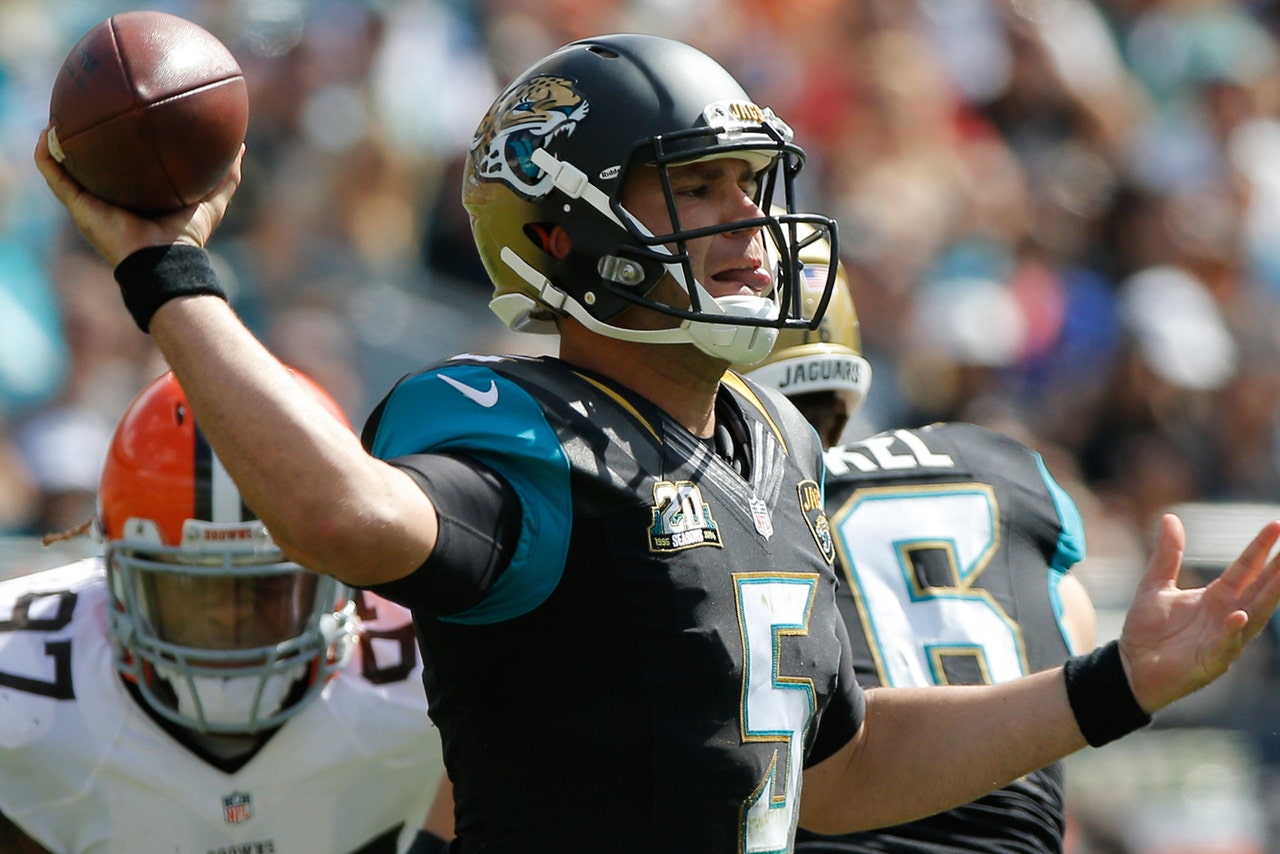 JACKSONVILLE, Fla. -- Their defense is beginning to play as well as had been expected.
Their rookie quarterback is gaining valuable in-game experience instead of standing on the sidelines and watching.
They've gotten back-to-back 100-yard performances from the same running back.
Despite those positives, the Jacksonville Jaguars are still in almost as rough of shape at the halfway point of the 2014 NFL season as they were last year, the first year for coach Gus Bradley and general manager Dave Caldwell. If not for a victory in Week 7 over the Cleveland Browns, who committed two turnovers deep in their territory with the game hanging in the balance in the fourth quarter, the Jaguars would be staring at the same 0-8 start they had in 2013 while transitioning from Blaine Gabbert to Chad Henne and wondering if wide receiver Justin Blackmon could stay out of trouble off the field.
For as energized as their fan base was when Blake Bortles replaced Henne at halftime of Week 3 against the Indianapolis Colts, the offense remains largely lethargic. The Jaguars have been held to 17 points or fewer in all of their defeats and had only 10 against the Browns until scoring two touchdowns in the final six minutes off drives which covered a combined 15 yards.
Playing in one of the league's smallest markets has kept the Jaguars from becoming the butt of jokes from late-night comedians like the New York Jets have. But they have identical 1-7 records and are tied for the most turnovers committed with 18.
After going 4-4 over their final eight games in Bradley's first season as coach and then signing several unrestricted free agents with playoff and championship experience, there was optimism in early September that the Jaguars could avoid a fourth consecutive year of double-digit losses.
Now? Forget about it.
OFFENSE
The only failure is in not trying. So by trying to make Bortles the quarterback of the present rather than the future perhaps sooner than anyone in the organization had originally envisioned, the Jaguars have avoided a failing grade.
After finishing last season 31st out of 32 teams in total offense, being ranked 30th heading into this weekend represents the smallest of steps forward. Bortles has completed 63.5 percent of his passes for 1,384 yards and six touchdowns, although four of those scores came in fourth quarters of games where the outcomes had been pretty much decided.
But his 12 interceptions, only two shy of the total Henne threw last season in 503 passing attempts, include four which were returned for touchdowns. The Miami Dolphins built a 17-3 lead last Sunday on the strength of two of those returns in a game where their offense was stifled by the Jaguars' defense until late in the third quarter.
''It's not really an excuse to say, 'Well, you're a rookie, you're going to make rookie mistakes.' I've been doing it (playing quarterback) my whole life,'' said Bortles, whose selection out of UCF with the third overall pick almost six months ago raised eyebrows among a few draft experts.
''Blake's got a great attitude,'' left guard Zane Beadles said. ''He's not going to back down from a challenge. I know that.''
Bortles' challenge was made more difficult due to circumstances beyond his control. Wide receiver Cecil Shorts III, who had a team-high 66 catches last season, was inactive for three of the first five games because of hamstring problems. Tight end Marcedes Lewis sprained his left ankle in the Jaguars' second game and was unable to practice until just this week. Two opening-day starters along the line were replaced after two games, with tackle Cameron Bradfield being given his outright release.
A running game in which the featured back was expected to be Toby Gerhart has instead been taken over by Denard Robinson, who gained 127 yards against the Browns and 108 yards against the Dolphins. The Jaguars had a total of 35 rushing plays in their first two games. Robinson has 40 carries over the past two weeks.
DEFENSE
Grade: C
If anything, the defense was more of a disappointment than the offense in the first four games because this was supposed to have been the team's strongest area. Opposing quarterbacks had a cumulative rating of 115.0 against the Jaguars over that stretch, which is greater than any current rating for anyone except for the 119.0 mark of Denver's Peyton Manning.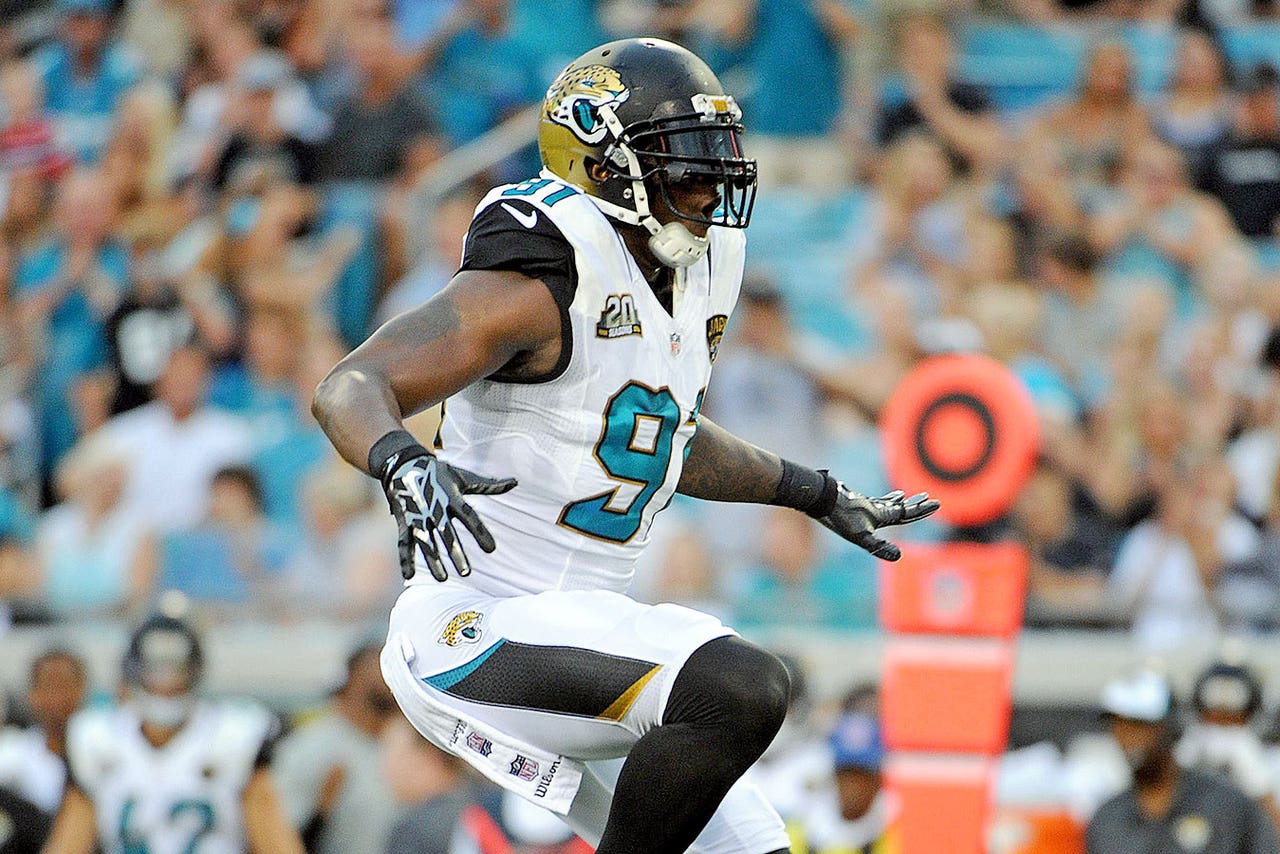 Led by four apiece from ends Chris Clemons (pictured) and Ryan Davis, the Jaguars have recorded 25 sacks, six shy of what Jacksonville had for all of 2013.
The past four weeks have restored order to where there once was chaos.
The defense has allowed only three touchdowns during that period of time while continuing to pad its sack totals. The 25 sacks, led by four apiece from ends Chris Clemons and Ryan Davis, are only six shy of what the Jaguars had for all of 2013.
After ranking last in both total defense and pass defense following their 33-14 loss at San Diego, the Jaguars have moved up 25th and 27th in those respective categories. And the most yards any back has gained in a game against them were 85 in Week 2 by Washington's Alfred Morris.
But a sore spot remains, and it's one that defensive coordinator Bob Babich singled out without any hesitation.
''Takeaways,'' he said. ''We talked about it (Monday) as a defensive unit. That's something that we need to make sure that we take care of ... The missed tackles are down and things like that. But takeaways are something that we need to make sure we put ourselves in position, and if there is an opportunity we've got to take advantage from it.''
Although the Jaguars have recovered five fumbles, their three interceptions are among the fewest in the league. The only one recorded by a member of the secondary came in Week 1 at Philadelphia by cornerback Alan Ball, and a biceps injury caused him to be placed on season-ending injured reserve Wednesday.
The others were by two linebackers who weren't starters when the season began, J.T. Thomas and rookie Telvin Smith. Thomas had the daunting task of trying to replace Paul Posluszny at middle linebacker after the Jaguars' lone Pro Bowl representative last season tore a pectoral muscle while making a sack against the Browns. But the fourth-year pro earned praise from his teammates for handling the move from outside linebacker.
''Poz is such a great player and such a big part of our team,'' strong safety Johnathan Cyprien said. ''But we really trusted in J.T. I was pretty confident in what J.T. would do.''
SPECIAL TEAMS
Grade: C-minus
Except for a 50-yard runback by Tennessee's Leon Washington, the kick coverage teams have continued to be solid. Jordan Todman ranks sixth among all kickoff returners with a 26.6-yard average, and Bryan Anger is in the upper half of punters in both gross and net yardage.
But place-kicker Josh Scobee is scuffling through arguably his toughest season in 11 years with the Jaguars. The 48-yard field-goal attempt that the Dolphins blocked was his third such kick of the season, a stunning development for someone who hadn't missed more than three field goals in any of the previous three years. When his 55-yarder in the closing seconds against the Titans was blocked by Sammie Hill, it prevented the Jaguars from pulling off what would have been an amazing come-from-behind victory.
The punt-return units are still no better than so-so. Ace Sanders, who returned three punts for a touchdown as a junior at South Carolina, has yet to run one back for longer than 19 yards.
DT Sen'Derrick Marks
There are several candidates from which to choose along the defensive line. Marks stands out for continuing to play at a high level after being rewarded with a four-year, $22 million contract toward the end of last season, his first after coming from the Titans to the Jaguars. He deserved as much credit as anyone for limiting the Browns to two field goals. Marks is seldom on the field for more than two-thirds of the defense's plays in a game as the depth the Jaguars have up front, even following a groin injury to end Andre Branch, is helping keep him fresh.
BIGGEST SURPRISE
Pick a Robinson.
Denard Robinson was a non-factor as a rookie, and there were questions whether the quarterback, who set records at Michigan for rushing yardage, would ever adjust to a career in the pros as a running back. The last two weeks have silenced those doubts. Not only is he averaging 4.8 yards a carry, but has no fumbles in 68 rushing attempts. Gerhart, who was supposed to have a breakout year after being a longtime backup to Adrian Peterson in Minnesota, is averaging only 2.6 yards an attempt and does not have a run of longer than 13 yards.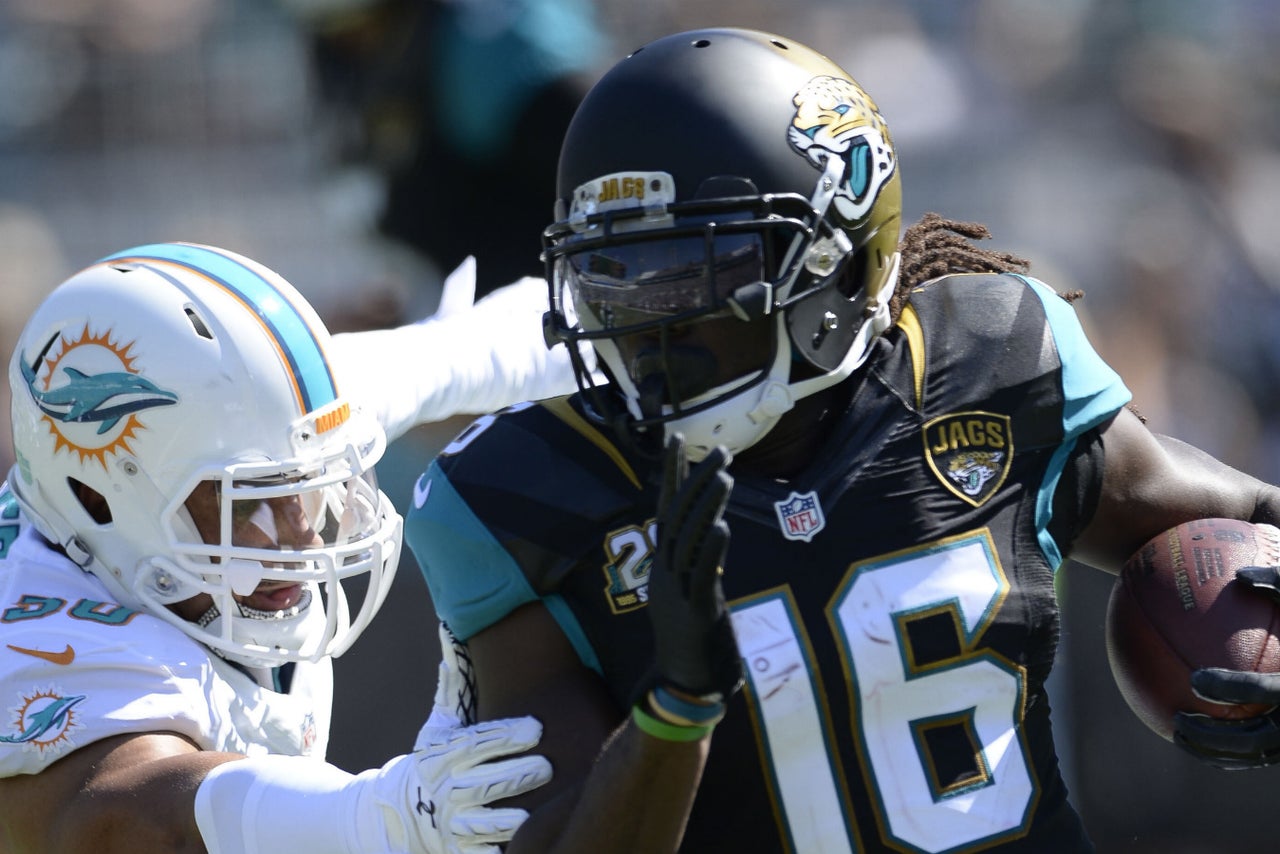 Denard Robinson leads the Jaguars in rushing with 329 yards on 68 carries.
Allen Robinson, a wide receiver drafted in the second round out of Penn State, was supposed to be playing catch-up after missing the entire preseason with a hamstring injury. Instead, he is far and away the team leader in receptions (39) and yards (453). Marqise Lee, who was taken earlier in the same round, has caught only 12 passes for 128 yards.
Davis, who had played a total of 15 games with the Jaguars the past three years, merits singling out as well. For someone who's undersized and not especially fast, he still finds ways to get to the quarterback and bat down passes.
BEST MOMENT
The first half of the season opener at Philadelphia. Henne threw touchdown passes of 34 and 21 yards to undrafted rookie wide receiver Allen Hurns, sacks by Clemons and Branch of Eagles quarterback Nick Foles resulted in fumbles, and Ball picked off a pass in the end zone to thwart a drive. Up 17-0, the future was looking bright. But that advantage slipped away not long thereafter, and the Jaguars would not lead again until the first quarter of Week 4 against the Chargers.
WORST MOMENT
The first half of the home opener against the Colts. Six possessions, six scores for Andrew Luck and the Colts offense. Meanwhile, Henne and the Jaguars offense had two first downs and 55 total yards. Fans would have started to leave in droves if Bradley didn't decide at halftime with his team down 30-0 to replace Henne with Bortles, who went on to throw for 223 yards and two scores.
SECOND-HALF OUTLOOK
As was the case a year ago, the Jaguars have two meetings with the Houston Texans down the stretch. But the Texans aren't in a shambles like they were last November and December, and the game in London against the Dallas Cowboys, which seemed to be a possible win when the schedule came out, now looks like another instance where the Jaguars will be a double-digit underdog. By the time their final home game rolls around on a Thursday night against the Titans a week before Christmas, the Jaguars will be fortunate to have a record any better than 3-11.
You can follow Ken Hornack on Twitter @HornackFSFla or email him at khornack32176@gmail.com.
---