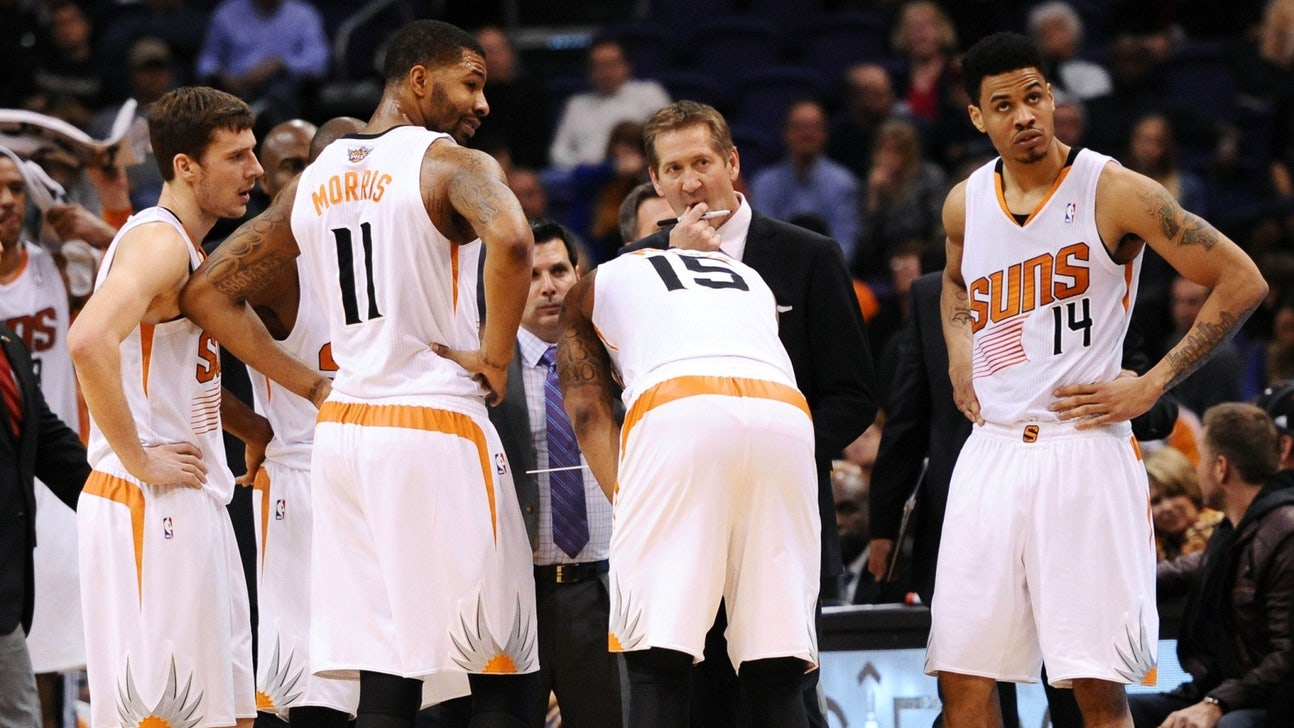 It's not 'playoffs or bust' for Suns
Published
Mar. 20, 2014 3:06 p.m. ET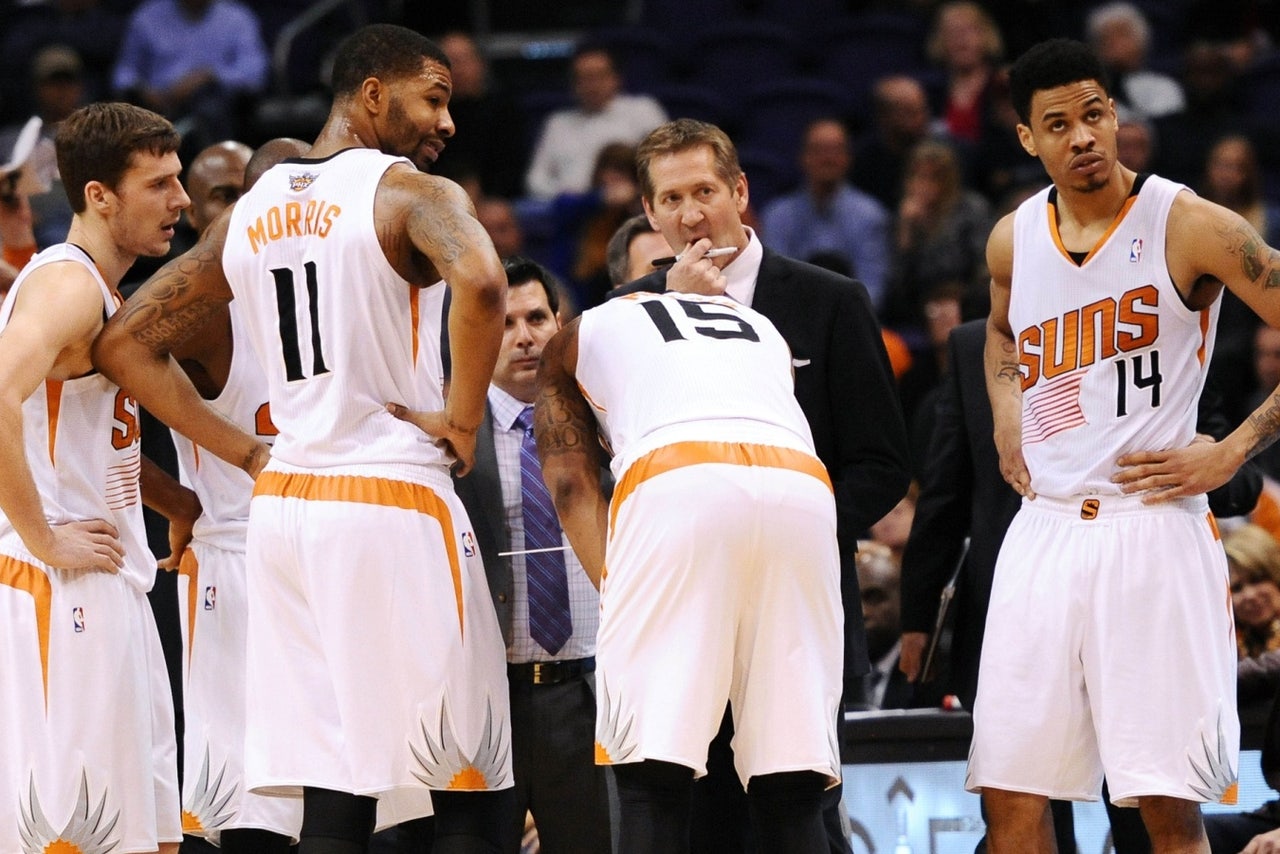 PHOENIX -- The local whispering has accompanied outright chirping at the national level.
Oh, they're still talking about the Suns, but now that 1 1/2 games separate the NBA's surprise team from the eighth seed in the Western Conference, the critics are unloading.
Why didn't the Suns just go ahead and tank? With Andrew Wiggins becoming self-aware and Jabari Parker already performing with pro-caliber poise, doesn't drafting 13th or 14th constitute a colossal failure and the worst-case scenario?
Didn't we see this lurch toward a coach-class playoff ticket during the final two seasons with Steve Nash? Aren't all of this season's feel-good moments mitigated if the Suns are unable to navigate the brackish waters of their April schedule and reach the sunny shores of the postseason?
The answer is a resounding "no!" And that's from most of us serving as up-close witnesses.
For inside perspective, however, let's cede the floor to Lon Babby, the team's president of basketball operations. OK, so he's not exactly the most objective source, but Babby does offer a studied and official point of view.
Before getting into specific variables of why this season -- playoffs or no -- should be considering a rousing success, let's take on that last-two-years-of-Nash comparison.
"It's different than it was the last two years of Steve's era," Babby said, "because then, we were trying to surround him with enough to let him successfully and gracefully end his run, and if that meant squeaking into the playoffs, then it was worth doing."
With seasoned playmates such as Vince Carter and Hedo Turkoglu temporarily on board, any rebuilding plan certainly seemed years away.
"But there was a sense of sands running through the hourglass," Babby said of Nash's last ride. "Now, it's the opposite. The fact that we're further along should be considered a positive."
By further along, Babby is referring to a collective effort that has produced 39 victories (about double what the experts projected) with 14 more games remaining.
It refers to the hiring of a really good coach, the addition of Eric Bledsoe, the All-Star-level emergence of Goran Dragic, the hey-they're-actually-pretty-good upgrade from the Morris twins and the performance of two supposed throw-ins from the Indiana Pacers.
"I don't see how you can add all those things up and say the season is anything but a tremendous success," Babby said.
Beyond those improvements, the Suns have been re-established as a viable player destination just one season removed from the numbing embarrassment attached to 25-57.
Babby didn't think Phoenix really lost that much of its destination appeal, but most reasonable observers acknowledge that the general perception of the on-court product has soared.
Warning: the "c" word is on its way.
"The culture has been implemented in a way that it's going to be sustainable going forward," Babby said.
The sustainable part comes from a lack of bad contracts (salary-cap flexibility), a boatload of draft picks, a big-thinking general manager in Ryan McDonough and the smarts provided by coach Jeff Hornacek.
"We've got a front office that's functioning at a high level," Babby said. "We've got a new coach who's proven he's going to be one of the very best in the league, integrated a new coaching staff, still have the great training staff, our analytics have made tremendous progress.
"All of that has translated into a group of players that are playing at a higher level than they've played before. So, to my mind, by any definition, that's progress. And we still have our assets."
Those assets include, of course, three first-round picks in the presumed monster draft of 2014.
But if the Suns slouch to the finish line and wind up in the late lottery, that particular pick would be the team's first this June. Despite all of the accomplishments from this year's team, the naysayers consider not having a shot at Wiggins, Parker, Joel Embiid, et al, as something of a tactical blunder.
Even if there were high and unspoken hopes for a low victory total, any supposed mission statement never was passed along to the players. Do you think Dragic should downshift for the opportunity play with Wiggins? If you have the opportunity to acquire Bledsoe and give up Jared Dudley, do you turn that down?
Do you tell the Suns' assistant coaches to not try so hard in developing Markieff and Marcus Morris? Should Gerald Green be discouraged from using his superhero talents for the greater good?
Do you not hire Hornacek and hope he waits another year for your offer?
So even though three mid-to-late-first-round draft picks may not be the equal of one top-five selection, what the Suns have achieved is something to celebrate.
"What you're trying to do is make progress," Babby said. "You can't focus on whether you're drafting 14th or 21st or sixth, because if you're drafting six, you've got a lot of work to do in other areas.
"The fact that our pace accelerated beyond anyone's expectations ... how that could be a negative I'll never understand."
With an April gauntlet that includes dates with the Thunder, Trail Blazers, Clippers, Spurs, Mavericks and Grizzlies, reaching the playoffs will require even more of this season's unexpected uprisings. If they don't occur, all of the spectacular moments may seem wasted -- but only for a short while.
"I think we're in a terrific spot," said Babby, referring to the franchise's future and not the current standings. "That's not to say we won't be disappointed if we don't make the playoffs. We want to make the playoffs.
"But to take a step back ... would you rather be on a long losing streak? I would say that it's bizarre to think success converts into failure because it affects your draft choice."
---