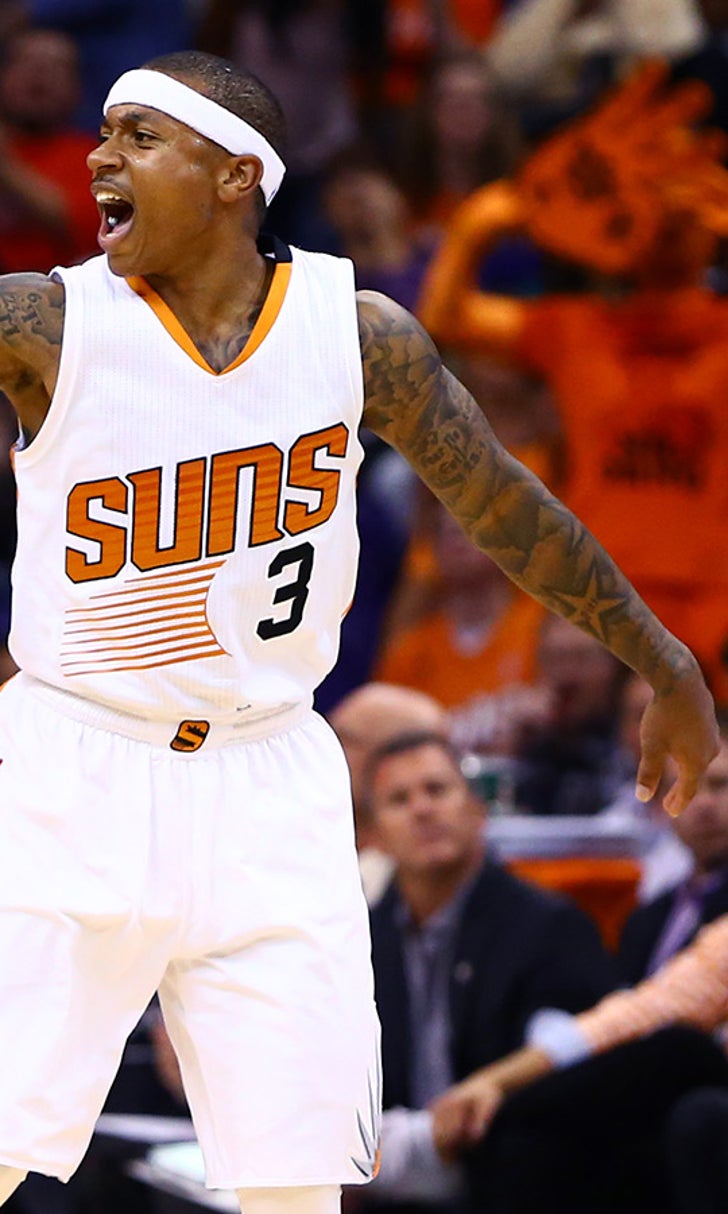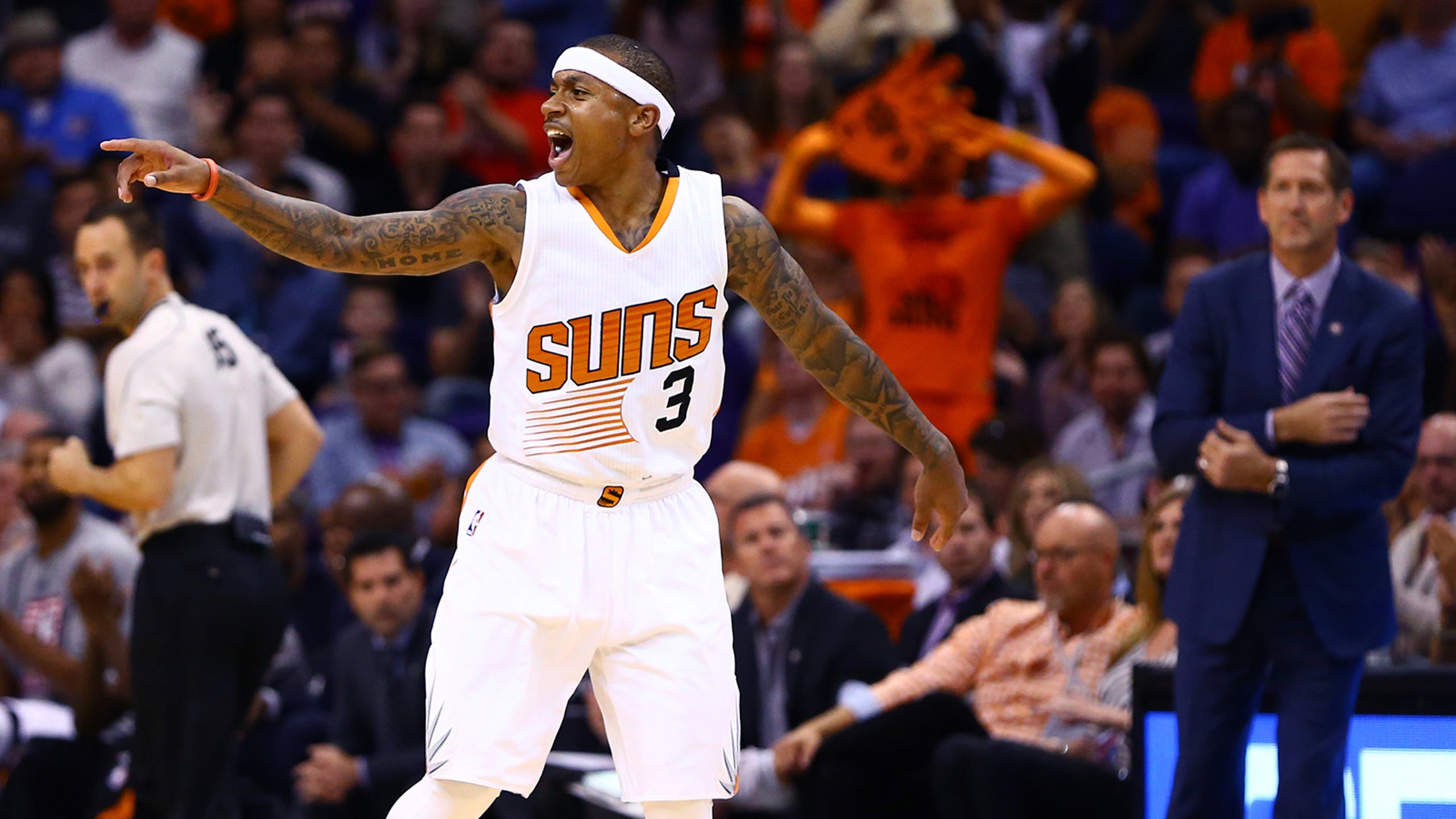 Isaiah Thomas ready to return, provide spark for Suns' offense
BY foxsports • December 11, 2014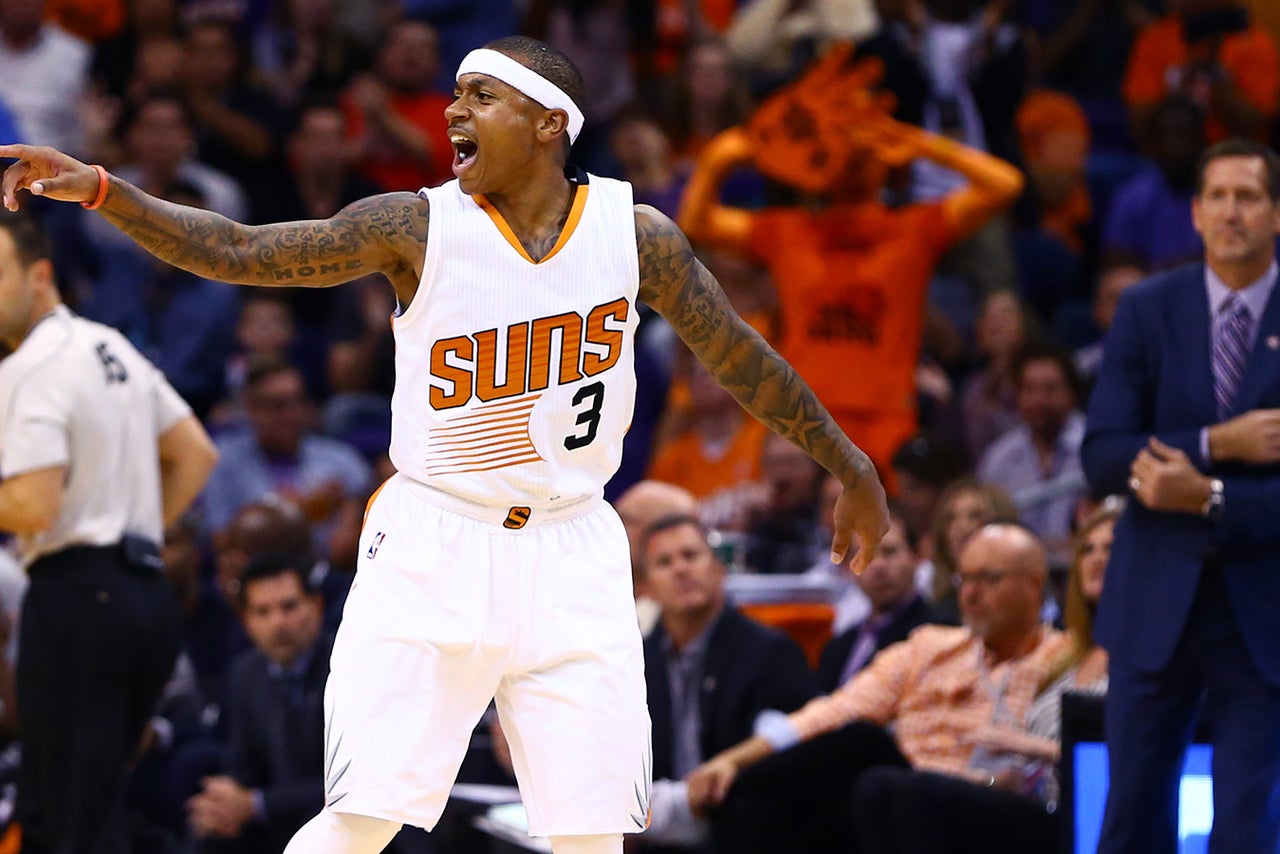 PHOENIX -- As an unofficial provider of electricity for the Suns, Isaiah Thomas understands his job description.
"I'm an energy guy," said Thomas, whose bum ankle has rallied enough for him to fully participate in Thursday's practice. "If I don't have energy, I'm not that good of a basketball player."
While he understands the role, he doesn't always love it. But hired to supply Phoenix with some sizzle off the bench, the first-year Suns point guard also has been a lightning rod for debate.
Most of this chatter co-stars Eric Bledsoe and Goran Dragic, teammates and fellow point guards attempting to co-exist in the Suns' attempt to dribble-drive opponents into surrender.
Although Thomas generally has excelled in his assigned role, relatively slow beginnings from Bledsoe and Dragic frequently were credited -- by fans and the fourth estate -- to Thomas disrupting a level of rhythm attached to the team last season.
But having worked without him for the past eight games (five of which were losses_, the Suns have furnished evidence that suggests other variables could be at work.
In three victories without Thomas, Bledsoe has produced 21 points and 10 assists in one game, 27 points and 7 dimes in another, and 19 points and seven assists in the third.
In these same events, Dragic has gone for 20 and 4, 34 and 3 and 28 and 13. Yeah, that's crazy impressive.
But the five defeats have been far less memorable. Dragic had just 7 points in one of the Thomas-free losses. Bledsoe backed up a 27-16-11 triple-double with a triple-single one night later.
This reminds us that attaching blame or credit can be tricky endeavors.
When asked if not participating for eight consecutive games provided him with any newly acquired Suns-related insight, Thomas was a bit skeptical.
"Not really," he said. "I don't play the whole game, so I definitely sit and watch when I'm not out there playing anyway."
He did, however, attempt to make productive use of his time out of uniform.
"(I) try to become more of a student of the game when you're not out there," he said, "not just sit behind the bench cheering guys. Telling guys what you see out there. Sometimes when you're out on the floor, you don't see what the coaches see or what other players are watching. So I was just trying to maintain being a leader and helping out as much as I can when I'm not out there on the court."
Thomas said he'll play Friday night against the Detroit Pistons at US Airways Center if his ankle responds as well as it did Thursday and has no doubt about what he can give the Suns when he suits up. 
"Just orchestrating the team as a point guard," he said. "Getting guys in the right spots . . . not that Eric and Goran don't do a great job at that. But sometimes we have holes in the game when we don't know what play we're in, we don't know what we're doing. I hope I can help in that matter, just being a guy out there that can create things for others and for himself."
Through the Suns' first 15 games, Thomas conjured 15.5 points and 4.1 assists per game, making 39 percent of his 3-point attempts and 43.5 percent of his shots overall.
Chosen with the 60th (and last) selection in the 2011 NBA Draft, the 5-foot-9 lefty averaged 20.3 points and 6.3 assists during his third season as a Sacramento King. But his reputation as a dominant handler and shooter of the basketball didn't inspire the Kings to retain him in free agency.
Although he and the Suns both knew their respective tendencies when a contract was struck, Thomas simply fulfilling his prescribed role created the aforementioned questions regarding on-court chemistry.
Having presided over several recent interludes of stagnant offense, Suns coach Jeff Hornacek is more concerned with having fresh players to maintain his preferred pace.
So, with the Suns' current three-game losing streak ending a four-games-in-five-nights run that featured heavy minutes from their healthy guards, the coach is happy to have another weapon.
"Obviously, when you have to play someone a lot of minutes it wears 'em down," Hornacek said. "(Now) we can give 'em a break and still be able to push the ball."
And to be effective in his role, Thomas is required to accelerate that tempo.
"I think he'll be ready," Hornacek said. "He looked OK."
Thomas was pretty satisfied with how he felt after his first full team workout since the injury.
"A lot better," he said of the ankle. "The best it's felt since I got injured. There's still some pain in there, but for the most part, I can tolerate it a little bit. So, hopefully, if it responds good tomorrow I'm gonna play. Like I said, once I could tolerate the pain, I could move out there a little bit, I could play.
"There's still some cuts . . . going left, it hurts . . . it's got the most pain in it. If it responds tomorrow, I'm going to definitely be out there playing. I'm tired of sitting behind the bench and watching . . . just watching . . . that's the toughest part. I've been watching film every night, seeing where we can get better. That's my job as a point guard. It's tough, it's frustrating when you have an injury and you can't do nothing about it. You can't control how your body responds. I'm ready to get back out there. If I can move as good as I did today, I'll be out there."
---