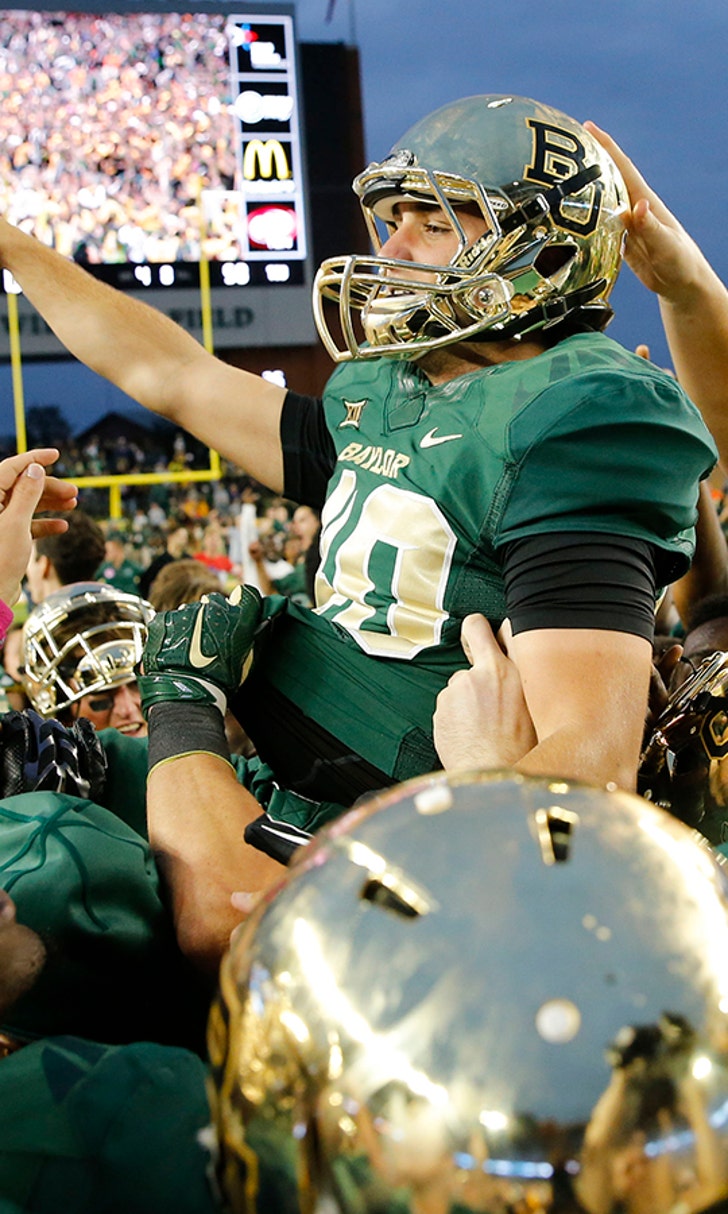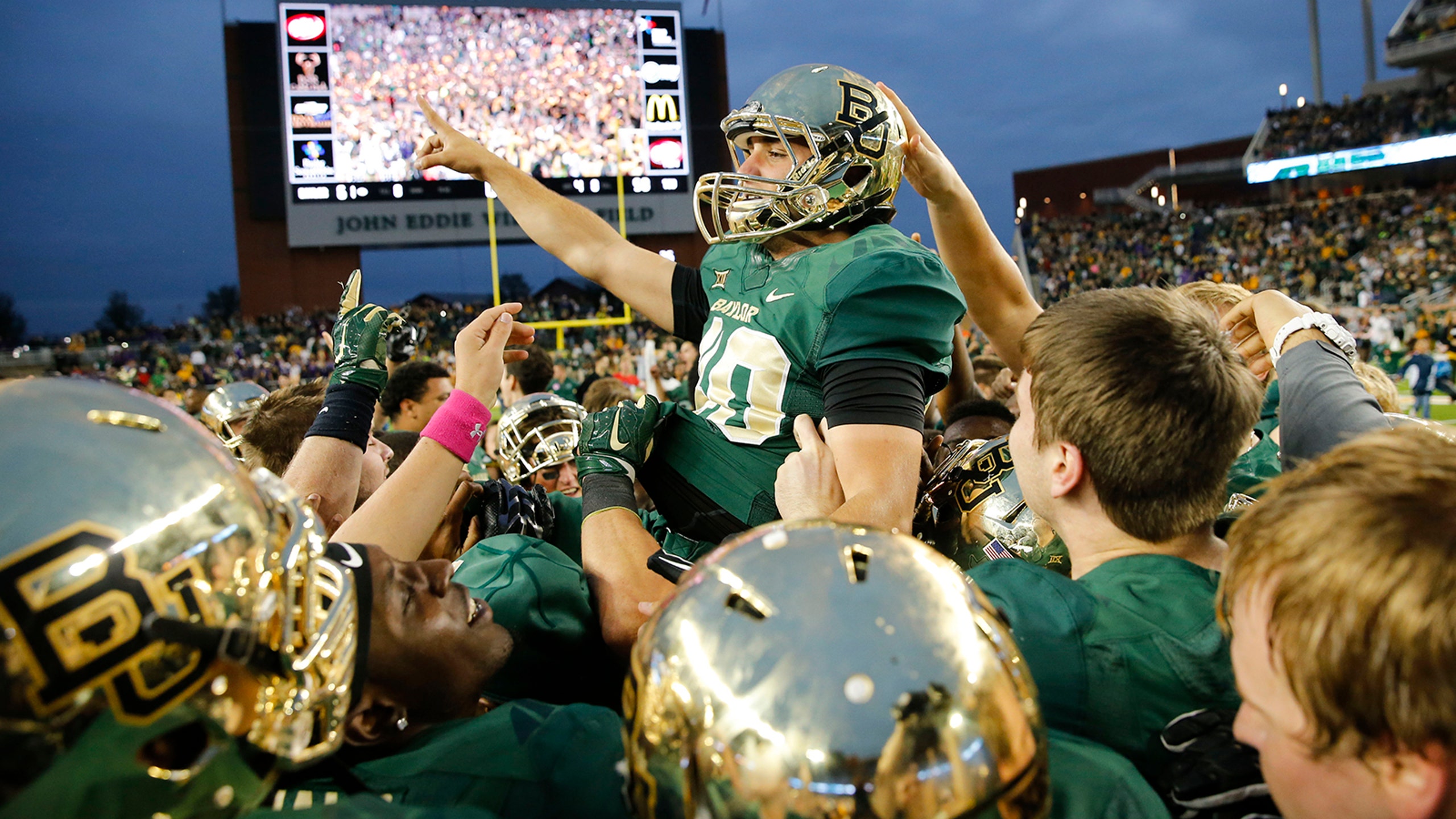 Inside the Big 12's five game-winning kicks of 2014
BY foxsports • October 24, 2014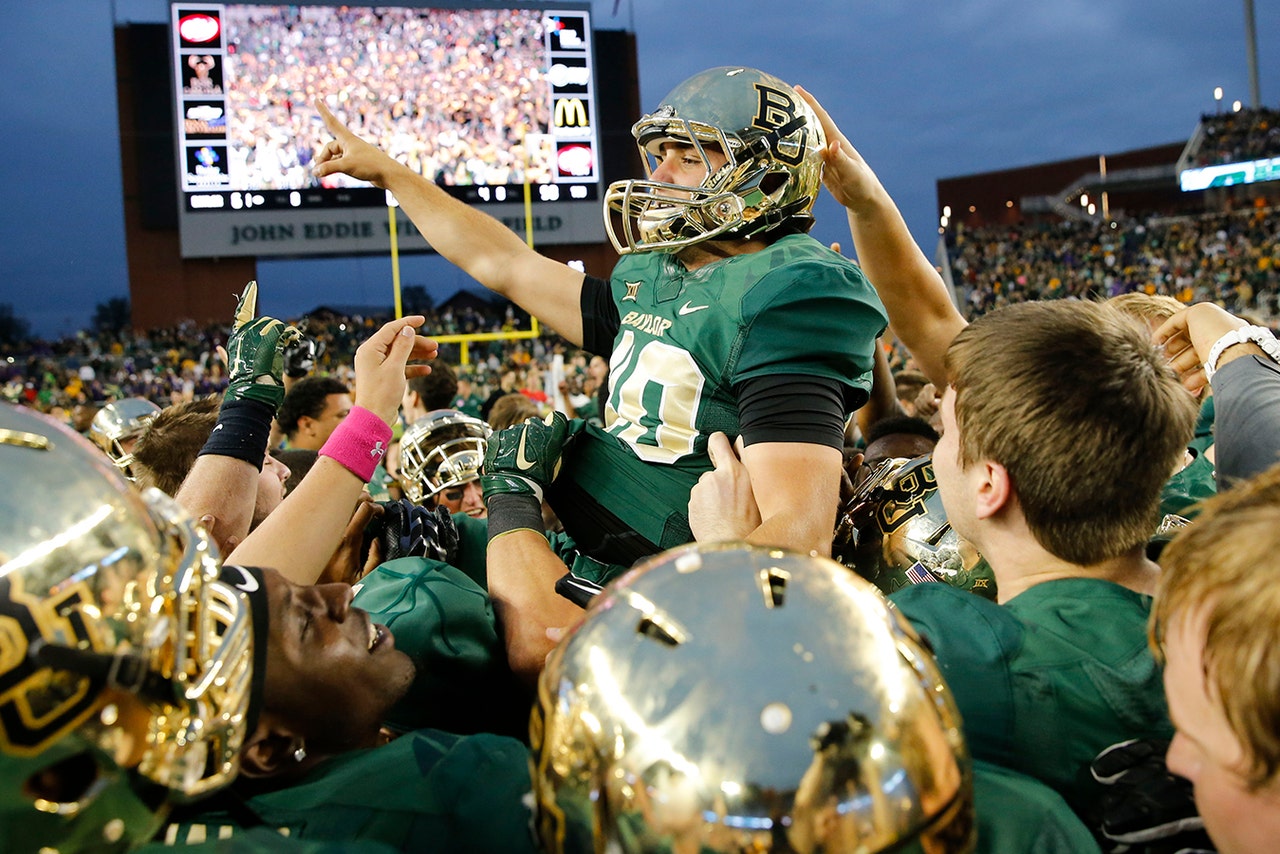 Every time 120 minutes of soccer are followed by five fluky penalty kicks to decide the game, a parade of Americans are ripe to complain about the nonsensical tiebreaker.
However, we seem totally fine when 300-pound men slam into each other for 59 minutes, only to step aside while the right leg of a 5-foot-9, 185-pound kicker decides the victor.
In just eight weeks, four Big 12 teams have won a total of five games on decisive kicks in the final seconds. This week, the men who kicked them took some time out to give you a look inside everything you ever wanted to know about one of the most dramatic plays in football.
--
Kickers are much like a snowflake in that no two are the same.
West Virginia's Josh Lambert booted a 48-yarder in the rain to beat Maryland on Sept. 13 and a 55-yarder in Lubbock to beat Texas Tech on Oct. 11. Before both, he paid marginal attention to the action on the field preceding both kicks and even less to his teammates on the sideline.  
Stay away, please.
He and Iowa State's Cole Netten, who brought the Cy-Hawk Tophy back to Ames with a 42-yard kick against rival Iowa in Iowa City on Sept. 13, both subscribe to an isolationist philosophy.
"There's a lot of people who think they know how to kick a ball once you get to the last second of a game," Netten told FOX Sports Southwest this week. "I usually have no clue what they're talking about."
He'll laugh it off and focus on visualizing the kick and slowing down his breathing.
Netten and Lambert turn the practice net into their best friend during the final drive, but Baylor's Chris Callahan kept his eyes on Shock Linwood's grinding runs that set up his 28-yard game-winner against TCU.
In his case, every tip or encouraging word from a teammate is welcome.
"I need someone to pat me on the butt every now and then to show they have confidence in me," Callahan said.
Callahan, a freshman, made just one of his first six kicks of the season. After he missed his only attempt of Baylor's 63-21 win over Buffalo on Sept. 21, he placed a call to Scott Blanton, his private kicking coach. Blanton, a former Oklahoma kicker who spent three seasons in the NFL, instructs in Dallas and also coaches TCU's Jaden Oberkrom, Texas' Nick Rose and Oklahoma's Michael Hunnicutt, among others.
Callahan made plans to meet up with Blanton at 5 p.m. on Monday, Baylor's off day for a coaching session and some mechanical tweaks. He missed his only field goal a week later, but has made all six attempts and has visited with Blanton in Dallas every Monday since his first trip.
Those visits and his newfound confidence were fresh in his mind when he trotted on the field for a 28-yard attempt to complete Baylor's 21-point, fourth-quarter comeback against TCU. First, Linwood grabbed the man whose leg would decide the game and told him his kick was about to make him a hero.  
"It inspired me to be great," Callahan said. "That moment was special."
The kick, though, had to wait.
All five game-winning kicks followed timeouts. Three of the five kicks came after opposing coaches attempted to ice the kicker, but ask around and you'll find different answers about that practice, too, even if it's been statistically disproven.
"It usually works, because it gives kickers more of a chance to think of the situation ahead of them," Lambert said.
Netten called it a "waste of time" and says if you want to ice the kicker, you're better off not icing the kicker.
"If you really want to throw somebody off, you really shouldn't call a timeout," he said. "Some are just waiting for the whistle. Sometimes, if they don't hear it they may be thrown off a little bit."
Netten dealt with the most spectacular botched icing attempt. Iowa coach Kirk Ferentz called timeout just before the kick. Netten saw the play had been whistled dead and debated going through with the kick before missing his first attempt. He didn't watch it but knew from the crowd's reaction that it had slid outside the upright.
The frenzied crowd drowned out the whistle for much of the stadium and the TV broadcast, who didn't get the memo that the missed field goal--Netten's only miss of the season--wouldn't count.
"I was like, 'Whatever.' If anything, it'll just make fans more mad," Netten said.
Center Tom Farniok turned around and had a simple message.
"Well, now it's time to go win the game," he said.
He did exactly that and hardly had to watch. On this, most kickers agree.
"When you kick, you know. You've kicked so many good balls and you know what it feels like," Netten said. "If it's a 31-yarder or 55-yarder, it should all be the same swing. You don't want to underswing or overswing."
Lambert never calculates the distance of a kick before he attempts it.
Netten, an avid golfer, compares the feeling to a crisp golf shot. Neither Lambert nor Callahan play the game, but point to basketball players' free-throw rituals as a similar must before a kick.
"Kickers do everything differently," Lambert said, "but whatever you do, you have to do it consistently."
Both Rose and Netten's game winners came with time still on the clock, so a kickoff followed.
Texas did not make Rose, who beat Iowa State with a 21-yard kick last week, available for an interview for this story.
Netten found a way to recover a fumble to seal the game on a hectic final play filled with laterals.
For kickers like Lambert and Callahan, making a game-winner can pose physical risks. They're not often chased by scores of 200 and 300-pound men.
In a moment like that, the mind can go blank, but Lambert found it in his heart to run over and shush a Texas Tech crowd that had been hassling him the entire game. Some spit at him. One found an orange Gatorade and chucked it in his direction.
"I had to acknowledge that I had heard them the whole game and it didn't affect me," he said.
Callahan didn't realize Baylor fans had even stormed the field until he emerged from a pile of teammates and, coincidentally, fans.
"I knew I had to relax and it'd be over in a few a minutes, but I feared for my life a little," he said. "I couldn't feel a lot of my body parts and I was losing some air."
To hasten his release, he pinched a few teammates and encouraged them to lighten his body's load on the bottom of the pile.
On the way to the locker room, junior defensive lineman Trevor Clemons-Valdez's mom, Katrina, grabbed him in the sea of people on the field at McLane Stadium. It was his mom. She was in tears.
Later, strength coaches Andrew Althoff and Justin Hill carried him off the field.
West Virginia had lost to both Texas Tech and Maryland a year ago, and Lambert helped his teammates earn a bit of revenge.
"The best part was going into the locker room and seeing how happy everybody was," Lambert said.
When planes had arrived home and the stadium cleared, there weren't any Manziellian exploits deep into the night that would later go viral on Instagram.
Lambert and Callahan settled in for quiet nights at home with their girlfriends. For Lambert, movies are his postgame celebration of choice. He picked the film "Lone Survivor" after knocking off the Red Raiders. Callahan watched SportsCenter in disbelief, awed that his kick and name had earned the program's top billing.
Netten's Saturday night on the field was special, but once he was off it, it was back to his usual activity: Strapping on a headset, going online with friends from high school and playing the newest member of his video game collection: a first-person shooter called "Destiny."

---