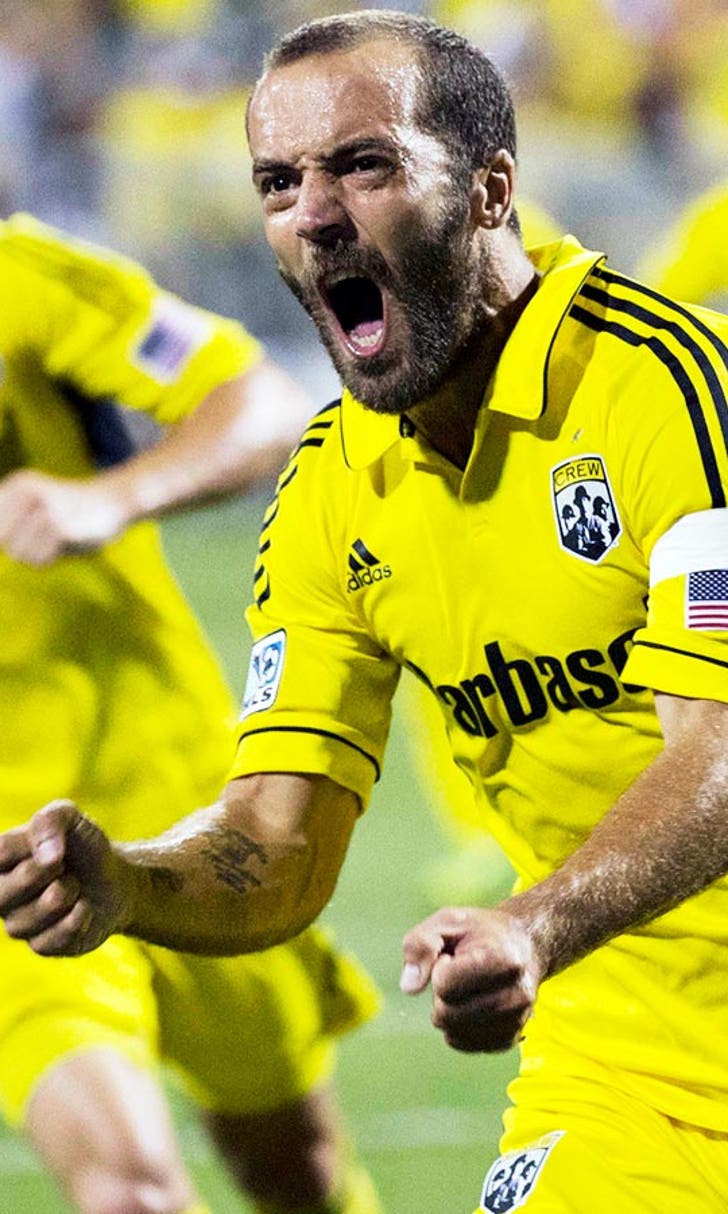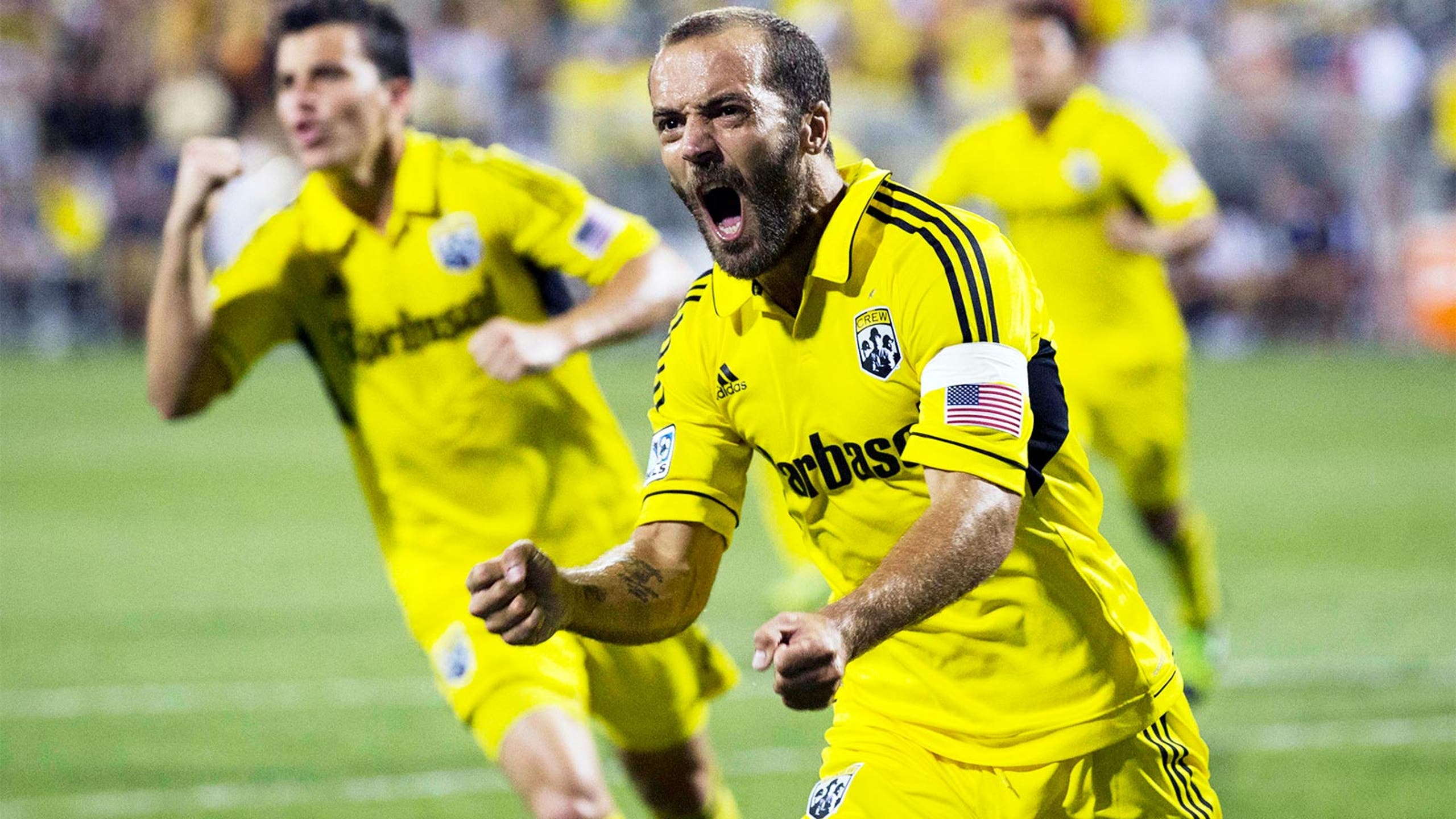 Inside MLS season preview: Columbus Crew
BY Kyle McCarthy • February 25, 2014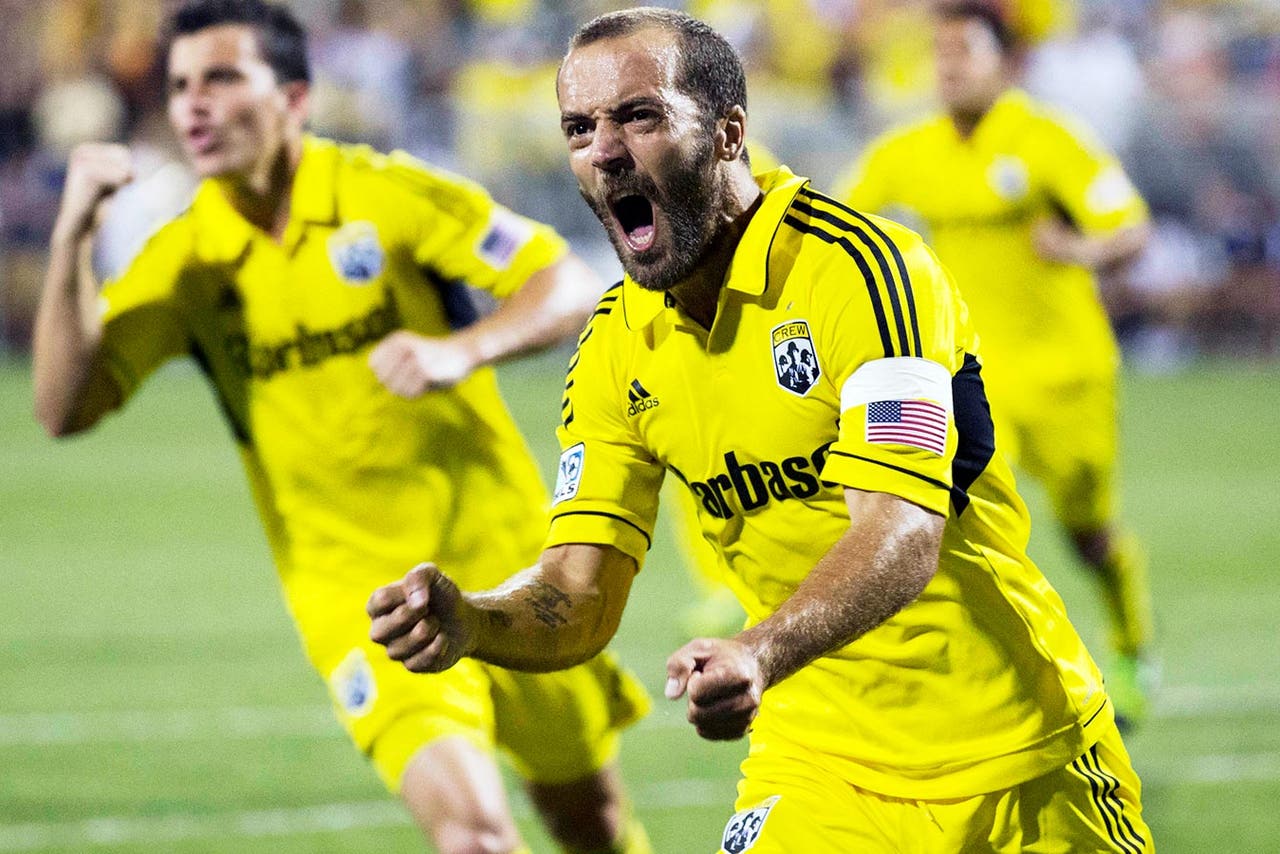 ESSENTIAL FACTS
Last year in a nutshell: Change finally swept through Crew Stadium as new investor/operator Anthony Precourt took charge during the summer and eventually cleaned house after a late playoff push fell short.
(as of February 24)
Incoming: COACH: Gregg Berhalter (unattached); GK: Steve Clark (Hønefoss BK/Norway via Seattle), Brad Stuver (MLS goalkeeper pool); DF: Waylon Francis (CS Herediano/Costa Rica), Ross Friedman (Harvard), Giancarlo Gonzalez (Valerenga/Norway), Michael Parkhurst (Augsburg/Germany via New England), Ben Sweat (South Florida), Matt Wiet (Dayton Dutch Lions); MF: Fifi Baiden (UC Santa Barbara), Hector Jimenez (LA Galaxy), Daniel Paladini (Chicago), Matt Walker (Xavier)
Outgoing: COACH: Brian Bliss (interim – Chicago Fire – technical director); GK: Andy Gruenebaum (Sporting Kansas City); DF: Drew Beckie (Ottawa Fury), Gláuber (unattached), Kyle Hyland (Indy Eleven), Chad Marshall (Seattle); MF: Eddie Gaven (retired), Danny O'Rourke (unattached), Matías Sánchez (unattached), Konrad Warzycha (unattached); FW: Aaron Horton (unattached)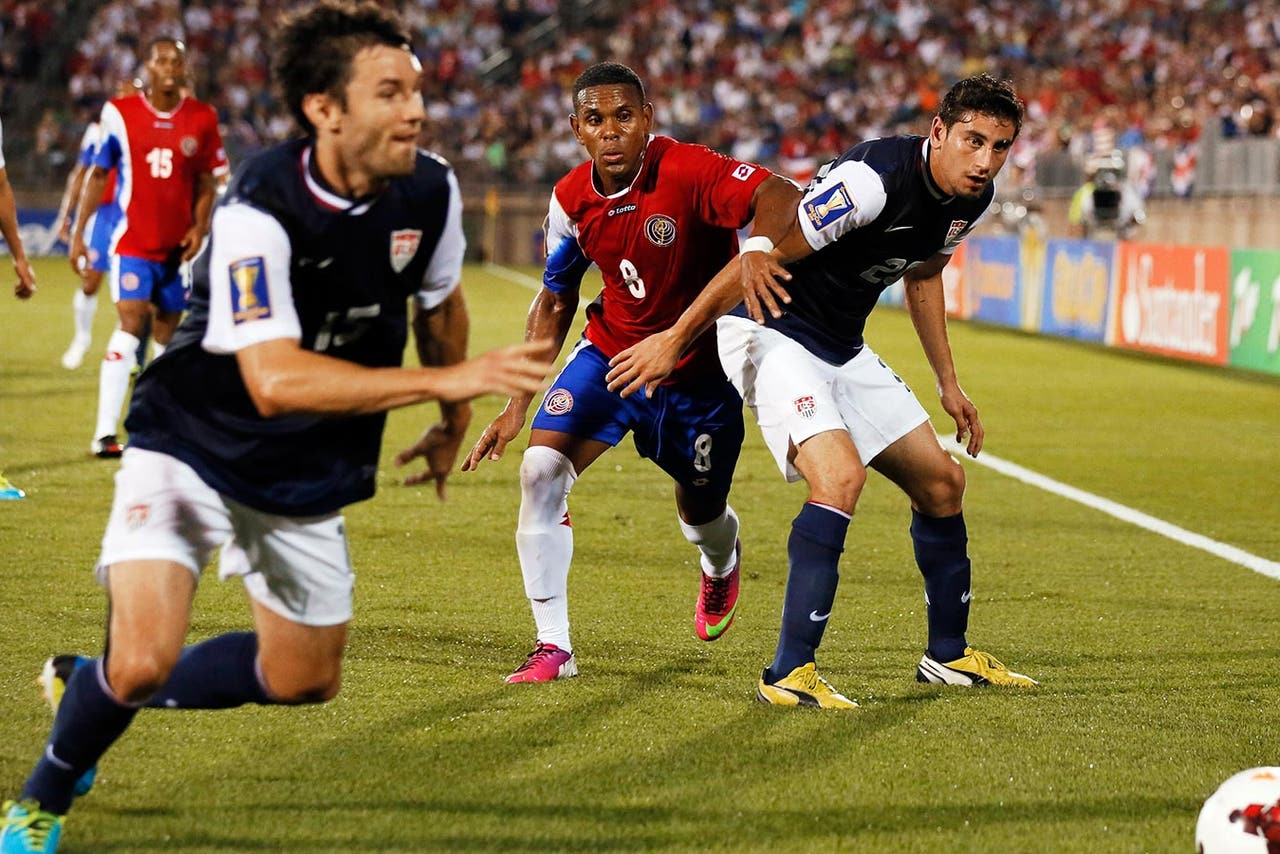 United States defender Michael Parkhurst returned from Germany to assume a vital role with the Crew.
FUNDAMENTALS
Key Player: The inevitable offseason overhaul left the recently imported Michael Parkhurst as the defensive lynchpin for a side that wants to build from the back. Parkhurst enters the season with competing concerns – is it better for him to play right back in a bid to push his way into the World Cup squad? – and a significant role to play in a Crew rearguard stripped of venerable leader Chad Marshall during the close season. He must perform up to his expected standard offer the cornerstone required for this rebuilding side and provide the foundation for this team to build upon further up the field.
Strengths: New head coach and sporting director Gregg Berhalter spent much of the winter cobbling together enough promising pieces to build his unit. Most of the hard work came at the back: the current group boasts a blend of established internationals (Parkhurst and recently acquired Giancarlo Gonzalez), intriguing components (Chad Barson and Waylon Francis) and solid MLS pros (Tyson Wahl and Josh Williams). U.S. under-20 international Wil Trapp should fit nicely into Berhalter's remodeled midfield, while Jairo Arrieta and Dominic Oduro (13 goals last season) provide speedy, versatile attacking options capable of breaching opposing defenses. Federico Higuaín remains one of the league's top players, a singular force capable of mounting attacking forays by himself and pulling the strings for others. His presence ensures the Crew will field at least one matchwinner in the side this season.
Weaknesses: Cohesiveness presents the primary concern after the turnover during the winter. Berhalter spent much of preseason trying to fashion a cohesive back four (Gonzalez's belated arrival adds another starter into the mix, but it also amplifies the need for more time to work together) and figure out the right balance in midfield. A lack of size among the defensive options could leave the Crew exposed on set pieces. Eddie Gaven's sudden retirement strips away the potential boost of his return from a severe knee injury and places the onus on others to lift their displays accordingly. Most of the wide players are converted forwards, a blessing at points in one-versus-one situations and sometimes a hindrance for those final balls into the penalty area. Higuaín and Oduro bore the majority of the attacking responsibility last season as Arrieta struggled for form. The continued absence of a long-awaited number nine may leave them without the necessary support once again.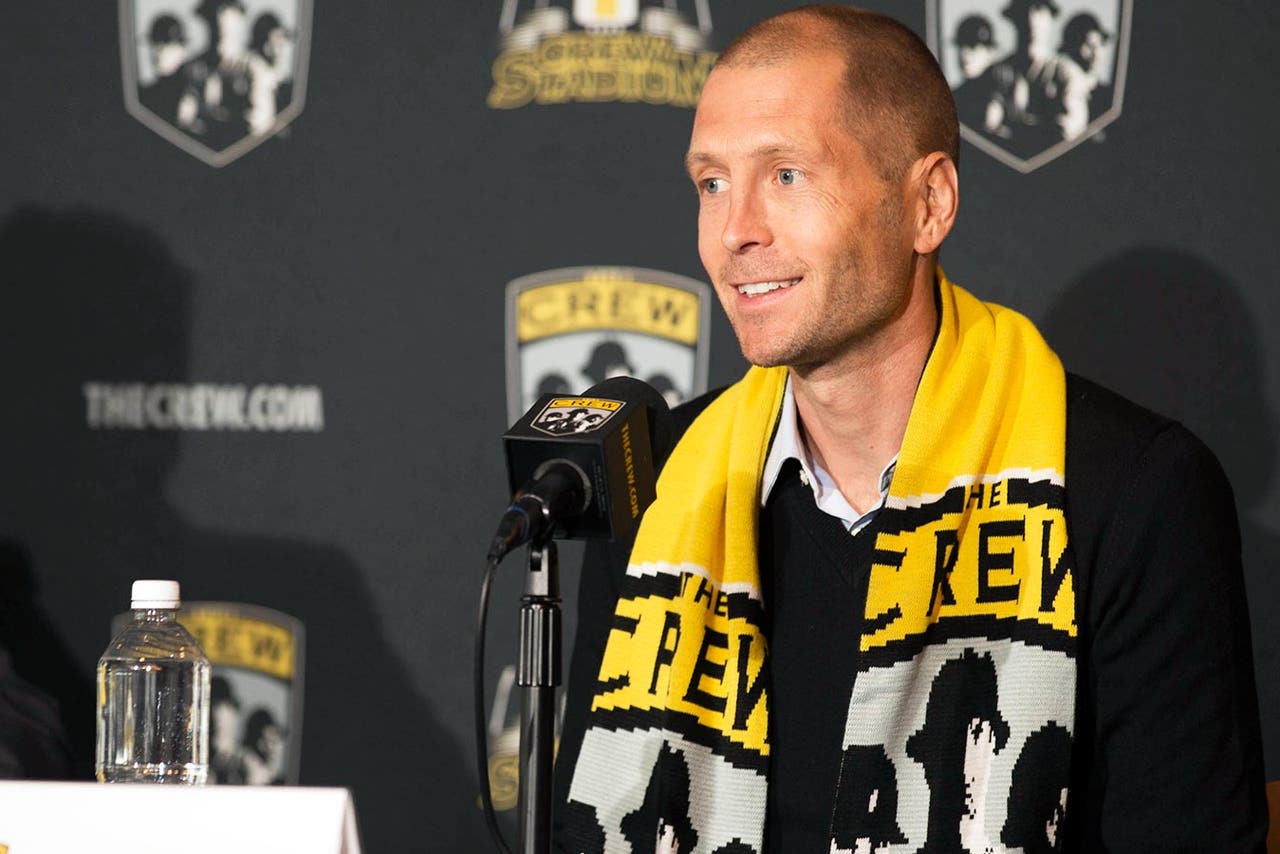 Columbus head coach and sporting director Gregg Berhalter plans to install a possession-oriented approach for his side in 2014.
PROSPECTS FOR 2014
Key questions:
● Where does the Crew stand in its talent acquisition process?: Berhalter made considerable changes once he assumed control late last year, but this type of overhaul usually requires more than one offseason to complete. Some of the moves will work. Others will fail. The distribution between the two poles will offer a glimpse as to how the Crew will perform this season and what the club will need to obtain to reach its greater objectives down the line.
● Is Wil Trapp ready for a larger role?: The promising midfielder appears likely to step into a full-time starting role, barring the arrival of a more experienced holding player. He boasts all of the tools necessary to thrive as a bustling hub for a team that wants to keep the ball more reliably this season. The experience gained last season (16 appearances) could prove vital as he accepts more responsibility within the framework of a side better suited to highlight his skills this season.
● How will Berhalter extract the most out of Higuaín?: Everything runs through the clever Argentine playmaker, as it should. He needs plenty of the ball to make the Crew a more dangerous team and provide service and space to other players running off of him. Berhalter has tinkered with a 4-2-3-1 setup during preseason to give Higuaín ample freedom in a central role without sacrificing the defensive shape. If the plans come to fruition, then Higuaín could influence matches dramatically yet again and propel the Crew further up the table than many expect.
Best case scenario: The intricate preseason work yields a more cohesive unit than expected by opening day. Columbus relies on its miserly defensive core to repel the opposition and shuttle the ball to its solid midfield. Higuain runs rampant with the freedom provided to him. His commanding presence creates opportunities for other attackers to thrive. Arrieta and Oduro benefit accordingly. A trustworthy number nine finally arrives at some stage to present a more direct threat to goal. Berhalter and his team manage to sneak into the playoffs to cap a supposed rebuilding year.
Worst case scenario: It takes far longer than anticipated to build a fully functioning unit. The defense leaks a bit too much as it congeals. The midfield flounders when asked to assert more control over the proceedings and permits the opposition to operate a bit too freely. Higuain floats in and out of games as he struggles to evade opposing markers and locate the ball in dangerous areas. The forwards correspondingly misfire with Oduro reverting to his previously inconsistent strike rate in front of goal. Progress is measured in small increments, not by leaps and bounds, after another year out of the postseason.
2014 INSIDE MLS SEASON PREVIEWS
FEB. 24: Chicago Fire – Mike Magee's encore – Chivas USA
FEB. 25: Colorado Rapids – Exploring the new vision in Columbus – Columbus Crew
FEB. 26: D.C. United – FC Dallas
FEB. 27: Houston Dynamo – LA Galaxy
FEB. 28: Montréal Impact – New England Revolution
==
MARCH 3: New York Red Bulls – Philadelphia Union
MARCH 4: Portland Timbers – Real Salt Lake
MARCH 5: San Jose Earthquakes – Seattle Sounders – Sporting Kansas City
MARCH 6: Toronto FC – Vancouver Whitecaps
---