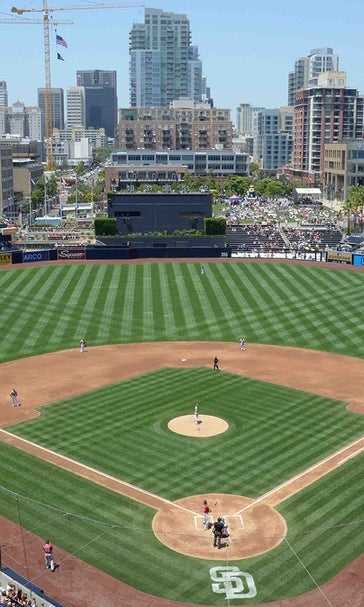 Info for Billy Joel concert at Petco Park
May 13, 2016

SAN DIEGO -- Petco Park today issued a parking, transportation and security advisory for Saturday night's Billy Joel concert. With a sellout crowd expected, concert guests are strongly encouraged to arrive downtown early and enjoy one of the many restaurants and bars in the area. Parking lots will open at 2:00 p.m., gates will open at 6:00 p.m. and guests should be in their seats for the show no later than 7:30 p.m.
Please note: standard Petco Park security screening measures will be in effect. All guests must be screened via metal detectors prior to entry. Guests will be asked to divest themselves of cell phones, cameras, sunglass cases and other large metal objects before passing through the metal detectors and proceeding to turnstiles. Guests will NOT be asked to remove their belts, shoes, jackets, wallets or coins before passing through the metal detector. An alternate method of screening will be provided for guests with strollers, guests in wheelchairs, and those with medical devices that set off metal detectors.
Guests are encouraged to arrive early to minimize potential wait times. Those with field seats should enter through the Western Metal Breezeway on Tony Gwynn Drive or the Park Boulevard gate. Guests with tickets in all other seating areas should enter through the Gaslamp, East Village and Home Plate gates.
Guests who choose to drive should pre-purchase reserved parking permits to guarantee their parking space. Parking is limited and will sell out. A link to purchase parking permits at ballpark-adjacent lots is available at www.padres.com/billyjoel.  
Outside of ballpark-adjacent lots, more than 2,500 parking spaces will be available at the 707 Broadway Garage, Horton Plaza Garage, Convention Center and Hilton Bayfront Garages on Harbor Drive. To access these garages, use the Front Street exit from I-5 South, or the Cesar Chavez Parkway Exit from I-5 North. Additional downtown parking information is available at www.padres.com/transportation.
To avoid additional traffic delays, concert guests should consider utilizing public transportation. Metropolitan Transit System will run added special event trolley service on Saturday. Park and ride locations with free parking are located along trolley lines. All three trolley lines will run extra post-concert service, with final departures approximately 60 minutes after the concert ends. For additional information, visit www.sdmts.com.
North County Transit District Coaster trains with service to downtown will depart Oceanside at 1:50 p.m., 3:34 p.m. and 5:15 p.m. on Saturday. The Coaster also will offer return northbound trains leaving from Santa Fe Depot at 11:15 p.m. and 12:00 a.m. RegionPlus Day Fares include free trolley transfers.
Bags and backpacks no larger than 16" x 16" x 8" will be permitted. All bags, including purses, will continue to be subject to search for prohibited items upon entry to Petco Park. Standard Petco Park entry policies apply for the Billy Joel concert, with a few exceptions: professional cameras and video recording devices are prohibited, including GoPro cameras. Tripods and selfie sticks are prohibited. Phones and small non-professional cameras will be allowed. Banners, signs and flags must be smaller than 18" x 24". Re-entry is not permitted for this event. For additional information on parking and other details, visit www.padres.com/billyjoel.  
---