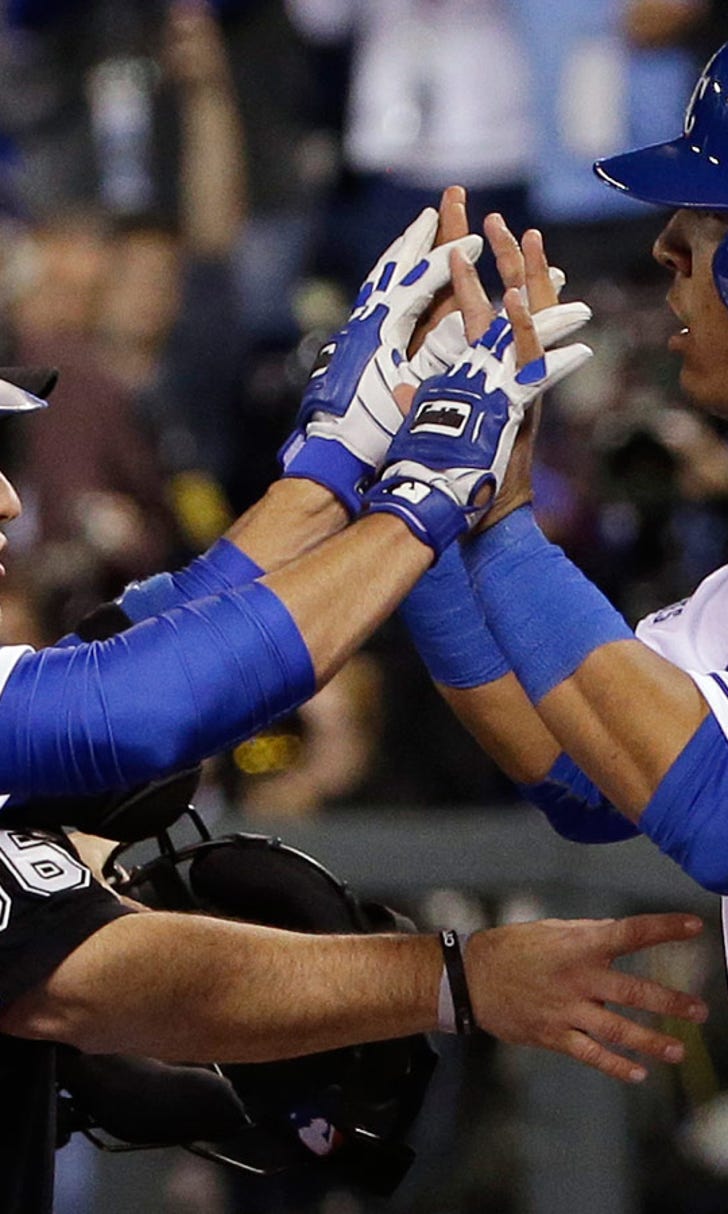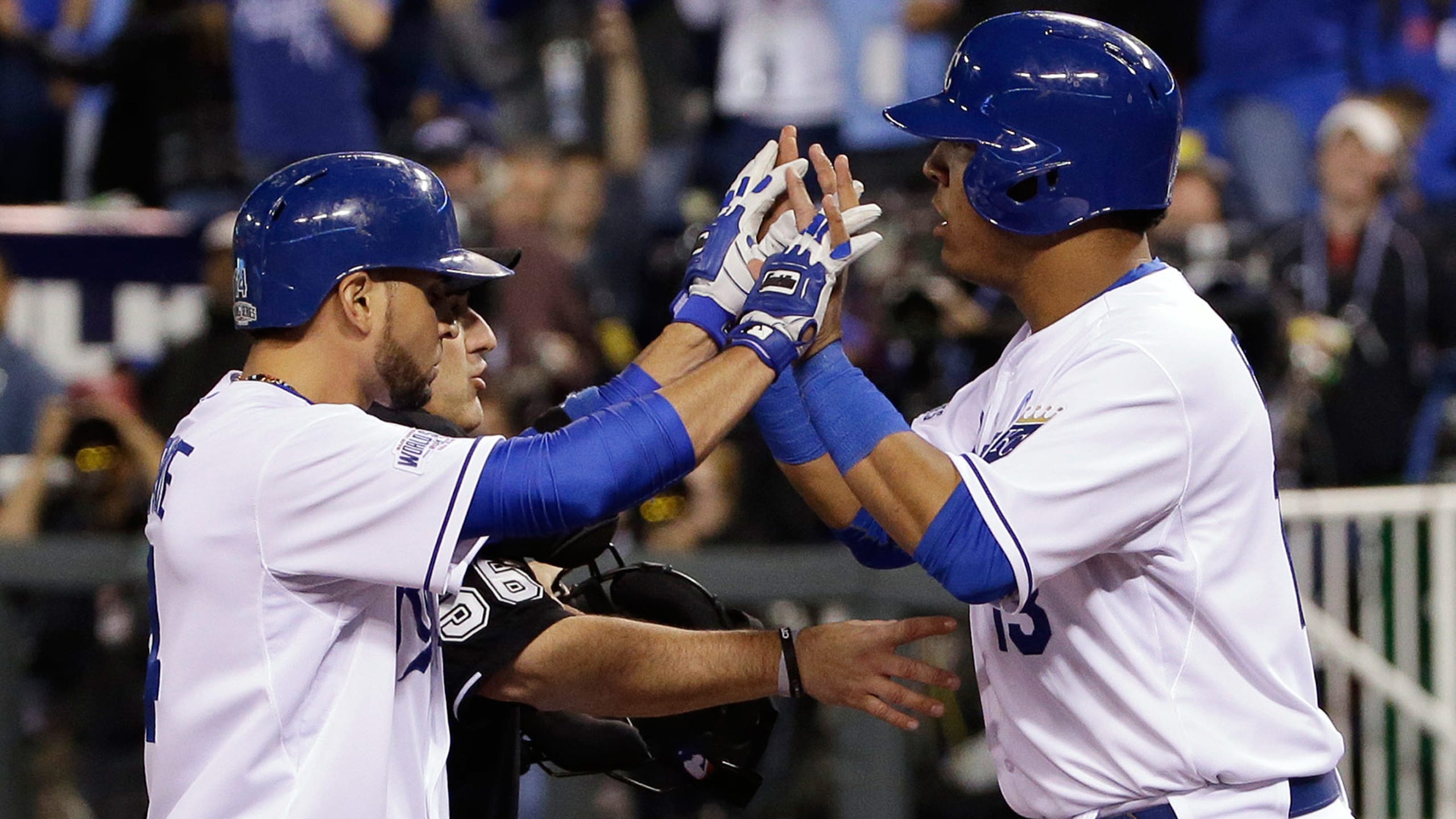 Infante, Perez power Royals past Giants to knot series, 1-1
BY foxsports • October 22, 2014
KANSAS CITY, Mo. -- As it turns out, the Royals have a little firepower of their own to show off in this Series.
A night after getting thrashed by the Giants, 7-1, the Royals muscled up themselves and belted four doubles and a home run Wednesday night to whip the Giants, 7-2.
That ties the series at 1-1 as the two teams head to San Francisco for three games.
This was much more Royalish -- the Royals got a solid starting effort from rookie Yordano Ventura, who gave up just two earned runs in 5 1/3 innings and didn't walk a hitter.
The Royals stayed close and then pounced in the sixth inning with five runs, triggered by a two-run double by Sal Perez and a two-run homer by Omar Infante.
And then it was the bullpen's turn to protect the lead as it has all season, and the three-headed monster of Kelvin Herrera, Wade Davis and Greg Holland did just that.
3 UP
-- Billy's big hits. As Billy Butler got his last start for a while as the series goes to San Francisco and the DH is lost, he certainly took advantage. Butler delivered a big two-out RBI hit in the first that tied the game at 1-1, a big momentum builder that kept the crowd juiced. And then his biggest hit came in the sixth with runners on first and second and none out and the score tied, 2-2. Butler lined a rocket into left field, and speedy Lorenzo Cain raced home from second, beating the throw easily.
-- Big Sal comes through. Maybe that home run Perez hit Tuesday really did boost his confidence. Perez delivered the most clutch hit of all in Game 2. After Alex Gordon popped out to left for the first out in the sixth, Hunter Strickland uncorked a wild pitch, moving the runners to second and third. Then on a 1-2 pitch, Perez smoked a liner that found the gap in left-center for a two-run double and suddenly the Royals led, 5-2. If Perez can find his stroke again, look out Giants.
-- Omar! On the subject of key guys finding their hitting stroke again, how about Infante? He ripped a double to left in the second and scored on Alcides Escobar's double to right. But what really got the crowd rocking at The K was Infante's plate appearance in the sixth. After Perez's double, Infante jumped on a fastball belt high and yanked it over the fence in left and into the Royals' bullpen as the place erupted. It was Infante's first postseason homer in 145 at-bats.
3 DOWN
-- Hunter Strickland. The Giants' right-hander came into the game in the sixth to face Perez and threw a wild pitch, then served up a two-run double to Perez. After that, Infante blasted a Strickland fastball into the left-field bullpen. But he gets a thumbs down here for trying to incite a brawl after Perez and Infante crossed the plate. Strickland appeared to scream at Perez, "You wanna go?" It didn't appear Perez said anything to instigate it, though Perez did point at his eyes and his mouth, and then shrugged as if to suggest he was misunderstood. But as Strickland continued to taunt, Perez took a step toward him but was cut off by the home-plate umpire as both benches temporarily emptied.
-- Gordo. It'd sure be nice if Gordon joined the party again. Gordon popped out to end the first inning, flied out in the fourth and flied out in the sixth. Then in the eighth, he fouled out to complete a rather miserable night.
-- Peavy's pace. Good heavens, is there any pitcher slower in his approach to pitching than Jake Peavy? It seemed like he took 40 to 45 seconds between each pitch. Come on, Jake, get the ball, get the sign and throw it. Sheesh. Imagine what a game would be like with Peavy pitching against Terry Francona's Indians -- six or seven hours, at least.
You can follow Jeffrey Flanagan on Twitter at @jflanagankc or email him at jeffreyflanagan6@gmail.com.
---