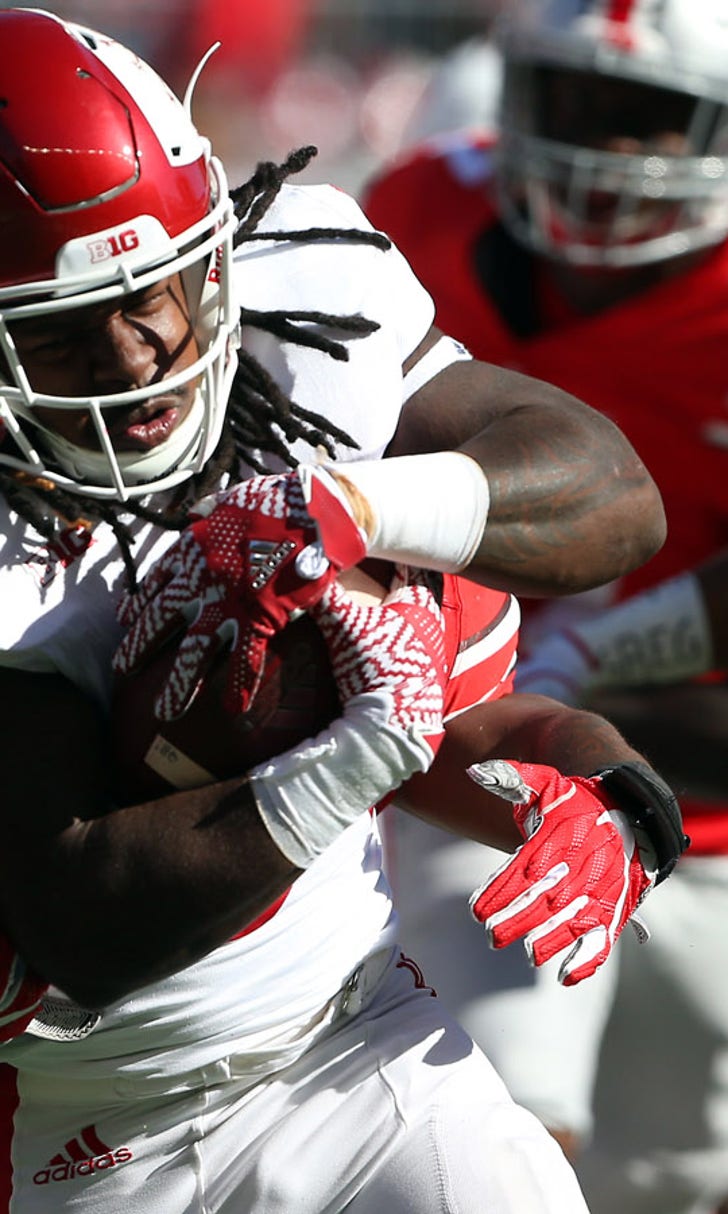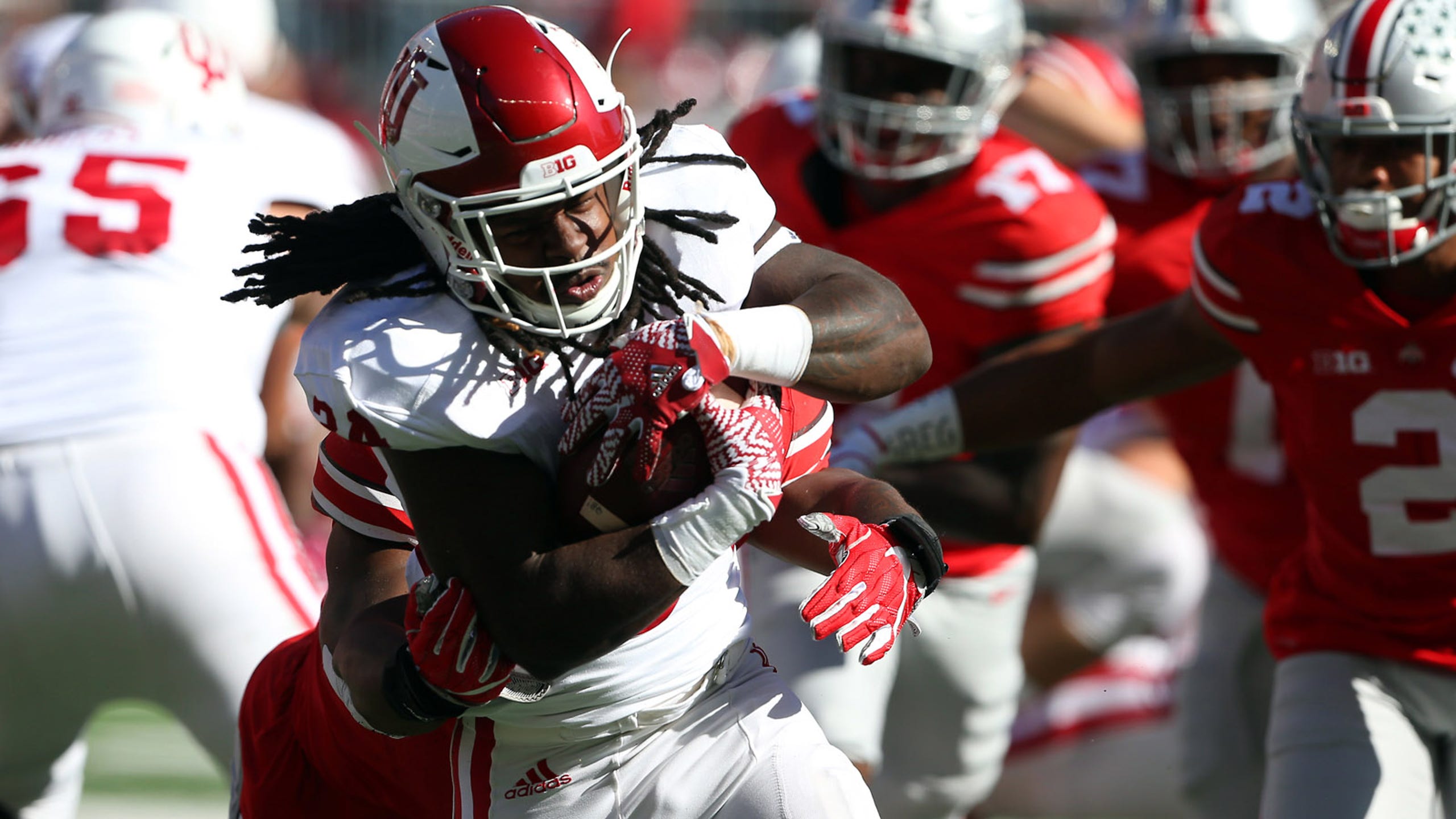 Indiana struggles to establish offensive tempo in 38-17 loss to Ohio State
BY foxsports • October 8, 2016
COLUMBUS, Ohio -- Ohio State's usually crisp passing game was mostly shut down by Indiana on Saturday, so J.T. Barrett had to get it done on the ground.
Barrett rushed a career-high 26 times for 137 yards and a touchdown, and he threw for another score as No. 2 Ohio State beat Indiana 38-17. Barrett was 9-of-23 for 93 yards passing. 
"In my opinion, that's the best quarterback in college ball," Indiana coach Kevin Wilson said.
Ohio State (5-0, 2-0 Big Ten) was forced to rely mostly on its ground game, which accounted for 290 yards, and some tough play by its defense -- including a critical fourth-quarter stop on its own four-yard line following a Barrett interception -- to fend off the Hoosiers, who had upset Michigan State last weekend. 
Ohio State's defense also forced Indiana (3-2, 2-1) to turn the ball over on downs on the Hoosiers' own 33 with 5:22 left and the Buckeyes leading 31-17. Five plays later, Barrett hit Dontre Wilson with a 37-yard touchdown pass to put the game out of reach. 
Safety Malik Hooker sealed the win by picking off Richard Lagow on Indiana's next series. The Buckeyes held Indiana to just one score in the second half.
"They're great athletes and they covered our guys," Ohio State guard Billy Price said. "Some days you struggle with passing and some days you struggle with the run, and today was one of the days we struggled with the pass."
Both teams had trouble establishing any offensive tempo.
"It was just an awkward game," Ohio State coach Urban Meyer said.
Hybrid back Curtis Samuel rushed nine times for 82 yards and a touchdown for the Buckeyes, and tailback Mike Weber ran for 71 yards and two scores.
Lagow was 14-of-28 for 182 yards and two touchdowns, but Indiana managed just 99 yards rushing. Indiana had 281 total yards, compared with 383 for the Buckeyes.
"They have a great defense," Lagow said. "They're going to be tough for anybody the rest of the year. That's on us as well as them being good. We didn't hit a couple plays and they made a couple plays."
THE TAKEAWAY
Indiana: Buoyed by last week's upset of Michigan State, Indiana was effective at times but couldn't keep up with the more talented Buckeyes.
Ohio State: The Buckeyes' defense played tough and kept Ohio State in the game. Ohio State showed its passing game can be stopped, but Barrett can find a way to win anyway. Meyer said Barrett carried too many times, "and we have to fix it."
"I didn't throw particularly well in the passing game by any means," Barrett said. "I have to do a better job of reading the coverage better and getting the ball to our playmakers."
MOMENTUM CHANGER: After Indiana scored to cut the Buckeyes' lead to 17-10 with 1:03 left in the first half, Ohio State's Parris Campbell ran back the ensuing kickoff 91 yards to the Indiana six yard line. Two plays later, Barrett ran through the Hoosiers untouched for a touchdown to make it a two-score game at halftime.
"I didn't really feel anyone near me," Campbell said. "I thought I was cruising to the end zone. I'm sure I'll get it next time. Going out on the field I felt we needed the momentum back. I knew we needed a big play."
QUOTABLE
"They put the people in on the goal line for a reason, and I knocked them back and made the tackle for loss," said defensive end Nick Bosa, who with Michael Hill stuffed Indiana's Devine Redding on fourth-and-1 at the Ohio State four-yard line in the fourth quarter. 
POLL IMPLICATIONS
An unimpressive win over an unranked Big Ten team isn't likely to garner Ohio State many more first-place votes.
UP NEXT
Indiana: The Hoosiers face another stiff test next week at home against undefeated No. 12 Nebraska. The Cornhuskers were off this week.
Ohio State: The Buckeyes may face their toughest challenge of the season next week when they play No. 11 Wisconsin on the road. The Badgers were off this week.
---