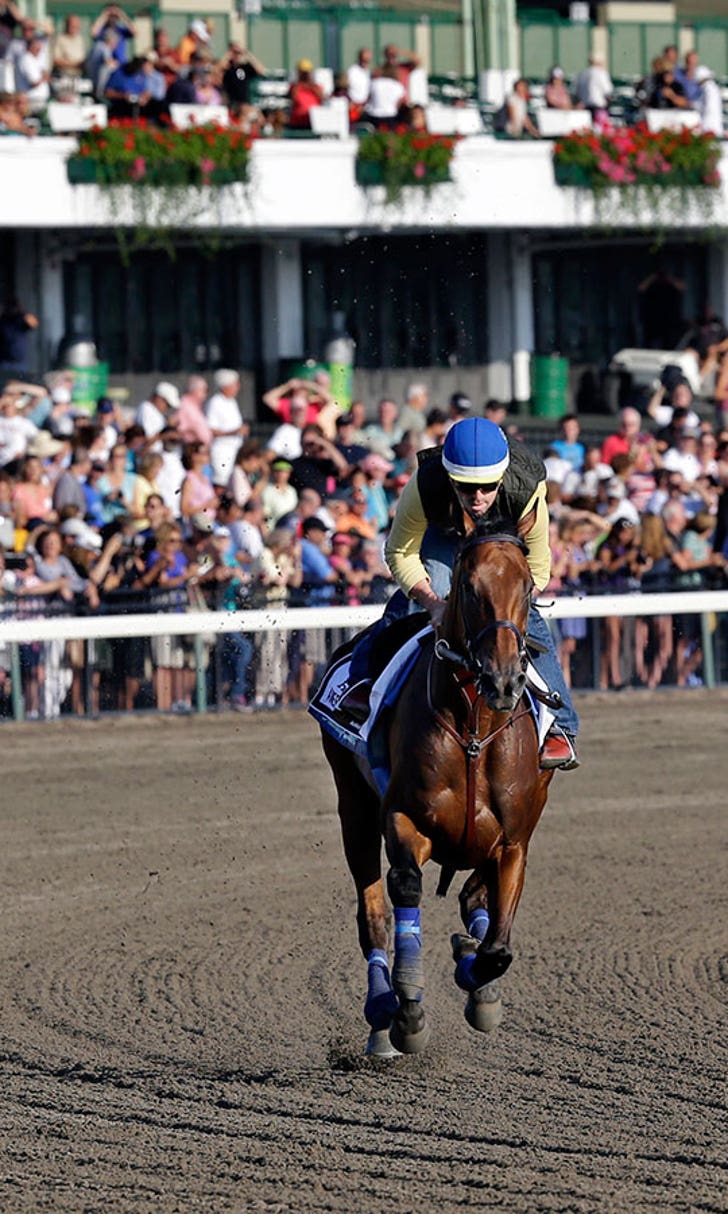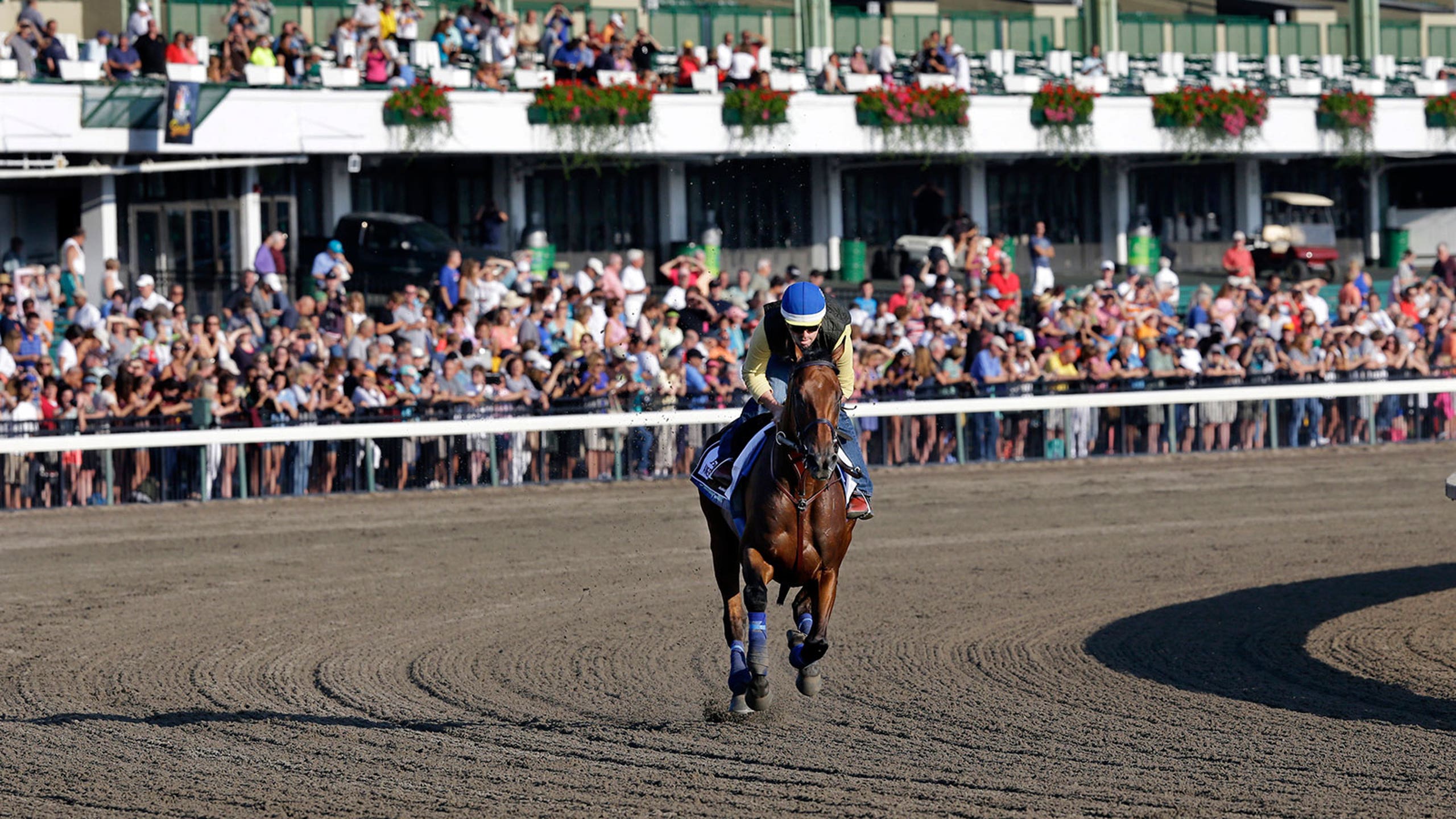 In the presence of royalty: American Pharoah reigns at Monmouth Park
BY foxsports • August 3, 2015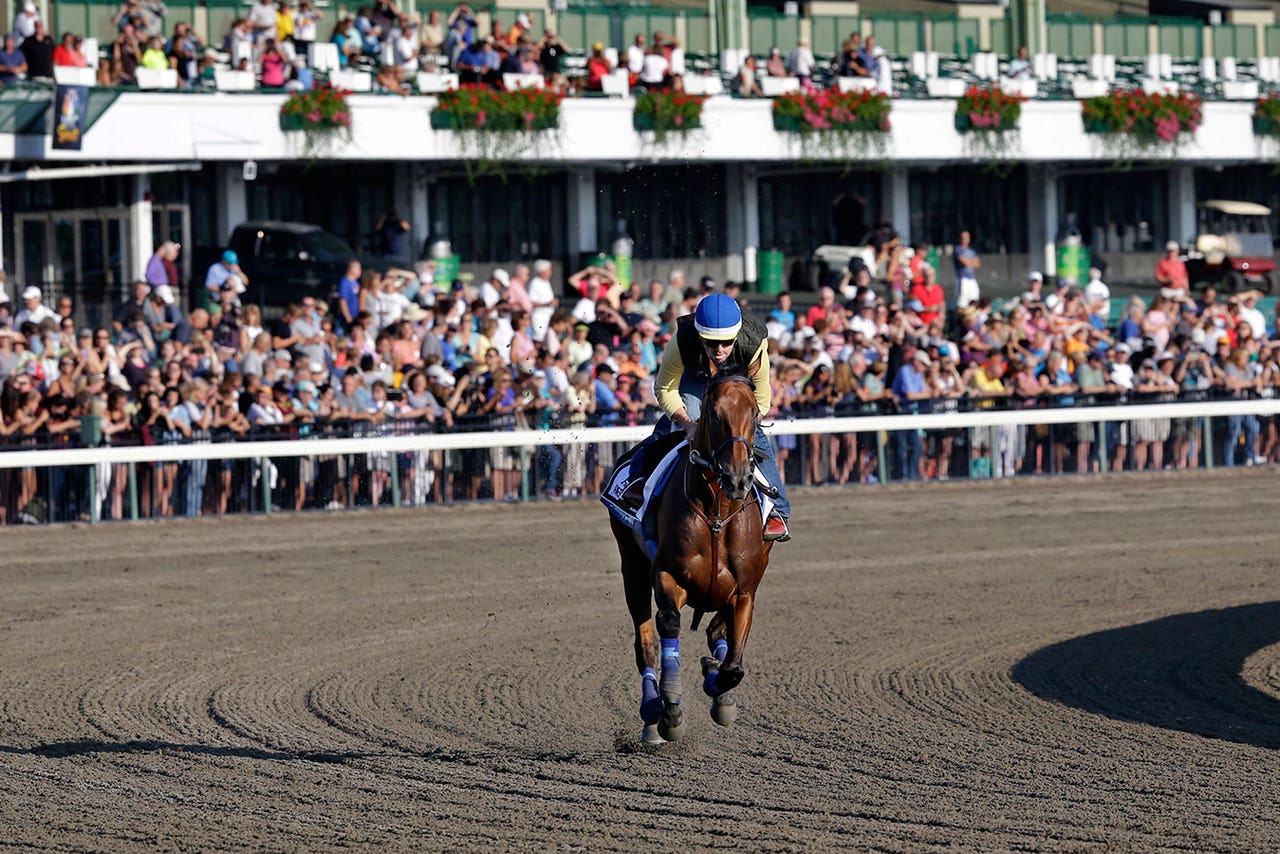 What does it mean to watch a Triple Crown winner race? Not, what does it mean to watch a horse race for the Triple Crown? The world has already meditated on that question plenty.
We've read (and some of us have written) thousands and thousands of words about what a Triple Crown would mean to horse racing, to American sports fans, to Ahmed Zayat and Monster energy drinks. But now that we have seen a horse conquer the Triple Crown, what does it mean to watch him race? After all, we all said we wanted Zayat to keep the horse on the track after the Belmont Stakes, not whisk American Pharoah from the winner's circle to the stud barn. And Zayat agreed with us, said he believed that keeping the horse on the track racing after the Belmont would be "good for the sport." So here we are on the Jersey Shore at Monmouth Park, we 60,000 horse racing fans, assembled to witness this super horse and find out what it is to see a Triple Crown winner race and find out just what kind of good it does.
I arrived at Monmouth Park early, before the gates opened at 9 a.m. ET, and the lines were already incredibly long. You don't usually associate tailgating with horse racing, but here they were tailgating, sitting around in the track parking lot blaring music and socializing. There was a couple of men who drove all the way from Kentucky just to see American Pharoah in the flesh. There was a young, married couple who were attending their first-ever live horse race. They were talking to an older couple who, upon hearing this, delightedly told them that their own first in-the-flesh horse race was Secretariat's run in the 1973 Arlington Invitational, that horse's first race after winning the Triple Crown. They all laughed at the coincidence, then looked at each other for a brief awkward moment, like staring across time and space.
Inside the seaside racetrack the record-setting crowd of more than 60,000 fans had more than enough room to spread out. The weather was pleasant and balmy, the ocean breeze almost constant. People spread their chairs out across the apron and filled the grandstands on every level.
I sat my chair down on the finish line on the apron between a couple with an infant in a baby carrier and gaggle of preppy boys huddled around a large cooler.
After the first race came chalk-chalk, the father of the infant went to hooting and hollering.
"I was born for this!" he crowed.
His family and friends all congratulated his win with high fives and hugs. Off to a great start, he jogged to the window to cash before the race was even declared official. When the conquering hero returned, he was no longer in a celebratory mood.
"I won $2.20," he moped. "I bet $10 and only won two. I should at least win ten, don't you think?"
His buddy stared at the $2 in his hand incredulously. His wife comforted him with a back rub.
"The cashier told me that if we want to bet on American Pharoah we'll probably only win 20 cents! Twenty cents!"
I noticed he had a cigar in his shirt pocket, still in the wrapper. Welcome to the track, new dad.
As the hour for the Haskell neared, most fans headed out to the paddock to grab a prime spot to see the horse close up. Those of us still out on the apron were studying racing forms, digging through what was left in our coolers, chasing little kids, or telling bad beat stories from the last race when somebody yelled, "there he is!" and everyone looked up.
A beautiful bay colt with a yellow "4" saddlecloth draped over him was being walked back from the barns toward the tunnel to the paddock. It was fairly unceremonious. There were no state troopers, no TV crews or dignitaries accompanying him. Just a groom and a pony. But it was him, the champion, caught unaware and unassuming as he headed to the paddock to get ready for the big show. As people on the apron noticed him a few started to applaud, and the smattering of clapping evolved into full-on cheers. "Pharoah!"
A man put his small son up on his shoulders to get a better look, which inspired another and then another, so that little children popped up from the top of the crowd like daisies sprouting in a field. A couple in front of me, on mere sight of this horse, embraced each other and kissed. This is a true thing that I saw with my own eyes. One of the preppy boys next to me made a crude joke about the horse's anatomy. His friend admonished him.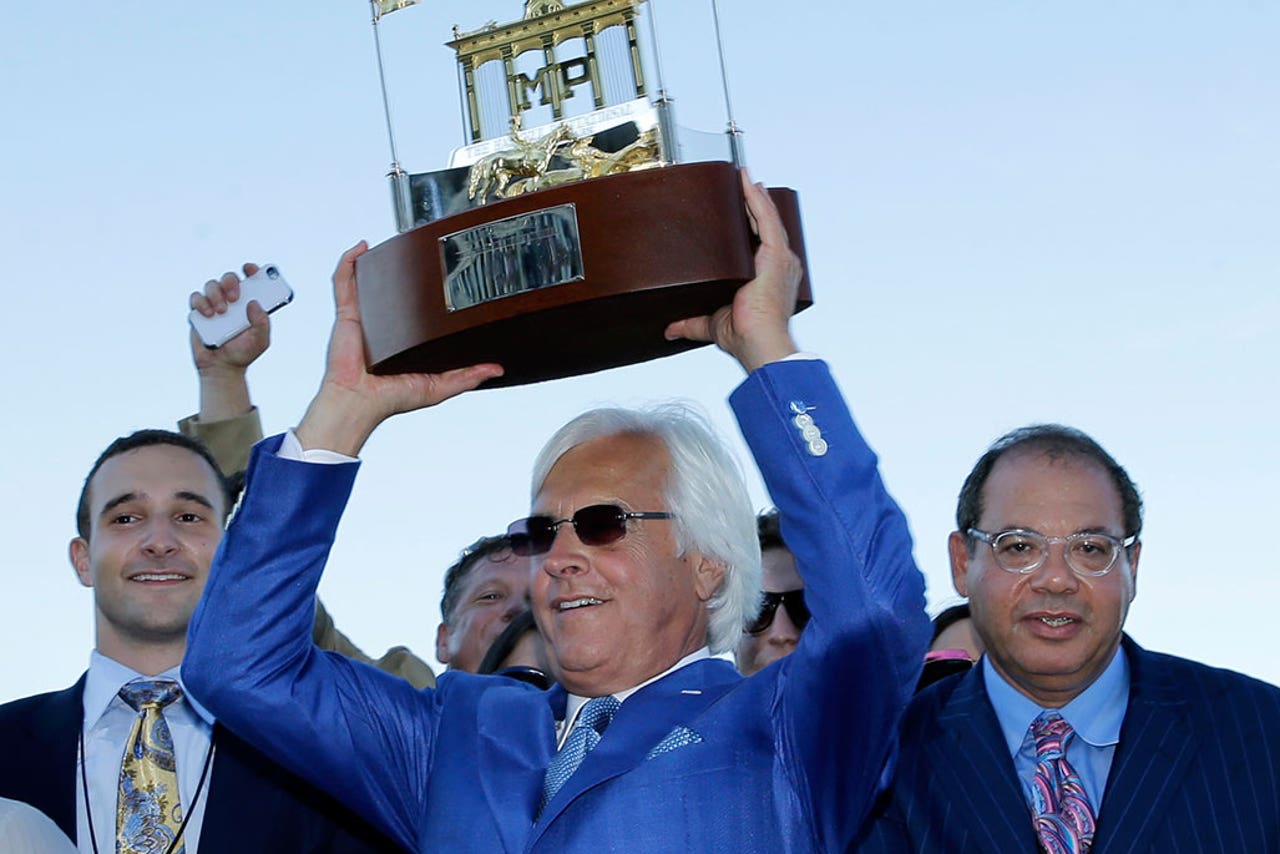 Bob Baffert (left) and Ahmed Zayat celebrate a Haskell victory.
"Shut up and enjoy something for once in your life."
The horse disappeared into the tunnel.
When American Pharoah reappeared in the paddock, he was greeted by a massive sea of fans, spread out all around the racetrack grounds, standing on every nearby bench, holding every available tree branch, hanging from every window in the grandstand. Thousands of race fans pressed forward and craned their necks just to get a glimpse of him, just to be near him.
When I was younger and first started going to the racetrack, there was always a pretty good crowd. In those ancient times, there was no such thing as simulcasting. If you wanted to bet on a horse running at Oaklawn Park, you needed to be at Oaklawn. Once they started simulcasting races, the crowds got smaller.
It would be so easy to stay home and watch American Pharoah run in the Haskell on television. You wouldn't need to fight traffic, pay for parking, navigate the crowds and lines, or pay $5 for a soda. Yet here we all were, at the racetrack, having done all those irritating things. And here was the moment we came for - a real live Triple Crown champion was right there. "Riders up!" The jockeys hopped up on the horses. The crowd around the paddock roared with delight. Why? Nothing had happened yet. The jockeys just sat down on the horses. But it felt like the right moment to cheer. It meant something. After all, the last timeVictor Espinoza sat down on American Pharoah like that, he was but the reigning Preakness Stakes winner, all full of hope and promise. Look at him now! Look at our boy! How proud we all were of him!
A couple of guys near me were telling stories of the horses that they had watched try for and miss the Triple Crown. "Smarty Jones would have been good." "Funny Cide had such a great story." They brought up Ahmed Zayat, the owner of American Pharoah. "I didn't like him at first. The gambling debts, all of that. But he's keeping his promise about racing the horse. And he brought the horse here. That really changed my opinion of him. He did the right thing bringing him here." "Well," the other man responded. "He is a Jersey guy."
When the horses come out on the stretch for the post parade, the loudspeakers blared Bruce Springsteen's "Born to Run." I have to figure 10,000 or 20,000 or so people at the track had no idea that this was the song they play before the Haskell. It surprised a few folks around me, but in a good way. By the time Bruce got to "Will you walk with me out on the wire, 'cause baby I'm just a scared and lonely rider" the whole crowd joined him in singing "but I gotta know how it feels ..." It was, after all, New Jersey. This was their song.
Bob Baffert took his seat along the balcony directly above the crowd. Most everyone was looking forward at the racetrack. A little blonde girl, nary a day over 3 years old, sitting on her mother's shoulders, turned and saw the man with the shiny blue blazer and the shinier white hair and waved at him. "Hi, Bob!" she said.
I'm not making this up.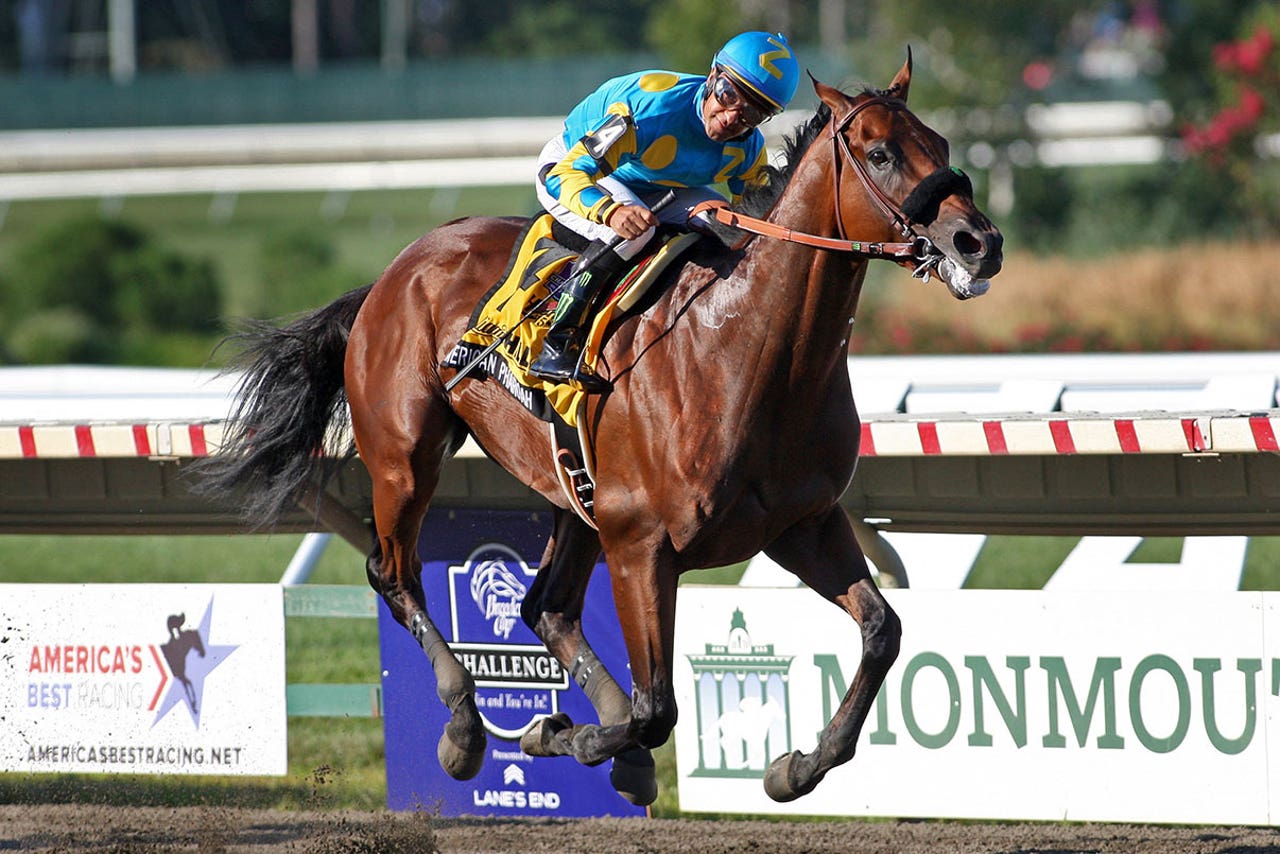 American Pharoah in full flight.
The little girl said "hi, Bob" to Bob Baffert, American Pharoah's trainer, and everyone turned and saw the man standing above them. They waved, they cheered, they took his photo, they beamed. He was soon joined by the Zayats, who drew even more applause and cheers. And then there was a horse race.
 Those of us too young to have seen the last Triple Crown winner used to imagine what it would feel like to see a horse win it. We obsessed about that moment, the second a horse crossed the finish line at Belmont ahead of all challengers. The importance of that moment swelled the longer it took for it to happen. My wife and I often joke to expecting parents that the one mistake we made during our first pregnancy was spending too much time reading and obsessing about childbirth, and spending no time at all thinking about being parents. Maybe this is a different thing, but it feels similar somehow. We horse racing fans spent little to no time imagining living in a world where a Triple Crown champion walks among us, parades before us in a post parade, wins and (heaven forbid) loses races right in front of us. It's a different thing from winning a Triple Crown entirely. It's maybe a better thing we didn't even realize we would have. It's maybe a better thing we didn't even realize just how badly we needed.
When American Pharoah crept up on Competitive Edge on the final turn, the fans knew it was a done deal. They started celebrating, embracing, high fiving, even before the horses hit the stretch. It felt like the Belmont Stakes all over again, yet carried none of the history and significance of that race. Just look at him!
Moments after American Pharoah crossed the finish line, people in the crowd turned to watch Baffert and the Zayats celebrate the victory. They applauded the horse's connections. Someone shouted "Thank you, Bob!" Another shouted "Thank you, Ahmed!" And still another "Thank you for racing him!" Thank yous rang out from across the apron.
When Secretariat won the Arlington Invitational in 1973, the fans cheered for the horse's beloved owner, Penny Chenery, after the race. They chanted her name as the horse galloped out after the finish line. "Penny! Penny! Penny!" They needed a champion to feel proud of, a great, athletic animal to bowl them over with wonder, and so still  do we, here at this old seaside racetrack, staring out across time and space.
---