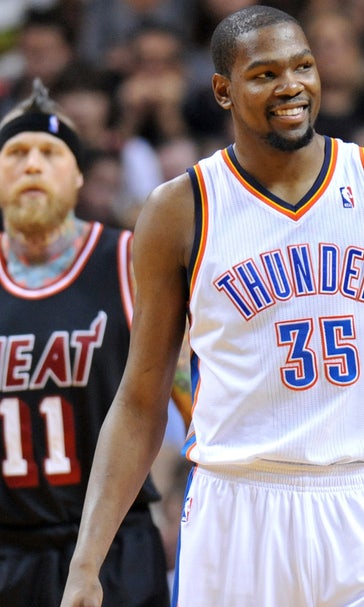 In showdown with LeBron James, Kevin Durant makes statement
January 30, 2014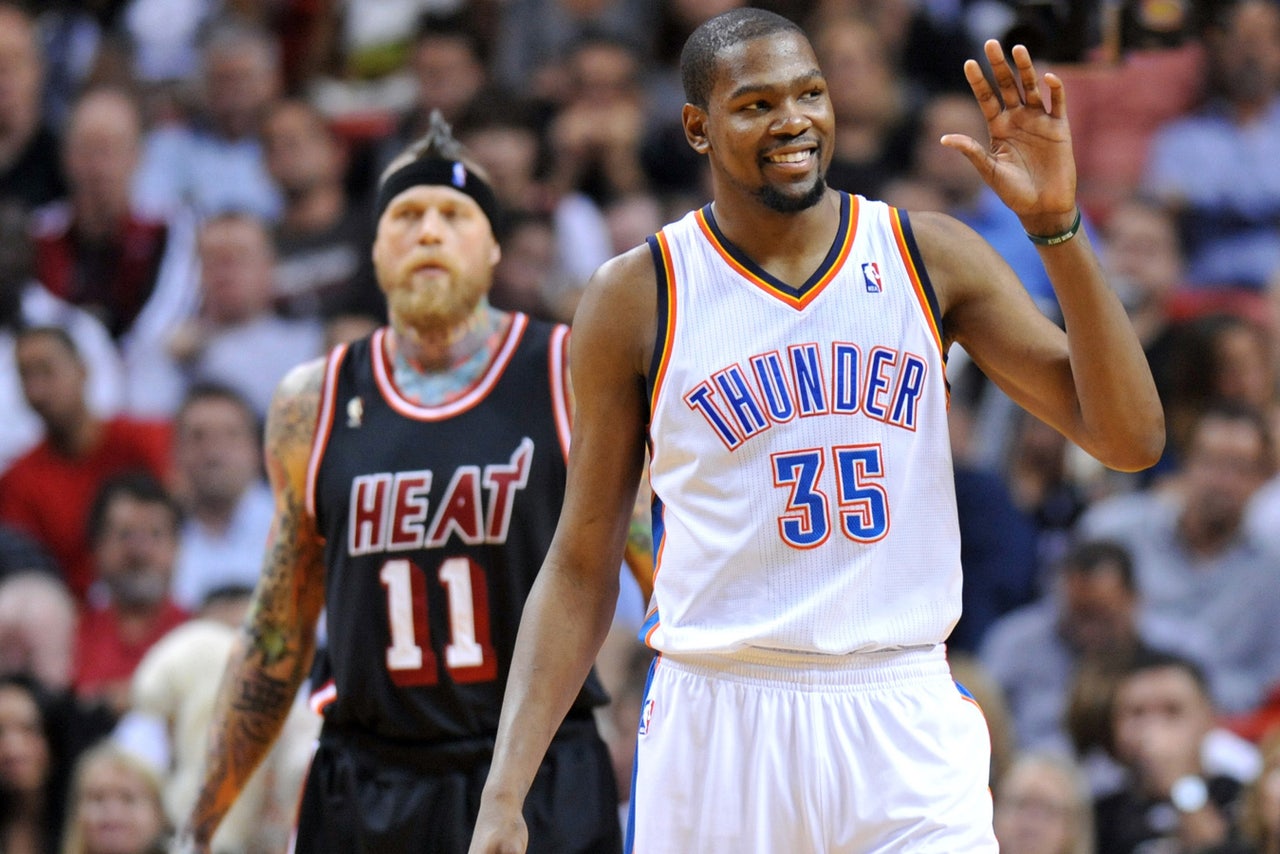 MIAMI -- The Miami Heat not only had squandered an early 18-point lead, they now were trailing Oklahoma City by 14 with little more than three minutes to go in the third quarter.
It was time for Miami's two-time defending league MVP to step up, and LeBron James responded with two baskets to pull the Heat within 10 points.
Just 12 seconds after the King's second hoop, Oklahoma City's MVP candidate Kevin Durant sank a 28-foot 3-pointer.
Then in the final 1 minute, 8 seconds of the period, Durant hit a bank shot ... before James nailed a 21-foot jumper ... before Durant answered with another 3-pointer.
But there was a big difference between the two MVP contenders during those back-and-forth moments.
"He was matching shots by keeping them up big," James said, "and I was just trying to get us back in the game."
Something not meant to be.
Durant scored 33 points to extend his string of 30-or-more-point games to 12 and led the Thunder to a 112-95 bashing of the two-time defending NBA champions at AmericanAirlines Arena.
James actually outscored Durant by a point, but that was little consolation as the Western Conference-leading Thunder won their ninth straight game.
"He got hot for a quick second and I had to come in and make an answer," Durant said of his every-shot-you-can-do-I-can-do-better moments with James. "It was fun. I'm sure the fans got what they wanted to see with that one. We would rather play a team game.
"We said some slick stuff, but that stays on the court."
Even Dwyane Wade was complimentary of Durant, and that had to be difficult. Before the season, the Thunder star said Wade's best days were in the past and the guard should "pass the torch down to the younger guys."
"He's 25 years old ... this is going to be him for a couple of years, this is what he's going to do," Wade said of Durant. "He's going to score the basketball in many different ways. There's really nothing you can do about it. He's going to get his 30-35 points. You just can't let the other guys have as effective a game as they had."
The outcome must have bruised Miami's group pride and ego, though Heat players refused to sound the panic alarm. They credited the Thunder for playing well but also blamed themselves for playing poorly.
"Turnovers -- that was pretty much the name of the game today," Chris Bosh said. "Yeah, that was it. We know that against their athleticism, how fast they are on the court, turnovers are deadly."
Miami committed 21 turnovers that resulted in 25 points.
But ... sorry Chris ... there were other reasons:
-- Oklahoma City hit 16 of 27 shots from 3-point territory. Miami went 3 of 19.
-- The Thunder had 20 fastbreak points, and the Heat only had eight.
-- Oklahoma City's reserves outscored their Miami counterparts 39-21.
There was more.
"We'll remember some of the closeouts we didn't make in the first half to give (Jeremy) Lamb and (Derek) Fisher some open 3s," Heat coach Erik Spoelstra said. "Virtually every 50-50 loose ball during the course of the game or the ones up on the rim for us to be able to make plays on, they got every single one of those plays.
"So not only the great shots, they did the little things tonight. They outclassed us in those areas."
Spoelstra also summed up the game this way: "They outcompeted us, outclassed us -- that's what's disappointing."
Bosh and James took exception to their coach's "outclassed" description.
"I have to respectfully disagree with that one," Bosh said. "Sometimes you just get your ass whipped."
"The beat us good. Outclassed? I don't know if I want to go that far with it," James said. "They came in and beat us pretty good. We played well to start the game, all the way until like the second quarter. Then from that point on they pretty much did what they wanted to do."
A long, active, disruptive defensive team, the Thunder gave the Heat a dose of their own medicine.
"We have some work to do, like everybody else in the league," Spoelstra said. "Nobody is infallible. We have some things to improve on, know the things that we have to improve on. We're not there yet."
Miami will get another crack at the Thunder in Oklahoma on Feb. 20.
We'll see if there's another spurt in which James and Durant go mano-a-mano.
"It is a fun competition," James said. "It's been a while since I've been able to do something like that and go at each other."
You can follow Charlie McCarthy on Twitter @mccarthy_chas or email him at mac1763@bellsouth.net.
---