Improving Ristic helps No. 3 Arizona rout Utah Valley
BY foxsports • December 10, 2014
Dusan Ristic admitted he has a lot to learn, especially on defense, but he's also aware he already came a long way since arriving on Arizona campus in May.
Coach Sean Miller agreed, saying it was evident what "Dusan is capable on offense."
The other stuff -- defense and rebounding -- well, that'll take time to develop.
A few glimpses showed on Tuesday night in McKale Center. In fact, No. 3 Arizona's 7-foot center was the centerpiece in what was an all-out team effort.
Ristic, one of four players to score in double figures, had 13 points and seven rebounds in the 87-56 rout of Utah Valley, moving Arizona to 9-0 through the first month of the season. He did it in a season-high 18 minutes.
Not all games will be as efficient. But for a night, Ristic looked pretty good as the big-man replacement for junior Kaleb Tarczewski. It's a good sign, Miller said, in that this team -- with the help of its young players -- will be much improved in the coming months.
"I think I've improved my defensive game," said Ristic, a native of Serbia who, too, has come a long way in speaking English.  "Also, my body ... I came here and wasn't ready for college basketball. But after four or five months, I'm getting better."
Miller said the coaching staff showed Ristic game clips of Saturday's close call with Gonzaga. They were highlights (examples) on how a big man has to play in terms of being physical, setting screens and being tough-minded. Miller said Ristic didn't do as good as a job then.
Talk about quick study or, well, an inferior opponent.
"The greatest attribute is his work ethic," Miller said. "He works as hard as anyone in our program. That's what is eventually going to bring out the best in him. We're thrilled that he's part of what we do. He has a bright future ... tonight, he made it look easy."
Yes, Miller said, he's better now than he was a month ago?
"No question," Miller said.
But is he ahead of where Miller thought he'd be?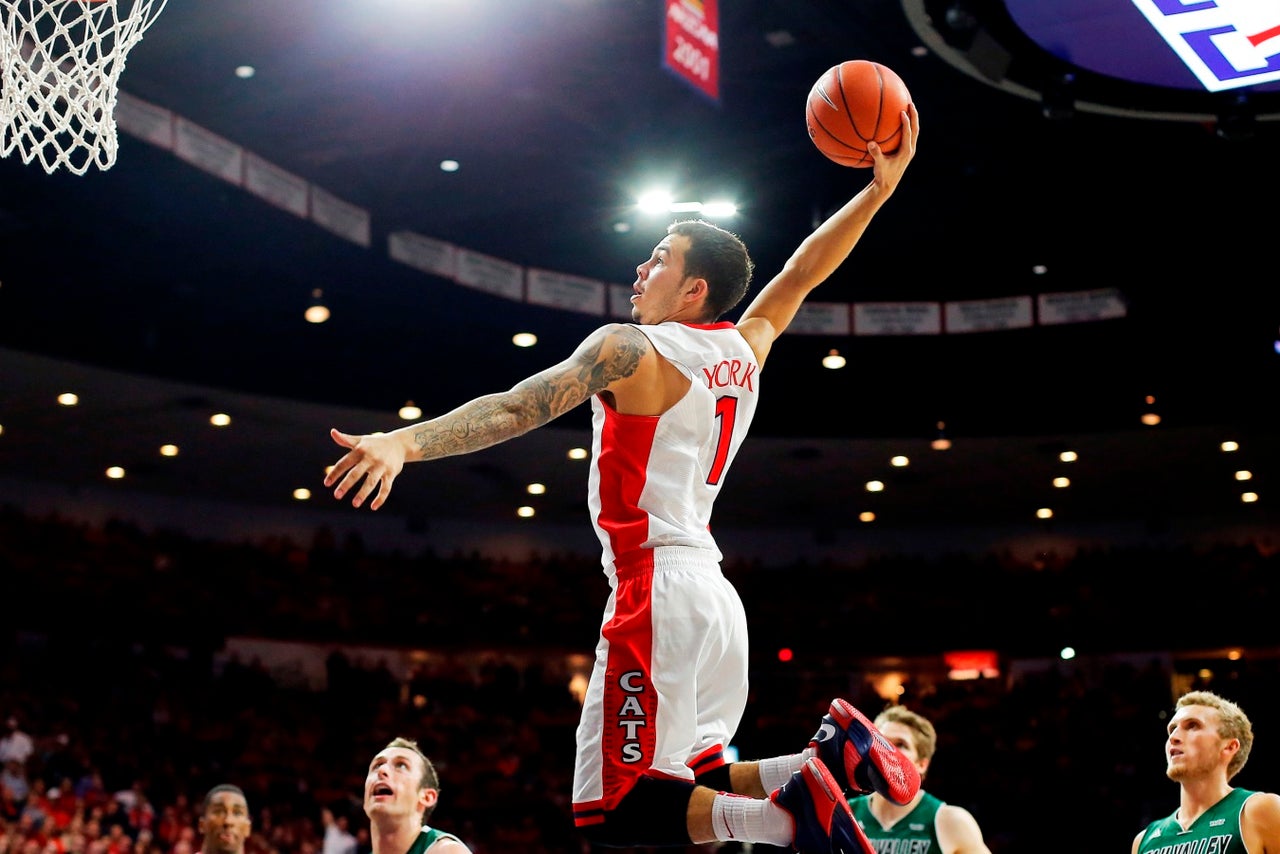 Arizona guard Gabe York flies in for a dunk during the second half Tuesday against Utah Valley.

"In his mind, he probably isn't," Miller said, cracking a small smile. "He'd like to play more. He has high expectations of himself."
Then, Miller applauded his tallest player by saying his progress is not exactly measured on the basketball court, but in real life where he arrived in Tucson in May and hasn't left
"That's hard to do when someone is 18 years old," Miller said. "He's worked hard every day."
In the weight room, on the court, everywhere.
"He's easy to coach," Miller said. "He's a pleasure to be around and someone everyone in our program pulls for because we recognize how much he wants it. And how hard he works at it."
Tuesday, he epitomized Arizona's effort: steady and committed. Utah Valley was overmatched and, well, outplayed.
"The second half was rough for us ... because Arizona came into the second half with terrific energy," Utah Valley coach Dick Hunsaker said.
Miller said the first 10 minutes of the second half was huge in that it allowed him to continue go to his bench and provide opportunities for it. Arizona had a 42-28 halftime lead, and then it ballooned to 66-33 nearly 10 minutes into the half.
"We're just trying to be the best we can be, and not taking anything for granted," Miller said. "There are teams that are more talented. There are teams that are more experienced. There are teams that shoot the ball better. And may play easier on offense more than us, but in terms of our edge and playing the game hard and trying to become a great defensive team (well) we can't be second-fiddle in that area."
It would seem -- although Michigan has lost two straight -- that it would be a better game on Saturday when the Wolverines (again) come into McKale Center. What Tuesday night's one-sided affair did was allow Arizona to rest its starters and allow for the second team to gain experience.
"With experience comes confidence," Miller said.
Isn't that Ristic in a nutshell?
Follow Steve Rivera on Twitter
---