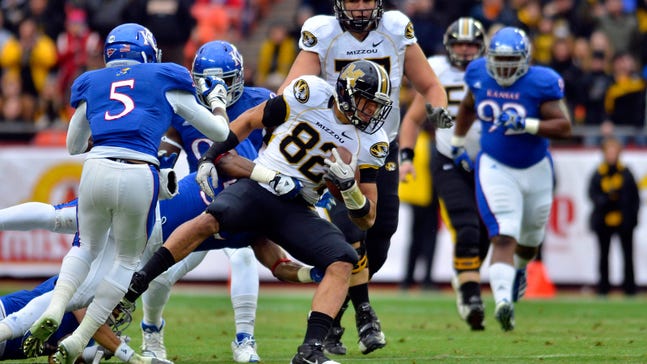 If new Mizzou AD wants peace with KU, the least Jayhawks can do is listen
Published
May. 7, 2015 4:36 p.m. ET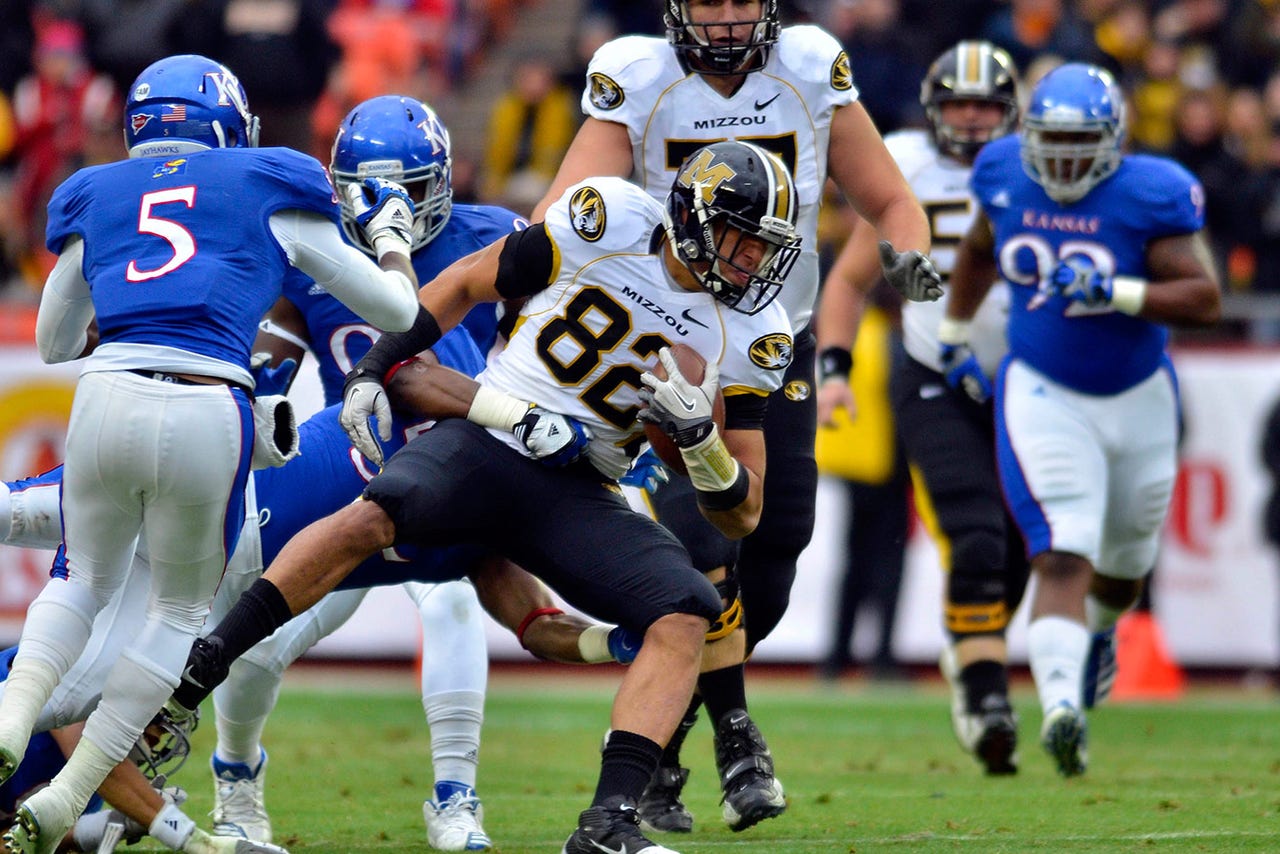 KANSAS CITY, Mo. -- You could do it over a Venti. No. A Grande. Two Grandes, two blueberry scones, one Peace Treaty. You could even write the damn thing out on a Starbucks napkin:
• At least one Olympic sport per year here, one Olympic sport per year there, and we can discuss the finer points later.
• Football at Arrowhead, at least once every four or five years, as planning/logistics allow.
• Basketball -- men, women or both, doubleheaders are fun -- at Sprint. Every year. Illinois in St. Louis, Kansas in Kansas City. Braggin' Rights to the East, Border War to the West.
Done. That so hard? Check, please.
For the first time in a long time, Virginia, we've got hope. No guarantees, no delusions, no illusions. Just hope. Hope that one of the greatest rivalries to get thrown beneath the Earth's crust by the shifting tectonic plates of conference realignment -- Kansas versus Missouri -- could be dredged out of the lava again and given a second life.
"I like Sheahon; I think he's a terrific athletic director," new Mizzou athletic director Mack Rhoades told FOXSportsKansasCity.com this week when asked about Sheahon Zenger, his counterpart at KU. "I think in terms of the way he runs his program, and his coaches, they do a really, really good job. So I have respect for (the Jayhawks).
"Hopefully, in the future, we can find a way to come together and play, because I think it's good for certainly his fans, our fans, and most importantly, our coaches and our student-athletes. So, you know, there (are) certainly no promises, but the hope was we can have some positive discussion in the future."
See? Hope.
The wheels are already turning, allegedly, or as much as they can turn given the current political climate. Rhoades told reporters last week that a conversation with Zenger about some kind of series has already been broached, so the ship, more or less, has officially been launched.
Now: Will it sail?
Lawrence has taken the hard-line, arms-folded stance here since the Tigers bolted the Big 12 for the Southeastern Conference in November 2011. And with good reason. It was only four or five years ago that the Big 12 began to look like an intercollegiate version of the reality series Survivor, with schools either forming informal alliances or trying to look for a back-door escape in case the whole stinking thing collapsed like a house of cards.
Mizzou had hoped the Big Ten would be its "doomsday" out. Jim Delany tapped Nebraska -- or rather, Nebraska football and its legions of Big Red eyeballs -- instead. Colorado finally followed its spiritual, hippie muse and went west. It was chaos, but the word was that Kansas, Kansas State and, to some degree, Iowa State were trying to hold on to some semblance of order together as Big 12 members began diving for the lifeboats.
According to some, the Tigers, a longtime Missouri Valley/Big Six/Big Eight peer and partner, were expected to join hands, too. Some would tell you that the 785 and the 515 took a pitchfork right in the back.
If the Big 12 from 2010 through '12 was a disaster movie, then the Tigers were the guys who suddenly broke away from the bow of the sinking ship, took a flying leap into the drink, only to land in a rubber raft with a tow line connected to a yacht that had the letters "SEC" painted across the side. Nothing personal, ya know. Business is business.
Mizzou looked out for Mizzou, and Mizzou got what Mizzou wanted. Chuck Neinas rode in from the Rocky Mountains to try and keep the rest of the league from imploding outright and, eventually, stability was found.
So, yes, the Jayhawks probably have cause to be sore, and might have to be courted the way you'd court a woman scorned. Outgoing Tigers athletic director Mike Alden, rightly or wrongly, is viewed with mistrust in several Lawrence circles. His retirement becomes official in August.
Perhaps absence makes some hearts -- angry hearts -- suddenly grow fonder.
"You know, I don't know, I don't really know," Rhoades said. "I think when there's a change, many times, change creates, certainly, (an) opportunity. Probably some of it just (is reflective) to that -- myself walking in the door. And again, I think Sheahon and I have, certainly, a very cordial relationship."
Kansas coach Bill Self likes his parallel in Columbia, Kim Anderson. Hell, he liked Frank Haith, too. But Self's arms have been the biggest and most folded in the years immediately following Mizzou's jump, and the man swings a big, big, big stick. Nothing personal, ya know. Business is business.
"You know, I can't speak to that -- I don't know what Coach Self thinks or feels," Rhoades said.
"But I think in a perfect world, I'd love to get everybody on board where we're playing each other in all the different sports. So certainly, men's basketball is a key component of that. So, again, in a perfect world, that both basketball programs (can) again one day resume that rivalry."
Then again, in a perfect world, that hatchet would've been buried a long time ago. Kansas basketball is Kansas basketball, same as it ever was, but there's a hole there, a hate hole, where the Tigers used to be; Self has admitted as much, and repeatedly. Kansas State could fill it, if KU fans ever took the Wildcats seriously in basketball (they don't). Wichita State could fill it, if Self enjoyed playing Gregg Marshall's teams (he doesn't).
Mizzou hoops is to KU hoops right now what KU football is to Mizzou football, an ugly matchup on paper. But since when did matchups matter when all that pride, all that history, was on the line?
And funny how the conversation is at least creeping onto the table again, and creeping in at a time when new faces are sliding into the head chairs in Columbia. Chancellor Brady Deaton retired in November 2013. Alden is doing the same at the end of this summer. There's even chatter among SEC types that Texas A&M and Texas may find a way to get back on speaking terms again. And how is a world in which the 'Horns are playing the Aggies in football and the Jayhawks are playing the Tigers in basketball not a better place?
"I just think the biggest losers in all of it are the fans and the student-athletes and the coaches," Rhoades said. "And maybe, sometimes, we all -- including myself -- lose sight of that. And I think we need to remember that. And again, hopefully, we would find a way where we could resume playing each other here in the future."
Time heals all wounds. Eventually. But as for that coffee, maybe Rhoades should pick up the tab anyway. Just to be on the safe side.
You can follow Sean Keeler on Twitter at @SeanKeeler or email him at seanmkeeler@gmail.com.
---