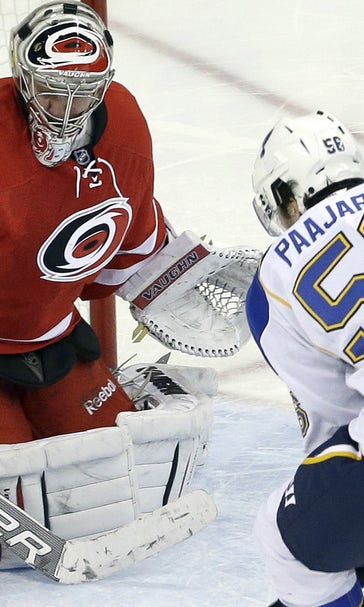 Hurricanes roll past Blues
February 1, 2014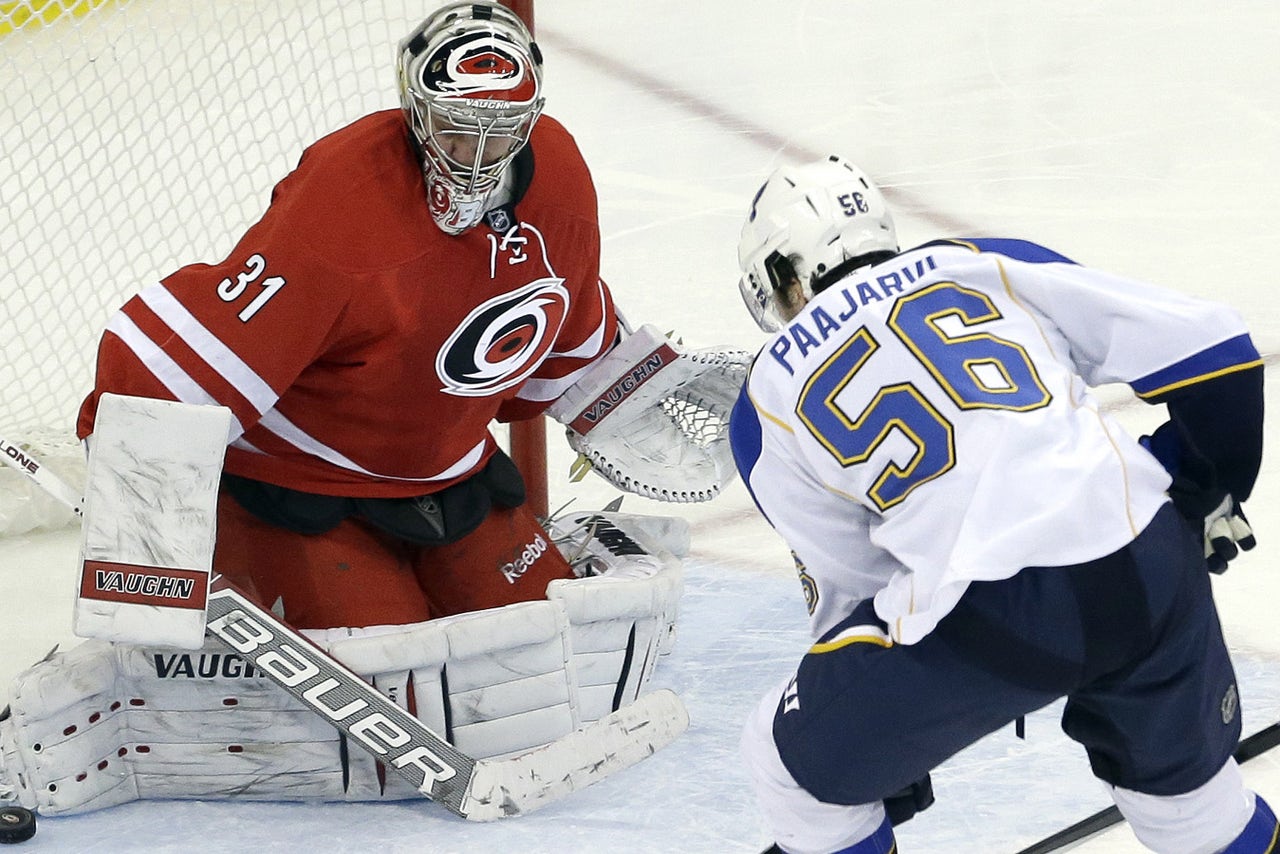 RALEIGH, N.C. -- The Carolina Hurricanes (25-20-9), from head coach Kirk Muller on down, have insisted all year that if they play the way they're supposed to play, they'll be successful. 
Now that they've won five of their last six, that seems more and more true with each game. 
Especially after a 3-1 win over the St. Louis Blues (36-12-5), a team that is among the best in the NHL. 
"We've got a lot of respect for that team. (Blues head coach Ken Hitchcock) is a great coach and they're well-prepared and they're good," Muller said. "We said we've got to bring our A-game here tonight if we want some good results. Right from the get-go, I thought our guys were focused. They came out hard and I thought we put a real good 60 minutes together tonight."
It didn't take the Hurricanes long to establish their up-tempo game, and they scored on a power play goal just 3:46 into the first. They never looked back.
"We wanted to come out and have a good start because that team, if you don't come out and have a good start, they can jump on you and it can be tough to get back in the game," Jeff Skinner, who had the second goal of the game for the Hurricanes, said. "So I thought it was a good start and we were able to maintain it."
This team has rarely had both the offense and defense clicking at the same time, but that's been happening more and more lately. 
"They had a couple times there where they were in our zone and playing on the perimeter and moving it around, but our guys stayed calm and kept them on the outside and limited a lot of scoring chances," Muller said.
Goalie Anton Khudobin, who's now 12-4 as a starter and has a save percentage of 92.7 percent, is playing very well. And he did again against St. Louis, saving 27 of the 28 shots he faced. But his defense is backing him up, something that hasn't happened every game. 
"It's just you feel comfortable and you feel kind of -- maybe just, less work than you usually have. But everybody, the defensemen and forwards lately, have been playing great," Khudobin said.
He's now started more NHL games than he has in any other season, and without much time off recently, the relaxed Russian is running on a combination of adrenaline and routine.
When asked if he was tired, he said: "No, not really -- maybe a little bit emotionally, but at the same time, it just calms me down as soon as I hit the ice. I'm nice and relaxed and I just play the game before any nervousness, too much energy. Right now, I just go there and play. Before, it was a little bit different. I was a little nervous."
And when it's going well for a goalie, not much feels like it can go wrong.
The Blues made a late push, as everyone knew the second-highest scoring team in the league would, and they got some looks at the goal.
But two shots inside of two minutes bounced off the post both times. 
"Sometimes it happens in a game I guess, and especially at the end, everybody expects that they're going to come hard," Khudobin said, grinning. "Post is great."
Muller will certainly take it, particularly after the hard luck the Hurricanes have had hitting the post instead of finding the goal this season.
Maybe it's just the hockey gods evening things out.
"They had some good opportunities and we had a couple nice little breaks with the post. Just like the other night in Montreal when we hit posts, tonight, they hit a couple," Muller said, smiling slyly. "And you need a post to be a goalie's best friend. But (Khudobin) was sharp. He made some nice saves. Collectively with the guys in front, he made the first one and I thought our D did a really good job of taking away the second an third rebounds."
With three more games in a four-game homestand before the Olympic break, the Hurricanes are happy with where they are, but they aren't satisfied.
"It's a big win. Obviously, they're a really good team. I think we've beaten good teams before," Skinner said. "It's just another thing to build on for us. We were able to have a complete 60-minute game and be consistent in our game. that's the most consistent thing for us. We want to sort of stick with what we're doing and build off this win."
---