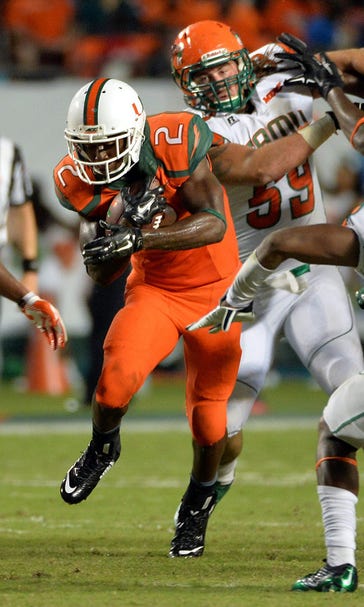 Hurricanes enjoy luxury of using many players in victory over FAMU
September 6, 2014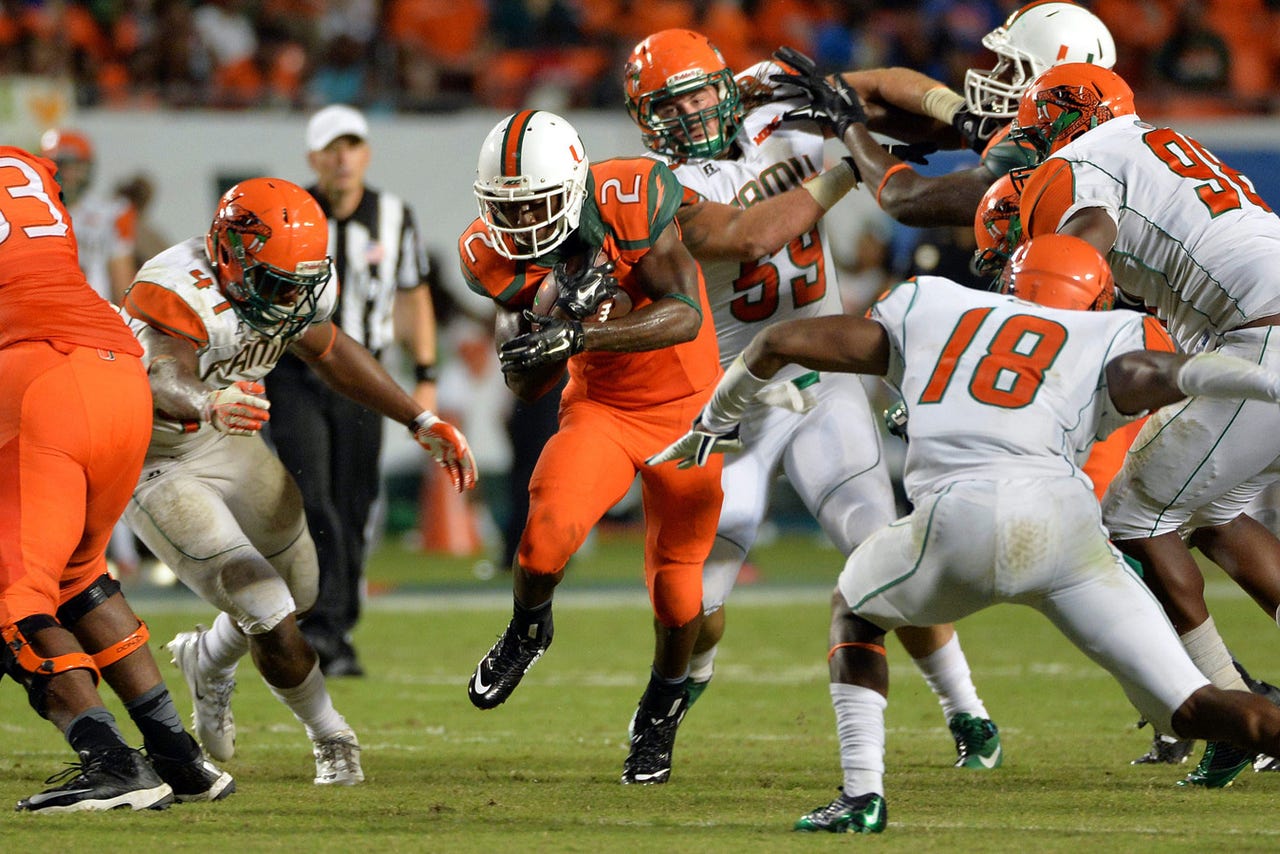 MIAMI GARDENS, Fla. -- As expected, the result was never in question Saturday night.
In a glorified scrimmage, the University of Miami cruised past FCS opponent Florida A&M for a 41-7 victory at Sun Life Stadium.
More importantly, the Hurricanes got key signees from its Class of 2014 experience after opening the season with a pivotal Atlantic Coast Conference matchup.
During the postgame press conference, head coach Al Golden believed either 12 or 13 players saw their first substantial snaps in a collegiate game.
"We played a lot of guys," Golden said. "To be honest with you I don't know if it was wholesale empty because we had so many guys we needed to get ready because we didn't have that opportunity in Week 1. There were a lot of guys who played for us, and we wanted them to be out there for a whole half."
Ahead 28-7 by halftime, Golden had the luxury of holding senior linebacker Denzel Perryman, junior running back Duke Johnson and sophomore wideout Stacy Coley out over the final two quarters.
Running back Joe Yearby rushed for 95 yards on 14 carries after taking over for Johnson in the third. He averaged 6.8 yards in his first collegiate snaps.
"It's great to see a guy come in and work hard, a guy with the same injury I had out of high school," said Johnson, who finished with a game-high 97 yards and a touchdown. "He's working hard every day to get better and better himself, get adjusted to the college game. Today I could say was his first go-round of taste of college. I think he answered it well."
Quarterback Brad Kaaya, who finished 12 of 22 for 177 yards, two touchdowns and two interceptions, opened Saturday with three straight pass plays.
Despite the short week and less time to prepare, that type of play-calling didn't happen until the third quarter of Monday's loss to Louisville.
Sure, Kaaya underthrew a receiver in the end zone for an interception in the first quarter. Sure, he overthrew senior tight end Clive Walford for another pick. But part of developing as a player is making mistakes and learning from them. Experience leads to growth.
Usually in games against FCS opponents, the quarterback exits by halftime. Jake Heaps didn't relieve Kaaya until the final drive of the third.
"A little bit more," Kaaya said of his comfort level. "It's at home, a different environment. It's my second college game. I could say I felt a little more comfortable back there."
An early frontrunner for his go-to target would be fellow true freshman Braxton Berrios, who caught a game-high six passes for 63 yards. He also took over punt return duties in the second half. Kaaya and Berrios connected on a 22-yard play on fourth-and-12 in the third quarter.
Berrios admitted he didn't expect receiving the amount of playing time he has gotten, but has done his best to capitalize on each opportunity. He is coming off a torn ACL and didn't get on the field for practice until this summer.
"We're pulling each other along," Berrios said of their chemistry. "I'm getting a lot of playing time, and Brad's the starting QB. We're kind of in the same boat in regards to pressure and coming out as true freshman, so feeding off each other and talking through the whole thing."
Linemen Chad Thomas and Anthony Moten, linebacker Juwon Young as well as back Ryan Mayes entered on the final defensive drive of the third.
After limiting the Rattlers to 63 yards in the first half, the defense held FAMU to just 51 over the final two quarters. The lone score came on a fumble recovery in the end zone on a high snap to the punter late in the second.
Nick Linder and Trevor Darling saw action on the offensive line. Chris Herndon lined up at tight end. Sophomore D'Mauri Jones recorded his first catch on a 13-yard pass from graduate quarterback Jake Heaps. Trayone Gray, who missed the first couple days of camp, scored on a 10-yard touchdown on his first career carry with 4:17 left in the game.
"It was good," Golden said. "It wasn't perfect, but I think we got better in a lot of different areas. Some areas we've got to continue to make progress in. We played a lot of guys, which was great, and I thought a lot of those guys played really soundly when they came in. The second defense -- I thought they lined up really well, tackled well. I thought they ran the ball well. I was pleased with that."
Worth noting –Johnson became just the ninth Hurricane to accumulate 2,000 rushing yards in a career with a 55-yard run during the second quarter. He now has 2,054 in 22 games, good for ninth in program history.
"Just being in the area with some of the guys that came here's a great feeling alone," Johnson said. "Just being compared to a lot of great running backs that came through is heart-feeling. That's a great accomplishment."
You can follow Christina De Nicola on Twitter @CDeNicola13 or email her at cdenicola13@gmail.com.
---