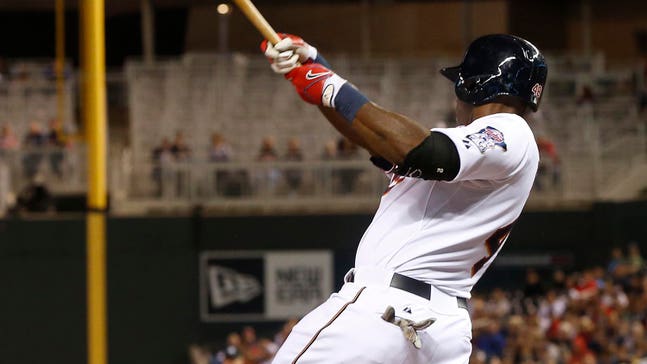 Hunter hits three-run homer, Twins defeat A's
Published
May. 4, 2015 11:45 p.m. EDT

MINNEAPOLIS (AP) -- When Torii Hunter's three-run homer sneaked inside the left-field foul pole to break a sixth-inning tie, he flipped his bat so hard it spun like a pinwheel. He kept up the intensity with some determined hand slapping in the dugout.
Minnesota's momentum hasn't quit, either. Hunter gave Phil Hughes his first win and the streaking Twins an 8-7 victory Monday night over the Oakland Athletics.
"Just trying to pump my guys up. I've got a little fire sometimes," said Hunter, who is 9 for 22 in his last five games.
Brian Dozier and Jordan Schafer each drove in two runs for the Twins, who won their fifth straight game despite a grand slam by Stephen Vogt just five batters into the night for Hughes (1-4). Mark Canha hit a solo shot in the sixth, giving the A's a 5-4 lead, but Hughes hung around long enough for that elusive first victory in his sixth start.
"That's the mindset. After the first inning, I knew no matter what I did after that it wasn't going to be pretty," Hughes said.
Vogt added a RBI double off the right-field wall in the ninth inning, just missing another homer, but Glen Perkins recovered to earn his ninth save in as many attempts.
"Guys said it was about 2 feet from the balcony and about 3 feet short of the top of the wall," Vogt said, "and I think that just about sums up our night. It's frustrating. There's no hiding it anymore."
The A's, off to their worst start in six years, lost for the eighth time in 11 games. They're already 7 1/2 games behind first-place Houston in the AL West.
Jesse Hahn (1-2) quickly lost the 4-0 lead the A's handed him in the first inning and failed to finish the sixth for the fourth straight start. Eduardo Escobar and Jordan Schafer, who's on an 8-for-18 streak following a 3-for-33 skid, each had three hits for the Twins.
"That's a pitcher's dream, to go out in the first inning and get a four-spot right away from your team," Hahn said. "I just did a bad job of controlling that."
Hahn was the fifth A's starter in the last nine games to finish only five innings or fewer. He gave up 10 hits and six runs while striking out five.
Hughes was the main attraction on Star Wars night, his turn happening to fall on May 4, which has become the annual celebration of the sci-fi classic. The theme, cleverly, was "Hughes the Force," as music from the movie played throughout pregame introductions.
The pitches Hughes threw early had little force, including the fastball he grooved to Vogt, who homered twice on Sunday and has nine RBI in his last two games. Hughes effectively mixed in his curveball to hide a lifeless fastball, settling into a rhythm until Canha drove a fastball into the second deck above left field.
"That's what you want your veteran starting pitchers to do," Twins manager Paul Molitor said. "When they have a rough start, find a way to dig deep and try to extend the game to give your club a chance to come back."
Canha drove in another run with a groundout in the eighth, but Schafer ended the inning with a tumbling catch near his shoe of a sinking line drive by Billy Burns, a highlight completed when the replay review overturned the original ruling that the ball was trapped. Molitor was so happy for Schafer he gave him a hug in the dugout.
"I don't want to be Tommy Lasorda-ish too much, but it was just one of those moments," Molitor said.
Hot hitting: The Twins are batting .335 through eight games of their 11-game homestand, with an average of 6.6 runs per game.
"All the way through our lineup guys are grinding at-bats right now," Schafer said.
Up next: Jesse Chavez (0-2, 2.55 ERA) will take his third turn in Oakland's rotation since moving from the bullpen. Chavez's only career start against Minnesota came at Target Field last April, a seven-inning, one-run, nine-strikeout performance.
Trevor May (2-1, 4.43) will take the mound for the Twins, who have won each of his last three turns. May made his major league debut against the A's last August, allowing four runs on three hits and seven walks while finishing only two innings.
---