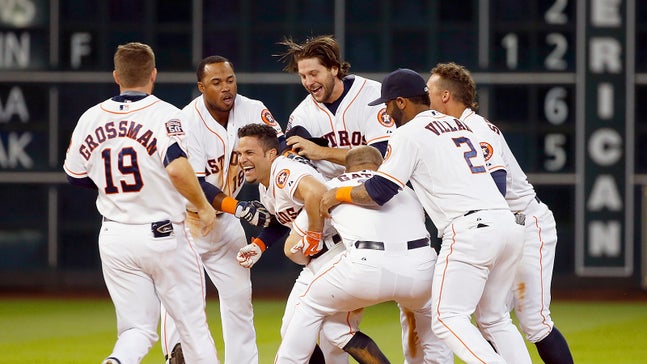 How the surging Houston Astros can get even better
Updated
Mar. 4, 2020 3:07 p.m. ET

On Thursday I wrote about the Nationals and their surprising, disappointing start. They were supposed to finish first in the National League East, and instead they were last (granted, after three straight wins they began looking a lot more like that team we expected). Well, the flip side of the Nationals might be the Astros, who were supposed to finish last and, after beating the Mariners on Saturday for their ninth straight win, have a comfortable lead (for early May) in the American League West.
As Joe Sheehan so helpfully pointed out, in 2005 the Astros opened their season 15-30 ... and wound up in the World Series. If it works one way, it certainly can work the other way. Nothing'€™s for sure, one way or the other.
But while the Astros, like all of us, are subject to the whims and the whimsies of Lady Luck and Dame Fortune, they'€™re also not merely bystanders. Rather than just wait for a good (or not) season to come to them, they will have chance to go and grab the season they want. Case in point from Thursday night:
Now, there are some good reasons to leave Preston Tucker in Fresno to marinate for a while longer. He'€™s not on the 40-man roster. He was ranked No. 14 among the Astros'€™ prospects last winter by Baseball America. And he'€™s quite limited, defensively. He'€™s been playing left field for the Grizzlies, but that'€™s the hardest position he'€™s going to play. BA: "As a thick-bodied left-handed hitter with strong hands and enormous forearms, Tucker will go as far as his bat takes him."
Here are three good reasons to call up Tucker, yesterday: Chris Carter, Evan Gattis, George Springer. Thanks largely to those three, Houston'€™s designated hitters rank last in the American League in OPS, their first basemen 13th, their right fielders 11th.  Oh, and Robbie Grossman, the Astros'€™ fourth outfielder, hasn'€™t hit, either.
Now, there have been some bright spots for the Astros; three tremendously bright spots: Jose Altuve, Jed Lowrie, and Jake Marisnick. Taking them one at a time...
Altuve was great last season and —€" as Eno Sarris wrote earlier this week — he'€™s probably just great, period. He'€™s still young, and not doing appreciably better this season than last. He might just be a superstar, and we might as well get used to it.
Lowrie'€™s vastly exceeded his prior history, which now seems largely irrelevant since he'€™s going to be out for at least a couple of months after surgery to repair a torn thumb ligament. His replacement on the roster? Jonathan Villar, he of the .221/.289/.332 career batting line in the majors (153 games). The No. 1 guy is Marwin Gonzalez, he of the .290 career on-base percentage. Remember, Lowrie was signed specifically so Gonzalez wouldn'€™t still have an everyday job.
Speaking of career batting lines, Marisnick'€™s was .227/.264/.300 entering this season, in 105 games. He'd fared better in the minors, but not that much better. So how to explain his .379/.422/.621 markers this spring?
I poked around but didn'€™t find an explanation. Until I do, I'€™m going to guess that Marisnick'€™s just had a nice month and will find his level —€" not nearly this good, but better than before —€" at some point, and probably sooner than later.
Which does leave the Astros looking for more hitting. I won'€™t presume to offer any advice; the front office doesn'€™t need my help. I'€™m just offering you a preview of what'€™s probably coming soon. If Tucker keeps hitting home runs, the big club will have to find a place for him.
And then there'€™s Carlos Correa, the franchise'€™s No. 1 prospect. Correa, the No. 1 overall draft pick three years ago, missed most of last season with a broken leg. Baseball America predicted that Correa would return to Class A this spring; instead he opened in Double-A and has destroyed Texas League pitchers, batting .385 with 11 doubles and five home runs in 19 games.
Okay, so it'€™s worth repeating: 19 games. Just as Marisnick'€™s 19 games don'€™t tell us much about him, Correa'€™s 19 games don't tell us much about him. The difference, of course, being that Correa's supposed to be a great player (eventually) while Marisnick'€™s not. It'€™s far from certain that Correa'€™s better than Villar right now ... but then again, it'€™s not certain that Addison Russell'€™s better than Jonathan Herrera right now. Didn'€™t stop the Cubs from calling up Russell and installing him at second base.
Now, I don'€™t mean to draw a direct parallel here. But two of the franchises that looked best-positioned in future seasons were the Cubs and the Astros; the Cubs were maybe a year away from being really good, the Astros maybe two years.
Well, the timetables suddenly seem to have accelerated just a bit. And while Tucker and Correa aren'€™t Kris Bryant and Russell —€" in terms of perceived major-league readiness, I mean —€" maybe it'€™s time to accelerate them just a bit, too.
Sometimes young players take longer than you expect, even break your heart. But sometimes it goes the other way, too.
---