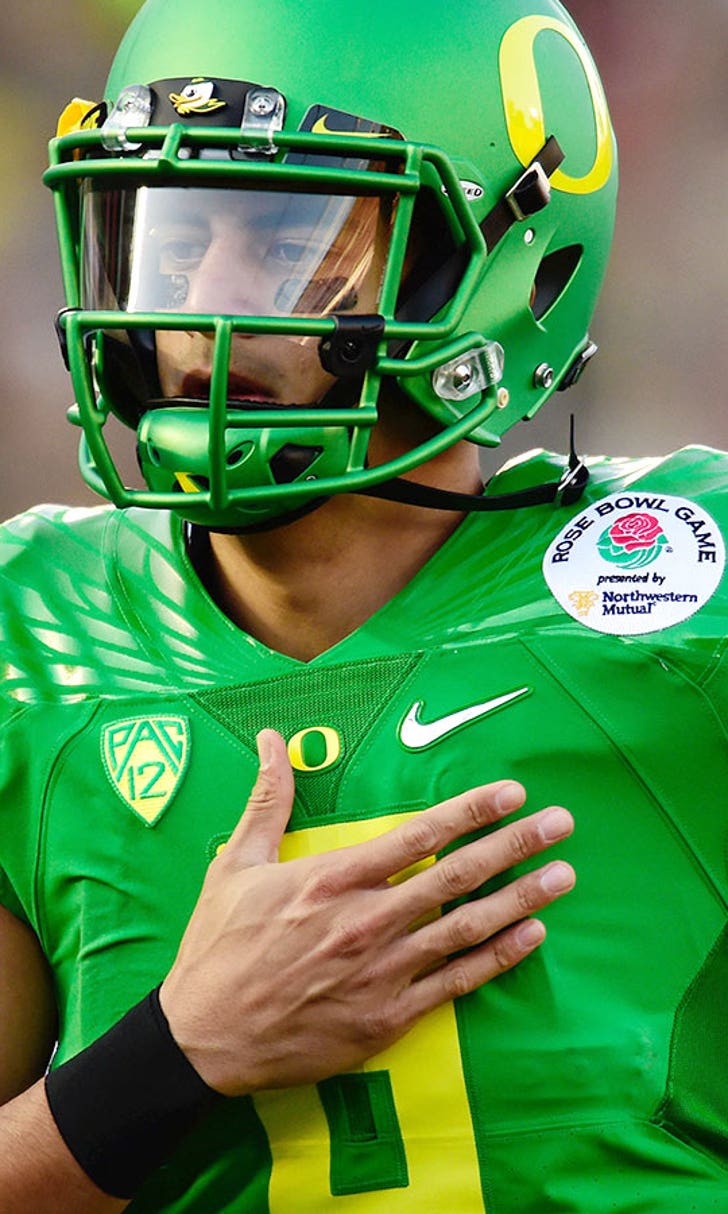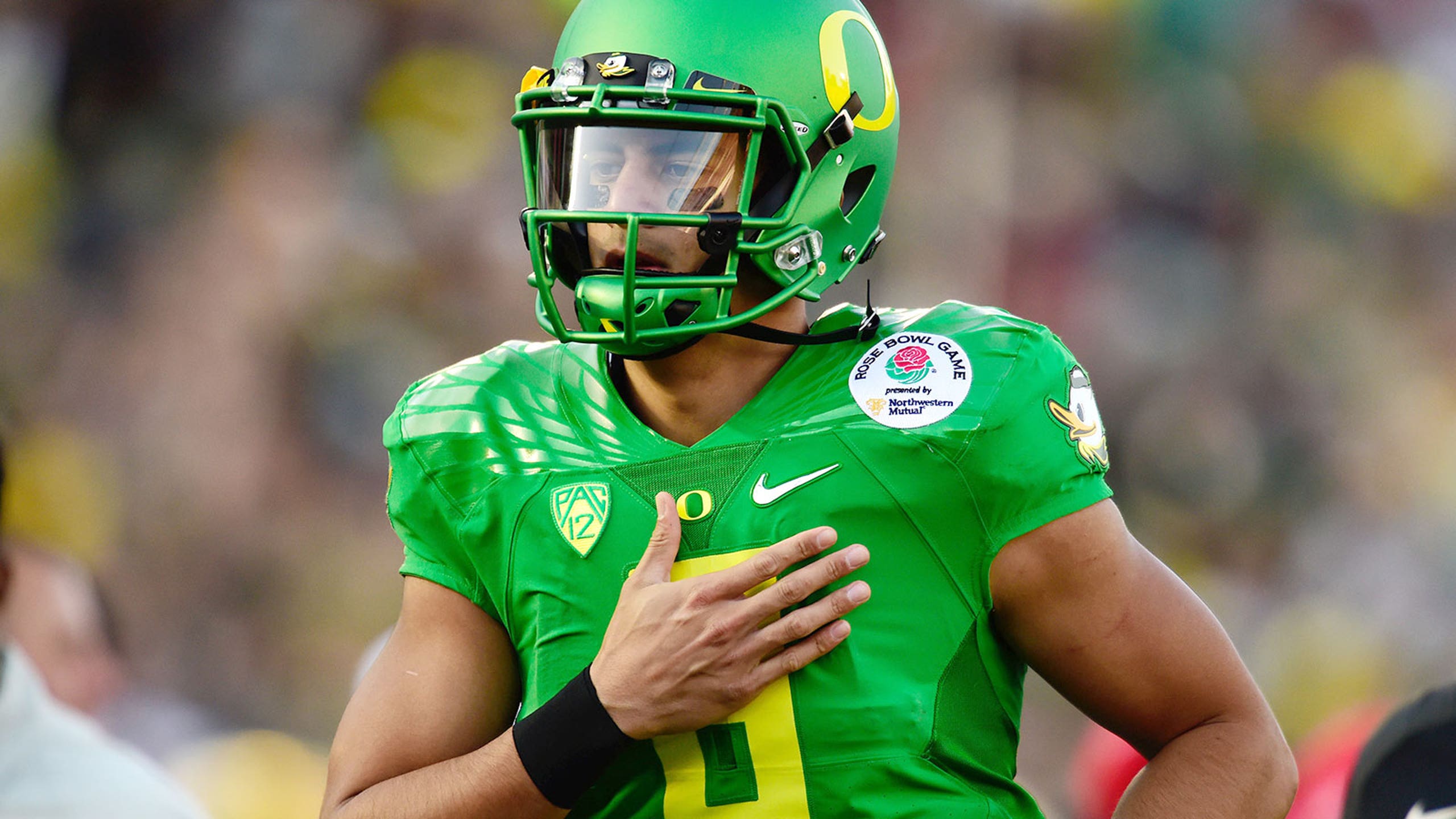 How High Can the College Football Playoff Ratings Go?
BY foxsports • January 8, 2015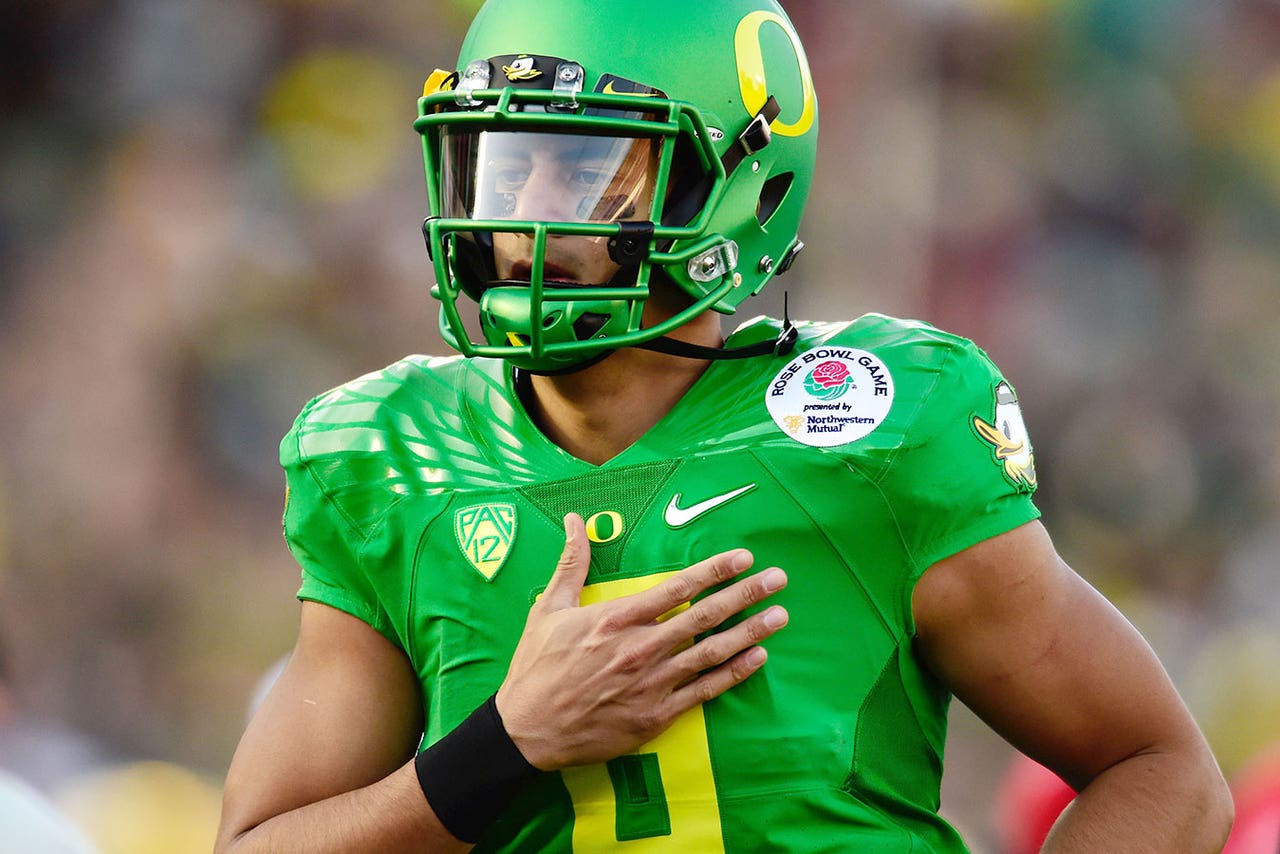 The college football playoff is an unquestioned ratings success, becoming the two most watched cable programs of all time on New Year's Day. Over 28 million people watched both games, which was enough to beat three of the four NFL playoff games last weekend. That's a pretty shocking result considering that two of the games the college football playoff beat -- Baltimore at Pittsburgh on NBC and Cincinnati at Indianapolis on CBS -- aired on network television on Saturday and Sunday. The only NFL game with more viewers than the college football playoff was Fox's telecast of Lions-Cowboys on Sunday afternoon that had over forty million viewers. 
But now that the inaugural college football playoff has outrated the opening NFL playoff games two big questions linger. First, how many more people will watch the title game on Monday night between Oregon and Ohio State? And second, how will moving the games to New Year's Eve change the ratings in years going forward?
Let's start with question one, how many more people will watch the title game than watched the semifinals? The playoff got a tremendous benefit from the four teams involved -- Alabama, Oregon, Florida State, and Ohio State all have substantial fan bases. Honestly, it's almost impossible to pick four better teams for ratings purposes. The cable viewership for the title game varies based on the competitiveness of the game, but it's typically been between 24 and 27 million viewers. So did the college football playoff already reach that audience or, like the NFL playoffs, will the viewership increase in the next round? In essence, what's the viewership ceiling for a college football title game on cable in the playoff era? We just don't know. And there aren't easy sporting comparisons.  
The Super Bowl isn't a fair comparison because it drew over 110 million viewers last year. Indeed, the craziest thing about the Super Bowl viewership numbers is that the audience surges from the NFC and AFC title games to the Super Bowl. Who are the sixty or seventy million people who don't watch the league title games but then show up to watch the Super Bowl? This has always been a huge mystery to me. The Super Bowl has become such an event that non-sports fans watch. Will non-sports fans watch the college football playoff title game? That seems unlikely. Especially not in the first year when non-sports fans are just becoming aware it exists. It's not an event.   
So the viewership ceiling will probably be somewhere around forty million people, roughly akin to the viewership for a low-rated AFC or NFC title game. But how close to that ceiling will we get? It's possible that the same 28 million who watched the playoff games will watch the title game. Hell, it's even possible that LESS people will watch the title game since the inclusion of Florida State and Alabama led to four big-time rooting interests. Will Oregon and Ohio State move the needle as well as four teams did? Again, we don't know.  
But here's the bigger issue going forward -- the next two years the playoff games are on December 31st. Why? Because the Rose Bowl refuses to air on any day but New Year's. As a result it takes the prime afternoon viewing window on New Year's, forcing the playoff games to New Year's Eve. And you can probably already think about what a total disaster this will be. How many relationships are going to end over football games ruining New Year's Eve dinner and party plans? Thousands, maybe even tens of thousands every year. I'm not leaving the front of the television that night. Chances are, if you're reading this, neither are you. How will millions of girlfriends, wives, boyfriends, and husbands react to the ball dropping in the middle of a football game?
Given that Nielsen does a crappy job of capturing group viewers, ratings will plummet on New Year's Eve, relationships will die, this is a major issue for the college football playoff that no one seems willing to acknowledge. And that's not even the worst of it, most of us still have to work on New Year's Eve. The games will start while many of us are still at work on New Year's Eve. (At least 2016 will be on a Saturday). That's also a potential ratings disaster. Basically, while no one is talking about it, it's unlikely this year's ratings, whatever they are, will be equaled again until the games return to New Year's Day. In terms of viewers this year may well be as good as it gets for the college football playoff.
Which brings me to a final question: Isn't it time for someone to stand up to the Rose Bowl and point out that their game on New Year's Day isn't that big of a deal when they don't actually host a playoff game? The playoff games should always be on New Year's Day. Unfortunately they aren't going to be on New Year's Day most of the time. That's a mess. As a result you might want to go ahead and explain to your significant other that your New Year's Eves for the next two years are already booked.  
---