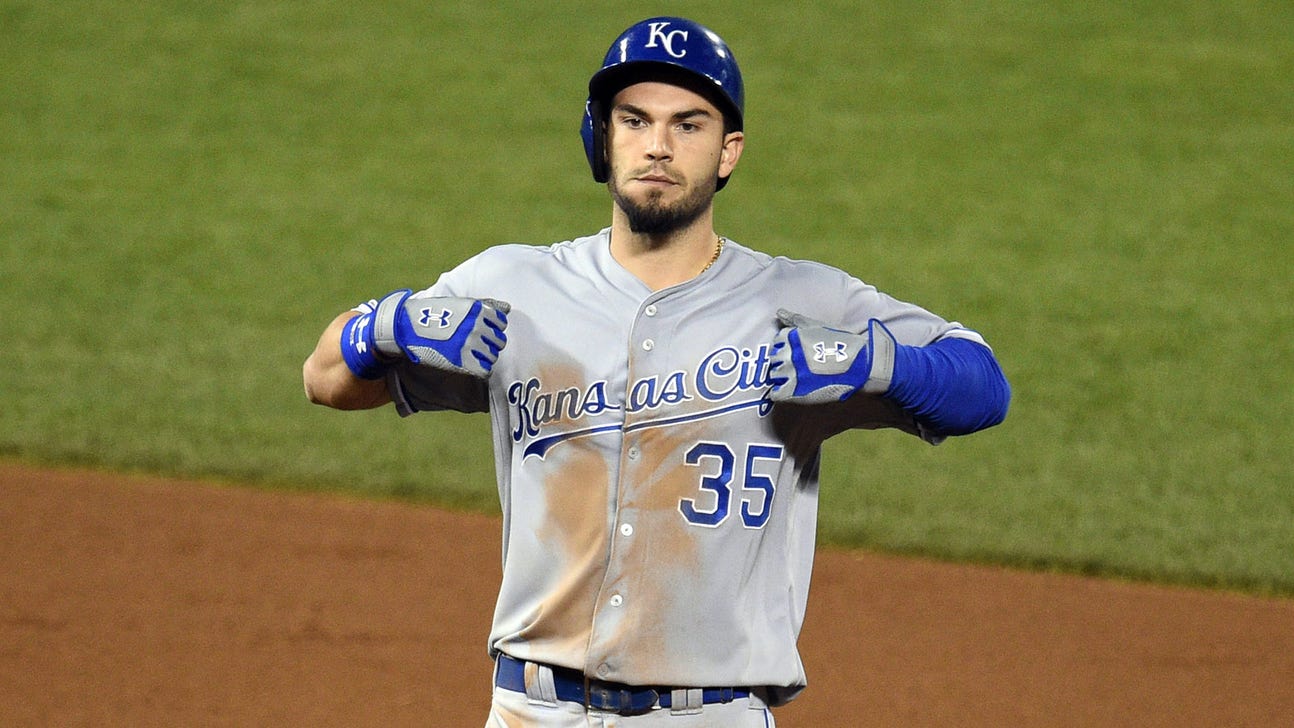 Hosmer's magic October shines light on what needs to happen next
Published
Mar. 2, 2015 10:58 a.m. ET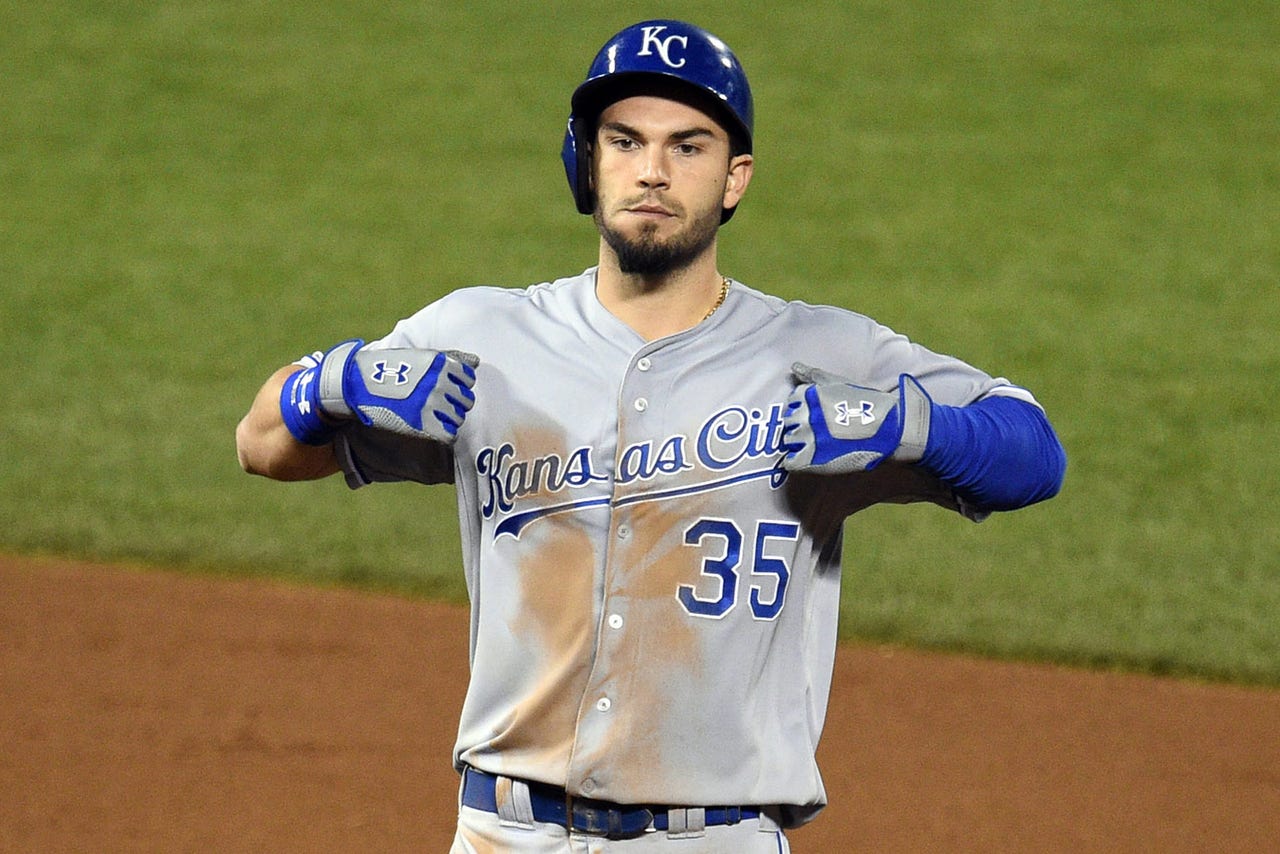 Brian Poldberg saw it in one day. Brian Rupp needed a year to see it. Todd Fitz-Gerald watched it happen over four years.
And across one month of October magic, the Kansas City Royals witnessed Eric Hosmer and his potential transform into the offensive force they envisioned when they made him the third overall pick of the 2008 MLB Draft. He mashed his way through his first postseason and flashed the power that once made him a "can't-miss" prospect. He became a symbol for the lovable Royals, his beard and fauxhawk becoming iconic by November.
The playoff power surge -- a .351 average and a .983 on-base plus slugging percentage -- was four big-league years in the making for Hosmer, whose inconsistent regular seasons became puzzling for a Royals organization that had anticipated the rise of a franchise player. His smooth power stroke netted only nine home runs in 2014 as he regressed to a below-average hitter who filled the No. 6 hole in the lineup.
But before there was "The Hos," there was a chubby eighth-grader and a struggling A-ball hitter, a grounded teenager and a rookie phenom -- each one essential to the emergence of Hosmer and, more important, to his unwritten future.
On the road, the chants came. They were hard to ignore, but easy to dismiss. "Ov-er-rat-ed," they echoed.
A normal fresh-faced, thin-skinned teenager might crack under the massive expectations, the magazine covers and the unfriendly student sections. But Hosmer?
"He'd laugh at it," says Fitz-Gerald, who coached Hosmer in high school at American Heritage in South Florida. "It's funny. He never let anything bother him."
Fitz-Gerald knew Hosmer when he was 14, and later won a state championship with him. At American Heritage, he shared a dugout with Hosmer's father, Mike, and coached Hosmer's older brother, Mike Jr.
Eric was the short and stocky kid who could always swing the bat but hadn't hit his five-inch growth spurt yet. After his freshman season on varsity, Hosmer sprung up and became the county's best player as a sophomore.
"He really filled out his body and then he just developed every year," Fitz-Gerald says. "The kid was a tireless worker and he played at the highest level always. He always played above his age. He did everything he could to prepare himself for where he's at now."
Fitz-Gerald, who now coaches at neighboring Parkland Douglas High School, says Hosmer would return to American Heritage with shoes and gloves to hand out to the next wave of Patriots players.
Fitz-Gerald still talks with Hosmer about once a month, as long as he can keep up with the 25-year-old's ever-changing phone number. He watches all of Hosmer's games, and says his October outburst gave him chills.
"I always told Eric, 'I hope my kids grow up one day to be like you,'" Fitz-Gerald says. "He was always grounded, feet on the ground. Never too high, never too low, never let anything bother him."
When Brian Rupp talks about Hosmer's success, he chuckles to himself.
"I'm probably one of the only guys that had him when he wasn't very good," says Rupp, who managed Hosmer at High-A Wilmington in 2009 and 2010.
Under Rupp, as a 19-year-old, Hosmer struggled to hit Carolina League pitching. He had trouble catching balls and throwing across the infield. His power had evaporated and his numbers spiraled downward.
Hosmer weathered two separate 0-for-29 stretches within 23 days and had just five extra-base hits in 27 games. He posted an unsightly .579 OPS in 2009.
In one at-bat against a sidearm right-hander who topped out at 82 mph, the left-handed-hitting Hosmer clanked foul balls off the third-base dugout. That's when Rupp, who is now a hitting coach for the Potomac Nationals in the Washington organization, realized something wasn't right.
Little did Hosmer know that he was staring right at the culprit -- his prescription Oakley glasses.
"Nobody could have played with those," Rupp says. "They were so scratched up, and it was bad."
Rupp says Hosmer was lucky he didn't get hurt because the glasses were so damaged. So Hosmer ditched them and got Lasik surgery, trading his lackluster A-ball debut for a torrid season in 2010, punching his ticket up the organizational ladder.
Hosmer returned a "completely different" player, one who hit cleanup behind Alex Gordon (who played seven games in Wilmington that season) and slashed .407/.505/.593 through the first 26 games of the season. He failed to reach base in only one game in that stretch, but teams still opted to intentionally walk Gordon to get to the hot-hitting Hosmer.
"Even Gordo said after, 'Don't pitch to that kid, ever. He's that good already,'" Rupp says.
Nick Additon helped Brian Poldberg figure out just how good Hosmer had become. In his first at-bat for Double-A Northwest Arkansas in 2010, Hosmer belted a solo home run to right field off the left-hander Additon.
"He just stepped up and acted like he'd been there all year," says Poldberg, who now manages the Omaha Storm Chasers, the Royals' Triple-A affiliate. "He just had a presence. He knew he belonged and he didn't miss a trick."
Poldberg, who has been with the Royals as both a player and a coach since 1983, saw from Hosmer that night what the rest of the world noticed with each playoff hit -- his confidence.
After debuting for the Naturals in mid-July, Hosmer needed only 75 more minor league games before his major league call-up in May 2011.
"You could see in his gestures and his body language that he knew he belonged and there was nothing to keep him from getting it done where he was at," Poldberg says.
Hosmer's first season couldn't have gone much better, with 19 homers, 78 RBIs and a .293 average in 128 games. But other than a .302 average and 79 RBIs in 2013, he has not surpassed those rookie numbers, and he needed a full schedule to do that.
Now, Hosmer's challenge is replicating his October performance and projecting it over a 162-game season. He'll have to bounce back from 2014's career lows in both home runs  and RBIs (58). He'll have to be more than a Gold Glove first baseman. He'll have to live up to the gaudy postseason numbers.
But how?
Rupp says Hosmer's emotions in the playoffs benefited both himself and the team. Poldberg, meanwhile, points at the very thing he noticed right off the bat -- his confidence.
"They've all seen what it takes to get there and that they've all got the confidence," Poldberg says. "They know what they need to do. They need to stay within themselves and go out and get the job done. They've got all the ability to do that."
LET'S GO, ROYALS: Check out these photos of fans and the excitement around Royals baseball.
The Royals have seen it in the seventh month. They hope it is back for the first six.
You can follow Matthew DeFranks on Twitter at @MDeFranks or email him at matthew.defranks@gmail.com.
---