Hornets wrap season with loss to Raptors
April 15, 2015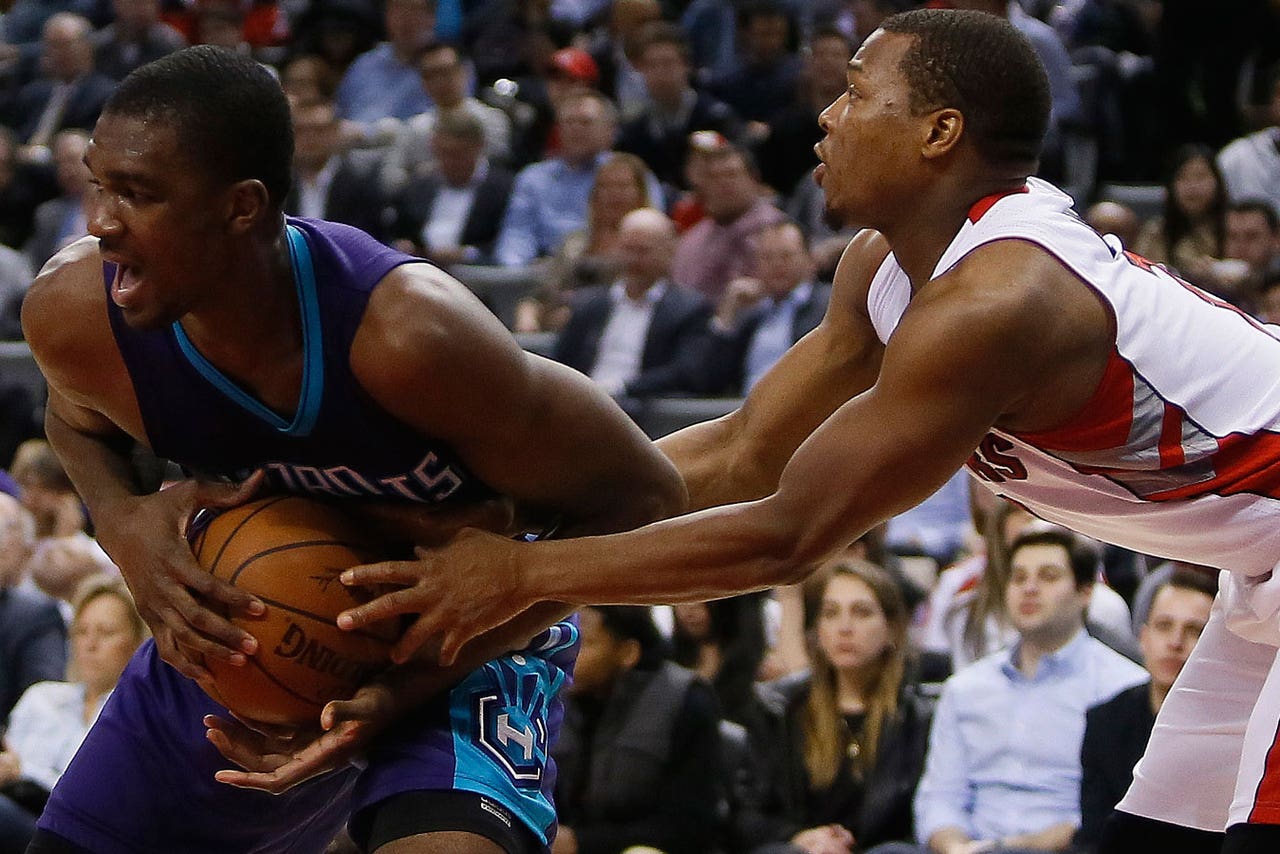 TORONTO -- Kyle Lowry scored 26 points and the Toronto Raptors wrapped up the regular season with their franchise record 49th victory, beating the Charlotte Hornets 92-87 on Wednesday night.
Jonas Valanciunas added 18 points, DeMar DeRozan had 16 and Terrence Ross 13 for the Raptors. They will open the playoffs at home on Saturday.
Depending on the outcome of the Chicago-Atlanta game Wednesday night, Toronto will face either Washington or Milwaukee in the first round. A Chicago win would mean the Raptors get Washington, while an Atlanta win would match Toronto with Milwaukee. Toronto holds the tiebreaker over Chicago because the Raptors won the Atlantic Division title.
Tory Daniels scored a season-high 24 points for Charlotte. Kemba Walker had 17 points, and Gerald Henderson 15 for the Hornets. They lost their last six games to finish at 33-29. After holding the No. 7 spot in the Eastern Conference on March 8, they lost 15 of 20 to fall out of postseason contention.
Lowry went 1 for 13 from 3-point range in his first two contests after missing seven straight games with back spasms. After going 2 of 4 on Tuesday night in a loss at Boston, he was 6 of 9 against Charlotte.
DeRozan returned to the starting lineup after sitting out Tuesday to rest his sore right groin. DeRozan missed 21 games this season after suffering a torn tendon in his left groin.
Walker scored nine points in the first quarter, but Ross had seven and DeRozan six to help Toronto take a 25-20 lead.
Lowry hit three of Toronto's six 3-pointers in the second and the Raptors closed the quarter with a 17-4 run to lead 55-44 at halftime.
Valanciunas scored 10 points in the third, making five of six attempts, to help Toronto take a 78-67 lead into the fourth.
Charlotte was without starters Al Jefferson (right knee), Michael Kidd-Gilchrist (left ankle) and Cody Zeller (right shoulder) and reserves Lance Stephenson (right toe) and P.J. Hairston (right knee). Mo Williams didn't play for the third straight game.
---