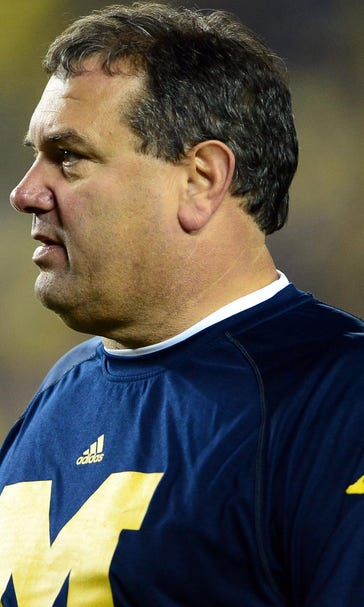 Hoke received warmly at Michigan banquet
BY foxsports • December 8, 2014
LIVONIA, Mich. (AP) -- Less than a week after being fired by Michigan, Brady Hoke was seated front and center at the school's end-of-season football banquet.
Hoke received a standing ovation from the room Monday night, along with heartfelt thanks from several of his players. Hoke was fired last Tuesday after the Wolverines went 5-7 in his fourth season as their coach.
"This football team showed great resiliency, throughout a season that saw many external distractions," Hoke said. "But we're united together, and as a team, they played every Saturday, and I'm very proud of that for them, and very proud of what this coaching staff did."
Coaches and players were not made available to reporters, and Hoke did not specifically talk about his dismissal. He said the night was about honoring the team's seniors.
A number of players made a point of praising Hoke in their remarks and speeches.
"Coach did not have to be here tonight, but he is here," wide receiver Anthony Capatina said. "He's here because he is a man of integrity, a man of honesty, and a man that does things the right way. Thank you, coach."
Punter Will Hagerup, who was suspended late in 2012 for violating unspecified team rules and sat out all of 2013, thanked Hoke and director of athletic counseling Greg Harden.
"I want to be very clear, so please listen up: Brady Hoke, Greg Harden, Michigan football saved my life," Hagerup said. "Coach Hoke risked everything for me. He took bullets for me and my team the entire season. When it comes to caring and believing in his players, Brady Hoke does, more than any head coach in this country."
Jim Hackett, who as Michigan's interim athletic director is in the process of finding a new coach, spoke toward the beginning of the event.
"We owe Coach Hoke a deep debt of gratitude for having the kind of program that will help you for the rest of your life, as he understood how values withstood the test of time, how integrity builds trust, and how trust allows us to follow," Hackett said. "Thank you Brady, for all you have done."
Mark Schlissel, the school's president, was also part of the night's program, and he had kind words for Hoke during his speech.
"It was clear to me from Day One that he cared very deeply for our players and for Michigan football. He worked to nurture our student-athletes as players, students and as men, and was committed to their success at all levels," Schlissel said. "He also reached out to me with friendship and warmth during challenging times this semester."
---