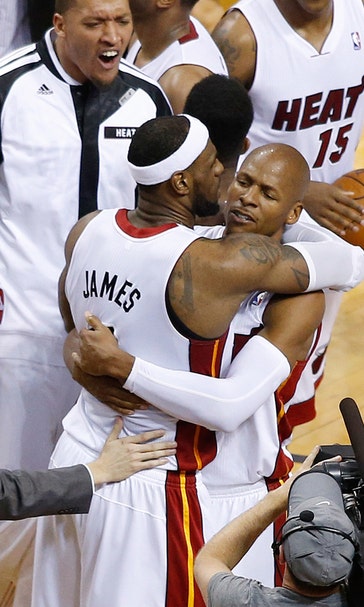 Heat Check: Ray Allen helps Miami survive and advance to Eastern Conference finals
BY foxsports • May 14, 2014
MIAMI -- It wasn't quite as dramatic as that 3-pointer in Game 6 against San Antonio -- not quite.
Ray Allen hit the go-head 3-pointer with 32 seconds left and the Heat held on for a 96-94 victory against the Brooklyn Nets in Game 5 of the Eastern Conference semifinals Wednesday night at AmericanAirlines Arena.
Miami went on a 13-3 run during the final 2:48 to advance to play the winner of the Indiana-Washington series in the conference finals. Game 6 between the Pacers and Wizards is Thursday night; the Pacers lead 3-2.
Paul Pierce's 3-pointer gave the Nets an 82-73 lead with 8:11 to go in the fourth quarter. Pierce went to the bench with his fifth foul with 5:50 remaining and returned with 2:39 to go.
Allen, whose 3-pointer from the right corner forced overtime against the Spurs in Game 6 of the NBA Finals, nailed his 3-pointer with 32 seconds left to give Miami the lead.
The veteran then sank two free throws with 21 seconds left before Joe Johnson's 3-pointer pulled Brooklyn within 94-93 with 11 seconds remaining.
Allen and LeBron James (29 points) converged on Johnson during the game's final play and forced the Nets star to fumble the ball as time expired.
Johnson's 34 points led Brooklyn, which was ahead 75-66 after three quarters.
Dwyane Wade scored 20 first-half points in 15:19 but the Heat trailed 49-42 at halftime after hitting 1 of 16 from 3-point range.
THE TURNING POINT
Allen's 3-pointer have Miami the lead for good.
THE DIFFERENCE MAKER
Again Allen, who finished with 11 points and teamed with James to deny Joe Johnson on the game's final play.
STAT OF THE GAME
Miami hit 29 of 31 free throws. Brooklyn was 12 of 15 from the foul line.
WHAT'S NEXT
The Heat await the Indiana-Washington winner in the Eastern Conference finals.
You can follow Charlie McCarthy on Twitter @mccarthy_chas or email him at mac1763@bellsouth.net.
---