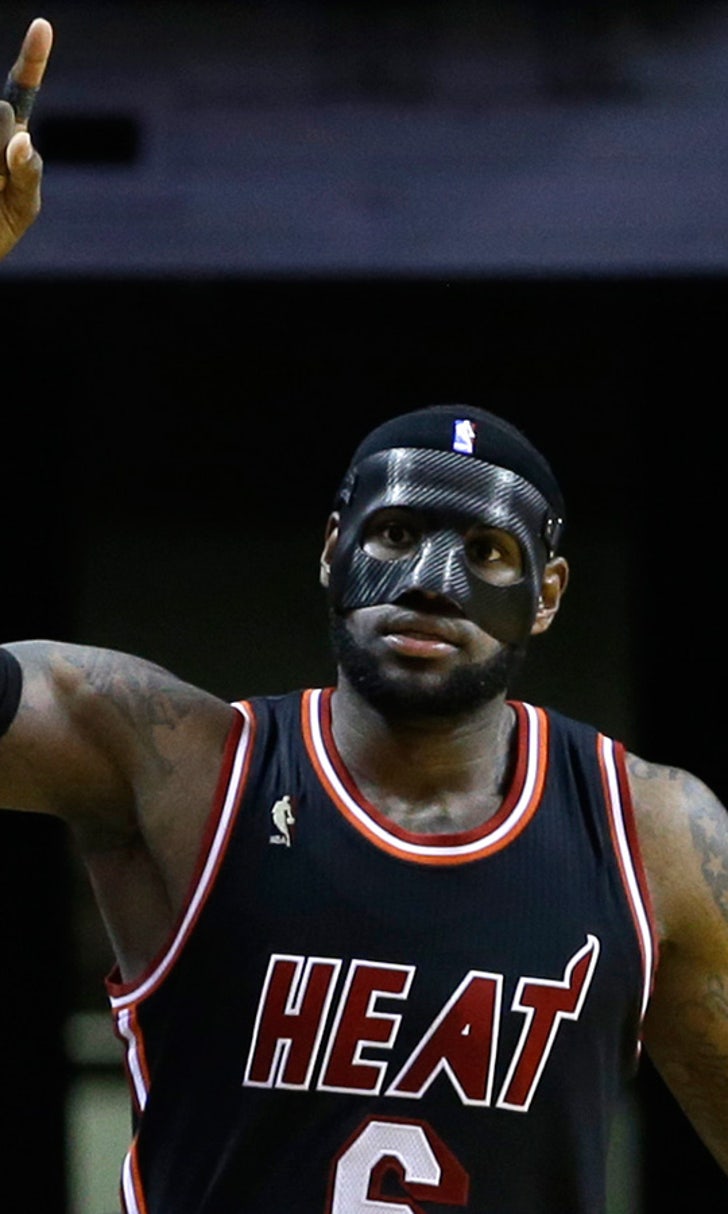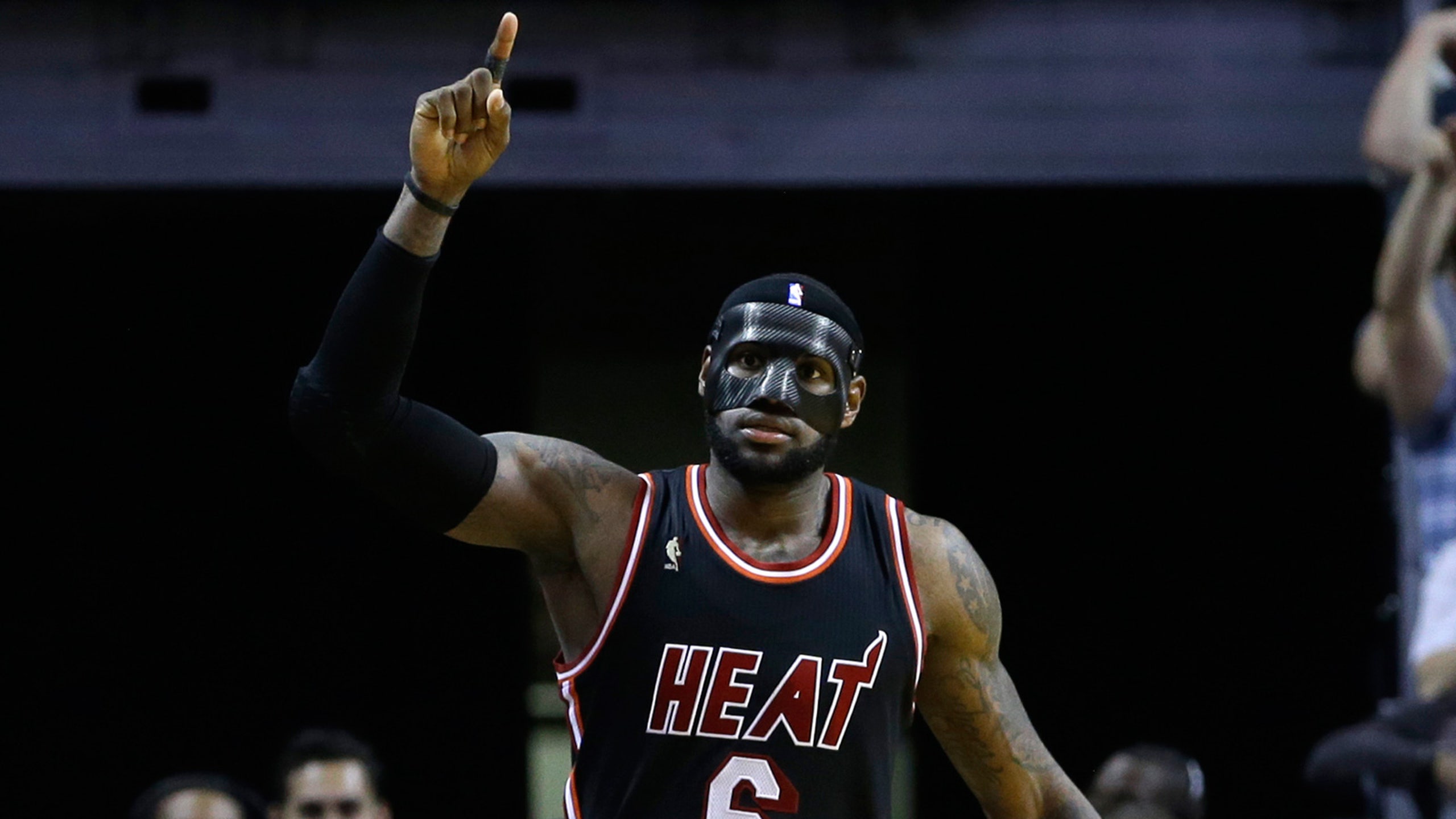 Heat Check: LeBron James returns as Miami turns it on against Knicks
BY foxsports • February 27, 2014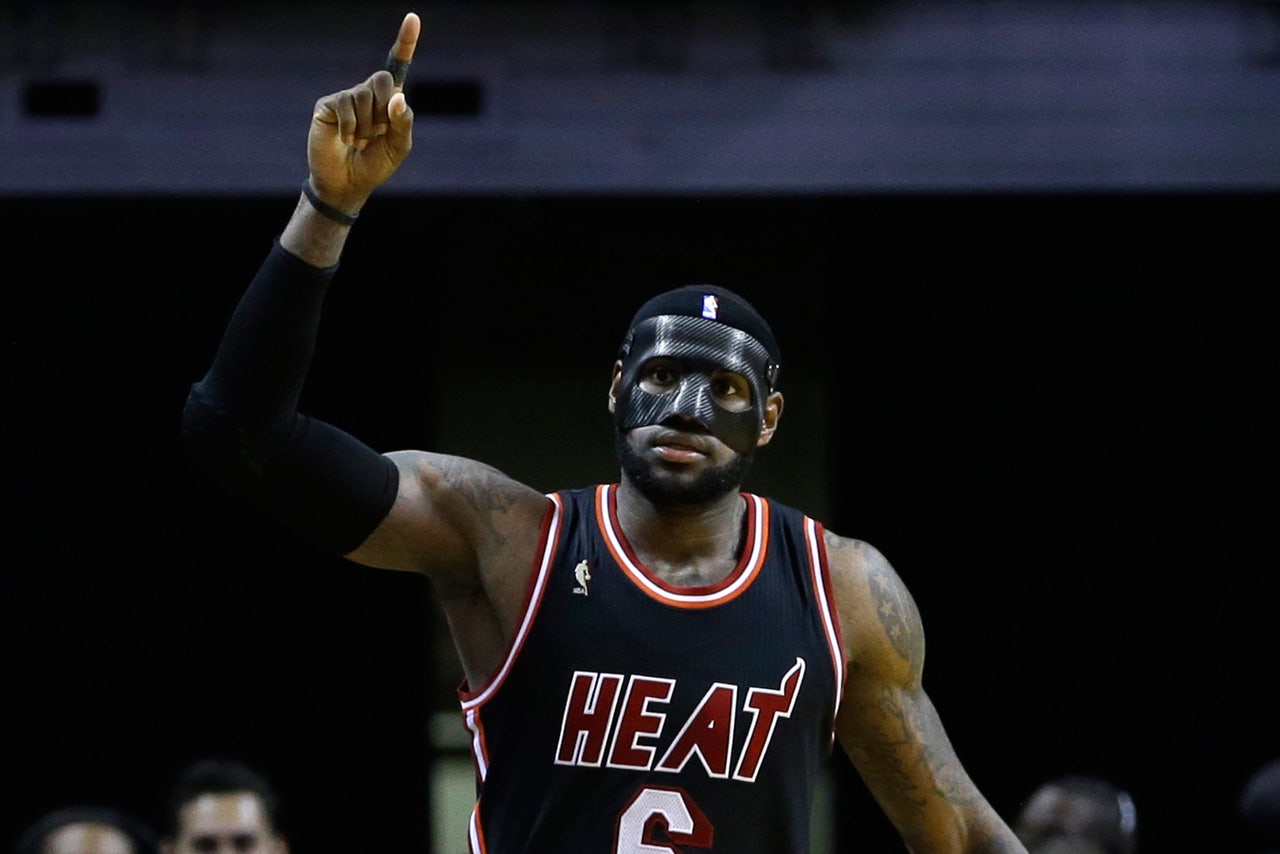 MIAMI -- After protective facial gear dominated pregame talk, nothing could mask the Miami Heat's third-quarter obliteration of the New York Knicks on Thursday night.
LeBron James returned from a one-game absence sporting a black mask to cover his broken nose and scored 31 points to lead the Heat to a 108-82 victory at AmericanAirlines Arena.
James had 12 points in the third quarter, when Miami outscored New York 32-14 to blow open the game.
A black headband and black beard added to King James' intimidating facial appearance, the result of a broken nose suffered a week earlier in a win at Oklahoma City. James sat out Sunday's home triumph against Chicago.
James opposed Carmelo Anthony in a meeting of All-Star forwards and also faced a masked J.R Smith, who was protecting a fractured cheekbone.
Dwyane Wade scored 23 points and hit 10 of 13 shots for the Heat (41-14), who their sixth straight and ninth in 10 games.
Miami shot 70.6 percent (12 of 17) and held New York to 30-percent shooting (6 of 20) in the third quarter.
Anthony's 29 points -- only five in the second half -- paced the Knicks (21-37).
James scored 11 points to help Miami build a 28-22 lead after one quarter. He then had just two in the second quarter, during which Miami held a 16-point lead before being up 55-50 at halftime.
Anthony had 24 points in the first half, when the Knicks outrebounded the Heat 25-15. New York grabbed 10 offensive boards (seven second-chance points); Miami had zero offensive rebounds.
THE TURNING POINT
Leading 64-61, Miami reeled off 11 straight points to build a 14-point lead with 3:51 left in the third quarter. The spurt -- part of the third-quarter destruction -- included James' slam off a feed from Shane Battier, and Wade's three-point play after sinking a fallaway banker.
THE DIFFERENCE MAKER
The Masked Marvel. James hit 13 of 19 shots and was not afraid to drive to the hoop despite the broken nose -- a good sign.
STAT OF THE GAME
Miami shot 60.8 percent, hitting 45 of 74 attempts. The Heat were 6 of 15 (40 percent) from 3-point territory.
WHAT'S NEXT
The Heat will play the Orlando Magic 7:30 p.m. Saturday at AmericanAirlines Arena.
You can follow Charlie McCarthy on Twitter @mccarthy_chas or email him at mac1763@bellsouth.net.
---