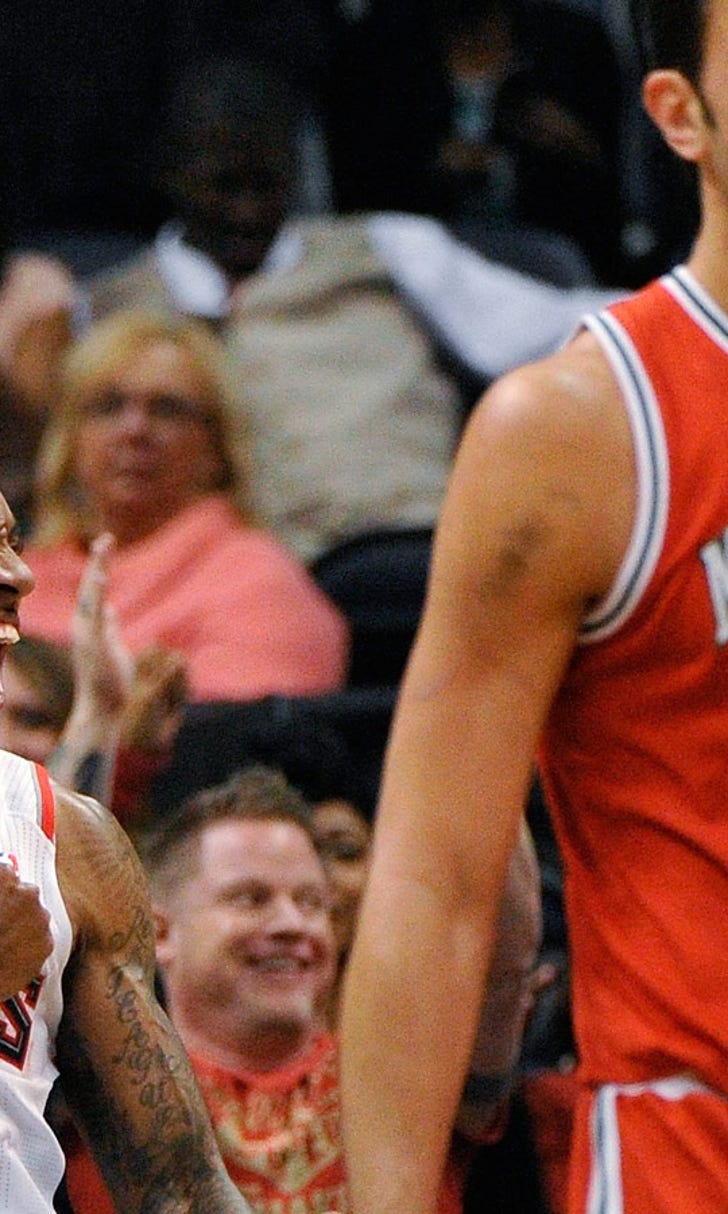 Hawks win ugly, start streak
BY foxsports • March 13, 2014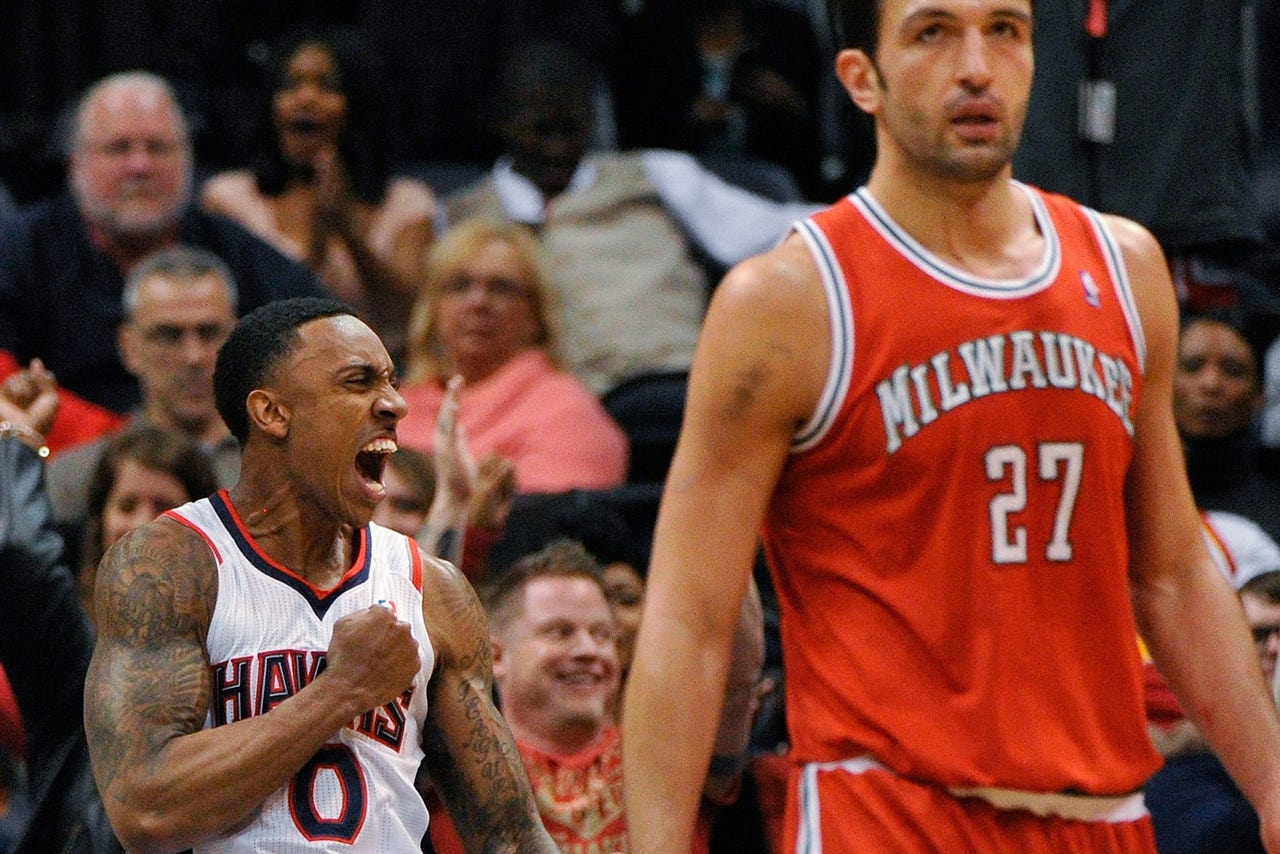 ATLANTA -- Almost six weeks had elapsed since the last time the Atlanta Hawks put together back-to-back wins.
With a lineup ravaged by injuries, the Hawks began a descent in the standings. Entering their match-up on Thursday with Milwaukee, owner of the NBA's worst record, the Hawks had lost 14 of their past 16 games.
As coach Mike Budenholzer said after the game, it was not pretty. The Hawks did not take their first lead of the game until the final minute of the third quarter, but in the end they prevailed, 102-97, helping them register their first back-to-back wins since Jan. 31 and Feb. 1.
The Hawks (28-35) remain in control of the eighth and final playoff spot in the Eastern Conference and are starting to look as if they have steadied their situation, as this win followed a 112-100 triumph over Utah in the final game of a six-game road trip on Monday. The New York Knicks (26-40), who have won five in a row, remain three-and-a-half games behind.
Budenholzer was asked if he thought the Hawks have stabilized.
"No, not really; I think we're going to have to play a lot better than this going forward," said Budenholzer, as the Hawks had 17 turnovers to Milwaukee's eight. "But I think the group knows that. Wins are important and we need to build on the win and we need to build on where and when we played well, but I don't think anybody feels like we're settled or two wins in a row is -- we need to get ready and play a lot better on Saturday."
Where and when the Hawks played well was mostly in the third and fourth quarters. In their first home game following the road trip, several players and Budenholzer said the Hawks felt sluggish, which they had to fight through.
Budenholzer cited the contribution of reserve center Elton Brand (six points, seven rebounds, two assists in 20 minutes), whom the coach said is one of the Hawks' top defenders. With under two minutes remaining in the third quarter and the Hawks trailing 67-59, Brand grabbed a rebound of Dennis Schroder's missed layup and put it back in with 1:55 left.
A little more than a minute later, he made a 16-foot jump shot to pull the Hawks within 67-66. Then he had a steal that launched a fast break, which was finished off by Shelvin Mack to give the Hawks their first lead at 68-67 with 39.9 seconds left.
To start the fourth quarter, Milwaukee quickly rebuilt a five-point lead. With 7:37 left in regulation, DeMarre Carroll (15 points) made a 3-pointer to give the Hawks a 78-76 lead. From there, both teams traded the lead almost on a possession-by-possession basis.
Finally with 2:15 left, Kyle Korver knocked down a 3-point attempt after missing one seconds earlier. Brand, of course, had the offensive rebound and the assist on the play. The Hawks led 90-89 and never looked back.
Korver scored 12 of his 15 points in the fourth quarter and point guard Jeff Teague had eight of his team-high 22 in the final quarter. Teague's thunderous, driving, one-handed dunk with 27 seconds left put an exclamation on the effort.
Teague, who also had eight assists and seven turnovers, was reluctant to say anything about the dunk but Korver wasn't.
"Man, flexing and everything," Korver said. "Jeff Teague. That was great."
On a more serious note, Korver discussed the potential negative impact of what a loss might have meant. It would have dropped the Hawks to 2-15 over their past 17 games and a loss to a team with the worst record in the league -- the Bucks, coached by former Hawks coach Larry Drew, fell to 13-52 -- could portend an ugly and difficult end to the season.
"Sure, we talked about it before the game," Korver said. "I mean, coach Drew has those guys, those guys played hard. I don't want to disrespect them at all but just where we're at in the standings, we need to take care of the teams who are below us right now and it's just one of those games we have to get.
"If we're looking at schedules with New York, our schedule's a little bit tougher than theirs is. We got a few-game lead but we've got to take care of business. I think definitely at halftime and then in the second half we were looking at each other like, 'Hey, man, we've got to go get this game' and we made enough plays at the end."
That they did. The Knicks only have 16 games left, the Hawks 19. Whether the win marks stability or not remains to be seen but it could have been a lot worse.​
---