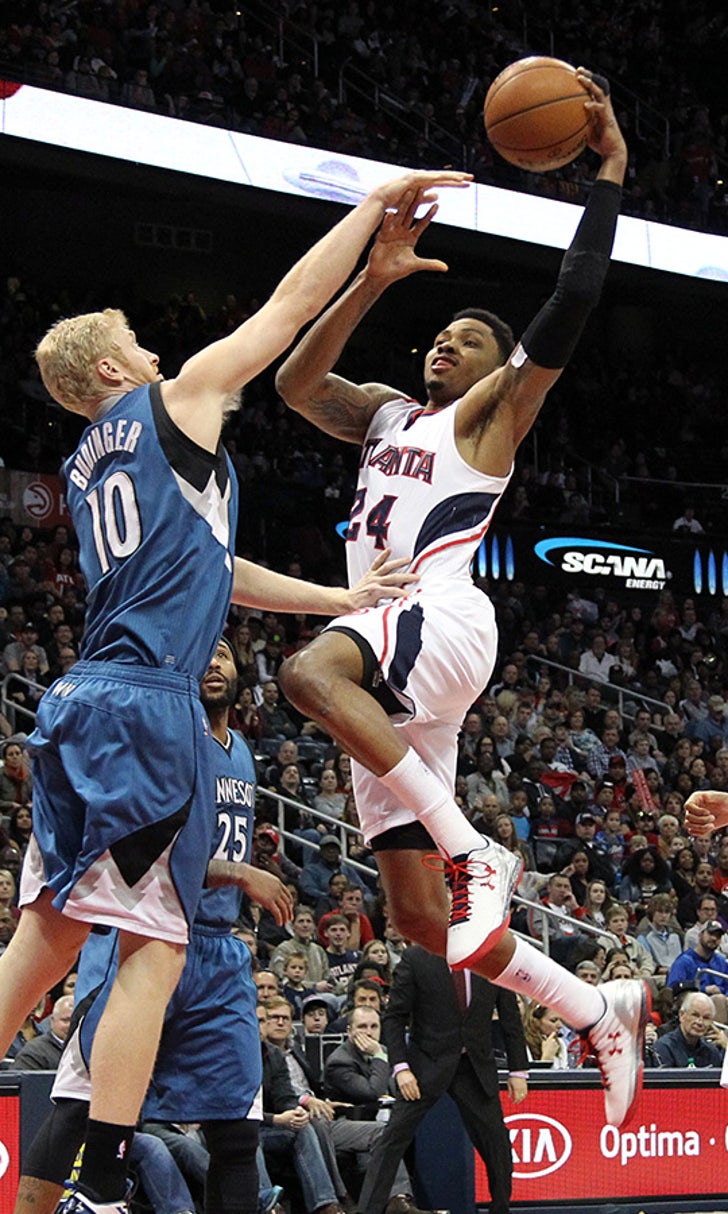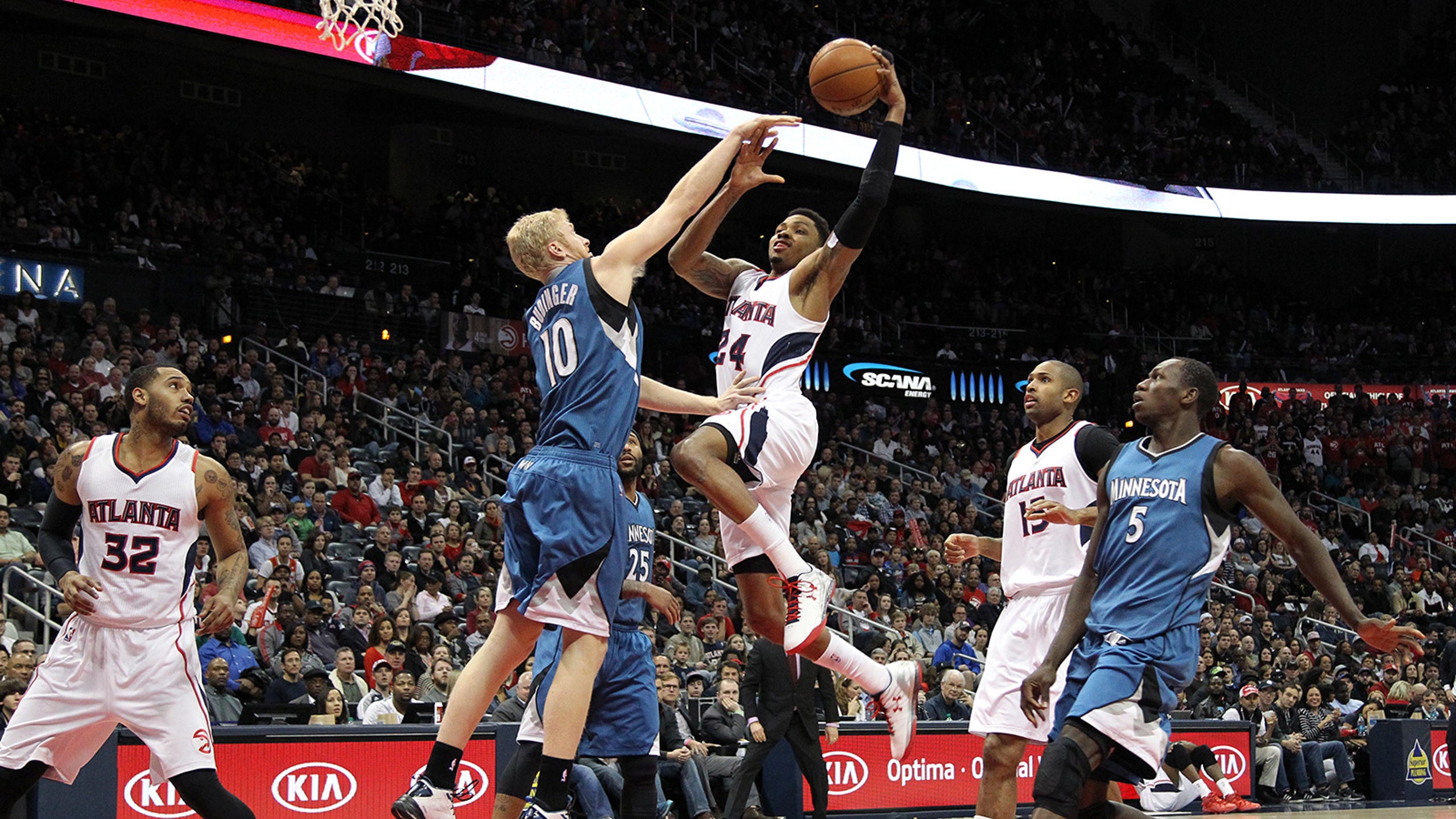 Hawks' Bazemore regaining explosiveness, form after offseason foot surgery
BY Zach Dillard • January 31, 2015
ATLANTA -- In the summer before his senior season at Old Dominion, Kent Bazemore played in the Hampton Roads 7 Cities Pro-Am in Norfolk, one of the top summer leagues in Virginia that attracts the area's top college players and former standouts with local roots. Then the reigning Defensive Player of the Year in the Colonial Athletic Association, Bazemore arrived at Norfolk's Maury High School coming off two straight NCAA Tournament appearances and gearing up what was to become a standout final year in college. Then he felt a pop.
X-rays later revealed the 6-foot-5 guard suffered a stress fracture in his left foot at the Pro-Am, an event which lists Bazemore's Hawks teammate and former Virginia star Mike Scott among its alumni, setting the Monarchs star up for weeks of rehab.
Bazemore made a quick recovery, returning for the season opener against Northern Iowa en route to a quality senior campaign, but, unknown at the time, there was some writing on the wall.
This was all before the NBA summer league stints and the D-League trips and the view from the end of the Golden State Warriors bench -- the expected payment of dues for an undrafted player from a small college. Bazemore took it all in stride, bringing his patented energy to the bench as star teammates Steph Curry and Klay Thompson poured in points. Then the big break came. After averaging no more than six minutes per game for Golden State, he was traded to the Los Angeles Lakers, starting 15 of his 23 games played as the undermanned team stumbled down the stretch. He had found his niche. He belonged at the NBA level.
With five games remaining in the season, though, the re-set button was hit once again. This time it was his right foot, jeopardizing all forward progress to that point. This time the writing was clear, legible.
Something was wrong, and it had to change.
"I used to run on the outsides of my feet, and that was pretty much the cause of my injuries. I had a fifth metatarsal (fracture) in my left foot in college and a (torn) peroneus longus tendon in my right foot last year -- both outer-foot injuries," said Bazemore, who underwent successful surgery last April. "So I had to learn how to run on the insides of my feet and get some flexibility in my big toes. The whole nine, man."
Things have changed, or so it seems. Bazemore says he's gaining more and more of his explosiveness back, and the Hawks, who offered the fourth-year guard a two-year free agent contract with the expectation that he would return to form, are reaping the benefits, adding yet another effective wing piece to a devastatingly deep bench. During the team's historic 18-game winning streak, Bazemore's playing time has steadily increased (15.9 minutes per game), he's shooting better than 45 percent from 3-point range and making plays on the defensive end.
That was readily apparent when he played 40 minutes in place of injured starter DeMarre Carroll against Portland (32-15) on Friday night: Bazemore stepped in when backup wing Thabo Sefolosha went down and finished with 12 points, five rebounds, three assists, two steals and a block in the win.
It was, without question, his best performance of the season to date.
"I think that his health and being totally comfortable and confident in his body -- you know, that's (an athlete's) temple -- I do feel like he's getting there, or is there and feeling like he can be himself. It takes time. I think only that person that's in it can really totally understand the feeling, and we're all kinda just guessing and wondering," Hawks coach Mike Budenholzer said before Friday's game. "I think that when they do feel (100 percent again) it's got to be a great feeling."
Bazemore is still a work in progress, though. He makes this point clear: The task is far from complete. Teaching a 25-year-old, a professional athlete no less, a brand new way to run and jump takes time and strenuous effort.
Think of it another way: Imagine a person works 20-plus years to hone a world-class skill and finally reaches the very pinnacle of his or her profession. Then take that person and throw away an essential, ground-floor requirement of said profession -- i.e. running and jumping for a basketball player -- and try to re-teach them an entirely different way to operate on the fly. On a rudimentary level, it was like putting a Tour de France competitor back in temporary training wheels.
When he arrived in Atlanta, Bazemore began working with Hawks strength and conditioning coach Jeff Watkinson on the new approach. The two collaborated on how to change everything from the ground up: single-leg squats, jumping and landing under control, deceleration exercises, power lifts. They worked to strengthen his core muscles. He put a renewed focus on his diet, showed up for regular massages and stretched and stretched and stretched some more.
Running on a different part of one's foot is not -- and, for an NBA player, can not be -- a matter of simply focusing on how each step lands. Instead, it must become natural. It requires re-structuring the player's entire muscular composition and how the body works in unison from the feet up, how the muscles absorb the physical wear and tear of running and jumping at high speeds on a hard surface.
"For example, my glutes were really tight," Bazemore said. "When your glutes lock up -- those are shock absorbers and when those are tight your feet are taking on the brunt of the impact with running and jumping on a hard surface.
" ... You have to be smart, too. Coming off an injury, your body has to get used to the grind again. It's a thin line between staying strong and not wearing yourself out, getting in shape and not killing yourself. We've been trying to find a balance. I've been taking a lot of naps through the whole process."
As the rehab process continued into September and October, the team started training camp without Bazemore at full strength. There were similarities with that senior season in Norfolk, only this time he wasn't a returning team leader. He was the new guy, the "last guy on the bench" all over again.
It's not a view he's unfamiliar with in the NBA, nor one that he's uncomfortable in, but learning the coaching staff's offensive and defensive concepts was a tedious process, all while putting in the extra rehabilitation work behind the scenes.
"That's what I've been telling people, how important September is and how much these guys do to prepare for training camp and to get themselves ready," Budenholzer said. "To not have a September and then to be limited in training camp, it really puts you in a position where you have a lot to catch up on. It's great to see where (Bazemore) is now."
In a strange twist, however, Bazemore said the physical limitations may have helped him soak in the system's mental hurdles.
"Physically, with the tendon I'm 100 percent, but still nowhere near what I've been used to, which is great because I'm playing at a slower speed and actually being in the right spots on defense and making the right plays on offense," he said. " ... It's all about getting reps and learning the game and learning who you are. With Golden State, I spent a lot of time on the bench. In L.A., I got to play and kinda figured out who I was. And then being here, I'm just learning how to play the game of basketball within the system with guys that have played in it. There's been a lot thrown at me, but it's definitely worth it."
Everything is rounding into form for the high-flying guard, at least athletically speaking. Watch any Hawks highlight compilation from the 18-game (and counting) streak and he's a staple: turning defense into instant-offense in transition or volleyball spiking a Marcus Smart layup attempt like a deleted scene from Top Gun. There was the lead-stealing alley-oop against the Thunder and then Friday night's block off Wes Matthews' face on a 3-point attempt.
His defensive rating (101) is better than ever before, his shooting percentages keep rising and his on-court value is at an all-time high (0.051 win shares per 48 minutes). Those numbers certainly do not jump off the screen, but he's improving -- rapidly so, if the Trail Blazers have anything to say about it.
"With him, it's two things: It's getting healthy again and him getting comfortable in the system and the role," said forward Al Horford, who dealt with his own season-ending injury during the 2013-14 season. "I think that Coach Bud is now really giving him playing time and he's taking advantage of it."
Adding a healthy Bazemore into the bench mix with Sefolosha and Scott, the Hawks boast about as much quality depth at the wing position behind Carroll and sharpshooter Kyle Korver as any team in basketball.
At his best, he's a high-energy wing stopper that can stretch the floor even against some of the league's best teams. And when he's not contributing on the court? Well, he's still Kent Bazemore. He's still the "glue guy" acting out All-Star skits, pretending to be a Power Ranger, documenting important team functions, serving as a well-received muse for Internet memes and spearheading social media startups.
Count those contributions among the few things Bazemore hasn't had to work on since he arrived in Atlanta.
"When you're having fun, your vibes, your mojo, everything is moving in the right direction. When you're having fun, good things happen," Bazemore said. "We go out there and have fun, but we handle our business. It's a very thin line. You don't want to seem like you're clowning, but guys are really into it. We work hard to get baskets and win games, and it's happening right now and we just root for each other. That's where all that stuff comes from.
"It's more than just celebrating. It's the occasional tap on the hip, the high-five, the words of encouragement, the energy. It doesn't go unnoticed. It's something you can't work on. It's gotta be within you."
---