Hawk settling into new home with Bengals
Published
May. 26, 2015 5:07 p.m. ET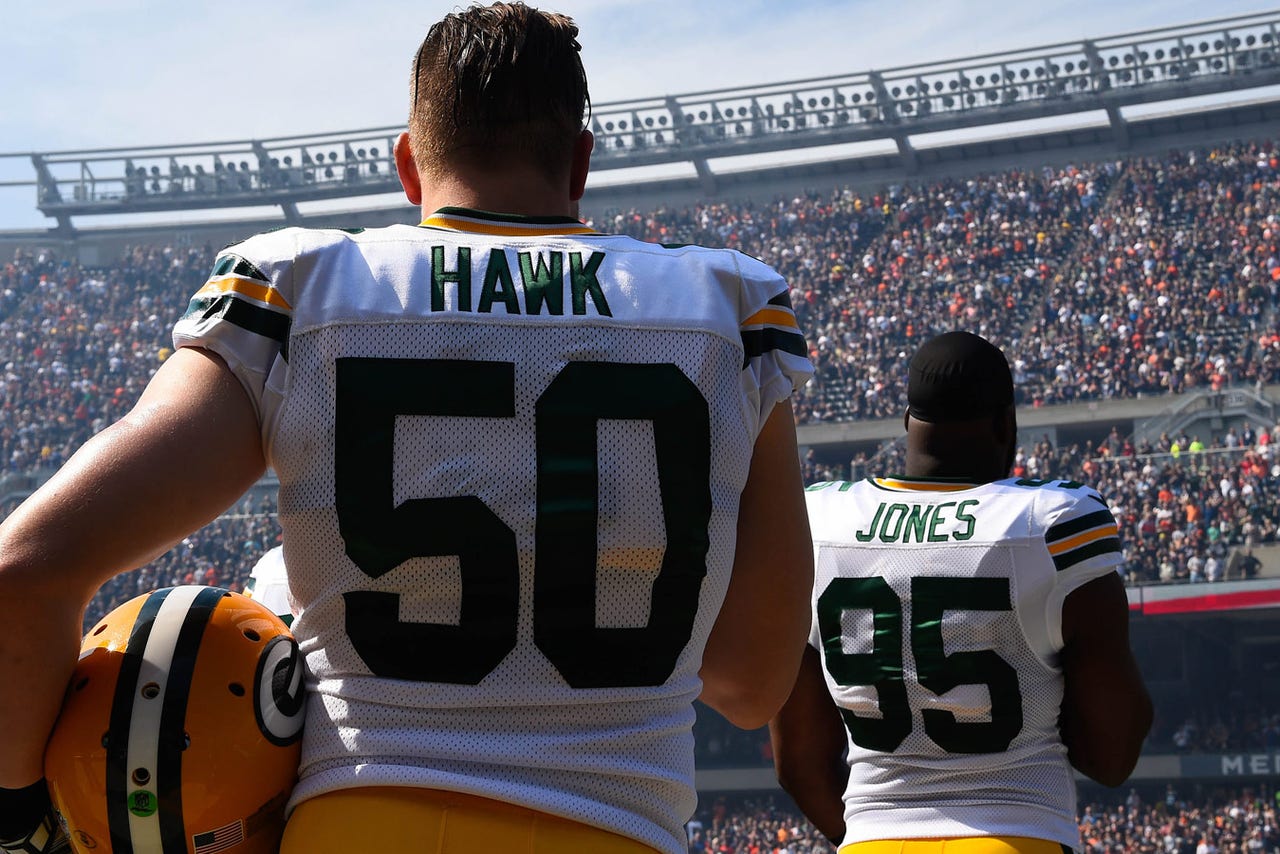 CINCINNATI -- The No. 50 is the same. The helmet and practice gear are different but for A.J. Hawk he's where he belongs. Hawk is back home in Ohio, where his football roots are embedded.
"It's something my wife jokes about," said Hawk after finishing up his first organized team activity (OTA) with the Bengals Tuesday afternoon. "I'm from Ohio so I have a connection here with the people in Ohio. I like how people go about their way, how they work here. I think everyone is always looking for some kind of motivation. I've always been a guy who has motivated myself. I love the game."
OTAs are is the NFL version of spring football. Teams get to practice, although not yet in full gear. Still it's an important part of their development. They get to go from looking at diagrams in a playbook or on a computer screen and working on individual drills to actually putting those diagrams and drills to use in full squad fashion.
Hawk is learning anew again for the first time in nine years. He was the top pick of Green Bay in 2006 out of Ohio State, a linebacker who would help the Packers to seven playoff appearances and a Super Bowl championship. He and the Packers parted ways after last season. That's the business side of football.
Tuesday was about getting back to the football side of football.
Hawk isn't the first veteran linebacker to join the Bengals over the years. Dhani Jones was signed off the street a couple of games into the 2007 season after New Orleans decided he didn't fit into their plans. Jones ended up starting 57 games for the Bengals over the next four seasons and led them in tackles three times. James Harrison came over from Pittsburgh for one season in 2013 and melded right into the defensive scheme and locker room.
That's all Hawk is trying to do right now. Learn the scheme of defensive coordinator Paul Guenther and fit in with his new teammates.
"I feel very comfortable. I've said it before, it's a great locker room. Guys are really competitive, really encouraging. A lot of camaraderie here. I noticed that from day one," said Hawk, who signed as a free agent on March 10. "Obviously I'm coming in as the old guy, which I happily welcome. I like that. I don't want to be the 22-year-old anymore.
"I don't claim to be the smart, wise, old vet coming in here. I'm asking these guys questions just like a rookie. I'm learning the defense like these rookies are learning it. It's my first time seeing it, too, when I looked at it a month ago. It feels good, honestly. It's been fun. Going into my 10th year and learning a new scheme is different, sure, but I welcome the challenge."
Domata Peko was a fourth-round pick of the Bengals in 2006. He played against Hawk in college; Peko at Michigan State while Hawk was with the Buckeyes.
"I was always like 'Man, who's this guy here? A.J. Hawk, he's a beast.' And then watching him throughout the years at Green Bay, he had a heck of a career there," said Peko. "He brings a lot of value to our team as far as leadership and knowing what he has to do. Coming in as veteran, just like James (Harrison) came right in and did his job.
"He has that type of attitude. He's asking 'Peko, what can I do to make our team better?' and that's the type of attitude we like around here. That's good on his part to come in here and be hungry to get better. Even though he's the same as me, he's a 10-year guy, he knows that every year you've got to get better. You've never made it."
The Bengals could end up leaning hard on Hawk this season. Vontaze Burfict is coming off a knee surgery in January and it would be optimistic to believe he'll be ready to participate when training camp opens at the end of July or even be ready for the start of the regular season. Guenther found out the hard way last season that there is never enough depth.
So Hawk and every other linebacker is learning all three spots in the scheme.
"Right now we have him in one spot but he's going to be a guy, and all of our guys have to know, because whoever is going into the game is always the next best guy," said Guenther. "But he's done a great job of picking up everything. It's natural to him. He's played in the 4-3 before so it's not like he's alienated from it."
Green Bay had a base 3-4 defense compared to the Bengals' 4-3 but as is often the case with offenses deploying multiple receiver sets most defenses now play out of nickel or other personnel packages. Since Hawk played in the middle he didn't see much of a difference in his responsibilities.
"Football is football, I think, when it comes down to it," said Hawk. "We're all going to be rotating and playing almost every spot. I knew coming in from day one I've been trying to learn all three linebacker spots. To learn a defense best you need to know what everyone else around you is doing. That's what I've been doing, so that's been great."
---