Havenstein: Badgers OL to blame for poor rushing game
September 11, 2014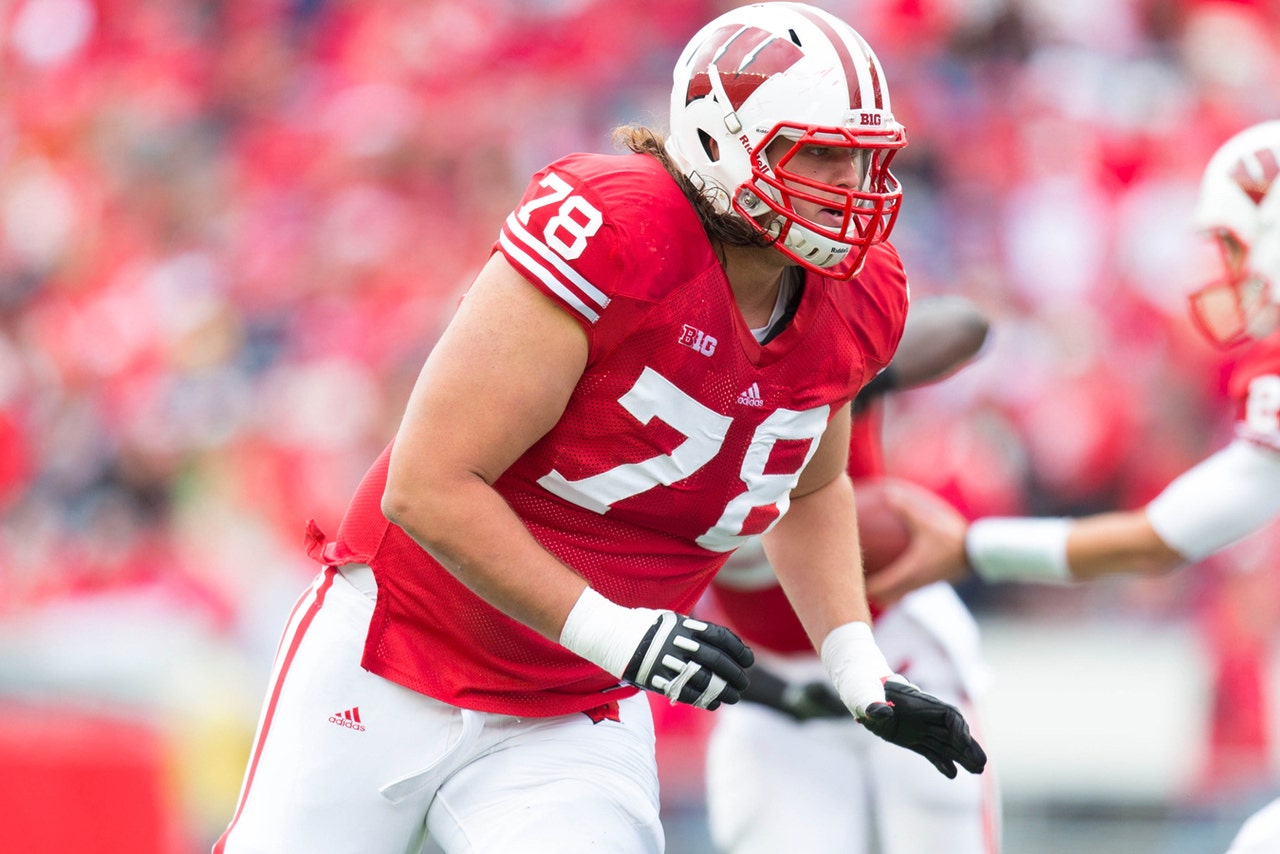 MADISON, Wis. -- Rob Havenstein supports big shoulders on his 6-foot-8, 333-pound frame. And Havenstein, Wisconsin's starting right tackle, often is willing to bear the burden for the offensive line's shortcomings, providing an honest assessment of what went wrong and how to fix those mistakes.
In the aftermath of a surprisingly subpar rushing performance against Western Illinois on Saturday, Havenstein again expressed a readiness to hold himself and his fellow line mates accountable. During the game, a 37-3 Wisconsin victory, standout tailback Melvin Gordon gained just 38 yards on 17 carries, as Western Illinois loaded the box and dared the Badgers to pass.
"We knew they were going to stack the box before the game," Havenstein said following Wednesday's practice. "We had plays drawn up to go ahead and defeat that. We just didn't execute it. The plan was there. The coaches did a great job getting it there. Just as players, we didn't execute it. We flat out just didn't get it done.
"Teams are going to see that film and see, 'Oh, Melvin rushes for 38 yards.' For Melvin and for us, that's terrible. We obviously want more than that. Melvin's definitely not the guy to blame for that. That's on us to open holes and get him free. He's such a special player. We put ourselves in that position. I'm not just BS'ing you right now. We didn't get it done as an offensive line."
For the game, Wisconsin averaged 4.3 yards per carry, boosted primarily by the play of quarterback Tanner McEvoy and backup tailback Corey Clement. The only other game against an FCS opponent over the past eight seasons in which Wisconsin averaged fewer yards rushing per carry came in 2012 against Northern Iowa, when the Badgers averaged 3.8 yards. One game later, former coach Bret Bielema fired then-offensive line coach Mike Markuson.
The situation isn't nearly as drastic this time around, but the yards-per-carry mark is surprising. Excluding that Northern Iowa game, these are the yards-per-carry averages for Wisconsin against FCS teams dating to 2007: 7.6 vs. Tennessee Tech in 2013, 6.2 vs. South Dakota in 2011, 7.9 vs. Austin Peay in 2010, 6.1 vs. Wofford in 2009, 5.8 vs. Cal Poly in 2008 and 5.5 vs. The Citadel in 2007.
So, what, exactly, went wrong on Saturday? Havenstein refused to use the fact that Western Illinois outnumbered Wisconsin in the box as an excuse. He said there were instances in which the line didn't hold its blocks long enough or slipped off and allowed a defensive player into the backfield.
At halftime, Wisconsin led just 9-3 and rushed 18 times for 73 yards -- an average of 4.05 yards per attempt. Gordon, considered a preseason Heisman Trophy candidate, had nine carries for a total of eight yards at the break.
"We had some really odd looks, especially the first half was kind of just a mess for us," Havenstein said. "That's completely on us. Melvin was making something out of nothing the first couple times, getting three, two yards, one yard when he should have been in the backfield for a loss. That's strictly on us for not understanding how they were going to play or whatever it comes down to. We've just got to get him creases because he'll turn those into big gains."
Over the years, Havenstein has seen the way in which Wisconsin's offensive line has intimated opponents. He noted the play of maulers such as Kevin Zeitler, Peter Konz and Travis Frederick, each of whom has gone on to play in the NFL.
Some of the mental errors this team is experiencing, according to Havenstein, has allowed opponents to feel more comfortable teeing off against the Badgers' line this season. The line has not made holes big enough or quick enough to make up for unblocked defenders, he said.
"Guys didn't want to take a double team from Travis and Kevin or Pete and Kevin or whoever was out there just because it was like, 'I'm getting rolled five yards off the ball. If I stay upright, that's a good play for me,'" Havenstein said. "Right now, teams aren't saying that. They're saying, 'All right, we can do this. We can stay on the line and let safeties and linebackers flow around and make plays for loss or one-yard gains. So I think we've just got to go ahead and get back to the basics."
As evidence to support Havenstein's claim, consider that Gordon was tackled for negative yards six times against Western Illinois. That happened to Gordon a total of 10 times all of last season. He also finished with no gain on three other rushing attempts against the Leathernecks. A year ago, he tallied no gain just seven times. Western Illinois also stopped Clement for no gain on a fourth-and-one play from the 7-yard-line in the second quarter, when the Badgers still clung to a 2-0 lead.
If anything, Havenstein said, Saturday's game helped to serve as an eye opener for some of the team's younger players. Wisconsin pulled away by scoring 28 unanswered second-half points. But there were lessons to be learned even in victory that could serve both the offensive line and the team well as the Badgers move past their bye week.
"I think Western Illinois was a great thing for us just to start that slow because it shows everyone that kind of hasn't been in the fight for a long period of time that winning just doesn't happen," he said. "You can't just be like, 'All right, we're Wisconsin. Western Illinois is coming into our house, we'll do the coin toss, then we'll go in the locker room and call it a day and bar-b-que with the family.' It doesn't work like that.
"Any team at any point can beat you. Western Illinois, they gave us their best shot. They were hanging in it, and hanging in it until we decided they're not just going to magically give us points. We've got to go get it. I think for a lot of young guys, that was a big opener that you've got to come to work every single day."
Follow Jesse Temple on Twitter
---