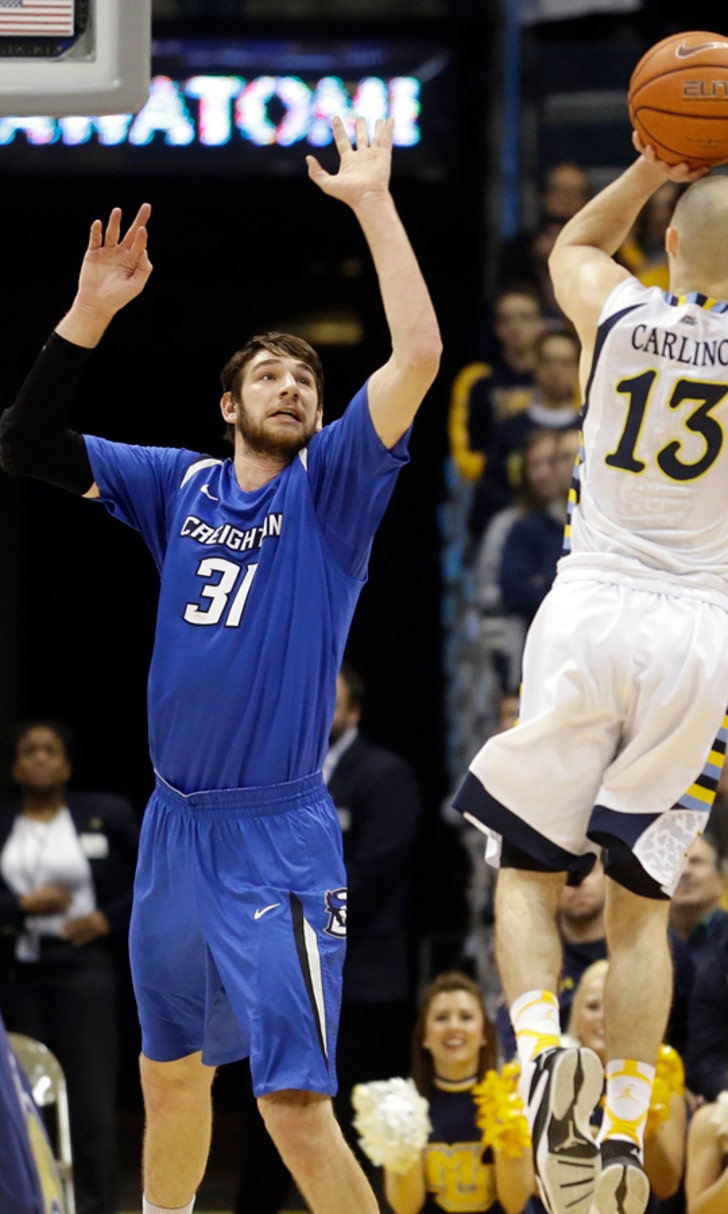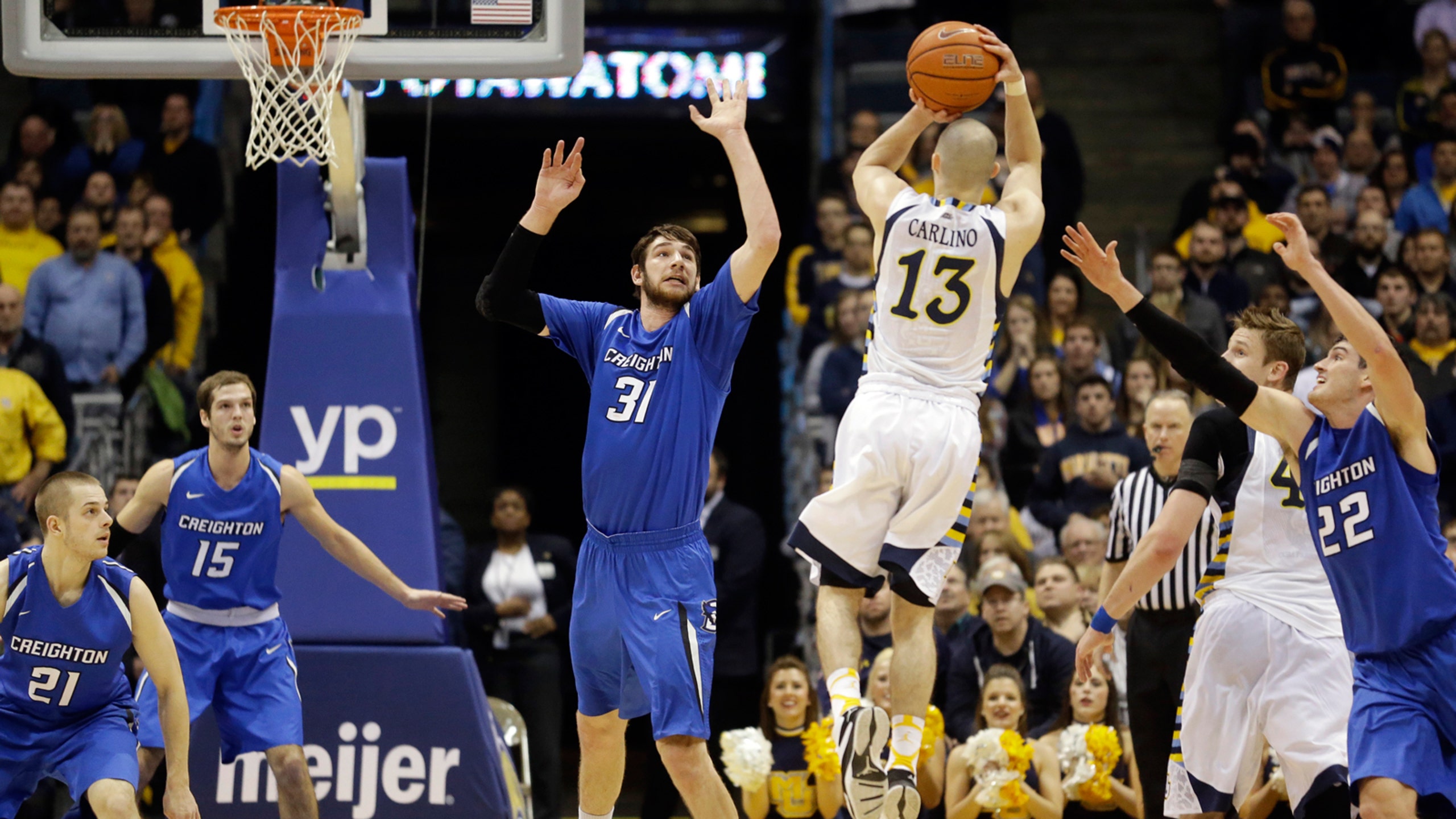 Gritty guards lead Marquette to narrow win
BY foxsports • January 15, 2015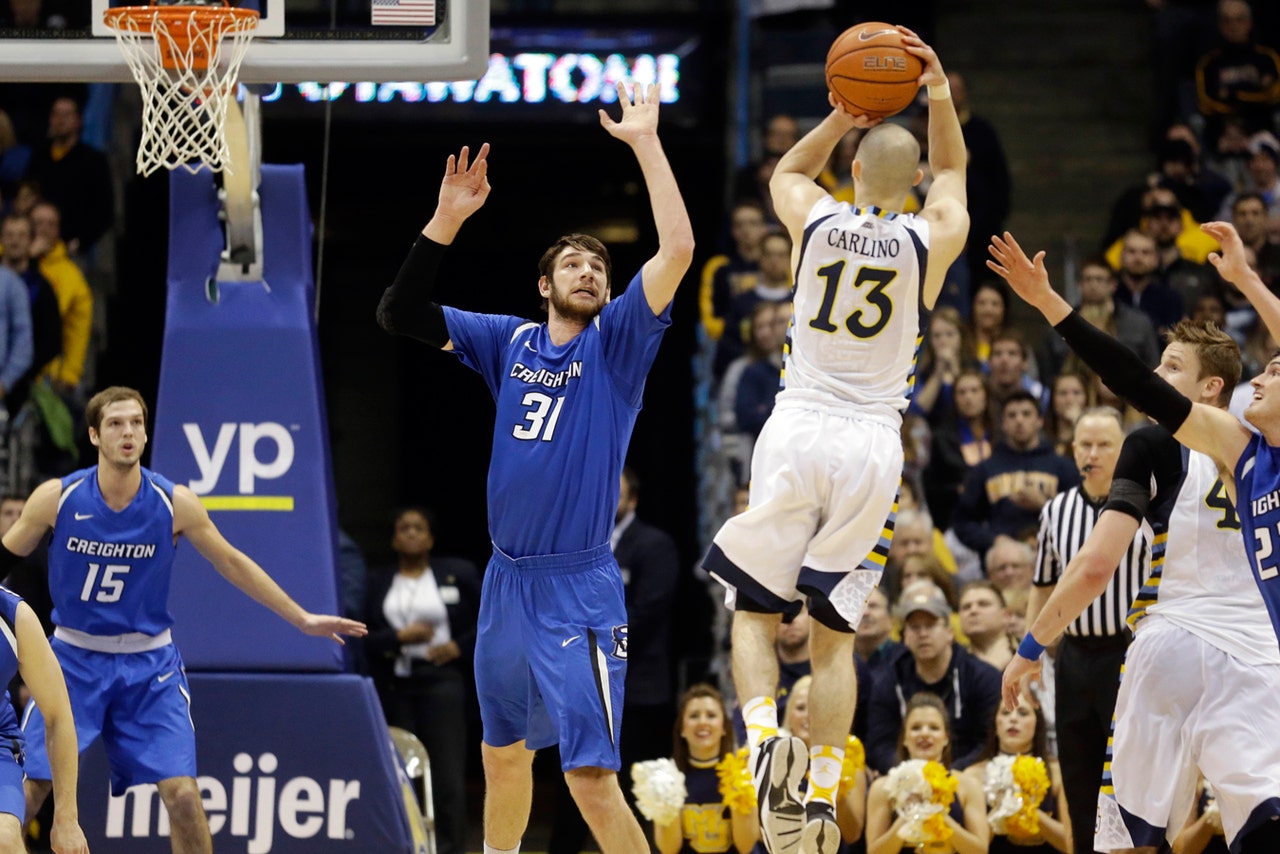 MILWAUKEE -- A game-winning 3-pointer can be a cure for even the ugliest of college basketball games.
Down two with the shot clock off, Matt Carlino used a screen from Luke Fischer to create enough of a window to drill a triple to put Marquette up one with 11.2 seconds left.
Creighton missed a pair of good looks on its final possession, as Marquette escaped with a 53-52 victory Wednesday in front of 13,069 at the BMO Harris Bradley Center.
"Our guys showed tremendous fight and character today," Marquette coach Steve Wojciechowski said. "That's the reason we won, because of their fight and their character."
In a game in which both teams had field-goal droughts of over nine minutes, it felt as if Creighton (9-9, 0-5 Big East) had put the game away when Rick Kreklow put the Bluejays up 50-46 with 2 minutes to play.
Marquette (10-6, 2-2) hadn't hit a field goal in 10 minutes, six seconds until redshirt freshman guard Duane Wilson drove to the hoop and scored to cut Creighton's lead to two.
Suddenly, neither team could get a stop in a game in which points were at a premium for most of the night.
Will Artino connected on a jumper in the lane to again put the Bluejays up by four, but Carlino answered with a tough shot to make it a one-possession game with 50.8 seconds remaining.
A travel by Artino gave Marquette the ball back with 21.6 seconds to play. Following a timeout, Derrick Wilson dribbled the ball down the floor and into the right corner before handing off to Carlino.
Carlino used Fischer's screen to shed Avery Dingman and got his game-winning shot off as the 6-foot-11 Artino came out to put a hand in his face.
"I've hit game winners before, but not like that," Carlino said. "That was by far the best one."
Creighton coach Greg McDermott had predetermined that he wasn't going to call timeout if Marquette tied or took the lead. Bluejays point guard Austin Chatman dribbled around the right side before dishing to Artino near the right block.
Artino drove right past Fischer but missed the running hook. Kreklow flew in for the offensive rebound, but his put-back attempt hit high off the backboard as the final buzzer sounded.
"I believe they had three fouls to give," McDermott said. "We felt if we took (a) timeout they were going to foul us three times and then I'm not sure there would have been enough time left in the game for us to get a good look.
"I was pleased with the two shots we got at the end. I'm not sure we could have come up with anything better out of a timeout."
While a few Creighton players were sprawled out on the floor in disbelief, Marquette's celebration was only held back by the fact the officiating crew deemed it necessary to review Carlino's shot despite it clearly being a 3-pointer.
The Golden Eagles celebrated dodging what would have been a disheartening loss.
Marquette held Creighton without a field goal for nine minutes, 33 seconds in the first half but watched as the Bluejays used a late first-half spurt to leave the Golden Eagles with just a 28-21 advantage at the break.
"I thought we should have been up more at half," Wojciechowski said. "We were playing better than the score indicated. But that can happen. Our guys never let our offensive struggles affect their defense or their fight."
It was Marquette's turn to look inept offensively in the second half. The Golden Eagles took a 41-33 lead on 3-pointer by Duane Wilson with 11:47 to play but then went without a field goal for the next 10:06.
Carlino and Duane Wilson were the only Golden Eagles to score in the second half. While Carlino was the hero, Marquette wouldn't have won without Duane Wilson, who scored 14 points in the second half when the offense was lagging.
"I thought Matt and Duane hit some big shots for us," Wojciechowski said. "I thought those two kids in particular were terrific. Those two are never scared, which is a great thing."
The game became unwatchable for a stretch of the second half, as neither team could muster any kind of consistent offense. But in the end, that didn't matter much to Marquette.
For the Golden Eagles, how the game ended more than made up for the previous 39 minutes of game action.
"There's a lot of stuff for us to learn," Wojciechowski said. "A couple of games in Big East play we've had to learn hard lessons after a loss, so it feels much better to be on this side."
Follow Andrew Gruman on Twitter
---