Graham's 3-point barrage lifts Sun Devils past Stanford
February 11, 2017
TEMPE, Ariz.-- Torian Graham went from awful to awesome in three days.

After missing all nine of his 3-point shots in a 25-point home loss to Cal on Wednesday, Graham made six of the in the Sun Devils' wild 75-69 victory over Stanford on Saturday night.

Two came in the final 1:16. His last 3, with 21.1 seconds to play, put the Sun Devils ahead for the first time since the opening basket of the second half.

"First I'd like to say I thank my teammates and my coach for keeping faith in me," Graham said, "sometimes more faith than I can have in myself."

Graham had plenty of confidence down the stretch, telling coach Bobby Hurley he wanted the ball.

"There was like three minutes left," Graham said. "I just told him 'Come on, I'm ready.'"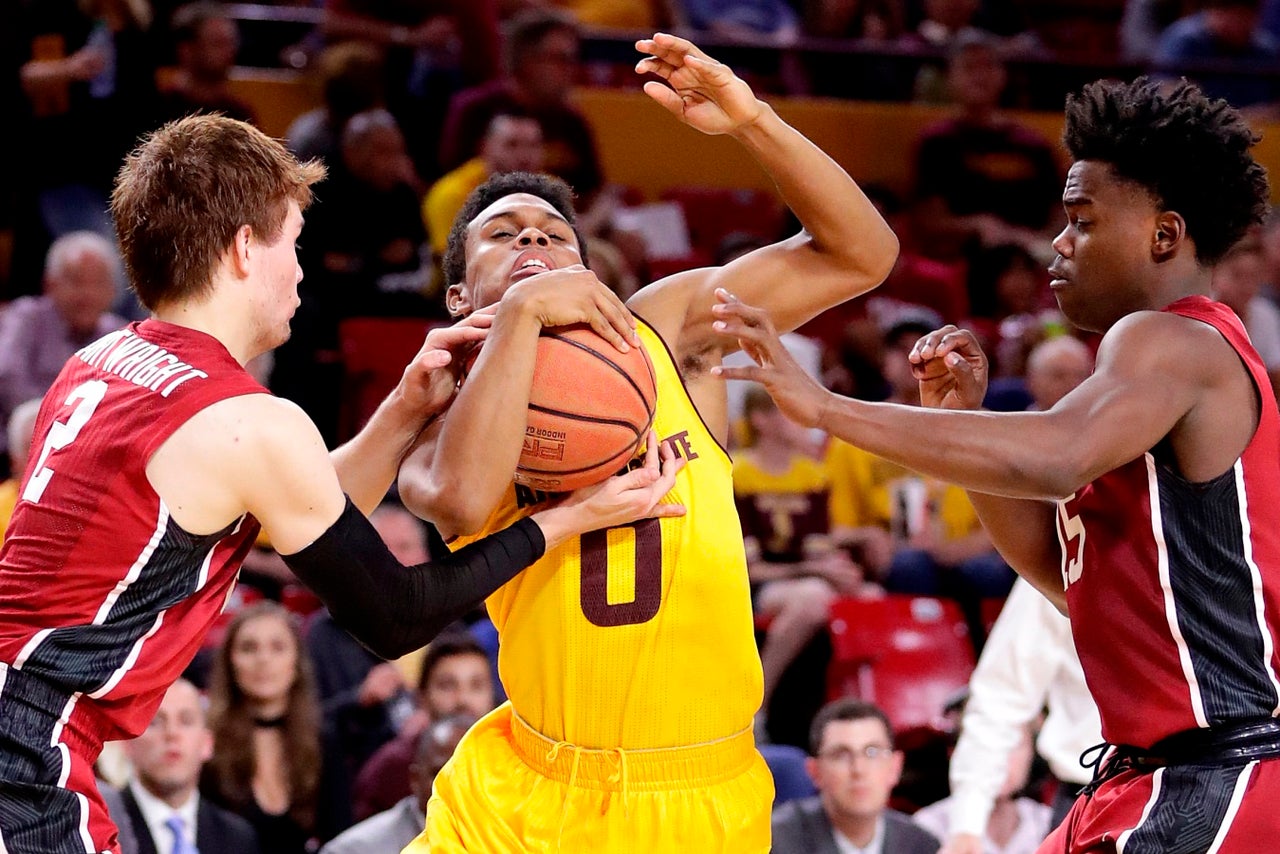 ASU guard Tra Holder (0) is fouled by Stanford guard Robert Cartwright (left) as Marcus Allen (right) defends during the second half Saturday in Tempe, Ariz. (Matt York/AP)

Graham scored 24 points for the Sun Devils (12-14, 5-8 Pac-12), who swept the season series against the Cardinal (12-13, 4-9). Tra Holder added 16 points.

Marcus Allen scored 20 points on 8-of-12 shooting for Stanford, two shy of his career high. Reid Travis had 17 points and 11 rebounds, and Michael Humphrey added 16 points and 13 boards.

The Cardinal led 69-66 after Robert Cartwright's only basket of the game with 51 seconds to play.

Then Kodi Justice sank two free throws for Arizona State and Travis' inbounds pass went off of Allen's hands for a turnover to set up Graham's big 3.

The officials reviewed the inbounds play on video and the call that it was Arizona State's ball was upheld.

Hurley wanted the ball in Graham's hands in the final minutes.

"With his elevation, I know he can always create his own shot," Hurley said. "He told me in the second half that he wanted the ball coming his way. He had it going and he knew it and he delivered."

Stanford dominated the game inside, outrebounding the Sun Devils 49-27, 22-6 on the offense boards for an 18-7 advantage in second-chance points.



But Arizona State went 12 for 32 on 3s to Stanford's 3-of-19 shooting.

"I thought we did some nice things in the second half to build up the lead, but they have a lot of offensive firepower," Cardinal coach Jerod Haase said. "That showed in the second half, making some tough 3s down the stretch. At no point do I think our guys became comfortable or complacent. Some good players made some big-time plays."

With 9:50 to play and Stanford up 51-47, Allen made the first of two free throws and missed the second. But Travis grabbed the rebound and got the ball to Allen on the baseline for a layup that made it 54-47. Travis followed with a basket inside and Stanford had its biggest lead, 56-47, with 9:19 remaining.

But the Sun Devils came back with a 12-3 run. They made three 3s, two by Justice, and Graham's rebound basket -- one of only six offensive boards for Arizona State -- after Justice missed a free throw tied it at 59-59 with 6:06 remaining.

BIG PICTURE

After an ugly home loss to Cal on Wednesday, the Sun Devils stole one against the Cardinal after being outplayed much of the second half, thanks to some timely defense and Graham's long-range accuracy.

UP NEXT

The Sun Devils play at Washington Thursday night.
---