Graham irritated by criticism after lopsided ASU victory
BY foxsports • September 6, 2016
TEMPE, Ariz. -- In the middle of discussing his offense's performance against Northern Arizona, Arizona State coach Todd Graham mentioned his team's 1-0 record for about the fourth time.
Talking about the record seemed to trigger something in the coach's mind and he shifted gears to a new topic, emphasizing words to counter the criticism his team faced following its 44-13 win over the Lumberjacks.
"You know, it AMAZES me," Graham said during his weekly news conference Monday. "We're 1-0. We won 44-13. We gave up THIRTEEN points, so we're going on to the next week. That's kind of how I feel about that. I just don't get it."
The criticism stemmed from Arizona State's uneven performance against the lower-tier Lumberjacks on Saturday.
The Sun Devils scored quickly to open the game, but labored the rest of the half to lead 10-3. Arizona State found a rhythm in the fourth quarter to run away from Northern Arizona, looking more like a Power 5 program is supposed to against an FCS school.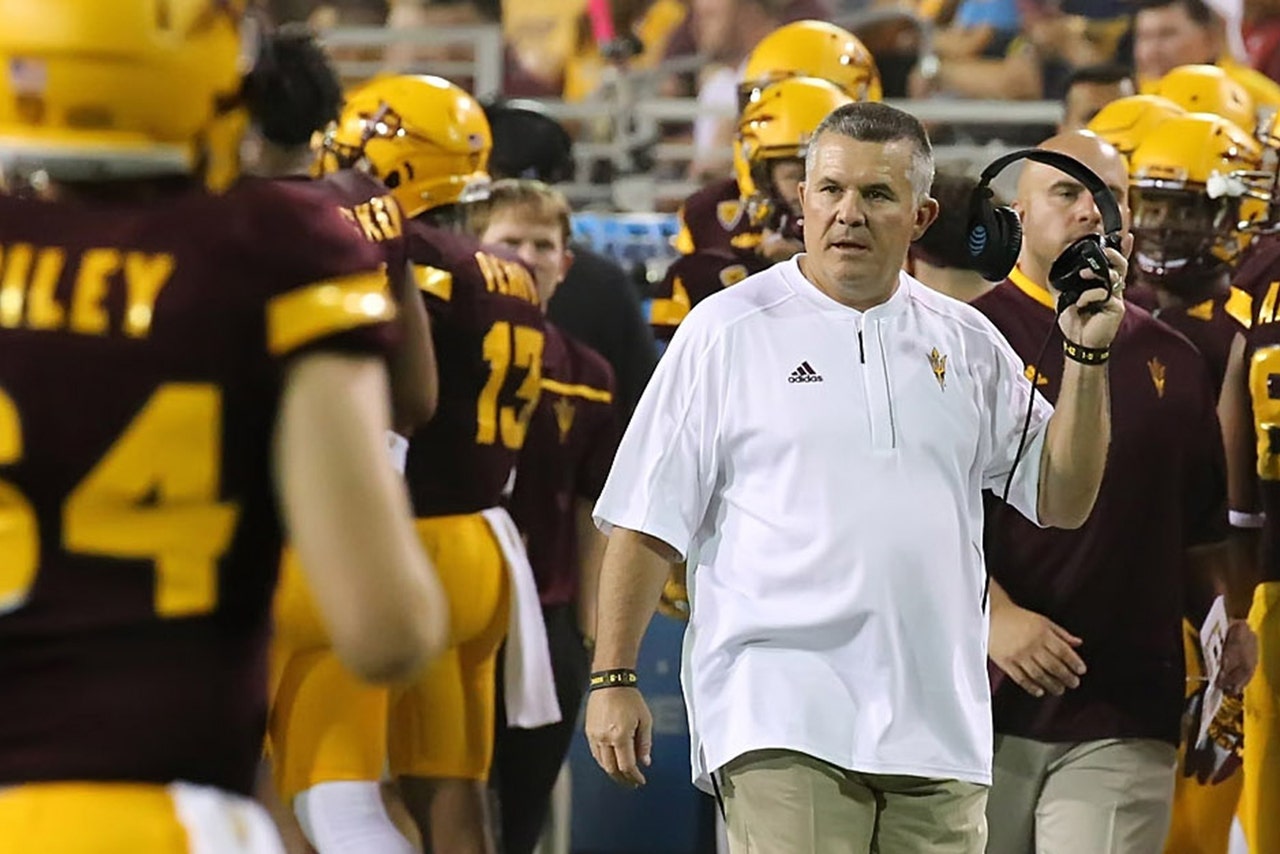 "You know, it AMAZES me," ASU coach Todd Graham said of criticism of his team's season-opening win. "We're 1-0. We won 44-13. We gave up THIRTEEN points, so we're going on to the next week. That's kind of how I feel about that. I just don't get it."
When it was over, much of the focus was on what the Sun Devils had not done right and not the overall outcome, which left Graham a bit irritated.
"We're 1-0. That's what I told our players: Half the teams in the country would like to be 1-0 right now," he said.
Arizona State had a disappointing 2015 season and plenty of questions heading into this one, including at quarterback, depth on defense and a rebuilt offensive line.
Sophomore Manny Wilkins earned the starting quarterback nod after a prolonged competition with redshirt freshman Brady White.
Wilkins was good at times against NAU, giving Arizona State a run option at the quarterback spot that it didn't have with Mike Bercovici last season. Wilkins hit 20 of 27 passes for 180 yards and made the highlight reels by hurdling a Northern Arizona defender on a 28-yard run in the second quarter.
Wilkins made a few mistakes that come with being a first-time starter and threw an interception.
"We wanted to run the football and I think he made some good decisions when he did run the ball," Graham said. "I think for his first game, he learned a lot and I think he did a solid job. His poise was what I was most impressed with."
Arizona State had depth issues defensively due to injuries and suspensions heading into the Northern Arizona game, and could have continued problems, particularly at linebacker.
Senior Salamo Fiso was suspended for violating team standards and could also miss Saturday's game against Texas Tech. Junior Christian Sam suffered a foot injury against NAU and may not be available against the Red Raiders. Junior Marcus Ball also will have to sit out the first half Saturday after being ejected for a targeting penalty against the Lumberjacks.
The injuries and suspensions left Arizona State vulnerable against Northern Arizona, which passed for 369 yards and a touchdown last weekend.
Texas Tech's Air Raid offense could present an even bigger problem. The Red Raiders rolled over Stephen A. Austin 69-17 in their opener behind Patrick Mahomes II, who threw for 483 yards and four touchdowns in 3 1/2 quarters
"We know we've got a really good challenge coming in here," Graham said. "(Texas Tech has) as good a quarterback as there is out there. He's got to be one of the best, if not the best, in the Big 12. He is a phenomenal player."
---
---