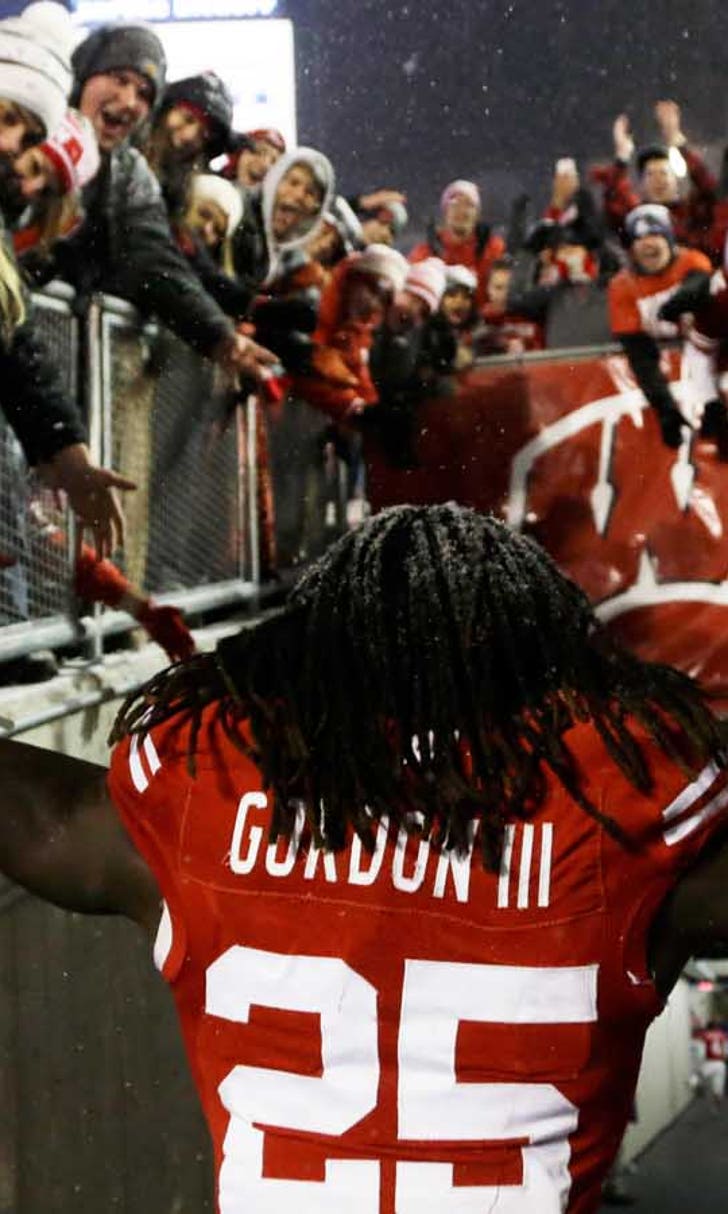 Gordon readies for likely final home game with little left to prove
BY foxsports • November 25, 2014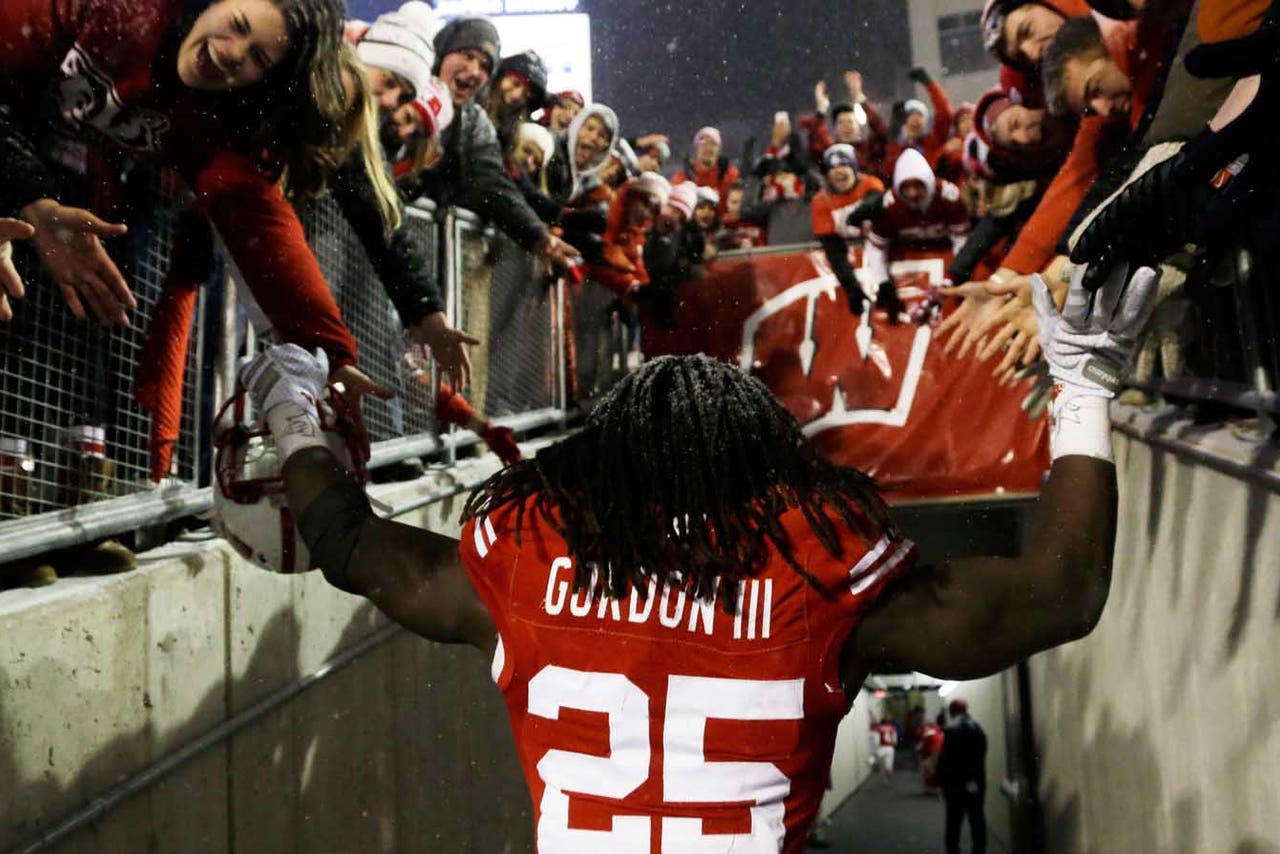 MADISON, Wis. -- Barring an unforeseen -- and likely unwise -- change of heart, Saturday's Wisconsin football game will mark Melvin Gordon's last at Camp Randall Stadium. All indications suggest Gordon, a Heisman Trophy candidate, will land with an NFL team in the first round of the league's 2015 draft if he chooses to leave school early, and there appears little left for Gordon to prove.
Given what Gordon has accomplished and the high probability Badgers fans won't see him play another game at home after Saturday, the topic was broached this week as to whether Gordon, a redshirt junior, would be honored with the team's seniors on senior day before the Wisconsin-Minnesota game.
Gordon, for his part, isn't having any of it.
"Even if they told me I could come out, I wouldn't want to," Gordon said. "Even if I made a choice if I'm leaving or not, I wouldn't want to make a choice on running out. I don't feel like that's respectful to the guys that I'm in the class with. I'm not in the senior class, so I just don't feel that's right. I don't need those guys looking at me any type of way. It's the real, true seniors, it's their moment. I'm going to let them have it."
Gordon, the 6-foot-1, 213-pound running back, is in the midst of a college football season for the ages that has carried him up most NFL mock draft boards. This season, he has tied the program and Big Ten record for single-season rushing yards (2,109), which he'll likely break in the first quarter against Minnesota. He leads the nation in rushing yards per game (191.7), scoring (27 touchdowns) and rushing average (8.3 yards per carry). And, if his fourth quarter statistics were wiped away completely, he would still lead the country in rushing yards with 1,915.
Gordon's combination of raw power, speed and strength has him at the forefront of the Heisman conversation and at the top of the running back chart in nearly all mock drafts.
CBSSports.com analyst Rob Rang, for example, lists Gordon going No. 16 overall in the 2015 draft to the Miami Dolphins and noted the running back position "may not hold the same value in today's pass-happy NFL, but Gordon is a difference-maker with the agility and acceleration to score from anywhere on the field." Gordon recently was listed at No. 8 on ESPN analyst Mel Kiper's 2015 NFL Draft Big Board as well.
Neither Gordon nor Badgers coach Gary Andersen offered a hint about Gordon's ultimate decision after the season. When Gordon was asked if he'd be returning, he responded: "You never know." Andersen, meanwhile, said: "As far as I know right now, Melvin is coming back. We'll see what happens next. Stay tuned."
Gordon submitted his name to the NFL's draft advisory board last year but decided to return even before he heard the board's response, which ultimately gave him a third-round grade. Gordon's primary focus was to become a better pass blocker and pass catcher and have the opportunity to be the featured back for the first time at Wisconsin.
Andersen said Gordon had excelled in all areas. After catching just one pass for 10 yards total in his first three seasons, Gordon has caught 15 passes for 147 yards and two touchdowns while improving his strength and blocking as well.
"A lot of people talk the talk, but he walks the walk," Andersen said. "'I want to get more involved in the throw game.' Yep, look at it, it's out there and it's factual. 'I want to be a better pass protector.' Yep, look at it, it's out there and it's factual. 'I want to be better in between the tackles.' Same thing. 
"Then he has the ability to go out and make those big‑time plays consistently week in and week out, so he's a tremendous young man. For a lot of reasons, that's why I think he's the best player in the country. That's my story, and I'm sticking to it."
Gordon said he had not yet considered his pro prospects after the season, though he likely was being diplomatic to avoid distractions as Wisconsin prepares for a winner-take-all game to decide the Big Ten West division. The focus this week, Gordon insisted, was on sending the team's seniors out with a victory at home one year after Wisconsin lost its home finale to Penn State.
"I was close with a lot of guys in that class, and I am in this class as well," Gordon said. "You never know the outcome regardless of how hard you play. I know I'm going to give it my all. I'm going to do everything I can to help send this class out right."
Gordon on Perine: One week after Gordon broke a 15-year record by rushing for 408 yards in a game against Nebraska, Oklahoma freshman tailback Samaje Perine one-upped Gordon and rushed for 427 yards against Kansas. Gordon said he reached out to Perine through Twitter and sent him a direct message congratulating him on the feat.
"It hurts a little bit," Gordon said of losing the record. "But I'm proud of that. I'm proud of the guy, Perine. I reached out to him. I talked to him. I let him know congratulations. Regardless of how he broke the record, what quarter he did it in, he broke the record. It'll be his name sitting there at the top. And it's not easy. It was against a Division I team. I don't care who you're playing. A Division I team is a Division I team. And it's not easy to do. So congratulations to him and hats off to him."
Gordon broke the record on 25 carries in three quarters, while Perine remained in the game last Saturday until he set the mark on his 34th carry with 12:16 left in the fourth quarter. But Gordon said that, in retrospect, he did not wish he had played the fourth quarter to keep a stranglehold on the record.
"Anything could've happened," he said. "I could've gotten hurt. If he would have set the record and he had the 427 and then I had the game I did the following week, I would've stayed in and tried to break it. So I don't blame him one bit."
Follow Jesse Temple on Twitter
---