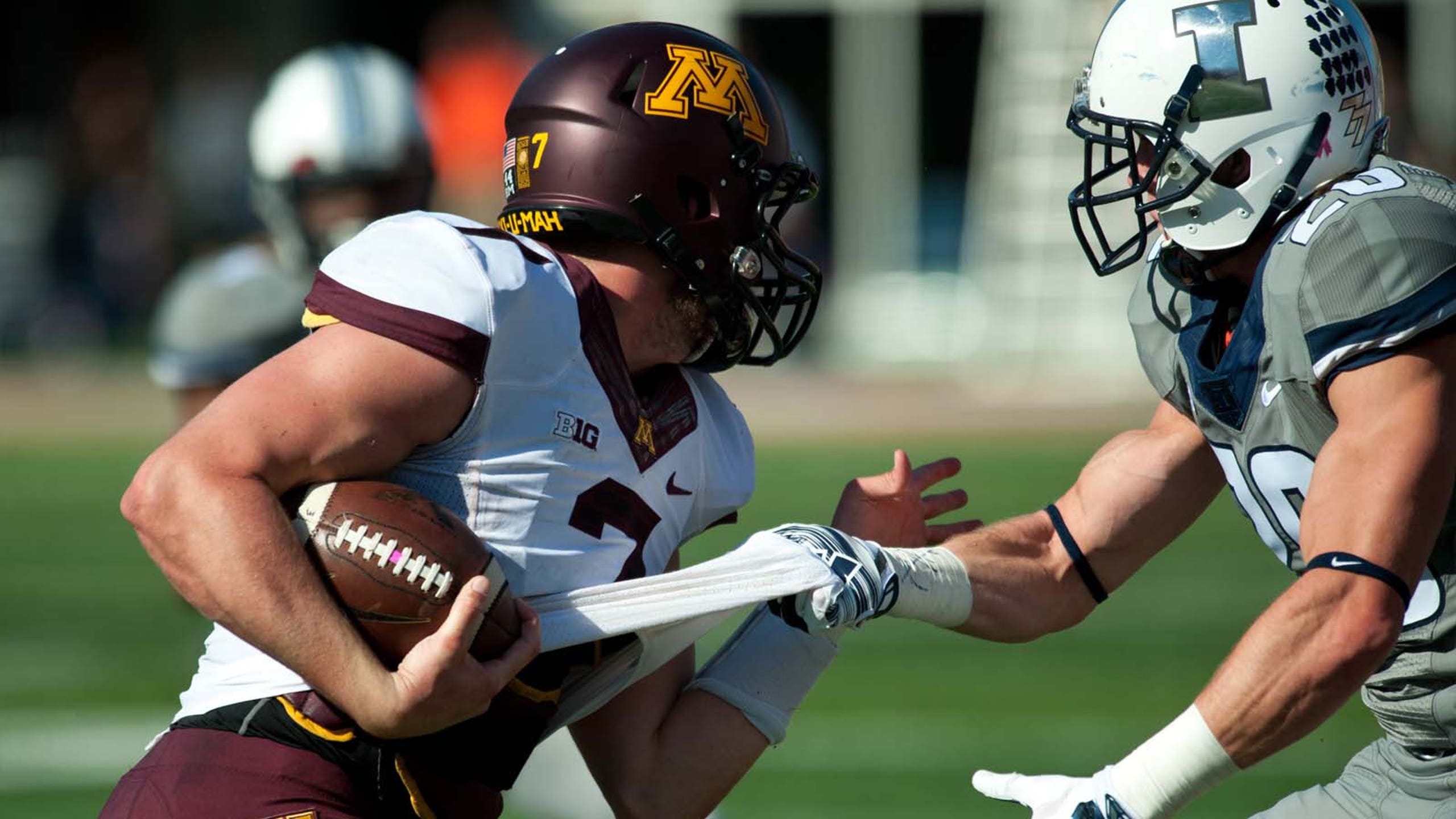 Gophers report card: Missed opportunity against Illini
BY foxsports • October 26, 2014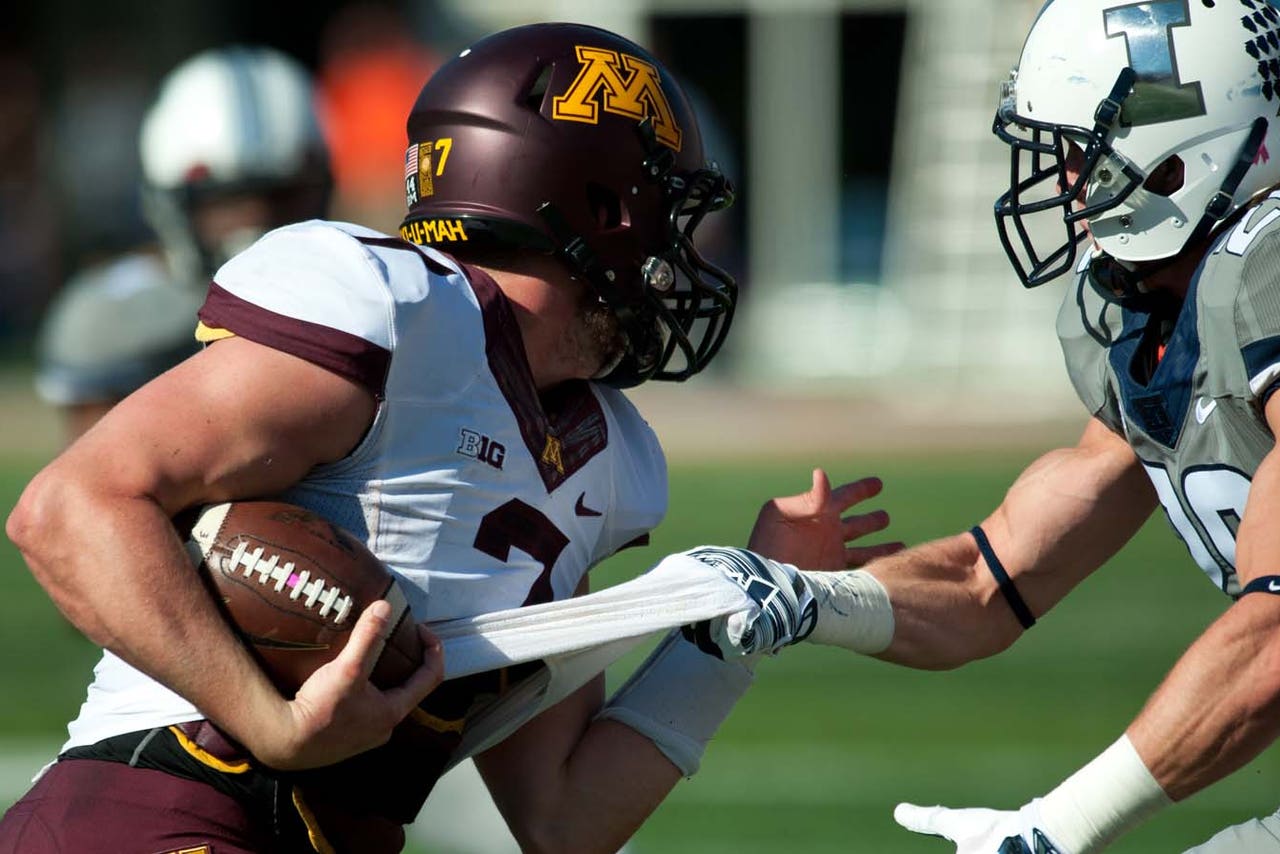 In a game the Gophers were expected to win, they left the state of Illinois in defeat after falling to the Illini, 28-24. Minnesota had another slow start for the second week in a row and, despite rallying to take the lead, gave it back late with a costly turnover. Here are the Gophers' grades from their loss to Illinois.
Yes, senior running back David Cobb finished with 118 rushing yards, but 67 of them came on one second-half run. The Illini packed the box all game in an effort to stop Cobb, and it paid off for the most part. Take out the big 67-yard run for Cobb and he averaged just 2.4 yards on his remaining 21 carries. Minnesota's offensive line wasn't able to get much push against the Illini's defensive front, leaving Cobb without much room to run. Quarterback Mitch Leidner ran 11 times but had a net of just three rushing yards despite a 16-yard run. Minnesota did have some success using receiver KJ Maye on a few end arounds as he had 43 rushing yards on five carries.
Overall, though, Cobb and the running game weren't very effective outside of his one big run that helped set up a Gophers touchdown. Even more concerning is the fact Illinois came into the game with the worst rushing defense in the Big Ten, allowing 271.1 yards per game. Minnesota as a team ran for just 171 yards.
There were some good moments for Leidner, but there were some not-so-good ones, too. On the positive side, the redshirt sophomore had four completions of 35 or more yards, including a pair to Isaac Fruechte. The senior wide receiver hauled in a 52-yard touchdown in the third quarter and later caught a 41-yard pass in the fourth quarter.
Outside of those four deep passes, Leidner had just 66 more yards on his remaining eight completions. He finished 12 for 30 for 240 yards and a touchdown but also threw an interception that ended Minnesota's first drive of the second half. Leidner missed a few easy throws to open receivers, and a few Gophers had drops early in the game that prevented Minnesota's passing game from getting going. Though the deep completions downfield were key, they weren't enough to help balance out the Gophers' struggles in the running game.
The Gophers anticipated that Aaron Bailey, not Reilly O'Toole, would be the Illinois quarterback who attempted to run the ball. But as the Illini used both quarterbacks Saturday, it was O'Toole who had better success on the ground. He led Illinois in rushing yards with 59, which included a 28-yard scamper that gave the Illini a first down in Minnesota territory. He also had a 16-yard run on the opening drive as the Gophers' defense was caught off guard a bit when he decided to tuck the ball and run.
Meanwhile, running back Josh Ferguson managed just 48 yards on 15 carries, while Donovonn Young added 35 rushing yards on three touches. Bailey wound up being a non-factor in the running game (two carries, minus-one yards) after running for 75 yards against Wisconsin one game earlier. Overall, though, the Gophers' tackling in the run game was about as poor as it had been all season.
The Illini didn't put up many yards through the air, but made the most of their completions. The biggest lapse for Minnesota's secondary came on Illinois' third drive. The Illini connected on three straight passes, including one on a trick play that resulted in wide receiver Mike Dudek completing a 22-yard pass. O'Toole also had passes of 12 and 14 yards in that three-play sequence to set up Illinois' second touchdown.
After two big interceptions last weekend, the Gophers' defense didn't manage a pick at all against Illinois. Minnesota did sack the quarterback three times, including a big sack by linebacker Damien Wilson on third down that took the Illini out of field goal range.
O'Toole, Bailey and Dudek combined to finish 15 for 23 for 140 yards and a touchdown. The passing game didn't kill the Gophers, but Minnesota missed a few plays on defense it should have made.
Kicker Ryan Santoso returned to form on kickoffs Saturday as all five of his kickoffs went for touchbacks. But it was a missed 40-yard field goal in the fourth quarter that proved costly. Santoso pushed a kick wide right that would have put the Gophers up 27-21 with 10:13 to play. With the ball inside Illinois' 30-yard line late, Minnesota was forced to go for the touchdown as it trailed by four. If not for the missed field goal, the Gophers could have won it with another field goal try.
Meanwhile, punter Peter Mortell averaged 44.2 yards per punt. Minnesota's only kickoff return of the game was a 25-yarder by Jalen Myrick. Craig James had just one punt return of six yards.
The grades of each category don't add up to a failing grade, but this was absolutely a game the Gophers should have won -- and one that will likely haunt fans for years to come. Minnesota had a chance to go to 7-1 on the season but couldn't get past an Illinois team that entered Saturday 0-3 in the Big Ten. Even after taking a lead late in the fourth quarter, the Gophers couldn't hang on -- literally and figuratively. Cobb's fumble proved to be very costly as Minnesota never seemed to recover emotionally from it.
Now the Gophers enter the toughest part of their schedule after this week's bye with their final four games against Iowa, Ohio State, Nebraska and Wisconsin. Knowing what lies ahead makes the missed opportunity Saturday even more glaring.
Follow Tyler Mason on Twitter
---