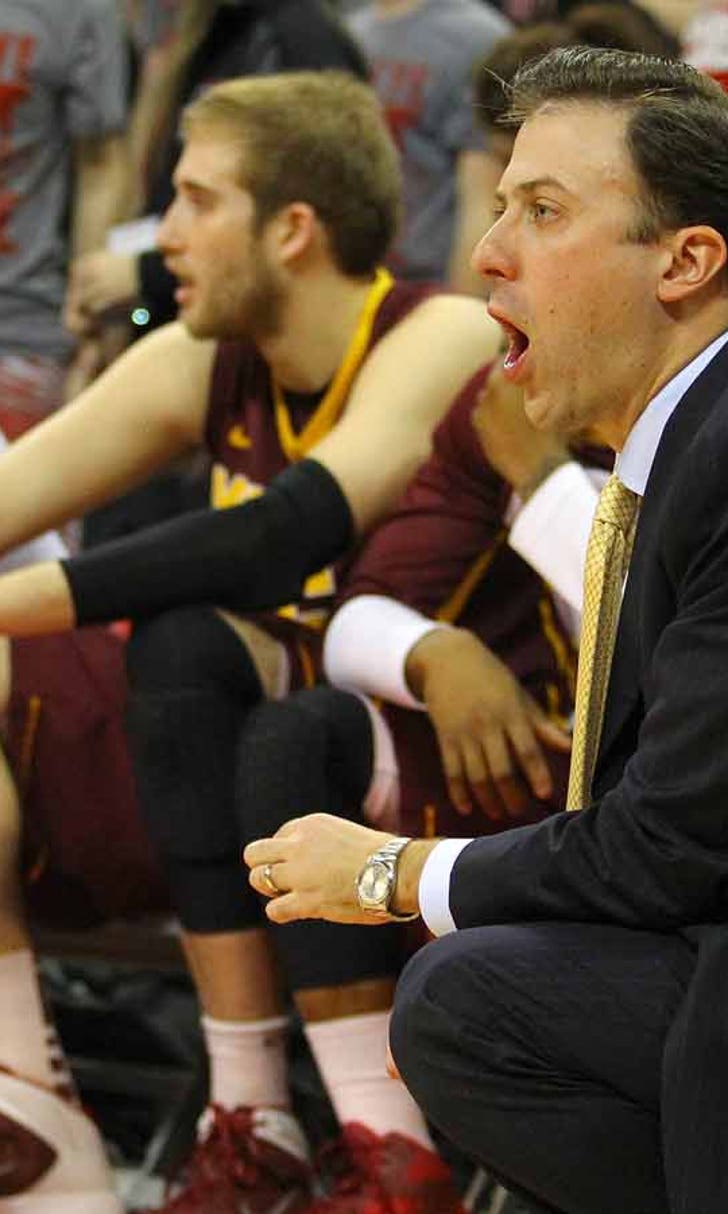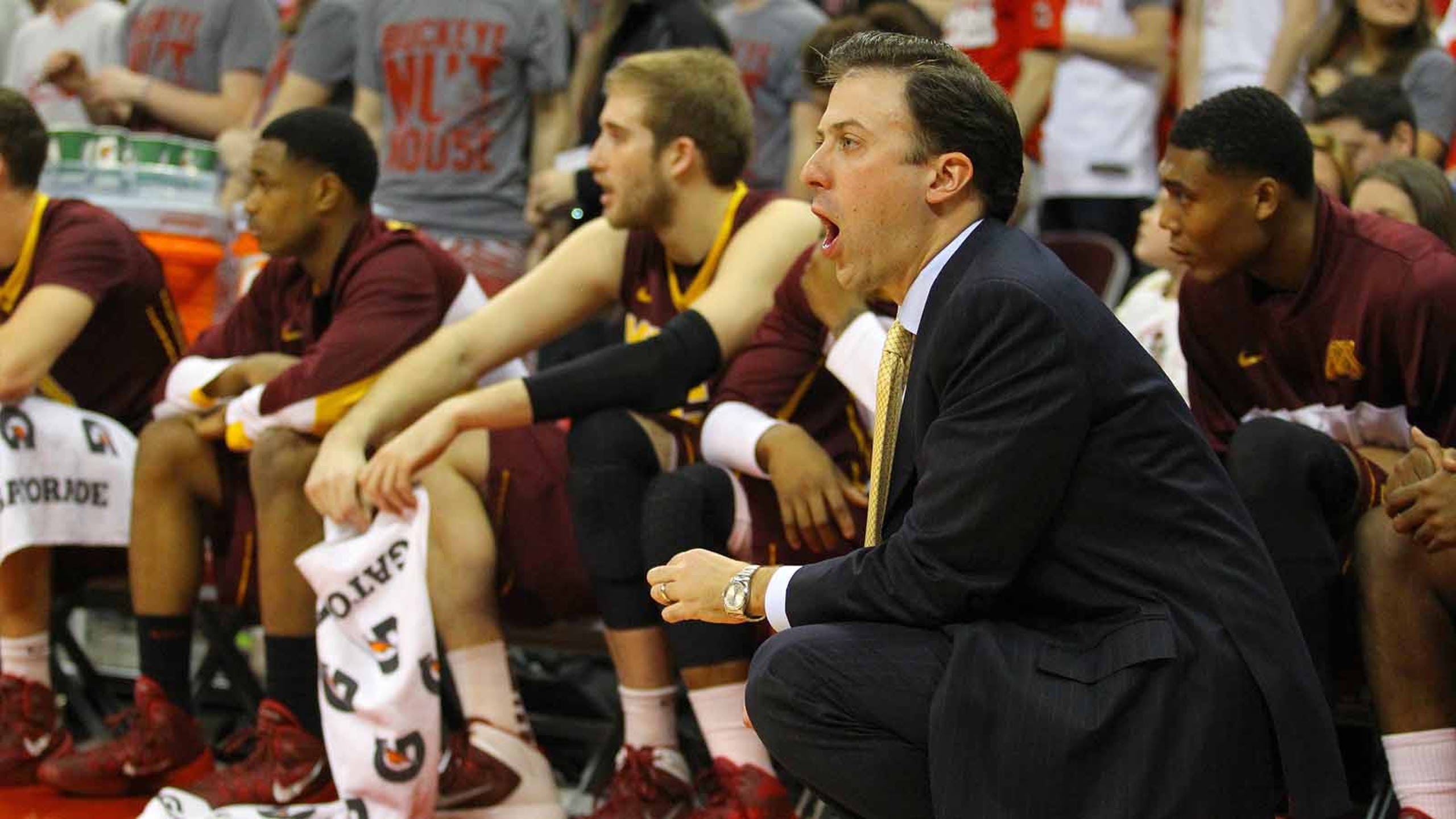 Gophers regroup, turn attention to NIT foe High Point
BY foxsports • March 17, 2014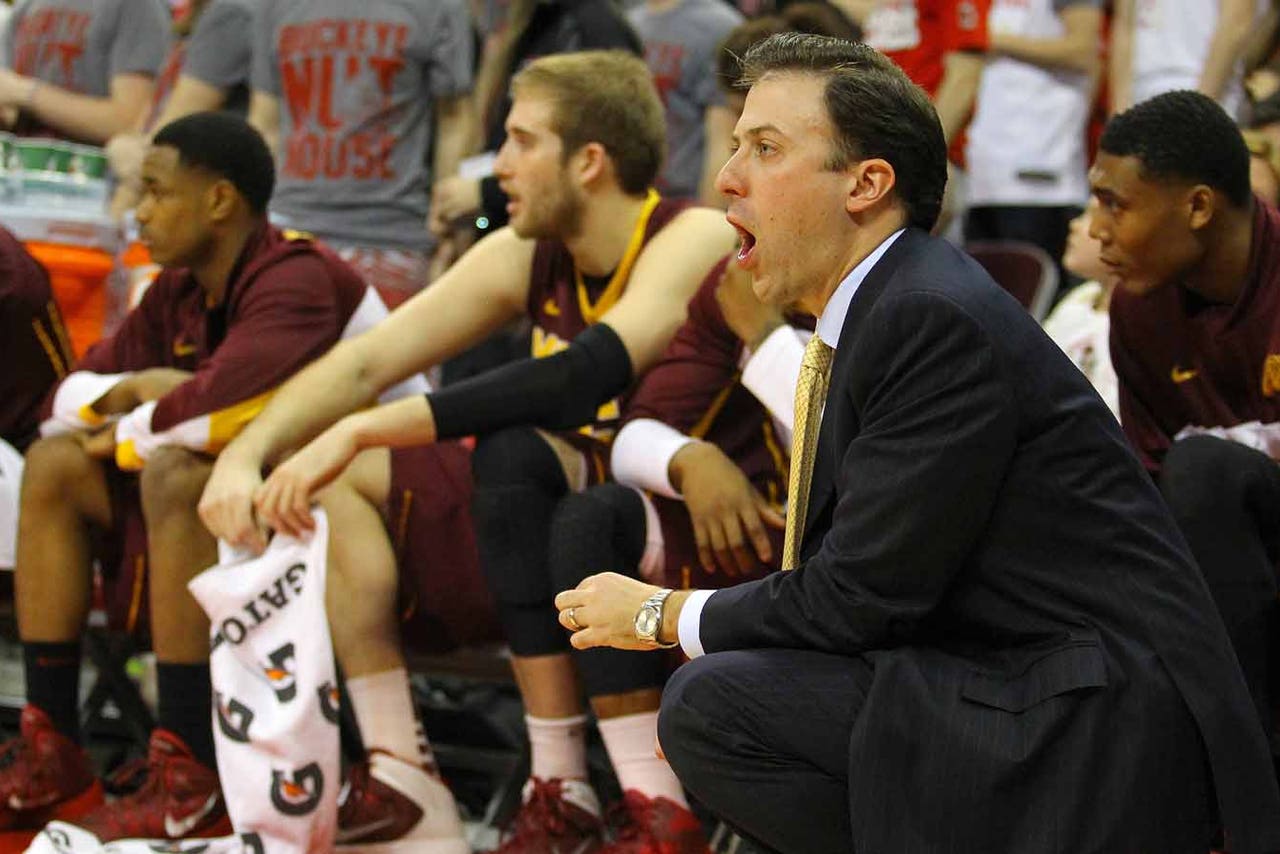 MINNEAPOLIS -- Players from the Gophers men's basketball team didn't even bother to gather together to watch Sunday's NCAA tournament selection show. In their hearts, they seemingly knew that they wouldn't hear their names called.
Minnesota coach Richard Pitino said that he felt his team had a 40 percent chance of making the Big Dance. Turns out his premonition was right.
Too many missed opportunities. Too many "what-ifs" throughout the Big Ten schedule for the Gophers, whose season lives on through the National Invitation Tournament.
"We had a lot of opportunities to take matters into our own hands, and we didn't do it," Pitino said Monday, one day before his team prepared for its first NIT game.
Instead of playing in the NCAA tournament, Pitino's Gophers landed a No. 1 seed in the NIT and will host High Point on Tuesday at Williams Arena. There was no doubt a sense of disappointment Monday when Pitino, senior Austin Hollins and sophomore Joey King addressed the media to talk about the upcoming game. After all, making the NIT was not exactly the goal at the start of the season.
Making things tougher to swallow were all the close losses that could have possibly lifted Minnesota into the NCAA tournament. The Gophers lost by three to Michigan, missed a pair of layups in the final seconds at home against Northwestern, and nearly upset Michigan State on the road before falling in overtime.
"The past is the past," King said. "Everyone wants one back. Certainly a disappointment, a couple games this year. But you can't go back."
Instead, the Gophers are looking forward and hope to make the most of the opportunity in front of them. Minnesota will host at least one NIT game, possibly more. The Gophers still have the chance to practice together and build chemistry heading into next season.
They're also hoping to repeat what they did two years ago in this same tournament. After missing out on the NCAA tournament, Minnesota advanced to the NIT championship at Madison Square Garden in New York. The Gophers lost to Stanford in the title game but believed the five additional postseason games helped springboard them into the 2012-13 season, during which they earned an NCAA tournament berth.
"It really benefitted us, being able to play in the postseason," Hollins said of Minnesota's previous NIT run. "That gives you a lot of experience. You're playing a lot of teams. That year we did a lot of traveling, as well. We were playing on the road. We came together as a team and learned a lot of things about ourselves."
Pitino, in his first year as Minnesota's head coach, said Monday that he can use the NIT to continue to develop as a coach. Just 31 years old and in his second year as a Division I head coach, Pitino knows he has plenty to learn. So while additional postseason games are beneficial for the players, they're a bonus for Pitino, too.
While the casual fan may not have known much -- if anything -- about High Point, Pitino actually had a bit of an advanced scouting report on Tuesday's foe before he even came to Minnesota. Mike Balado, an assistant coach at Louisville who was one of Pitino's assistant coaches last season at Florida International, spent three years at High Point prior to FIU. When he and Pitino were together, Balado kept mentioning one name: John Brown.
It turned out Balado wasn't just hyping up his previous recruit. Brown currently leads the Panthers in scoring (19.5 ppg), rebounds (7.8) and blocks (50). He'll no doubt be a focus of Minnesota's defense during Tuesday's matchup.
"He kept talking about this kid, John Brown, who he recruited, and was pumping him up, pumping him up," Pitino said. "We always just jokingly had an interest in John Brown because he'd always brag about him. And he had a great year."
When Minnesota and High Point tip off Tuesday at 7:15 p.m. CT, the Gophers will have to overcome the disappointment of not making the NCAA tournament and be careful to not succumb to what Pitino called a sense of entitlement. The chance to play a Big Ten team in the postseason means something different for High Point than it does for Minnesota to play a school from the Big South.
"For High Point, this is a big deal for them," Pitino said. "We've got to understand that and we've got to be ready to play tomorrow."
Follow Tyler Mason on Twitter
---