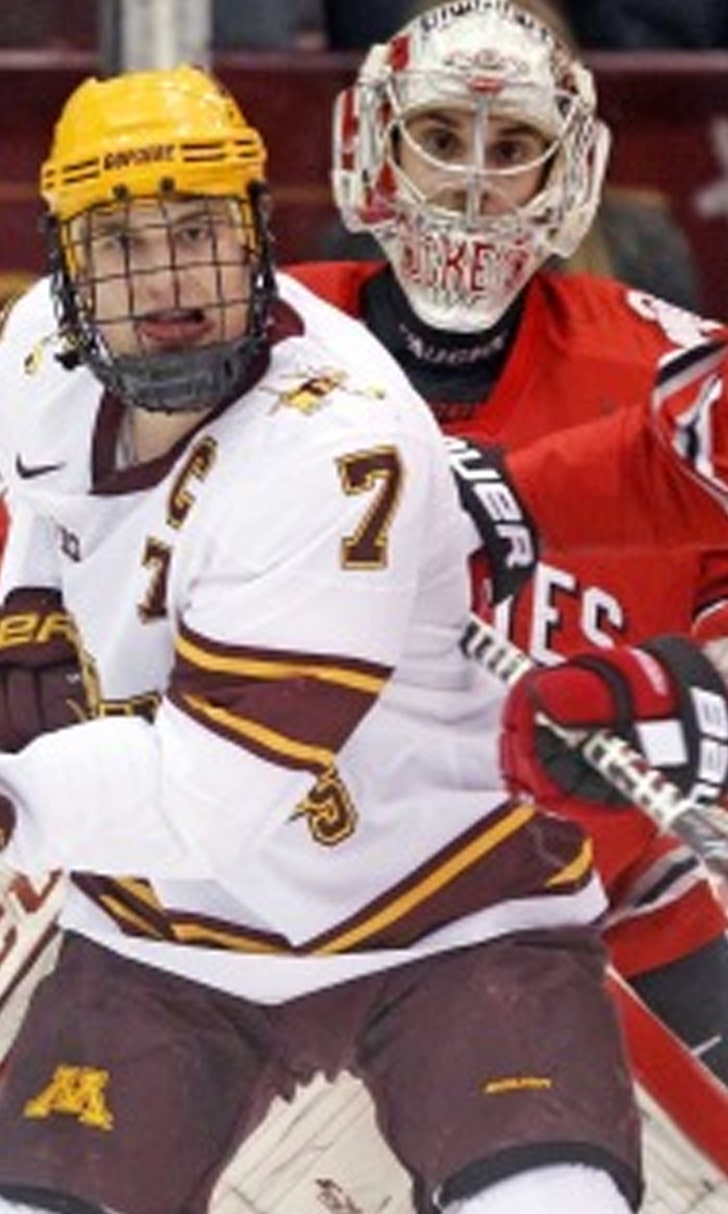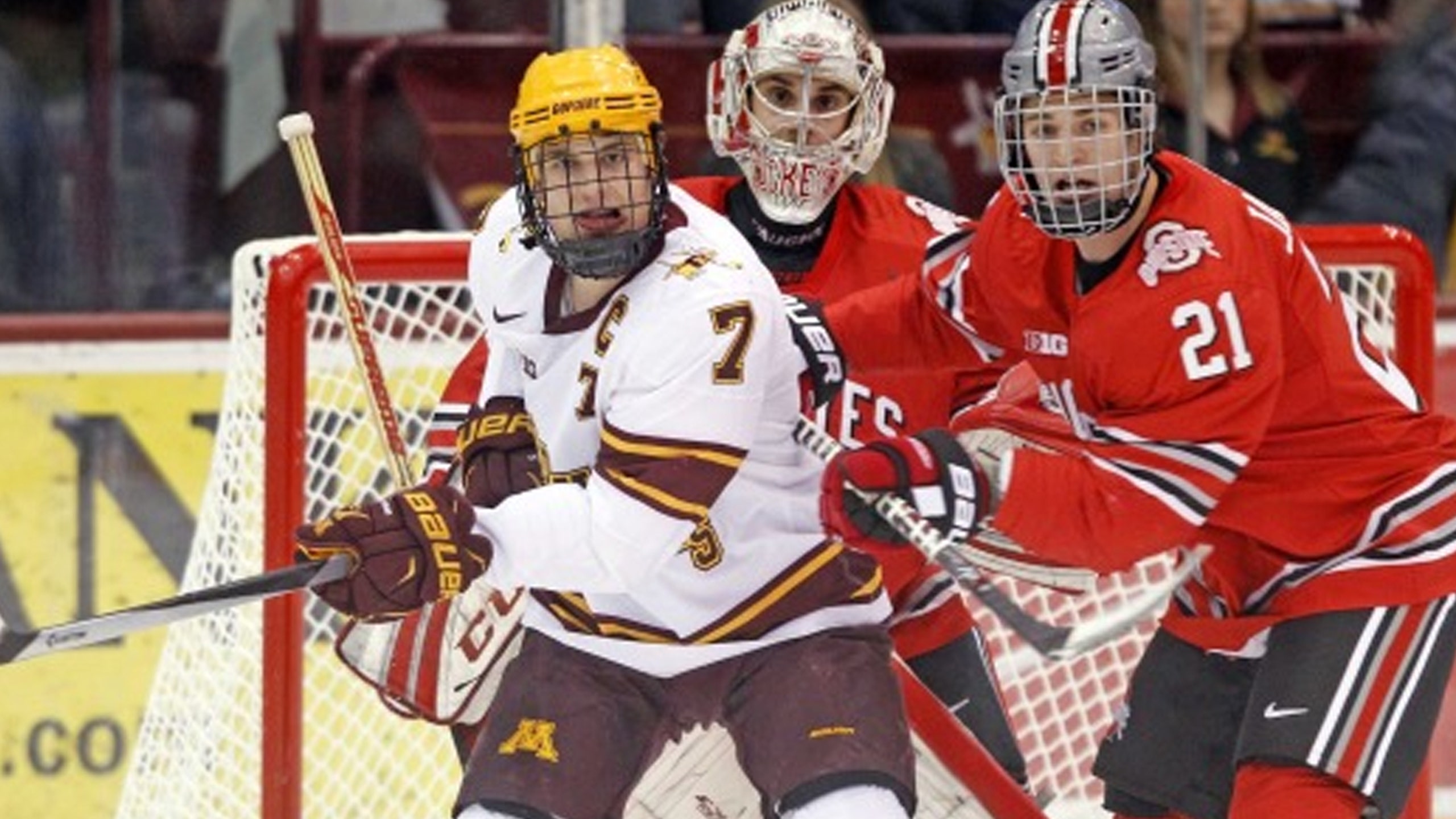 Gophers produce complete performance in win over Ohio State
BY foxsports • February 7, 2015
MINNEAPOLIS -- The Gophers men's hockey team is without its leading goal scorer this weekend against Ohio State.
That wasn't a problem Friday.
Leading up to this series, Minnesota preached the importance of tightening things up on the defensive end.
Once again, not an issue.
Minnesota got goals from four different players and held Ohio State to 23 shots on goal as the Gophers played their most complete game in quite some time in a 4-2 win Friday over the visiting Buckeyes.
"We had good production throughout the lineup," Gophers coach Don Lucia said after his team's victory. "I thought we had some more details to our game. Defensively, I thought we did a good job making sure we mark guys in our own zone. We turned one over late, which was too bad, but other than that I thought we played a solid, complete game."
Minnesota will be without leading goal scorer Connor Reilly for the foreseeable future. Reilly, who has 11 goals this season, suffered a knee injury last weekend against Wisconsin and will likely be out at least a month.
In his absence Friday, numerous Gophers stepped up on offense. Justin Kloos snapped a lengthy scoring skid, Travis Boyd was credited with the eventual game winner on his 10th goal of the season and Vinni Lettieri also found the net for his fifth goal of the year.
Before those three goals, though, it was freshman Leon Bristedt who opened the scoring for Minnesota. Kloos found the Sweden native for a one-timer on the power play, and Bristedt fired a puck past Buckeyes goalie Christian Frey for a 1-0 lead and his fourth goal of the season.
Bristedt didn't get a ton of time on the power play earlier in the year, but with Reilly sidelined, it was a chance for the freshman forward to get some extra minutes on special teams. He capitalized Friday night.
"I have a good opportunity here," Bristedt said. "Connor's out, unfortunately, but someone's got to fill in the spot. I got the chance here. I've got to step in and take it."
After tallying an assist on Minnesota's first goal, Kloos notched one of his own. He found a rebound in front of the net, skated through the slot and buried the puck past Frey for a 2-0 Gophers advantage.
It was the first goal for Kloos -- Minnesota's leading goal scorer last year -- in his last eight games after scoring six goals in his first six games of the season.
"I think the most frustrating part about the last two months is . . . a lot of those games, I missed gimmes and our team ended up losing by one or tying," Kloos said. "It was good to help the team win."
Ohio State junior Anthony Greco temporarily made it a 2-1 game five minutes into the second period, but Boyd answered three minutes later on the power play with his 10th of the year. He joined the injured Reilly as the only other Gopher with double-digit goals when his wrister from the faceoff circle found its way past Frey.
Even with a big lead in the third period, Minnesota maintained the intensity on defense, something that had admittedly been lacking in recent weeks. The Buckeyes managed just seven shots on goal in the final period -- including one that found its way past Minnesota goalie Adam Wilcox -- as the Gophers skated to a 4-2 win.
Scoring four goals was nice, but Minnesota's players were just as pleased with only allowing two goals. The Gophers improved to 12-5-2 when allowing three or fewer goals this season.
"I think we probably had five, six, seven shot blocks from the forwards," Bristedt said. "We did a good job on the penalty kill and a really good job tracking in our rushes. I'm real happy with our defensive game."
With Friday's win, Minnesota now has the chance to do something it hasn't done since early November: sweep a series. The Gophers won the first game of last weekend's meeting with Wisconsin but went on to tie the Saturday finale. Not since beating Notre Dame in consecutive games on Nov. 7 and 9 has Minnesota won two games in a weekend.
As the Gophers continue to climb in the Big Ten standings, they'll do so one win at a time. A series sweep could certainly help Minnesota's confidence in what has been an up-and-down year.
"It's all about let's worry about today," Lucia said. "Can we win tonight? OK. Let's do it again tomorrow. That's what we want to see."
Follow Tyler Mason on Twitter
---