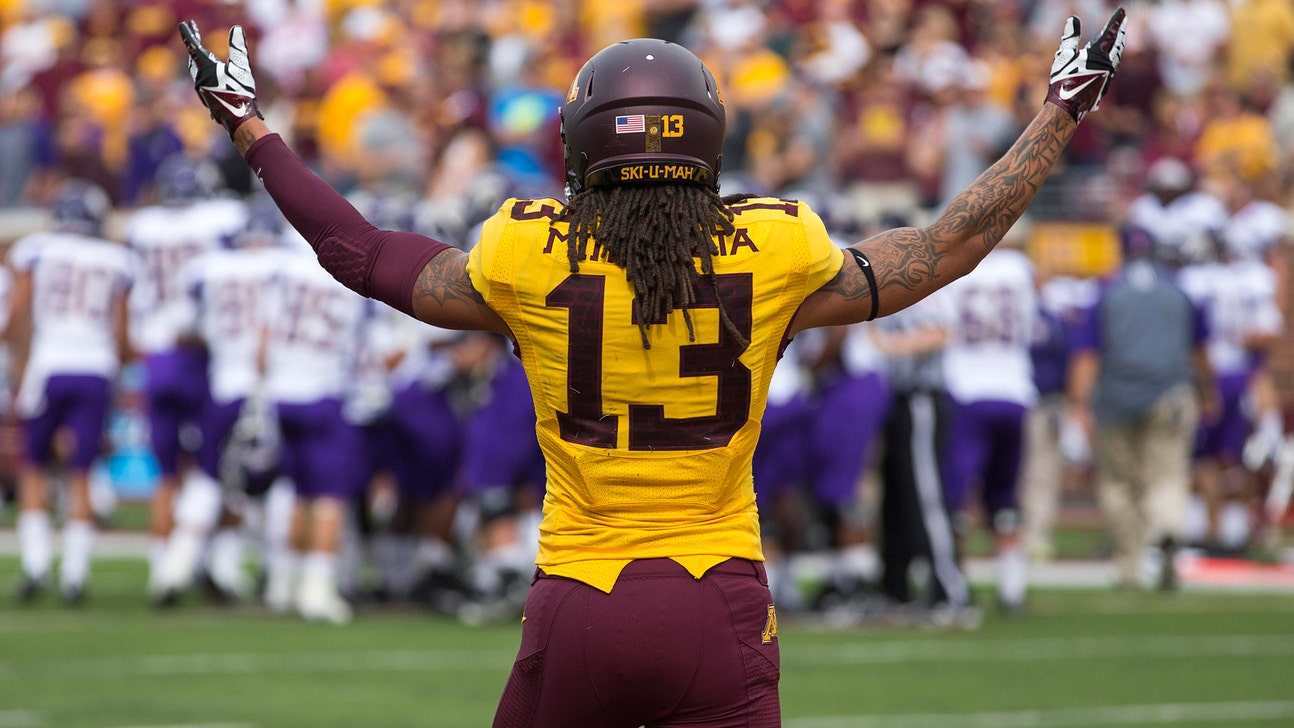 Gophers notebook: Offense still lagging behind defense
Published
Aug. 9, 2014 10:59 p.m. ET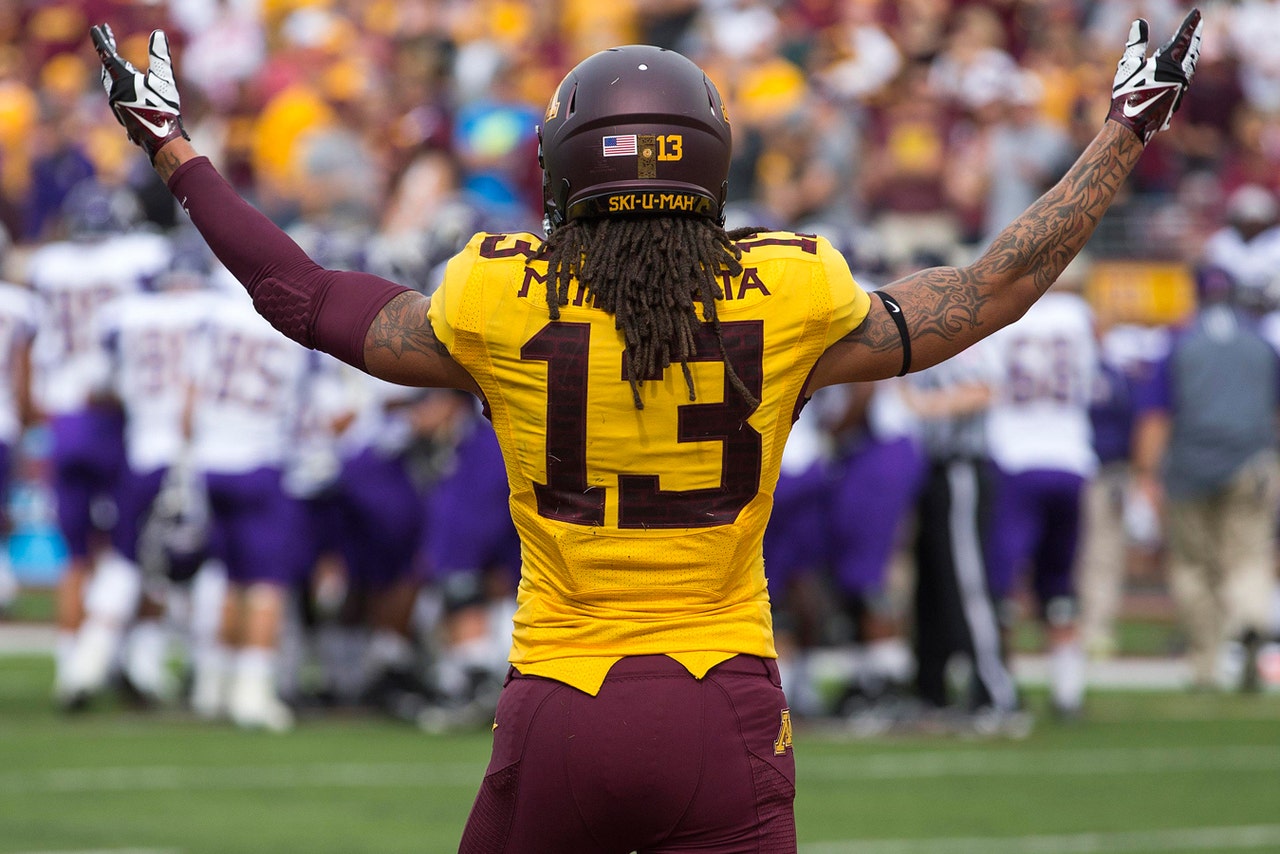 MINNEAPOLIS -- The expectation for 2014 was that the Gophers' offense would be improved, but Minnesota's defense would still be the stronger of the two units.
A scrimmage Saturday at TCF Bank Stadium solidified that thought.
While Minnesota's first-team offense was able to move the ball down the field under the direction of quarterback Mitch Leidner, the Gophers' touchdowns were few and far between. In fact, the only touchdown came late in the scrimmage when reserve quarterback Jacques Perra found found wide receiver Jeff Borchardt in the end zone.
Neither Leidner nor head coach Jerry Kill seemed particularly concerned about the offense's progress at this stage in fall camp, but they know things will need to improve before the season starts on Aug. 28.
"We moved the football well. Our red zone offense is something we can work on," said Leidner, who threw an interception in Saturday's scrimmage. "We've got time to do that. Overall, I thought the guys played really well. We've just got to convert in the red zone, though."
Leidner led a lengthy opening drive to start the scrimmage that included a fourth down conversion, but the Gophers' first-team offense settled for a 30-yard field goal from kicker Andrew Harte. During the No. 1 offense's next drive, Leidner tried to go deep to senior wide receiver Isaac Fruechte, but cornerback Derrick Wells made a nice play on the ball to intercept the pass.
Wells then took the ball the other way, nearly 30 yards. The Gophers' coaching staff has raved about the secondary, calling it one of the deepest units in the Big Ten. Wells and his fellow defensive backs did their part to back up that talk Saturday. He also made a nice tackle on running back Berkley Edwards on a screen pass in the flat, stopping the freshman for no gain.
The hope now is that this defense will continue to challenge the offense by going against each other in practices and scrimmages.
"I think that's a good thing, playing a team like us, playing a defense like us," Wells said. "I think that we're making them better."
Leidner, who entered fall camp as the unquestioned No. 1 starter at quarterback, looked much more comfortable in the pocket Saturday than backup Chris Streveler, a redshirt freshman who has yet to play a snap of college football. Several times in the scrimmage, Streveler opted to tuck the ball and run rather than checking down and working through his progressions. He, too, was intercepted Saturday by defensive lineman Alex Keith, who dropped back into coverage over the middle.
Still, the fact of the matter is that neither of the team's top two quarterbacks found the end zone Saturday. Part of that is a byproduct of facing a tough secondary, but both Leidner and Streveler know they each have some work to do.
"It's a work in progress. At this time of year, like it is everywhere, the defense is going to be a lot ahead of the offense," Kill said. "Offensive coaches, they get all fired up and then they get better. As a head coach, you never have a good day usually until everybody's perfect. That don't happen very often."
Offensive line shuffled: Gophers tackle Ben Lauer didn't play in Saturday's scrimmage due to a sprained ankle, so that gave Minnesota's offensive line a new look when the No. 1 offense was on the field.
Redshirt junior Josh Campion, who started 13 games last season at right tackle, lined up at left tackle in place of Lauer. Jonah Pirsig, a redshirt sophomore who didn't make any starts as a freshman, lined up at right tackle with the top offense.
"We're in a situation where it's a good time to do it," Kill said of playing Campion at left tackle. "You don't know what's going to happen during the season. You get one down and you give someone else an opportunity to be trained and coached up. Jonah needs all the rest because of his injury. He hasn't been able to do that. He's gotten a lot of good work in."
Kill also mentioned redshirt junior Joe Bjorklund as an offensive lineman who has caught his eye. Bjorklund was injured during spring ball, but is back to full health. He appeared in four games last season and five as a redshirt freshman in 2012.
"We're just being very cautious in bringing those kids back," Kill said. "We don't need to push the envelope right now. We just need to get them step by step back."
Kicker situation remains a competition: Kill has yet to name a starting field goal kicker, but it continues to be a two-man race.
Harte and fellow redshirt freshman Ryan Santoso attempted all of the field goals during Saturday's scrimmage. After Harte connected from 30 yards early in the afternoon, Santoso drilled a 33-yarder. After the second-team offense failed to find the end zone, Minnesota had Santoso attempt a 59-yard field goal. The kick was on line but fell just short of the uprights.
"It was a long way, and he didn't hit it very good. He can hit those," Kill said of Santoso. "And Andrew Harte's been consistent. That part's the least of our problems right now. Sometimes it's been a problem. I just hope that we can do it on game day because certainly the talent's there."
Follow Tyler Mason on Twitter
---