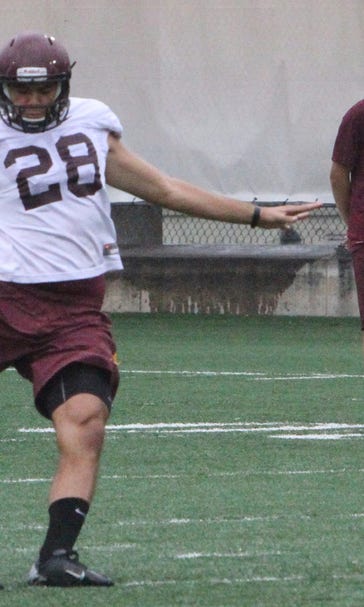 Gophers kicker Santoso is 'Big Man' with big leg
August 13, 2014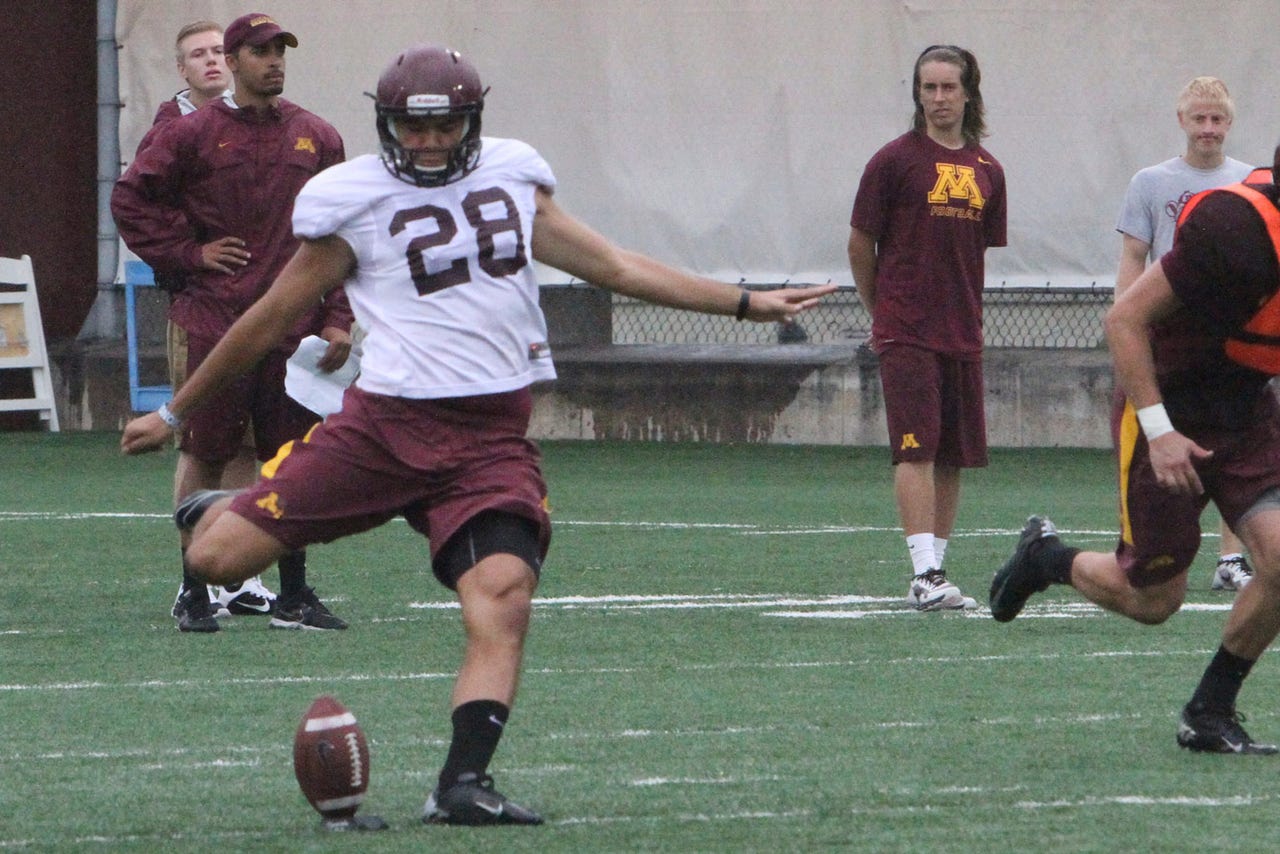 MINNEAPOLIS -- When Ryan Santoso stood on the sidelines as a freshman last year, he could have been mistaken for an offensive lineman or a tight end.
The Pace, Fla., native stood 6-foot-5 and weighed in at 260 pounds -- not exactly what you'd expect from a kicker.
The guy head coach Jerry Kill affectionately calls "Big Man" isn't quite so big anymore. Thanks to a rigorous training program last fall that carried into the winter, he dropped "a couple tens of pounds," he said. He's now listed at 6-foot-6, 245 pounds and is in much better shape as a redshirt freshman.
Though Santoso has lost weight since arriving on campus, he still has a big leg.
Already in fall camp, that right leg has been on display in kicking drills and the Gophers' scrimmage this past Saturday. In that scrimmage he attempted a 59-yarder. While it fell just short, Santoso is certainly capable of hitting from that distance. He hit one from 54 yards during one of the team's practices earlier this month.
His longest field goal ever? That came during a practice at Pace High School when he hit from 70 -- yes, 70 -- yards.
"I was very surprised," Santoso recalled. "I knew I had a leg, but not that strong. It was awesome."
Though Santoso can connect from long distance, he knows he probably won't be called upon to hit a 70-yarder in a game. Instead, it's those midrange kicks from 30 to 40 yards that will likely be the most important.
"The shorter ones are the ones that coach makes me work on the most, because those are the ones that count in games," he said.
Santoso was given just a two-star ranking by Scout.com, but he came to Minnesota last year with an impressive resume. He participated in the Under Armour All-American game after his senior season. He also kicked in -- and won -- the National Scholarship Camp's kickoff competition. Santoso's body of work was enough to earn him a scholarship as a freshman, something not often done for a kicker.
When Santoso got to Dinkytown last year, the Gophers already had an established kicker in senior Chris Hawthorne, meaning Santoso spent the year watching from the sideline. During that redshirt season, Santoso worked with strength and conditioning coach Eric Klein to slim down a bit.
"The strength coaches helped me out a ton," Santoso said. "I worked hard on that. And flexibility was key."
Though it probably won't be settled until shortly before the Gophers' season opener on Aug. 28, there's a good chance Santoso could kick his way into a starting role. His toughest competition at this point appears to be fellow redshirt freshman Andrew Harte, while Green Bay, Wis., native Emmit Carpenter, another freshman, is also in the mix.
"Every day is a competition. I don't like to think anything's given to me," Santoso said. "Just kind of wait until that final depth chart's out and always know that I have to compete and go out there with my best just because somebody's chasing after me."
Like a lot of kickers, Santoso didn't get into football until he had already been playing soccer for years. It wasn't until his sophomore year of high school when Santoso decided to join the football team, which he said was struggling at the time. Santoso kept with football through his senior year. He decided to give up soccer after his junior season to focus full-time on his field-goal kicking.
During his senior year at Pace, Santoso hit all 29 extra points and was 14-of-17 on field goal attempts. He also punted in high school, averaging 39.3 yards per punt. While he likely won't be asked to punt this year -- Minnesota punter Peter Mortell was one of the best in the Big Ten last year -- Santoso has the leg to do that, too.
"That part's the least of our problems right now," Kill said of Minnesota's kicking game. "Sometimes it's been a problem. I just hope that we can do it on game day because certainly the talent's there."
Follow Tyler Mason on Twitter
---