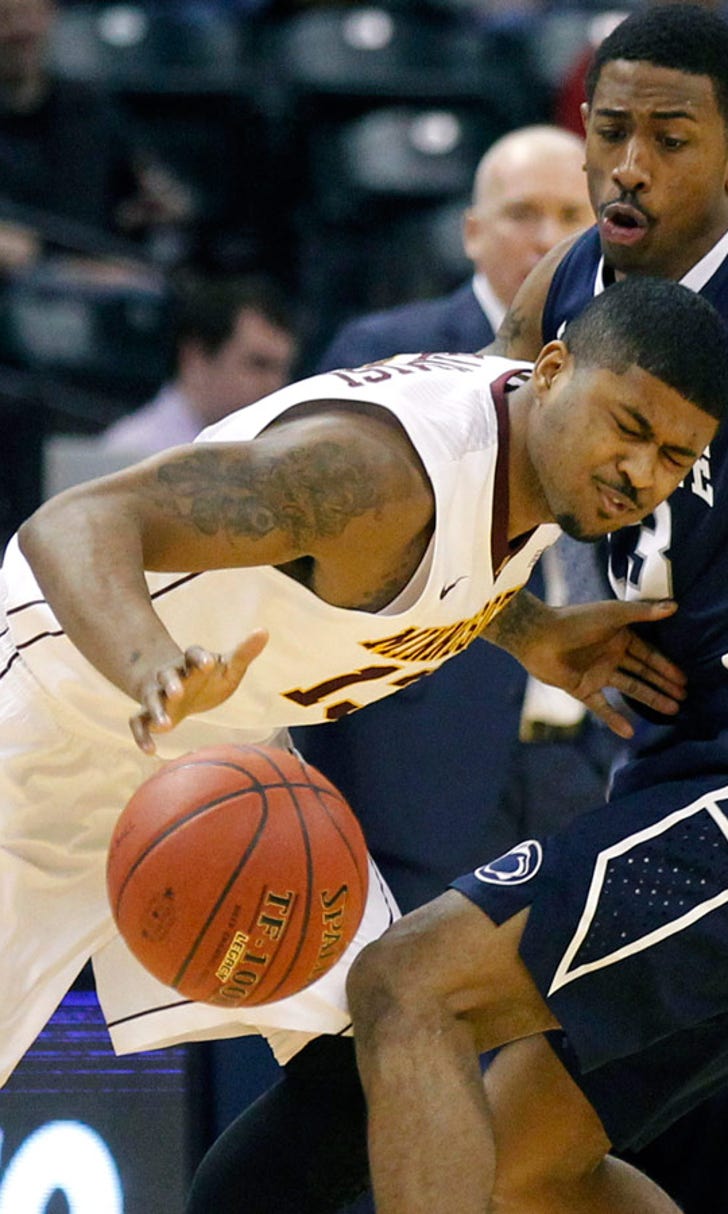 Gophers get crucial win, keep NCAA tourney hopes alive
BY foxsports • March 13, 2014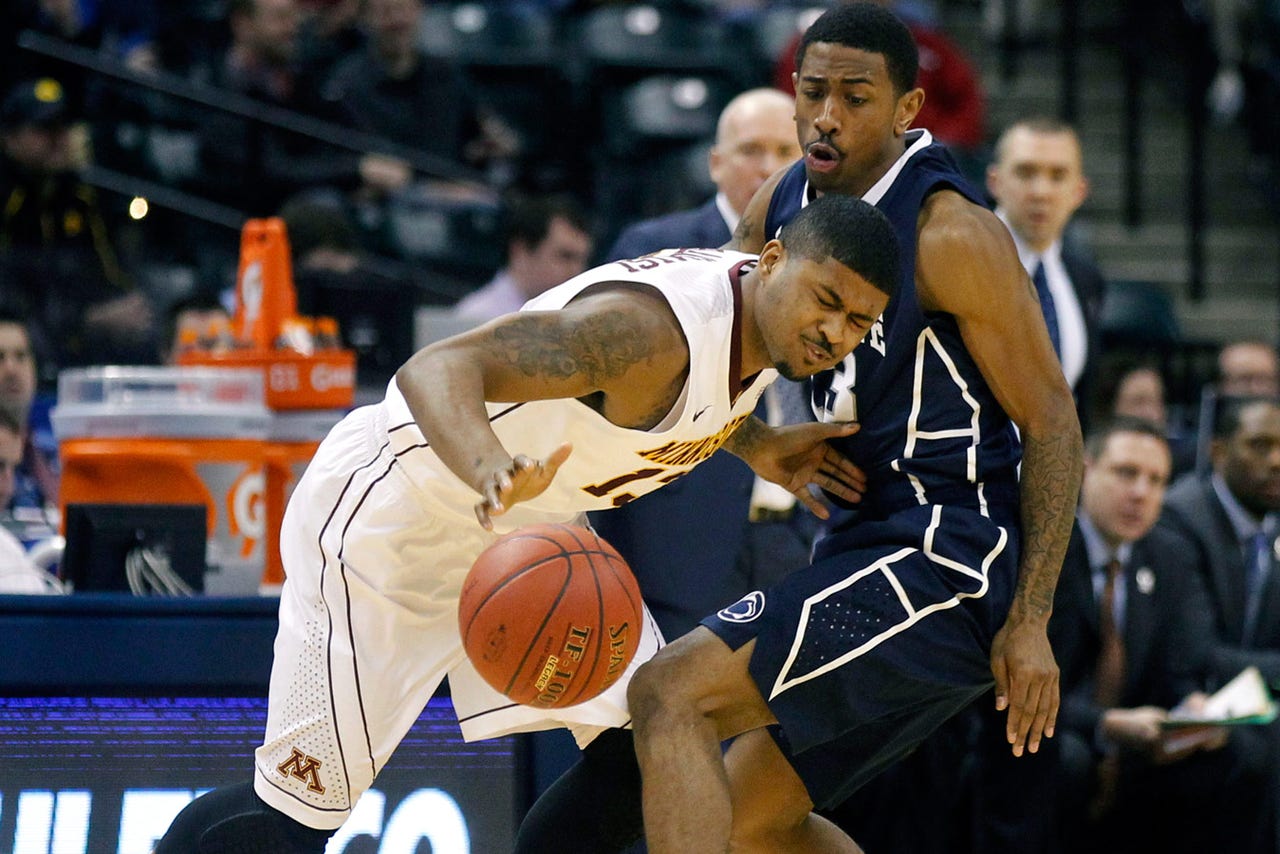 INDIANAPOLIS -- Talk of bubbles and brackets permeate college basketball this time of year. And though hundreds of teams vie for a coveted spot in the NCAA tournament field, only a handful of programs enter conference tournaments feeling safe regardless of the outcome.
Minnesota was not one such team. And so, the Gophers did not have the luxury of walking into Bankers Life Fieldhouse for a first-round Big Ten tournament game on Thursday night with any other mindset than this: Win to stay in the conversation. Lose and prepare for a second NIT bid in three years.
Those were the hard facts. And there was no way around it.
"We definitely knew that if we lost this game, there was no chance of us getting into the NCAA tournament," Gophers guard DeAndre Mathieu said. "We all watch ESPN. We watch the bottom line with the bracketology and the last four in and things like that."
The next time Mathieu checks, he just might find the Gophers inside the 68-team bracket projection.
Seventh-seeded Minnesota held off No. 10 Penn State 63-56 on Thursday to breathe life into the team's NCAA tournament chances. Gophers guard Andre Hollins' 3-pointer from the left wing with 11.7 seconds remaining sealed the victory and sent Minnesota (20-12) on to a quarterfinal game against No. 2 Wisconsin (25-6), which earned an opening-round bye. The teams play at 5:30 p.m. CT Friday.
Before Thursday's game, Minnesota entered the evening squarely on the bubble. In fact, the latest edition of Joe Lunardi's ESPN.com bracket projections listed Minnesota as one of the first four teams out of the tournament -- a situation certainly not lost on players.
"You try as little as you can, but temptation is so great that sometimes you just kind of look," Gophers center Elliott Eliason said of the brackets. "Because I mean, man, you want to know what everyone is saying. It's such a big deal. It's such a fun tournament to be involved in. You try to stay away, but it's hard to do."
Minnesota's best victory to date has been a home win against Wisconsin on Jan. 22. Ohio State and Iowa represent the only other top-50 RPI victories for the Gophers, and neither of those teams has inspired much confidence with their play of late. Meanwhile, Minnesota had eight losses against the RPI top-50 during the regular season.
But the door opened for Minnesota to slide into the big dance with a victory on Thursday, particularly after fellow bubble team Arkansas lost, 71-69, to South Carolina in the SEC tournament on Thursday.
Minnesota coach Richard Pitino lobbied for his team's chances in the recesses of Bankers Life Fieldhouse on Thursday night. And given that the Gophers now have 20 wins with a strength-of-schedule ranked No. 5 in the country, he would seem to have a viable point.
"Obviously, it's an issue on everybody's mind," Pitino said. "I thought that if we won tonight and things went our way, we could be in. You get to 20 wins, you get a top-five strength of schedule in the country, I believe you're rewarded when you play a great schedule. That's normally what happens.
"But with that being said, we did come in here to win a Big Ten championship. That's been our goal. We've never done it in school history. We know it would be really, really difficult, but one down."
Thursday's game was one Minnesota was supposed to win. Four days earlier in the regular-season finale, the Gophers handed the Nittany Lions an 81-63 loss at Williams Arena. Minnesota also won by three points at Penn State in January.
But just because a team is supposed to win, of course, does not mean it will win. And Penn State provided plenty of tense moments late in the game.
During one particularly sloppy stretch midway through the second half, Pitino pounded his fist into the padded top of the scorer's table after Gophers guard Malik Smith committed a turnover in the backcourt that led to two Penn State free throws. The Nittany Lions cut the deficit to 41-33 at the 12:01 mark, and Pitino sat down in disgust.
Penn State, which trailed by as many as 14 points, trailed just 59-56 on two Brandon Taylor free throws with 44.4 seconds remaining. On the ensuing possession, however, Hollins shook free for a wide-open 3-point attempt while Penn State scrambled to force a turnover.
He buried the shot to push Minnesota ahead 62-56.
"It just happened that way," said Hollins, downplaying the importance of his 3-pointer. "They were trapping randomly, and 'Dre did a good job of breaking the tap pass to Joey (King), and then Joey did a good job of sucking the guy in, and I was left wide open. It was wide open, and I had to take it."
Added Mathieu: "Who else besides Dre? He's big time. He makes all kinds of crazy shots for us. Big-time shots. When it left his hands, we all knew it was good. I was already on my way back on defense. He's a big-time player."
Austin Hollins paced Minnesota with 18 points, Mathieu added 13 and Andre Hollins chipped in with nine points, including his backbreaking 3-pointer in the final minute.
Minnesota won't be provided with much time to celebrate given the quick turnaround to prepare for Wisconsin. But the Gophers can feel plenty good in knowing they've taken the first -- and perhaps biggest -- step toward reaching their goals.
"We really came here thinking we were going to win this whole thing, and that's still our mindset, to make it to Sunday," Mathieu said. "Hopefully, we'll leave no doubt in the voters' minds that we deserve to be in the tournament."
Follow Jesse Temple on Twitter
---