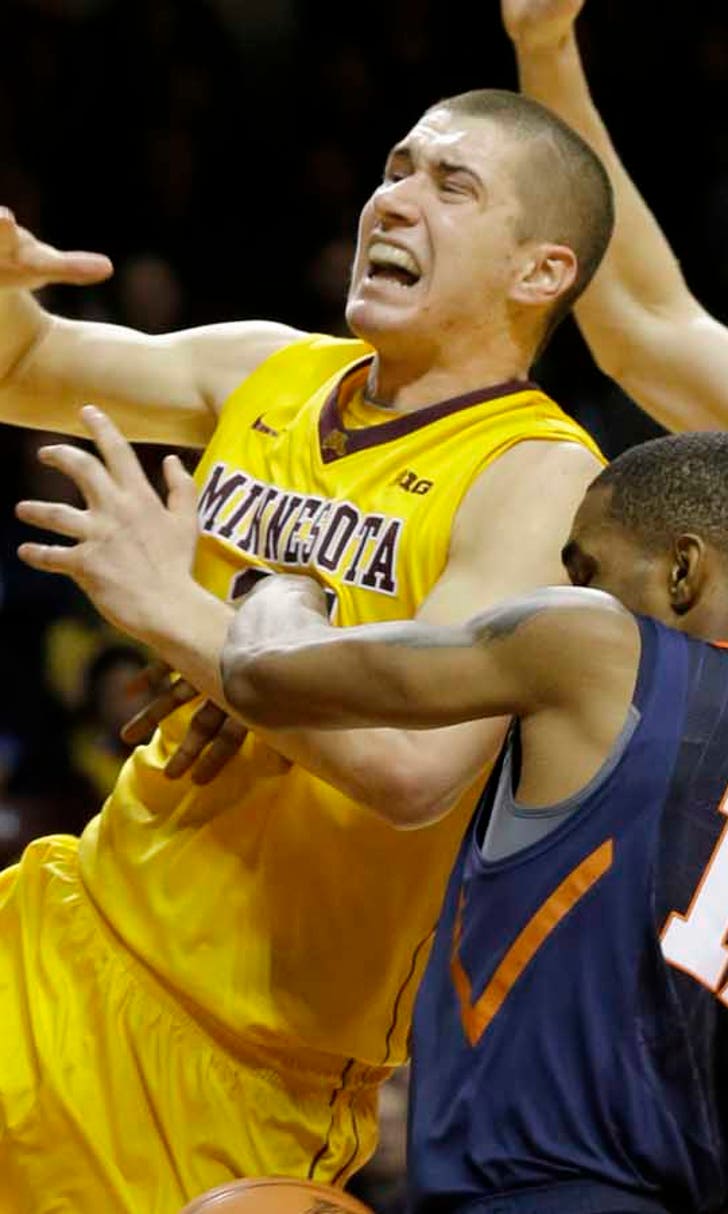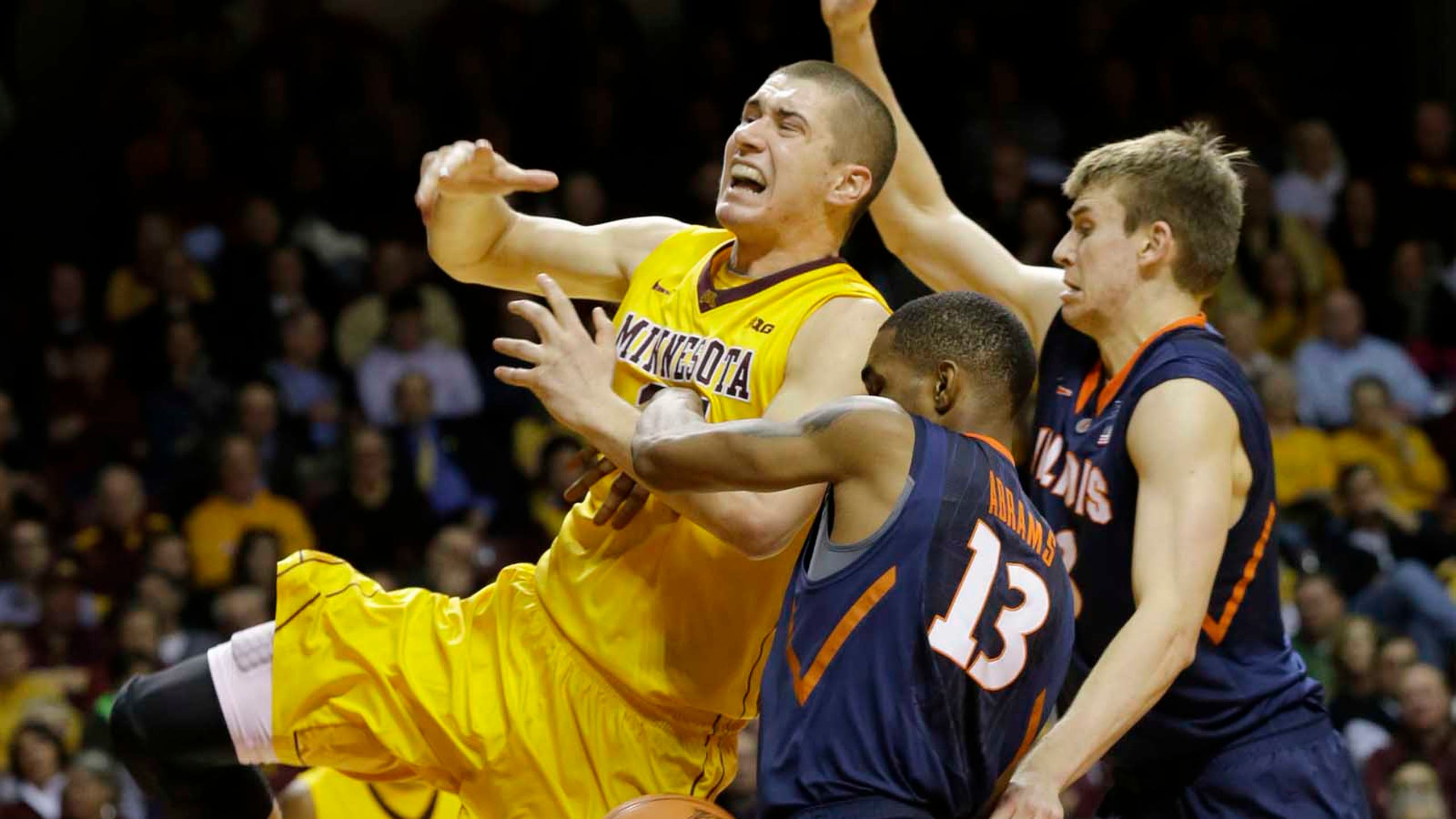 Gophers bruise postseason resume with frustrating home loss
BY foxsports • February 20, 2014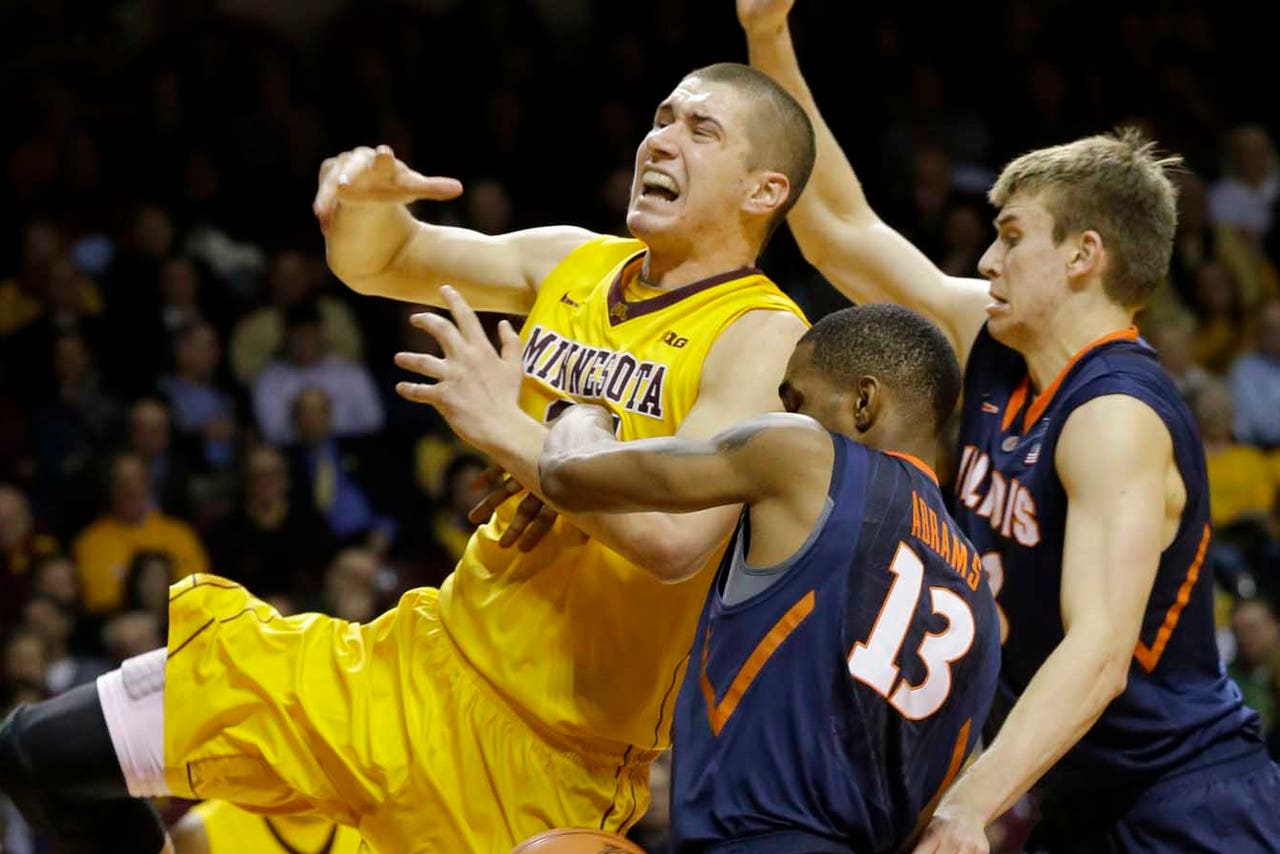 MINNEAPOLIS -- One day before hosting last-place Illinois, Minnesota head coach Richard Pitino offered a warning that his players and Gophers fans shouldn't start penciling in any wins or losses on the schedule.
Time to get that eraser out.
Despite facing an Illini squad that came to Williams Arena having lost 10 of their last 11 games, Minnesota stumbled at home in a game that could go a long way in determining the Gophers' postseason fate. Pitino's team made careless turnovers, couldn't buy a basket from downtown and struggled to guard Illinois on the perimeter.
The end result was a 62-49 loss, arguably Minnesota's worst of the season.
"We picked the wrong time to play our worst game of the season," said point guard DeAndre Mathieu.
This was a game Minnesota couldn't afford to lose if it hoped to bolster its NCAA tournament resume. The Gophers were riding the momentum of a road win Sunday at Northwestern and returned home to face an Illinois team that had just three Big Ten wins -- including two against 11th-place Penn State -- prior to Wednesday's matchup.
None of that mattered. Despite Minnesota jumping out to an early 14-3 lead to start the game, the Fighting Illini indeed kept fighting. Illinois' Kendrick Nunn hit a trio of 3-pointers in the first half as he helped trim the Gophers' lead to 27-24 at the half. Minnesota played most of the first half without Mathieu, who sat on the bench after picking up two early fouls.
After Mathieus' second foul, Illinois went on a 21-13 run to close out the first half as Minnesota's most electric player watched from the sideline.
"He's a big part of our offense. He really gets out in transition and attacks the basket well," Gophers senior Austin Hollins said of Mathieu. "But we can't blame anything on him for being on the bench with two fouls as to why Illinois went up on us. It's a team sport. We've all got to play defense."
Things went from bad to worse for the Gophers after halftime. Illinois started the second half on an 8-0 run to gain the momentum that Minnesota had lost after sputtering into the half. The Gophers committed 12 second-half turnovers, including a pair of uncharacteristic inbound violations.
In a game Minnesota should have won, the Gophers did enough things wrong to lose.
"We just did some unthinkable things. Why, I don't know. I don't get it," Pitino said. "We haven't done it all year. But we'll go back and we'll watch the film and we'll learn from it and try to get better tomorrow."
Mathieu has been a spark for the Gophers this year, but Illinois' defense bottled up the 5-foot-9 point guard. He was unable to slash into the late like he's done so many times this season and attempted just five shots all night, thanks in part to his early foul trouble. Mathieu finished with just three points as the Illini figured out a way to slow him down.
Minnesota didn't have any success from 3-point range, hitting a season-low 14 percent (4-for-25) from downtown. Despite that, the Gophers continued to settle for long-range shots, much to the frustration of their coach.
By the final few minutes of the game, the Williams Arena crowd of 12,221 started to thin out as fans left before the final buzzer sounded. A few fans voiced their displeasure at the result, hurling boos down on the court -- something that hasn't happened often this season.
As disappointed as the Gophers faithful were with Wednesday's loss, the frustration was greater inside Minnesota's locker room.
"They're a good team. Their record doesn't show how hard they play," said guard Andre Hollins, who finished with a team-high 15 points but was 3-for-11 from downtown. "I think we laid an egg tonight."
Pitino doesn't like to look more than one game into the future, so he didn't want to think much about what Wednesday's loss might mean for Minnesota's NCAA tournament hopes. The loss certainly doesn't eliminate the Gophers' chances -- they have three straight games against Top 25 teams, during which they can earn a few big wins -- but it certainly didn't help, either.
With the loss, Minnesota falls to 6-8 in the Big Ten with four conference games remaining. A win would have put the Gophers at .500 with a realistic chance to win at least eight Big Ten games. That outlook isn't so promising after falling flat against a Big Ten bottomfeeder.
"We definitely have a run in us," said Andre Hollins. "We have five more opportunities. We have three more top-ranked opponents coming up.  . . . The season's not over. This is obviously a disappointing loss, but you've got to give them credit."
Follow Tyler Mason on Twitter
---