Goldschmidt's season likely over
Published
Aug. 2, 2014 8:48 p.m. ET

PHOENIX -- Just when it seemed the desert could not get any drier ...
Diamondbacks first baseman Paul Goldschmidt was diagnosed with a fractured left hand after being hit by a pitch on what was intended to be an off day Friday, the latest blow for a team whose season can be most accurately defined by its wall-to-wall injuries. The D-backs, who entered Saturday night's game with a 48-62 record, have not had their expected 25-man roster on the field for one day this season, and they will not.
Goldschmidt suffered a fractured fourth metacarpal in his left hand after taking an Ernesto Frieri high-and-tight fastball to the top of his left hand in the ninth inning. Goldschmidt had entered the game in the top of the inning on a double switch.
While no timetable for his recovery has been set, Goldschmidt seems all but certain to miss the rest of the season. Center fielder A.J. Pollock has missed 10 weeks with a fractured fourth metacarpal in his right hand since being hit by a pitch May 31.
"This happens to guys on every team every year, so it's nothing too crazy," said Goldschmidt, who reiterated Saturday that he did not believe Frieri was attempting to hit him.
"It just happened to be one of those wrong place at the wrong time. Once we come up with a plan, I'll just get after it and try to get back as quickly as possible while trying to make sure it is fully healed and healthy going forward."
Goldschmidt, a two-time All-Star who leads the major leagues with 39 doubles and is on the NL leaderboard in most offensive categories, will be the second D-back to miss significant time with a fractured hand this season, the fourth in two seasons. Aaron Hill and Willie Bloomquist missed two months in 2013 after being hit by pitches.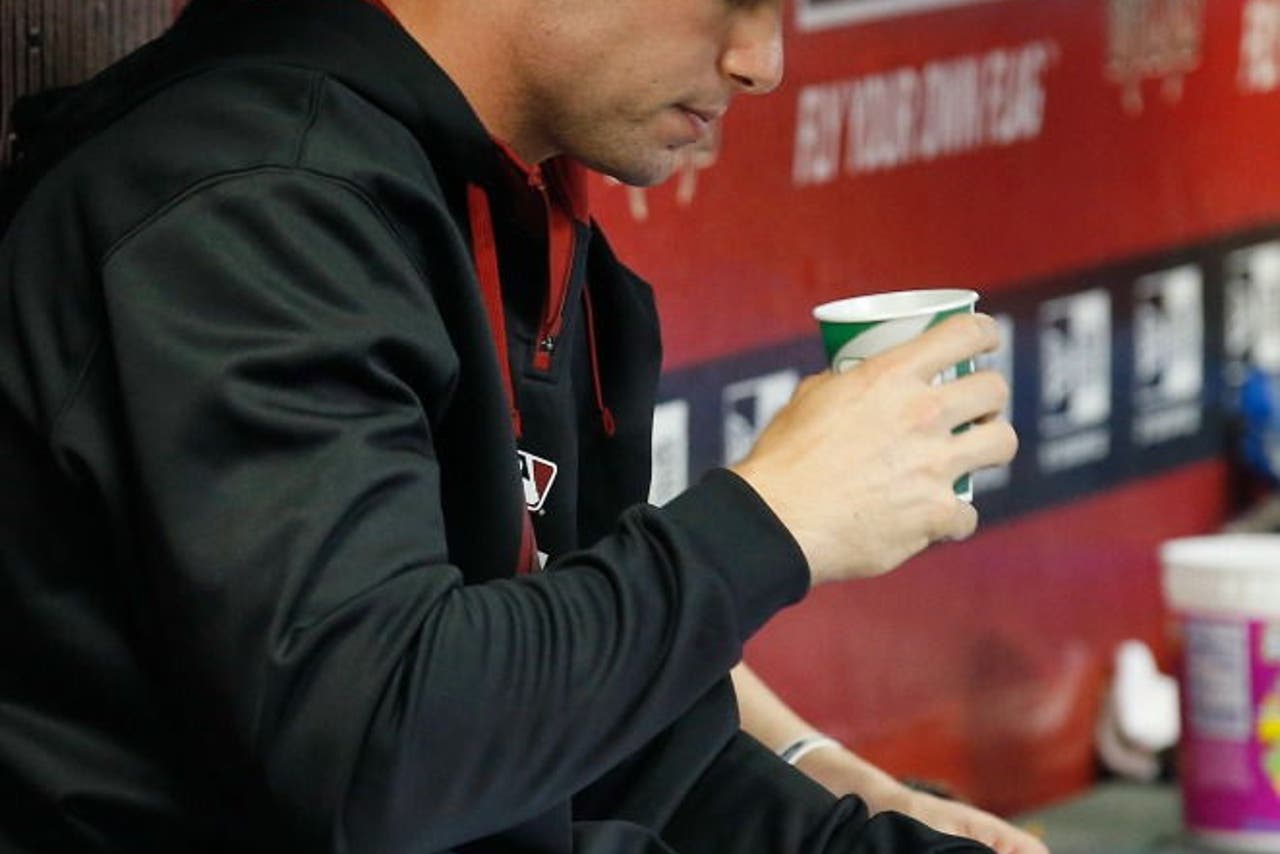 Paul Goldschmidt, with his injured left hand wrapped, sits in the dugout before Saturday's game.
"I just think it is bad luck," said Hill, also hit by an inside fastball. "That's what you are supposed to do as a pitcher. You are supposed to pitch both sides of the plate. That is the strength of a big league pitcher, pitching to both sides. It's just unfortunate."
If Goldschmidt and Hill have been accepting of the hand injuries, D-backs catcher Miguel Montero was not as charitable. 
"Obviously, the guys have been trying to go in on our guys. They are not going in to get them out. Apparently, they are going in to hurt them, because they are going in too high. That's way too high," Montero said of the pitch to Goldschmidt.
The D-backs and Los Angeles Dodgers were involved in a brawl last season when Ian Kennedy hit Yasiel Puig and Zack Greinke, the latter on a fastball at shoulder level. Kennedy was suspended for 10 games.
"I understand the reason why, because we were probably too high," Montero said of the Dodgers' row. "Not that I wanted to go too high. But it's been happening over and over and over and over. It's just getting old. Come on. Really? 
"What if it's in the head? I don't know if it is intent or not. Come on. Get it in. Not get it up and in and hit him."
The D-backs have had 15 players on the disabled list this season, starting when No. 1 starter Patrick Corbin and setup man David Hernandez underwent Tommy John surgery a week apart in spring training. Pollock has missed 10 weeks. Shortstop Chris Owings has missed a month with a shoulder injury. Mark Trumbo missed 10 weeks with a foot injury. Bronson Arroyo will miss the final three months of the season after undergoing Tommy John surgery in July. 
Entering Saturday, Arizona players had missed 972 days, according to STATS, LLC.
"It feels like it's kind of a merry-go-round of guys coming and going," Arroyo said.
"This team this year has just been completely riddled with major injuries. Not slight hamstring pulls or tweaking of a wrist or something. Guys are out for months on end, and it is impossible to compete, really, when a lot of your major players are out. It's going to be winding down the last couple of months of a strange year."
There is no way to replace Goldschmidt -- .300 batting average, 19 home runs, 69 RBI -- in the lineup. Jordan Pacheco started at first base Saturday, and manager Kirk Gibson said Trumbo also will play some first base. David Peralta occupied Goldschmidt's No. 3 spot in the batting order Saturday.
"It seems this year we've been snake-bit, with all our top players being hurt," D-backs right-hander Brad Ziegler said in the wake of Goldschmidt's injury. 
"No one likes to see it, and some tempers are going. That was a frustrating loss. It's just part of the game. Goldy accepts that. The rest of the team accepts that. But it doesn't mean that we are happy about it. I definitely think it is interesting that they think up-and-in is the way to get him out."
Pittsburgh catcher Russell Martin walked toward the D-backs dugout after the game Friday in attempt to tell first base coach Dave McKay that Frieri's pitch was unintentional, and Frieri was apologetic Saturday.
"I don't want people thinking I hit him on purpose. I will never stop saying I'm sorry," said Frieri, who worked the ninth inning with a 9-4 lead.
Frieri spent most of the season in the American League before being acquired last month, and he is 1-1 with a 9.31 ERA in 13 appearances with the Pirates.
 "I'm trying to get people out right now. If you take a look at my ERA, it is way high. I don't want to hit people to put guys on base. I don't want to be giving up any more runs. I feel bad. I'm sorry. I know he is a very valuable player for the team. I'm sorry one more time; I just tried to make my pitch inside.
"In this game, if you don't pitch inside, you are going to get hit. That's why I was getting hit too crazy this year, because I was only pitching hitters outside. Since I got here, they are making me pitch more inside. I was trying to get inside-up, and the ball just sank a little bit to his hands."
McKay told Martin "you gotta have better command than that" on Friday, and the D-backs' beef is that Frieri should not be working on throwing inside if he cannot command it, especially in a 9-4 game.
The Pirates have hit 61 batters this season. They have been hit a major league-high 59 times.
"We feel terrible. I feel terrible. That wasn't anybody's script," Pirates manager Clint Hurdle said. "We are going to pitch the way we need to pitch to be effective, to get outs. To say you're four runs back and you pitch away from the batter, I wouldn't agree with that. That is not how we are going to pitch."
Arroyo, a 17-year veteran who relies on command and control on both sides of the plate, understands that side of the argument.
"I find it hard to believe that anybody on the defensive side of the ball can honestly say that there is a point in the game where you don't throw inside. I don't think anybody could possibly concede that," Arroyo said.
"There are a lot of guys who are fighting tooth and nail to stay in the major leagues, and to tell a guy like that to give up two runs in the ninth inning because your team is up by seven and you can't pitch inside is crazy."
Follow Jack Magruder on Twitter
---