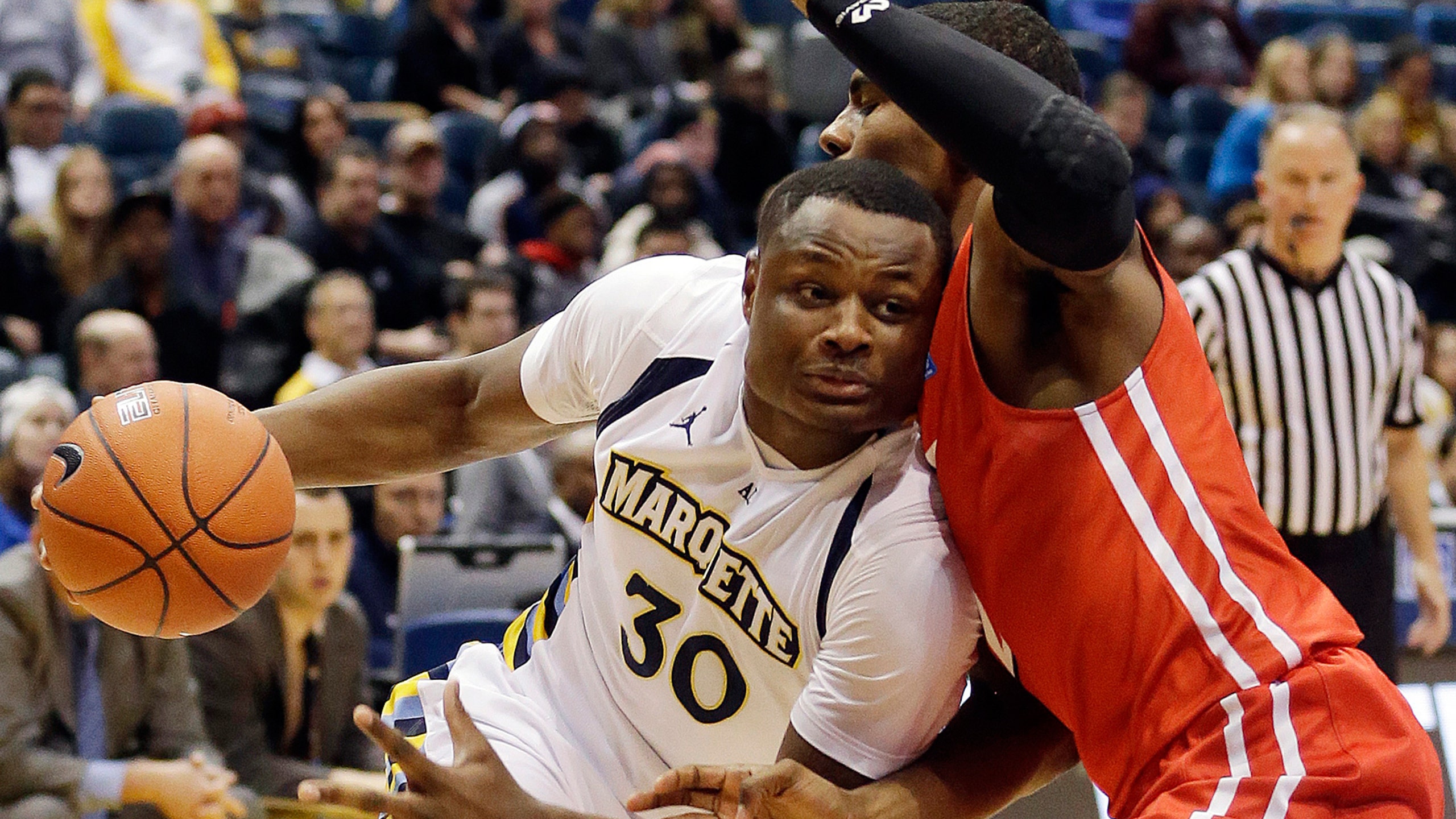 Golden Eagles produce during high-pressure finish, avoid upset
BY foxsports • November 25, 2014
MILWAUKEE -- Unlike Saturday, Marquette survived the upset bid of a program relatively new to Division I college basketball.
But it wasn't easy.
Despite shooting 8 of 33 in the second half, NJIT was in a one-possession game with Marquette in the final 30 seconds Monday night. The Golden Eagles were able to narrowly avoid their second-consecutive bad loss thanks to 14 second-half points from redshirt freshman Duane Wilson in a 62-57 victory over the Highlanders.
"Winning in college basketball is not easy, especially for a younger and inexperienced group," first-year Marquette coach Steve Wojciechowski said. "We have to fight and work so hard to grind out wins. That's who we are right now. Hopefully we'll continue to get better.
"We all are a work in progress. I was really proud that we hung tough and we made winning plays with guys who have never been asked to make those plays in a high-pressure situation."
Just over 48 hours after Omaha came into the BMO Harris Bradley Center and handed Marquette its first loss to a non-major conference opponent since 2006, the last remaining independent Division I college basketball team almost pulled off an even more stunning upset.
NJIT became a Division I program for the 2006-07 season and went 1-59 from 2007-09. The Highlanders have become more competitive of late, but they still have never defeated a team from a major conference and entered with losses to St. John's, Albany and Massachusetts-Lowell.
In a slow and deliberate first half, Marquette put itself in position for what should be easy shots but missed multiple layups en route to shooting 34.5 percent in the opening 20 minutes.
The Golden Eagles trailed by as many as six in the first half, but a 3-pointer from Jajuan Johnson trimmed the deficit to 30-28 at the break.
A 6-0 Marquette second-half run turned a tie game into a 50-44 lead for the Golden Eagles with 6:41 to play. NJIT answered right back and was within 56-55 with 1:32 to play.
On the Golden Eagles' ensuing possession, Wilson drove and finished through contact. He converted the free throw to cap a 3-point play that gave Marquette a 59-55 lead with 1:17 left.
NJIT hit a pair of free throws with 23 seconds left, but Wilson answered with two free throws of his own to help Marquette prevent what would have been another embarrassing loss.
"The coaching staff has believed in me and told me to keep on playing hard," Wilson said. "Coach pulled me to the side and said keep on driving to the basket, if it's not open kick it. That's what happened. It was open so I just kept on playing hard."
Making his first-career start, Wilson finished with a career-high 18 points and hit 9 of his 10 free-throw attempts. Without the redshirt freshman from Whitefish Bay (Wis.) Dominican High School and senior forward Juan Anderson (20 points, nine rebounds), the Golden Eagles would have lost.
"This has been his best week of practice since I've been the head coach at Marquette," Wojciechowski said of Wilson. "He has really competed hard at practice. When you prepare well, most times you play well. I want him to know his play is a direct reflection of how he prepared.
"I've been a freshman before and I've been at the line in tight games. It is not easy to walk up there and make free throws, even if you are a good player like Duane. For him to walk up there, making big plays at the end of the game as a kid who has never competed as a college player before is terrific. I hope he has confidence, but I hope he learns the lesson of, 'You are going to play as you practice.'"
Through four games, it is clear Marquette is a work in progress. The Golden Eagles fell to Omaha, ranked No. 218 in the country by KenPom.com, and nearly lost to NJIT, ranked No. 319.
It may still be November, but Marquette appears a long way from a team ready to compete for any kind of postseason berth.
"I'm aware of that all the time," Wojciechowski said when asked if he has to remind himself this is a work in progress. "The kids have worked hard. They've done a good job. We have a lot of room to improve.
"Look, whether it is how hard you have to work on a day-to-day basis or how hard you have to concentrate in preparation and then going out on the court and doing them, we don't have a team that has a lot of experience. These guys are doing it for the first time."
Follow Andrew Gruman on Twitter
---