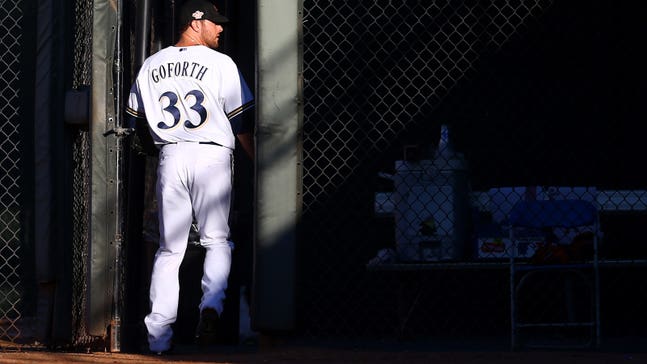 Goforth has unique start to big-league career
Published
May. 28, 2015 1:45 p.m. EDT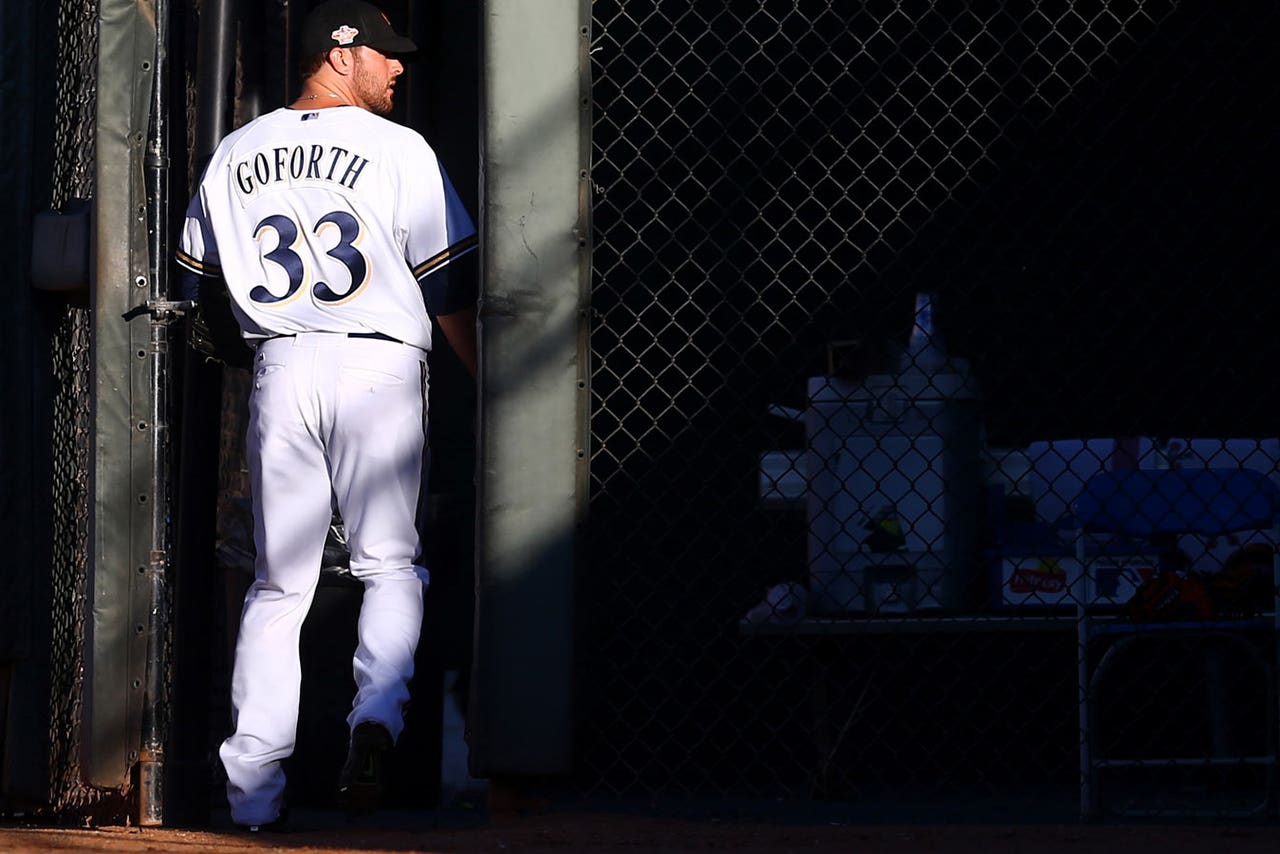 MILWAUKEE -- Like many professional baseball players, Milwaukee Brewers rookie reliever David Goforth had imagined the day he would take the mound in the major leagues for the first time.
There's no way the picture in his head included what actually occurred at the start of his big-league debut.
After entering with a runner on second and one out in the top of the ninth inning Tuesday, Goforth threw two pitches to San Francisco Giants right fielder Hunter Pence before using an inside pickoff move to catch left fielder Nori Aoki off second. The Brewers executed the rundown for the second out, meaning Goforth had recorded an out in the big leagues before officially facing a batter. Pence flew out to left one pitch later to end the inning.
"I think I forgot how many outs there were at the end," Goforth said. "I wanted to stay out there and get another out."
Goforth, Milwaukee's seventh-round pick out of the University of Mississippi in 2011, began his professional career as a starter before transitioning to the bullpen in 2013. In 2014, he led the Brewers organization in saves with 27 for Double-A Huntsville.
The 26-year-old had a rough start to this season with Triple-A Colorado Springs, allowing seven earned runs over his first 6 2/3 innings with the Sky Sox. But Goforth settled in from there, posting a 0.63 ERA (14 1/3 innings, one earned run) with opponents batting just .125 against him in his last 11 games before being called up by the Brewers on Monday.
"I just wanted to keep throwing the ball well and if the opportunity came, I wanted to be ready for it," Goforth said. "I feel like I've been throwing the ball a lot better.
"At the start of the season, I was maybe trying to do too much. I pretty much got back to the way the way I've always thrown and I've been fortunate enough to have some pretty good outings."
Like others who have come up to Milwaukee from Colorado Springs, Goforth admitted it took a bit of time to get over the mental hurdle of pitching in the altitude.
"Pitching is hard enough," Goforth said. "You can't worry about the ballpark and the altitude and the cold and all that stuff. It takes a little more to get over those things but you've got to do it. You can't go out there thinking about that. You've got to go out and throw."
The addition of Goforth gives the Brewers a rather unheard of nine-man bullpen for the time being. A reliever will likely be sent down when shortstop Jean Segura is activated from the disabled list Friday, while a starting pitcher will also need to be recalled in the coming days.
Milwaukee opted to add a reliever Monday when Wily Peralta went on the disabled list in for a couple of reasons. First, Mike Fiers was starting on three days' rest Wednesday. Another factor was the pending suspension of left-hander Will Smith.
It all worked out for Goforth to get his first call to the big leagues.
Goforth features a mid-90s fastball with a slider and a curveball. The stuff is there for the right-hander to make it in the majors as a reliever, but like many, command will determine his future role.
"We thought it was important to have an extra arm for the next few days," Brewers manager Craig Counsell said Tuesday. "Will (Smith) and (Jeremy Jeffress) have pitched a lot.
After they got word of the news Monday night, Goforth's father, stepmom and best friend from high school hopped in a car and drove from Mississippi to Milwaukee to be in attendance Tuesday.
They ended up beating Goforth to Miller Park, where later that night they witnessed his unique big-league debut.
Aoki singled off Neal Cotts to start the ninth and was sacrificed to second by Joe Panik. Counsell then turned to Goforth to face the right-handed hitting Pence. With a 1-1 count, catcher Martin Maldonado gave the sign for the inside move to second.
"I believe that's the first time I've ever had (an inside move) work on a pickoff move to second," Goforth said. "Luckily we had gone over it in the bullpen, so I had an idea of what that sign was.
"It was exciting. I feel like I did a pretty good job of holding those emotions in. Whenever they call down, I'll get going and pitch."
Follow Andrew Gruman on Twitter
---