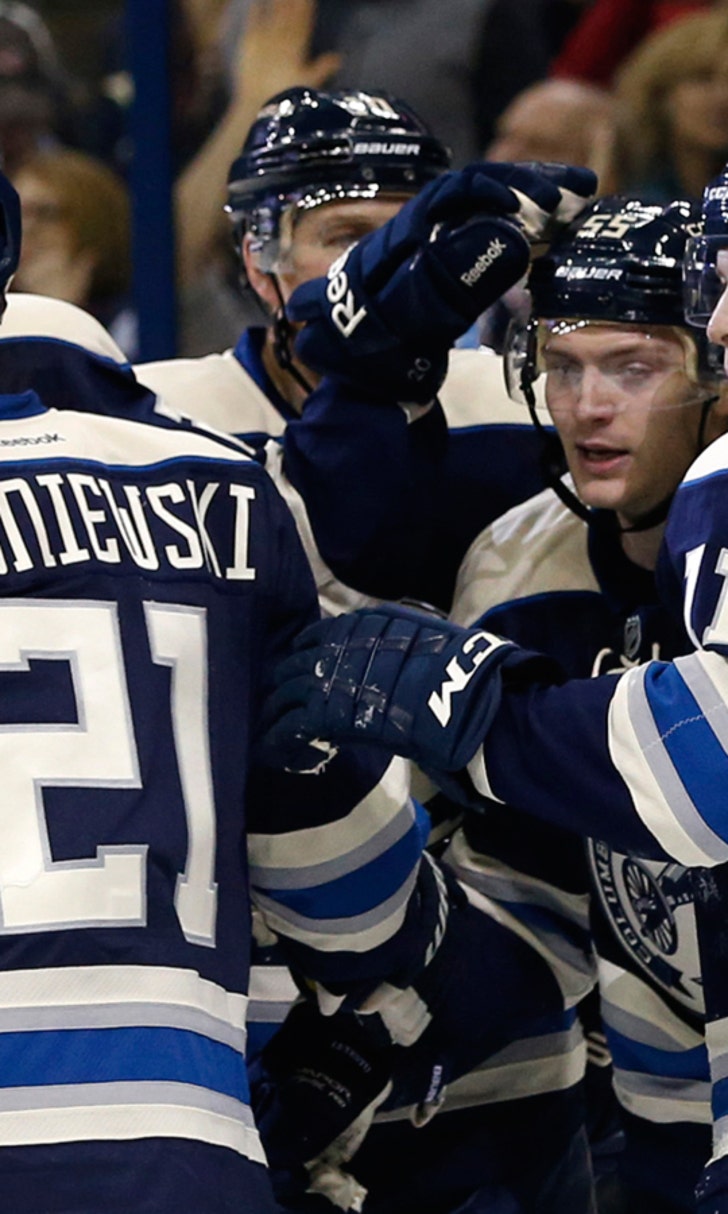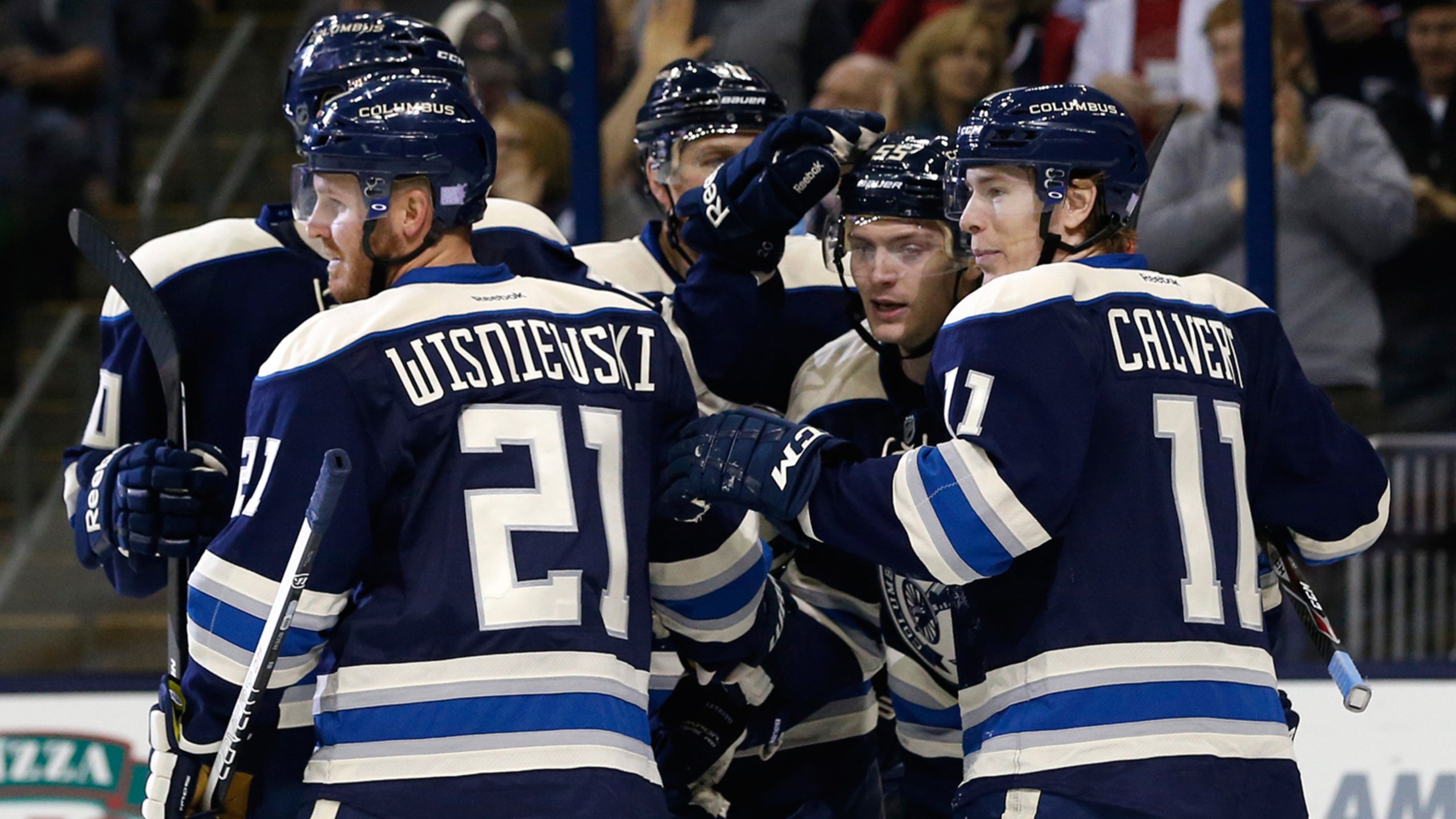 Gibbons and Leopold help Blue Jackets get better
BY foxsports • November 18, 2014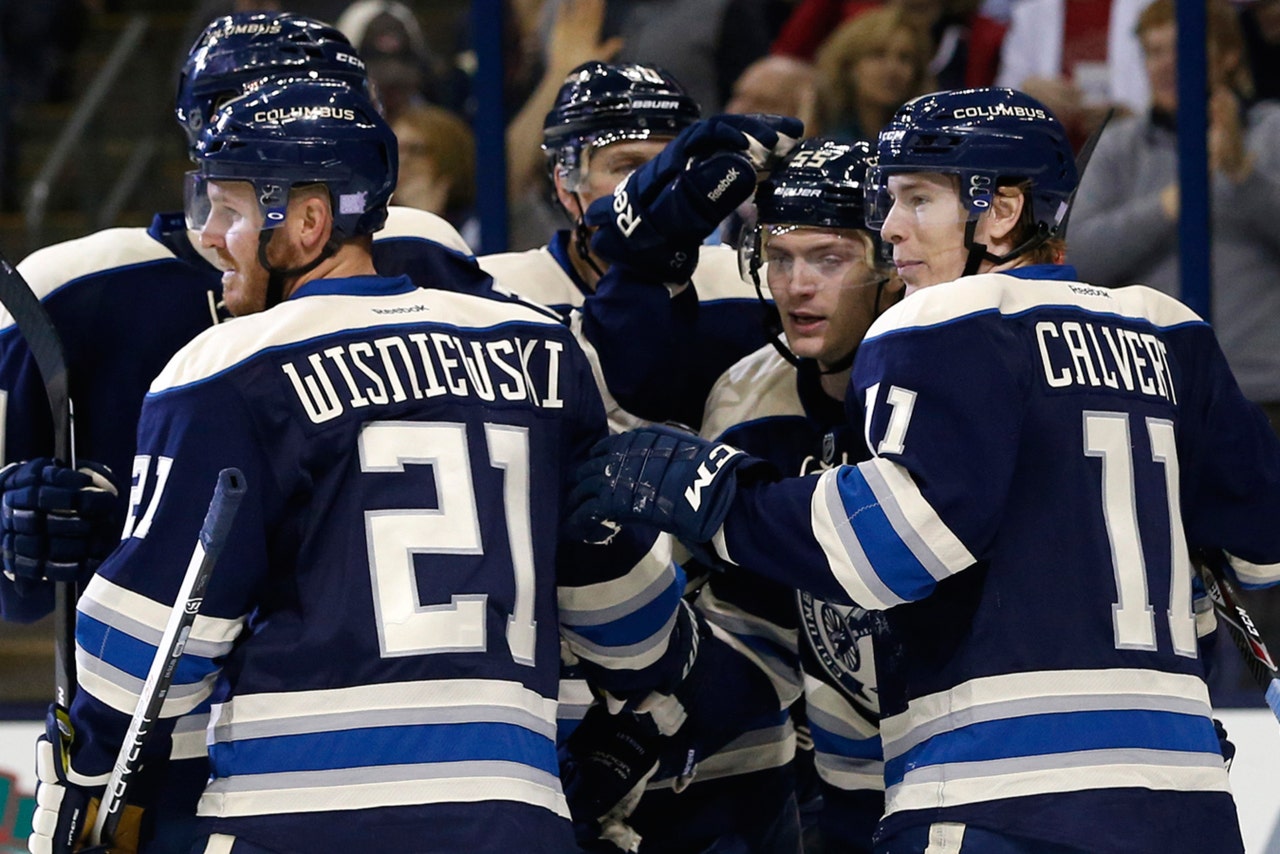 The mantra emanating from the front office is one of getting better by addition. Blue Jackets general manager Jarmo Kekalainen has said that they won't make a deal for a player unless it makes the team better. Two acquisitions that have maybe flown under the radar are the free agent signing of forward Brian Gibbons and the recent trade for defenseman Jordan Leopold.
Gibbons, topping out at 5 feet 8 inches tall, caught the eye of Columbus during Game 2 of the playoff series with the Pittsburgh Penguins last spring when he scored twice on the Blue Jackets. He was signed in July to a one-year, two-way deal and was told he would be given a fair chance to make the club out of training camp.
He was injured in training camp and never really had a chance to show what he could do. He was assigned to the Springfield Falcons being recalled, due to the plethora of injuries in Columbus, for the game against the New Jersey Devils on Nov. 1.
The speed he's known for was on display in the New Jersey game from literally his first shift on the ice, when he fed Jack Skille the puck for a quick goal. In seven games, he's 0-3-3 and +2. He's averaging 16:26 of ice time spread over 23.4 shifts per game.
"He's been awesome," said Nick Foligno of having Gibbons on the team. "He's been a lot of fun to play with. He's a guy that skates really well and opens up plays for us. He works really hard. I think he's complimented us nicely. I'm having fun playing with him and getting to know him. It's good that he's healthy and feeling good. He's definitely helped our team since he's been here."
While Gibbons' speed is what stands out to most, it's the way he plays the game that has head coach Todd Richards impressed.
"I still think it's too early to say 'this is him' in a nutshell," said Richards. "What I've been impressed with is his commitment to do some of the little things like going to the net hard, blocking shots and putting the puck to the net with purpose. We can talk about his speed because it stands out. But to me, it's those little things that he's done for us. You can see that's where he came from (Pittsburgh) and that's what they do. It's a part of him. Hopefully some of that will trickle down.
"We saw that with Kris Russell when he was here. We weren't a good shot-blocking team. We called him up from Springfield and all of a sudden we became this shot-blocking team. There was more of a commitment to it. When you see one guy do it, I think it makes it easier for other players to go out, climb over the boards and do it."
The acquisition of defenseman Jordan Leopold in a trade with the St. Louis Blues, ostensibly due to the injury to Fedor Tyutin, is a welcome addition to the injury-ravaged young team although GM Kekalainen said Saturday that they have had their eye on Leopold for a few weeks.
Leopold had an immediate calming influence on the ice paired with David Savard, making smart plays with the puck and communicating well with his teammates. He brings a steady hand and smart decision-making to the team.
"Honestly, I thought that was a great pickup," Foligno said. "I didn't really know that he wasn't playing in St. Louis. I remember playing against him when he was with Pittsburgh and obviously Buffalo. I think he's just a stable guy that is hard to play against because he always does the right things when he's out there. That comes with the experience he has."
"He's a guy that's been around a long time that knows how to win in this league. I think he's going to add a lot of value to our team."
He was not getting much ice time with a healthy blue line in St. Louis. He's had success as a player at every level of the game, from winning the Hobey Baker Award in 2001-02 while at the University of Minnesota (Todd Richards is an alumnus) to appearing in the Stanley Cup Finals with the Calgary Flames in 2004.
"He's just steady," Richards said. "It's what you expect out of a guy that's played a lot of hockey at the highest level in the NHL. He comes from a good organization where they do things the right way. He just plays a smart, steady game."
These two players, each in their own way, hope to help the team get its season back on track as they attempt to climb their way back up the standings. It may be a tall order, but they have proven that they can do it.
The Blue Jackets host the Detroit Red Wings Tuesday night at 7 p.m. at Nationwide Arena. Catch all the action on FOX Sports Ohio beginning at 6:30 p.m. with the Blue Jackets Live pregame show.
---