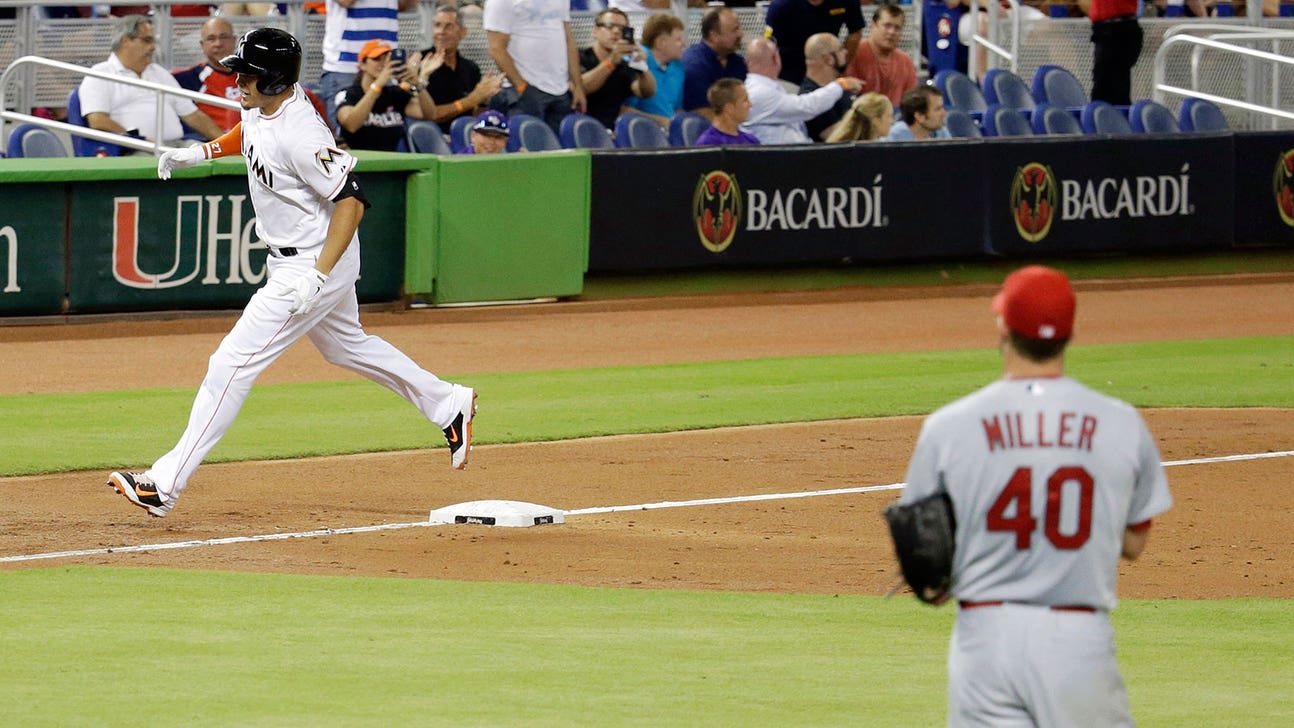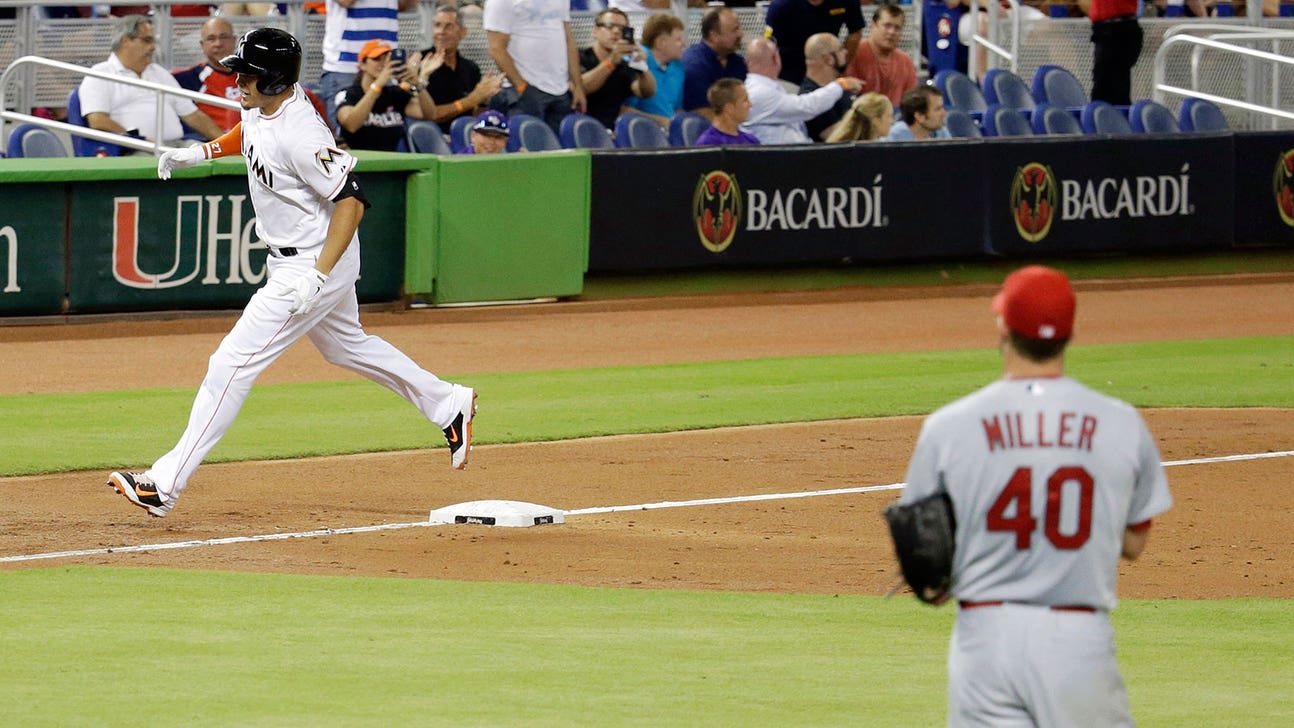 Giancarlo Stanton shows the Cardinals why he could become baseball's first $300M man
Published
Aug. 11, 2014 10:58 p.m. ET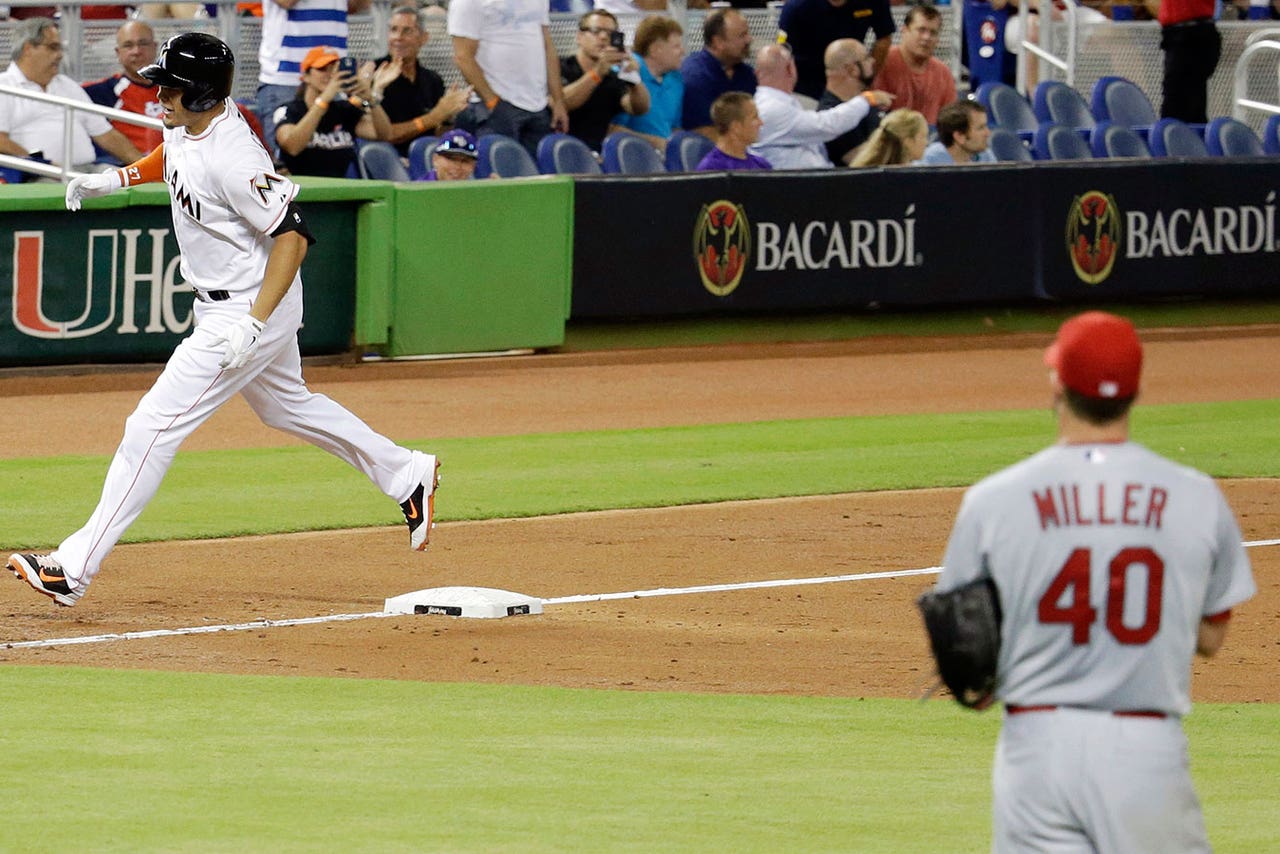 Sometime in the not-too-distant future, perhaps as soon as the 2015 offseason, the possibility of Giancarlo Stanton becoming baseball's first $300 million player will be a topic in the baseball world.
If you doubt that, you probably weren't watching Stanton in the Miami Marlins' 6-5 victory over the Cardinals on Monday night in Miami.
All he did was launch home runs in his first two at-bats off Shelby Miller, a two-run shot to the opposite field that gave Miami a 2-0 lead in the first and a mammoth shot off a hanging curve in the third that upped the lead to 3-0.
Stanton also showed off his glove in right field by making a diving catch of a Kolten Wong liner leading off the fifth that likely would have gone for extra bases -- and resulted in a run when Matt Holliday followed with a single. Stanton nearly robbed Wong with another diving catch in the ninth, but the ball flew just over his glove and went for a triple that keyed a two-run rally.
But it was the 470-foot homer that Stanton blasted onto the concourse in left-center field that awed the crowd of 21,144. The homer was Stanton's seventh of the season that traveled longer than 450 feet, by far the most in the majors. The Giants, in fact, are the only team that has combined for as many as five 450-footers.
Stanton stands 6 feet 6, 242 pounds, and is more than a chiseled slugger. He has a .292/.393/.568 slash line to go with his NL-most 31 homers and 82 RBI.
Oh, yeah, he'll be just 27 when he's eligible to become a free agent after the 2016 season.
That's if the Marlins do not extend him or trade him to a team that locks him up before then. The Marlins are considered long shots to re-up Stanton because they lack the financial power of the big-revenue clubs and also because the young slugger has said he wants to see a commitment to winning in Miami before signing a long-term deal.
Stanton was held to three hits in 14 at-bats when Miami visited St. Louis before the All-Star break, but he has been hot lately with five homers and eight RBI in his past five games. He showed Miller that he can handle the heat and off-speed pitches.
"First at-bat, first pitch he swung through was an elevated fastball," Cardinals manager Mike Matheny said in postgame comments shown on FOX Sports Midwest. "(We) found out on the next pitch that isn't going to work. So next time around, got in a position needed to throw him a real good breaking ball with two strikes."
But it wasn't good enough. The curve stayed up -- "and in," Stanton pointed out --€" and was absolutely hammered. It was Stanton's second-longest homer of the season and, according to espn.com's home run tracker, tied for the seventh longest in the majors this season.
Everyone who saw it will likely be talking about it, kind of like we will be talking about his potential to secure baseball's first $300 million contract someday.
3 UP
-- Matt Holliday. Talk about busting out of a slump. Entering in a 3-for-19 skid, Holliday reached base in all five plate appearances with two doubles, two singles and a walk. He drove in the Cardinals' fifth run with a two-out, infield single in the ninth. Holliday upped his OBP to .372, second among regulars to Matt Carpenter (.378).
Watch the Cardinals Live pregame and postgame shows before and after every St. Louis Cardinals game on FOX Sports Midwest.
-- Jon Jay. Playing in his hometown, Jay popped a two-run homer that briefly tied the game in the fourth inning. The homer was his second in the past three games and his third of the season.
-- Sam Freeman. The lefty rebounded from a poor outing Friday by working two innings and allowing only an unearned run. He struck out three, including Stanton with a runner on third base. Freeman also made a nice defensive play by fielding a comebacker and tagging Jordany Valdespin trying to score from third. A wild pitch, however, cost Freeman when Christian Yelich went to third and then scored when A.J. Pierzynski's throw went to left field. 
3 DOWN
-- Shelby Miller. He failed to make it to the sixth inning for the first time in four starts, mainly because of Stanton's exploits. Miller also was hurt in the fourth when he gave up two runs on a pair of singles and a triple. Miller allowed eight hits in his five innings, the most he had given up in a game since the Marlins touched him up for nine hits at Busch Stadium last month.
-- Matt Adams. It's been 79 at-bats since Adams hit his last home run and over his past 14 games, he hasn't hit a whole lot of anything. An 0 for 5 on Monday left him with a .223 batting average since July 20, along with two walks and 17 strikeouts. Adams had a chance to extend the Cardinals' rally in the ninth when he came up with two outs and Holliday on first representing the tying run. But Adams struck out on two pitches that were well low, including a strike three slider that bounced in the dirt. 
-- Road record. Now 1-3 on this trip, the Cardinals dropped below .500 (29-30) away from Busch Stadium with the loss. St. Louis has played steadily on the road all season, not dropping worse than three-under or going more than two over all season.
You can follow Stan McNeal on Twitter at @StanMcNeal or email him at stanmcneal@gmail.com.
---