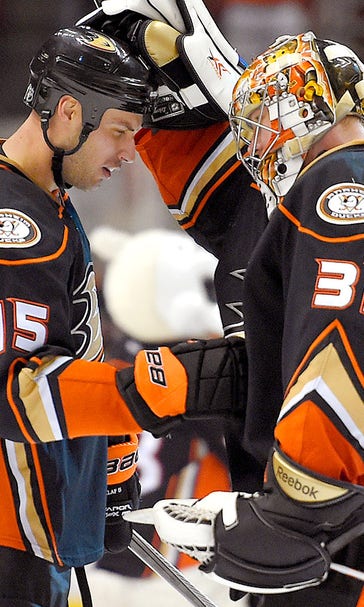 Getzlaf scores in OT and Ducks rally past Hurricanes, 5-4
BY foxsports • February 4, 2015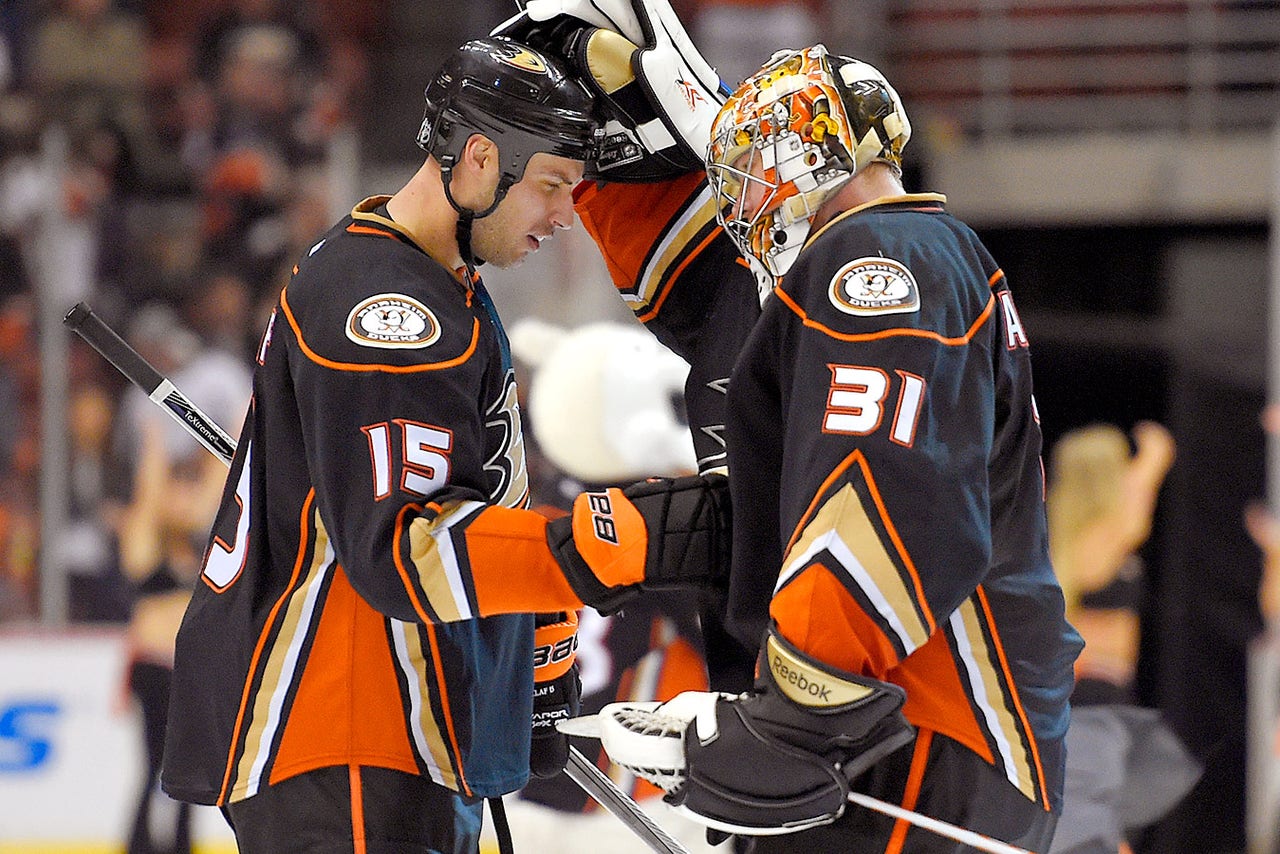 ANAHEIM, Calif. (AP) -- The Anaheim Ducks had lost their last two games, and they trailed Carolina by two goals with 11 minutes left.
With a rough week behind them and a brutal road trip looming, the Ducks had ample opportunity and reason to give up and move on.
"We don't do that," captain Ryan Getzlaf said. "That's the difference between good teams and the mediocre teams."
Getzlaf scored 45 seconds into overtime, Corey Perry scored two goals and the Ducks roared back from that two-goal deficit in the third period for a 5-4 victory Tuesday night.
Perry tied it with 4:08 left in regulation and set up Getzlaf's winner as Anaheim (33-12-6) stayed even with Nashville atop the overall NHL standings. Even during a rough stretch of their schedule, the Ducks' nerve in tight games hasn't faltered: They've won an NHL-best 23 one-goal games, including this stirring comeback.
"You never give up," Anaheim coach Bruce Boudreau said. "That's something that I think in the third periods we haven't done at all this year, and I don't think it's in their character to do that."
Ryan Kesler scored on the power play and Frederik Andersen stopped 28 shots for the Ducks, who made plenty of mistakes in the third period alone, giving a penalty shot and two lengthy 5-on-3 advantages to the Hurricanes.
Brad Malone broke a tie when he scored on that penalty shot, and Jordan Staal put the Hurricanes up 4-2 with 14:50 to play in regulation.
But the Ducks went to work and got rewarded when Devante Smith-Pelly redirected Jakob Silfverberg's shot midway through the third. Perry then scored from a scrum in front of Anton Khudobin's net, and Getzlaf ended it with his 16th goal of the season on Perry's setup.
"I thought we did a good job of keeping our emotions in check and finishing the hockey game the way we wanted to," Perry said.
Alexander Semin and Jay McClement scored in a 2:17 span of the second period for the Hurricanes, who have lost three straight after an encouraging effort in January.
"We played well, and we had them on the ropes," Staal said. "But obviously that's been said a few times in here throughout the year. It's not good enough just to play with them. With all the 2-1 games and the one-goal games we've lost, we've still got to find a way."
Khudobin made 25 saves in Carolina's second stop on a four-game road trip.
The Ducks dropped back-to-back games to San Jose and Chicago last week after winning 18 of their previous 23, but they avoided heading out on a five-game road trip on their longest skid of the season.
Perry ended a five-game scoring drought and secured the seventh 20-goal season of his NHL career with the Ducks' opening score. He finished with two goals and an assist.
Semin tied it with just his second goal of the season, beating Andersen off a faceoff. The enigmatic Russian forward was a healthy scratch in four games late last month.
McClement put the Hurricanes ahead by snapping his 23-game goal drought, but Kesler evened it again with an adroit tip on the power play for only his second goal in 15 games.
Carolina failed to score with a 5-on-3 advantage for 2 full minutes early in the third, but Malone converted a penalty shot after Cam Fowler broke up his breakaway moments later. Staal then batted home a rebound for just his second goal in a season that began with a broken leg.
NOTES: Ducks D Eric Brewer struggled in his first game back in the lineup after a 24-game absence with a broken foot. Before his injury, Brewer had played just two games in Anaheim, which acquired him from Tampa Bay in late November. ... C Elias Lindholm returned to Carolina's lineup after a one-game absence, and Andrej Nestrasil was a scratch. ... The clubs meet again in Raleigh, North Carolina, on Feb. 12. ... Malone has four goals in six games.
---