Getting to know undefeated Shared Belief
September 4, 2014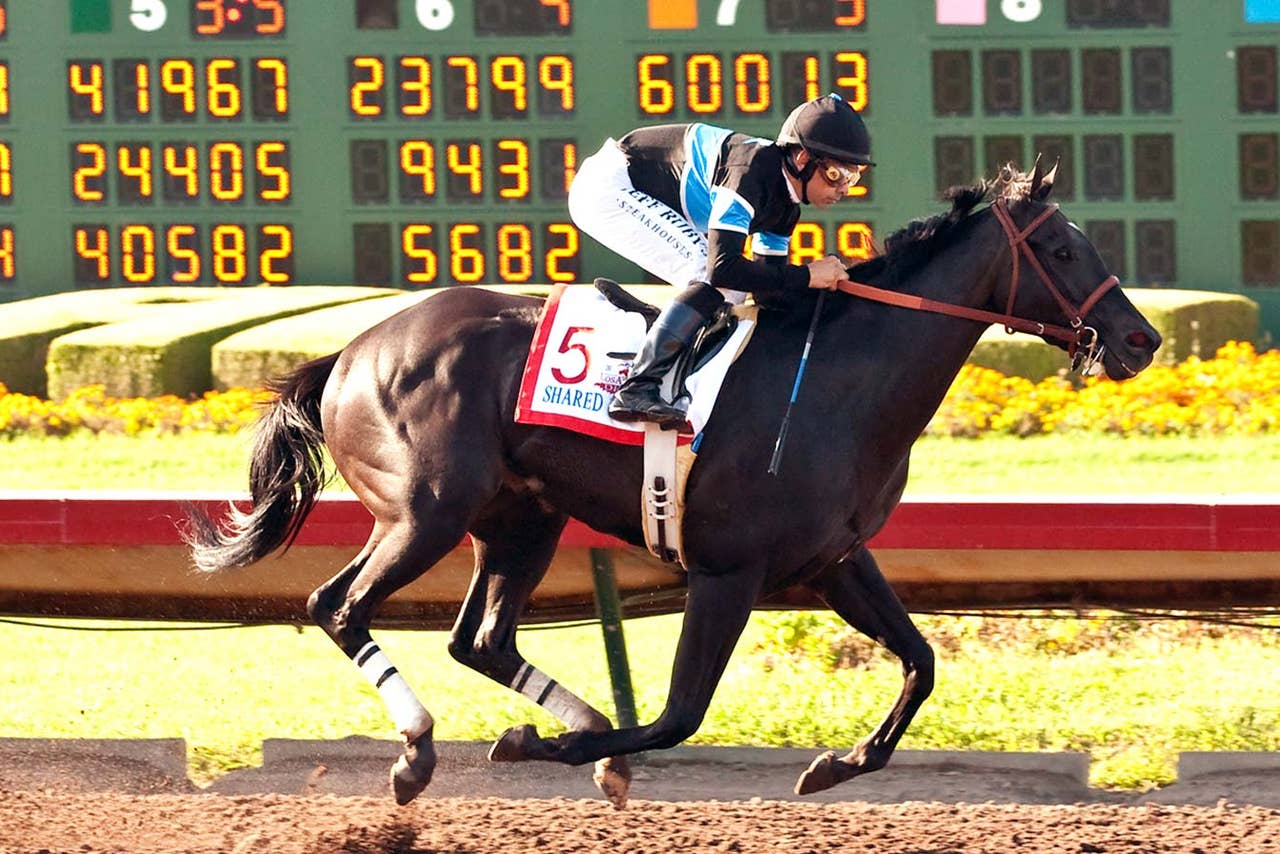 After debuting in late October 2013, Shared Belief has come a long way in a short amount of time. But perhaps no single performance has proven just how far he's come than his 2¾-length victory in the Pacific Classic on Aug. 24.
In his first performance against older horses at the top level of the sport, Shared Belief easily beat some of the same horses he'll be facing if he takes up the invitation to the Breeders' Cup Classic given to him with his "Win and You're In" victory in the Pacific Classic.
Late last year, after Shared Belief won the Hollywood Prevue, Mike Curry looked at the gelding as a Triple Crown prospect in his Making the Grade piece, but since then the gelding has answered some questions that rightfully existed at the time. So let's see just how well he has done since last November.
Shared Belief was named champion 2-year-old male last year after an undefeated three-race season. The gelding closed out his year with a Grade 1 victory in the CashCall Futurity, beating Candy Boy by 5¾ lengths on the synthetic surface at Hollywood Park.
Arguably the best main track 3-year-old not to hit the Triple Crown trail over the past few years, Shared Belief had to skip the first half of this year due to injury.
However, he has picked up where he left off while winning all three of his starts this year, starting off with an allowance race against older horses on May 26 at Golden Gate Fields. Beating the field by 4¼ lengths, the allowance earned Shared Belief a then-career-best 101 Equibase Speed Figure.
Shared Belief finally got a chance to answer the "can he run as well on dirt as he does on all weather surfaces" question at Los Alamitos. Taking on six other 3-year-olds in the Los Alamitos Derby, Shared Belief blitzed to a 4¼-length victory over Candy Boy. To put the win in perspective, Candy Boy was good enough to beat the rest of the field by 7¼ lengths.
When Shared Belief came out of the barn for his next race, he was facing older horses again, this time at the Grade 1 level. An important race due to its prestige, the Grade 1 Pacific Classic attracted 10 horses -- with eight of those entrants already having at least one graded stakes victory and the other two placed at the graded stakes level.
Racing in midpack behind a fast pace, Mike Smith cued Shared Belief to go around the far turn. Shared Belief overhauled the leading pair of Toast of New York and Game On Dude and grabbed the lead in the stretch before pulling away to win by 2¾ lengths. After slightly drifting in when he grabbed the lead, Shared Belief's victory was delayed by a steward's inquiry that he survived to keep his unbeaten record intact.
For the victory, Shared Belief earned a career-high 109 Equibase Speed Figure. In terms of where that figure stacks up compared with other horses with automatic spots in the Classic, Majestic Harbor also earned a 109 in his "Win and You're In" victory while Moreno's 124 is the highest of all the Classic "Win and You're In" horses. Moonshine Mullin and Bayern are the other two with automatic berths and were given 114 and 118 figures, respectively.
From a running-style standpoint, Shared Belief showed a new dimension in the Pacific Classic. In his past five races, he had never been farther back than third, even in fields that had seven or more horses, with the farthest he had been away from the leader being 5½ lengths, and that margin came after the first quarter-mile of his career debut. In the Pacific Classic, Shared Belief was as far back as seven lengths and was in fifth and sixth for the first three points of call. While the battle between Game On Dude and Mystery Train on the front end perhaps contributed to Shared Belief's position, it does show a handy ability to adapt.
Showing that he can race farther back in the field when the pace is faster than necessary should be a comfort to his fans.
Of the four other horses with spots in the Classic, both Bayern and Moreno are "need-the-lead" types while all of Moonshine Mullin's wins have come with him racing in no worse than third position. Fellow "Win and You're In" contender Majestic Harbor's wins have come with him either setting the pace or sitting right off of the leader, although he was able to race a bit farther back off the pace when winning The Gold Cup at Santa Anita.
While Shared Belief's figures are a little low compared with others in the field, it needs to be kept in mind that the horse has never been seriously tested. His average margin of victory sits at 5.29 lengths and the 2¾-length victory in the Pacific Classic was the closest another horse has come to challenging him, but even that looked like an easy enough win for him.
Be warned that he will probably go off as one of the favorites in the Breeders' Cup Classic, so you probably won't get as big of a payoff as you hope if you bet him.
Pedigree
Shared Belief is by Candy Ride and out of the Storm Cat mare Common Hope.
After winning multiple Group 1 races in South America and being named a champion miler in Argentina, Candy Ride headed to the United States. While he made only three starts in the United States, Candy Ride turned heads in his final start when he set a new track record when winning the Pacific Classic.
As a sire, Candy Ride has sired more than 35 stakes winners and two champions from seven crops to race. Shared Belief is his top earner to race, but Candy Ride has quite a few good horses on his resume, including Santa Anita Handicap winner Misremembered, Santa Anita Derby winner Sidney's Candy, and Malibu Stakes winner Twirling Candy. One of Shared Belief's closest rivals and a 2013 Kentucky Derby contender, Candy Boy, also is by Candy Ride.
It's no surprise from Candy Ride's side of the pedigree that Shared Belief easily got the 1¼ miles of the Pacific Classic. All of the sire's best horses have been distance runners.
On Shared Belief's dam side, he also has a bit of distance mixed with speed. His dam's one win came in a six-furlong maiden race but she also is the dam of Grade 3 winner Little Miss Holly, whose stakes victory came at 1 1/16 miles. Common Hope's sire, Storm Cat, has sired routers such as European Horse of the Year Giant's Causeway and Kentucky Derby runner-up Bluegrass Cat as well as sprinters like King's Bishop Stakes winner Tale of the Cat, who also was second in the 1 1/8-mile Whitney Handicap, showing that he was able to sire horses who were speedy but could go longer distances.
Shared Belief's second dam, Sown, won a pair of races at six furlongs, but third dam, Bad Seed, won a stakes race at 1 1/16 miles on the turf.
In addition to the two graded stakes winners out of Common Hope, Shared Belief's immediate family also includes Common Hope's Grade 1-winning half-sister [same dam (mother), different sire (father)] Key Phrase.
Key Phrase is the dam of stakes winner Yankee Gentleman and the grandam of Grade 2 winner Half Ours and Grade 3 winner Khancord Kid.
Shared Belief's family combines both speed and stamina, something he has shown that he has in spades. But until he is truly tested, we won't be sure exactly how much either of those traits will help him in the heat of battle.
While we don't know exactly who will be lining up for the Breeders' Cup Classic in a few months time, we do know that both Shared Belief and California Chrome are aiming for the race, which should give us a strong clue about who will take home the 3-year-old championship when the battle is over.
---