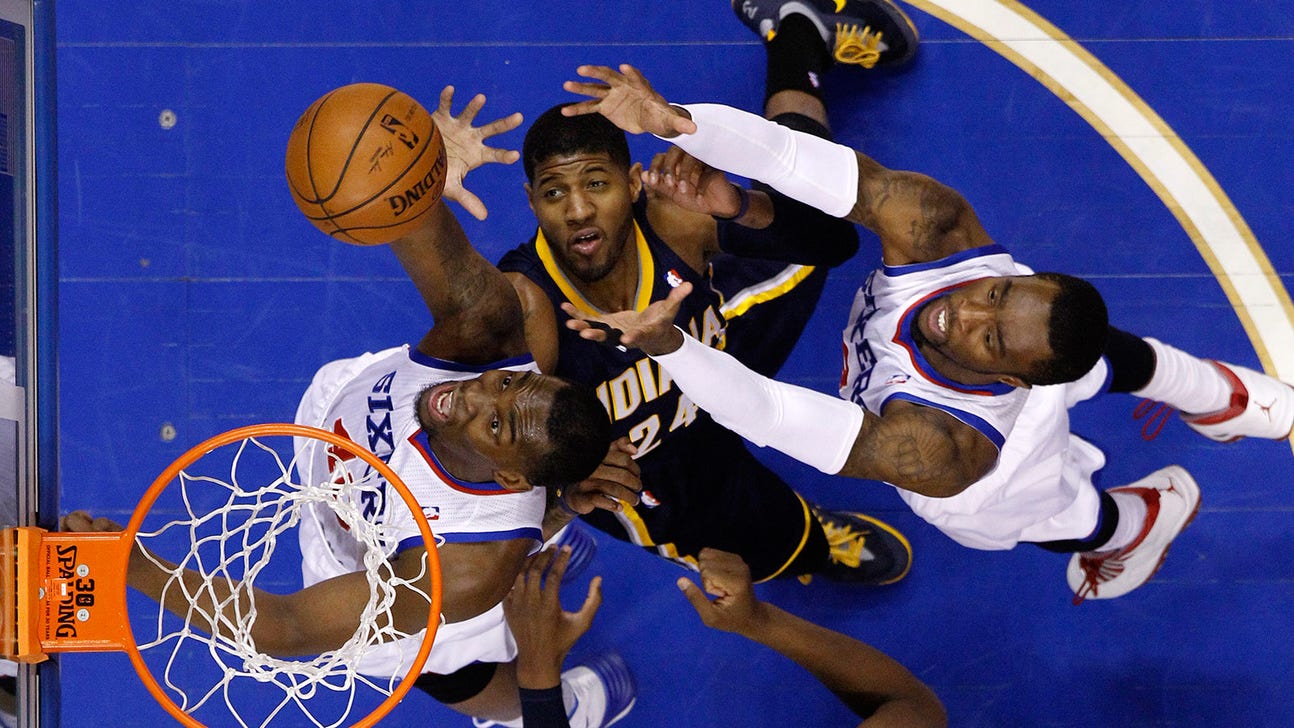 George drops 25 to help Pacers take down 76ers 101-94
Published
Mar. 14, 2014 9:52 p.m. ET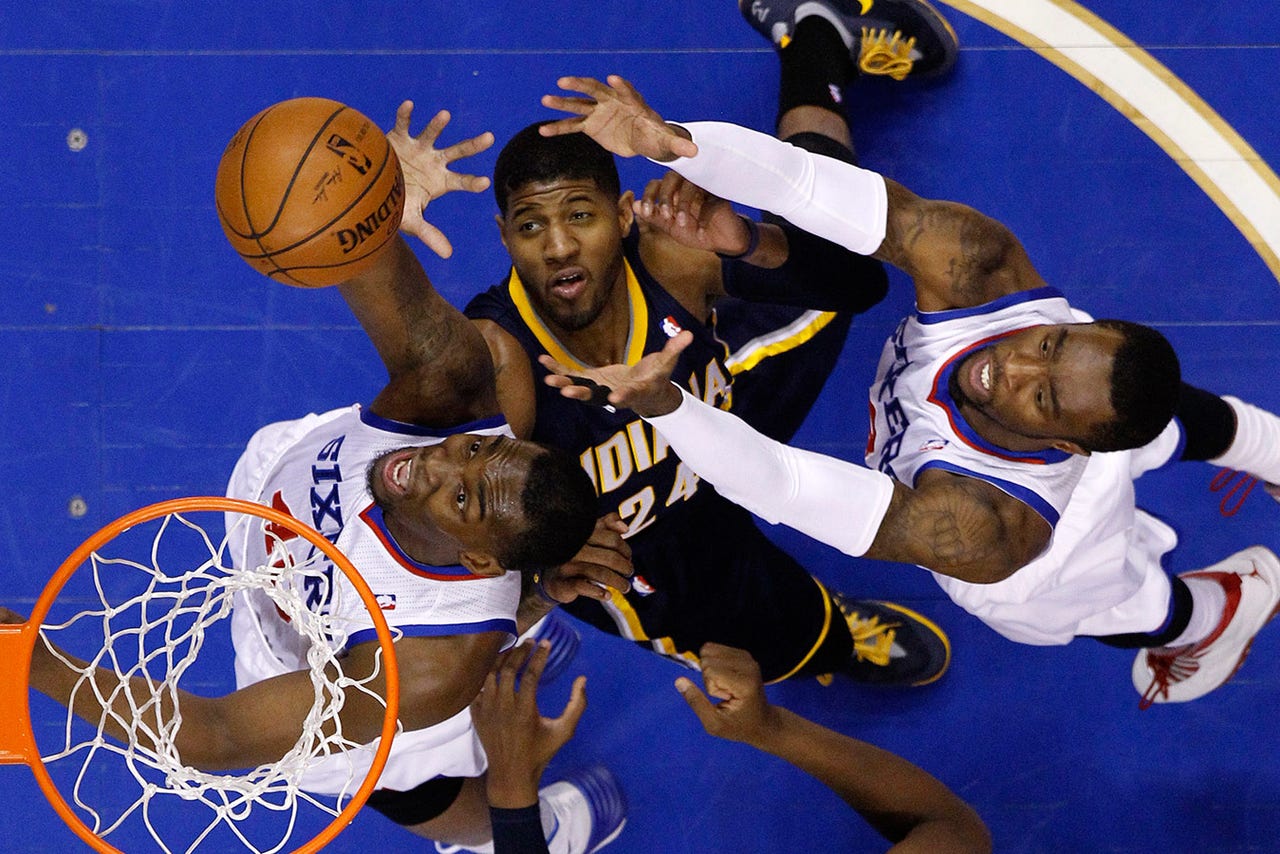 PHILADELPHIA -- The 76ers have a catchy anthem they play at every home game, a decades-old tune with a chorus the fans belt out: "1-2-3-4-5-Sixers."
Now, they can count all the way to 19.
The Sixers' losing streak goes on, and a dubious franchise-tying skid is just a defeat away.
Paul George scored 25 points and David West had 18 to help the Indiana Pacers beat Philadelphia 101-94 on Friday night, sending the 76ers to their 19th straight loss.
With a loss to Memphis on Saturday, the Sixers can tie the franchise record for consecutive defeats in a single season. The Sixers lost 20 straight games from Jan. 9, 1973-Feb. 11, 1973 in a 9-73 season. The NBA record for consecutive losses in a season is 26 set by the 2010-11 Cleveland Cavaliers.
"We need every break we can get if we are going to beat a team," first-year coach Brett Brown said.
The Sixers last won on Jan. 29 on Evan Turner's buzzer-beater at Boston. Turner was traded to the Pacers at the Feb. 20 deadline and is now a key reserve on a team expected to make a deep run in the Eastern Conference playoffs.
The Pacers boast Turner, Lavoy Allen and Andrew Bynum, all former Sixers who were expected to turn the franchise into contenders last season. When that plan backfired, the Sixers decided to rebuild, cleaning house of most of their rotation players and set their aim on the No. 1 overall pick in the 2014 draft.
Thaddeus Young led the Sixers with 25 points on 10 of 31 shooting and had 10 assists.
Unlike the 76ers, the Pacers have tons of talent and the top spot in the East. They raced to a 17-point lead in the first half, then held off a spirited run by the Sixers that saw the lead sliced to five midway through the fourth.
The Sixers came up empty on five straight possessions before Young hit two free throws to make it 87-84. Young, the longest-tenured Sixers player, made it 93-90 on a jumper that put them on the brink of ending their losing skid.
George, though, hit a tough, driving layup and George Hill buried a baseline 3-pointer for an eight-point cushion, and the Pacers averted the upset.
"This game could have easily been a blowout-type of game," George said. "You've got to give them credit, they kept battling."
The Pacers are happy to have the ex-Sixers trio aboard, strengthening a bench that needed some offensive punch. Bynum sat out Friday night to rest his achy knees, the same ailment that cost him all of last season with the Sixers. Hundreds of fans turned out to the National Constitution Center for Bynum's public press conference after he was acquired from the Los Angeles Lakers in an August 2012 trade. He was supposed to be the missing piece for a franchise coming off a run to Game 7 of the Eastern Conference semifinals. Bynum was a bust, the first string pulled in the unraveling of a franchise.
Bynum had eight points and 10 rebounds in a win Tuesday against Boston -- his first game in nearly 2 1/2 months.
"I finally got on the court with him," Turner said. "It was like the 80th-something attempt since I met him. I'm glad he's halfway healthy. Had he played (in Philly), we probably would have still been rocking."
Bynum wants to be a factor in the postseason, so he'll rest against teams like the Sixers.
"I need to get game minutes, obviously," said Bynum, Indiana's 7-foot center. "But I don't want to miss four or five consecutive days. The whole point is to stay around and play as many games as possible."
Allen scored a season-high 13 points on 6-of-6 shooting and Turner had two points.
Hill had 14 points and Lance Stephenson had 13 points and 12 rebounds for the Pacers. Indiana was 39 of 67 from the floor compared to Philadelphia's 35 of 90.
"I think we're playing some pretty good basketball," George said.
Turner, the No. 2 overall pick in the 2010 draft, earned a video tribute and a smattering of applause when he checked into the game. Turner was never a difference maker for the Sixers, and his failure to make a significant impact could serve as a scary reminder that team president/general manager Sam Hinkie's plan to rebuild through the draft could hit some significant potholes.
"You've got to have a plan," Turner said, "and to do that in Philly takes guts."
And a whole lot of losses.
Notes: The 76ers signed G Darius Johnson-Odom to a 10-day contract. They also waived G Lorenzo Brown. ... Bynum hopes to play Saturday when the Pacers are at Detroit.
---