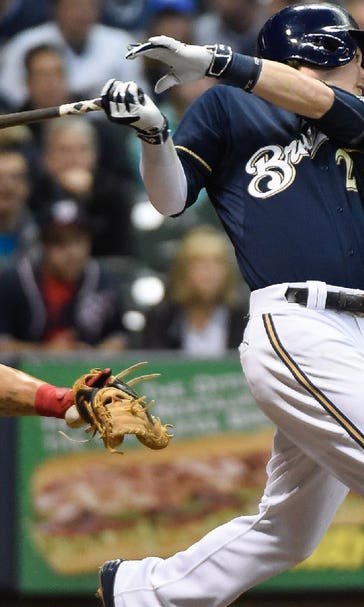 Gennett enjoys 'awesome' return to Brewers
BY foxsports • June 12, 2015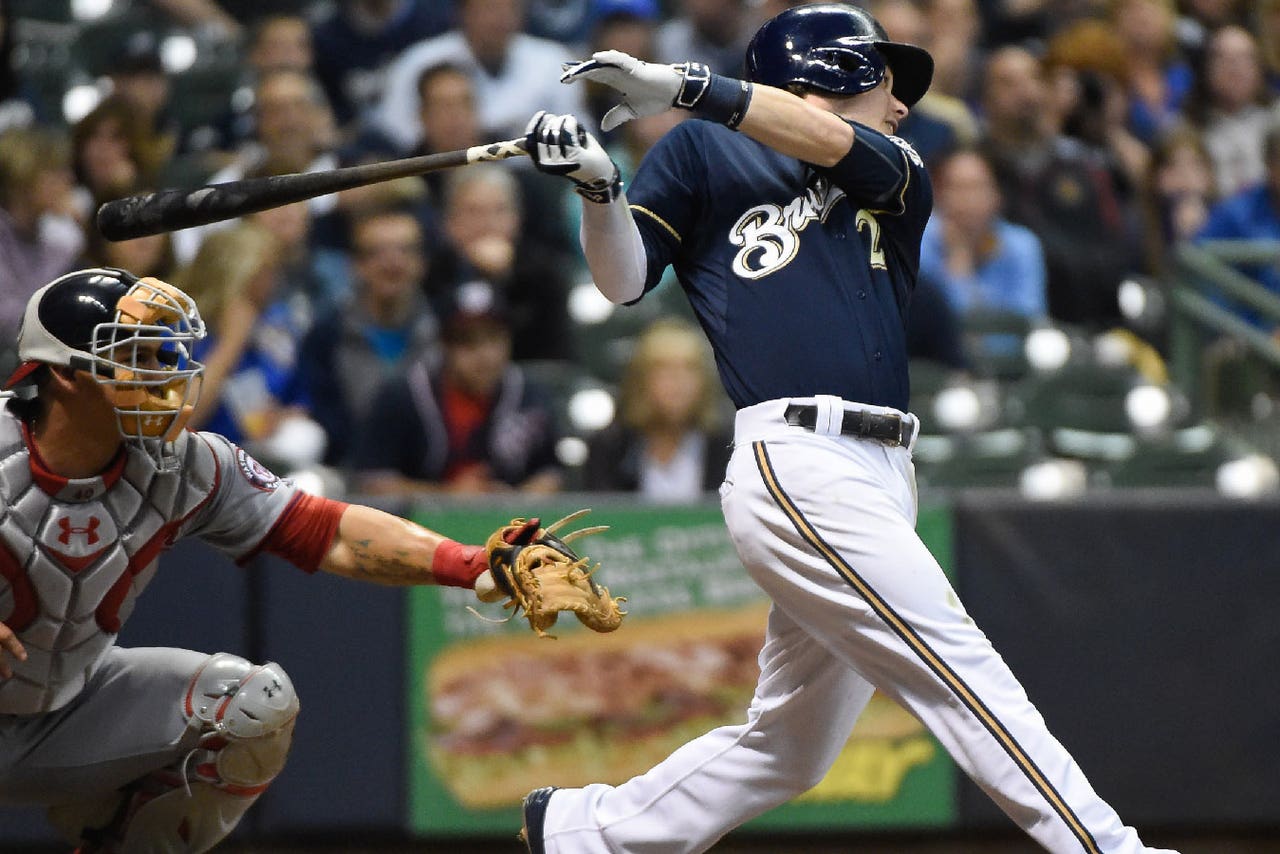 MILWAUKEE -- Scooter Gennett couldn't have scripted a better return to the big leagues.
Up with a runner on third with two outs in the eighth inning, Gennett delivered with a run-scoring single to left to plate the go-ahead run in Milwaukee's 6-5 victory over the Washington Nationals on Thursday at Miller Park.
"It's awesome, man," Gennett said. "Whenever you can step up and help the team win, it's always a good thing. It just helps the confidence out even more when it comes to getting the job done and making something happen. It's always a great thing."
Recalled from Triple-A Colorado Springs on Wednesday night, Gennett was hitless in his first three at-bats Thursday, which left him in an 0-for-21 skid in the big leagues.
Gennett popped out to third base in the second and tapped back to Nationals starter Tanner Roark with two outs and a runner on first in the bottom of the fourth. He narrowly missed a two-run home run in his third at-bat, but Nationals center fielder Denard Span caught his fly ball on the warning track in dead center.
The Brewers fell behind, 5-1, thanks to three errors leading to three unearned runs for the Nationals. Matt Garza was able to limit the damage, which allowed Milwaukee to chip away at the deficit.
Gerardo Parra tied the game with a solo home run off Roark in the seventh, while Will Smith pitched a scoreless eighth in his return from suspension.
With Shane Peterson on third base with two outs in the eighth thanks to shaky defense by the Nationals, Gennett cued one just fair down the third-base line off Nationals reliever Aaron Barrett to plate what turned out to be the winning run.
"I think it was a cutter," Gennett said. "Really, just looking for something to put in play at that point. The first pitch almost hit me; tried to get out of the way. But that pitch, I was just trying to get something out over the plate and just put it in play, really."
After entering the season as a career .300 hitter in 206 major-league games, Gennett was 10 for 65 (.154) with just one extra-base hit when the Brewers optioned him to Triple-A on May 18.
Gennett went to Colorado Springs and hit .307 in 21 games to get another shot at securing the starting job at second base with the Brewers.
"I took it fine," Gennett said of his demotion. "When you're 0 for your last 20 and batting .150, I wasn't surprised to get sent down. It obviously isn't ever something that you want to happen or expect to happen but it was something I took as a challenge to get down and get my game back.
"The game usually tells you what you need to work on, and when you have an opportunity to do that every day and work on what you need to, you figure things out. I definitely feel confident now that everything's back to where it usually is, where (it) needs to be."
Although Gennett doesn't lack confidence in his abilities, Brewers manager Craig Counsell feels any struggling player needs something positive to happen for the sake of self-assurance.
The first-year skipper is hoping Thursday's game-winning hit serves as the spark for Gennett.
"At some point confidence always enters the equation for anybody that goes through struggles, no matter who you are," Counsell said. "I think that's part of it. Putting your finger on why someone struggles is the essence of what you are trying to figure out. You are trying to help a player.
"He's trying to figure it out. He didn't get off to a good start. I think it kind of affected his whole game. But his whole game has improved in the last three weeks down there, so he's earned another shot."
With Hernan Perez and Hector Gomez not providing much of anything at the plate, Counsell said Gennett would serve as Milwaukee's primary second baseman for the time being.
The Brewers entered Thursday with a major-league worst .178 batting average and .466 OPS from their second basemen.
"We need production out of second base," Counsell said. "We just do. (Gennett has) done it. We're hopeful he can get it rolling like he had it last year and '13, as well."
Follow Andrew Gruman on Twitter
---